Event season and fall are in full-swing! With formals, school dances, patron parties, dinners, and so much more, it can get pricey, not to mention a bit overwhelming trying to find and purchase new dresses for each and every occasion! Not a stranger to a hectic event season, Kathy saw a bit of a niche that needed to be filled, and that's just what she did! She stocked KF Design | Life | Style with some of the most fabulous cocktail dresses we have ever seen. The best part about them? The price! Every dress is under $125, and the majority are under $100, making it so easy to rationalize picking up a new one before each event this season. See KF's top 5 fave dresses below and shop even more styles in-store in Dallas and now in Kathy's newest boutique in New Orleans at 3649 Magazine Street. Can't get into the boutiques? Shop them online at kathyfielderboutique.com.
Golden Hour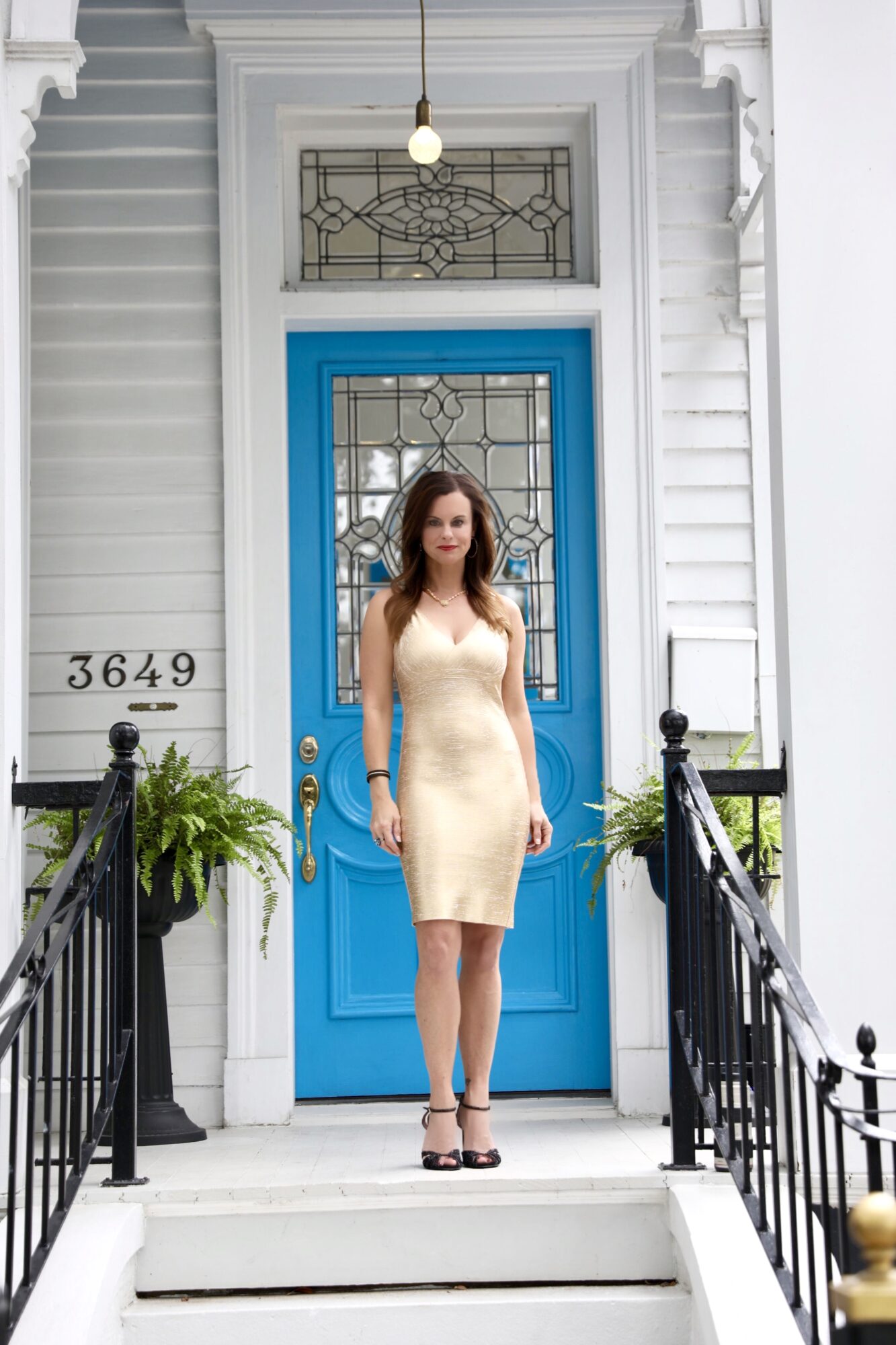 If this dress doesn't scream GLAM, then we don't know what does! It's gorgeous metallic gold finish and flattering style is the perfect look for so many events this season. If you're someone who is a little bustier, the thicker straps are perfect for support. The change in the bandage directions adds interest, is slimming, and perfectly accentuates curves.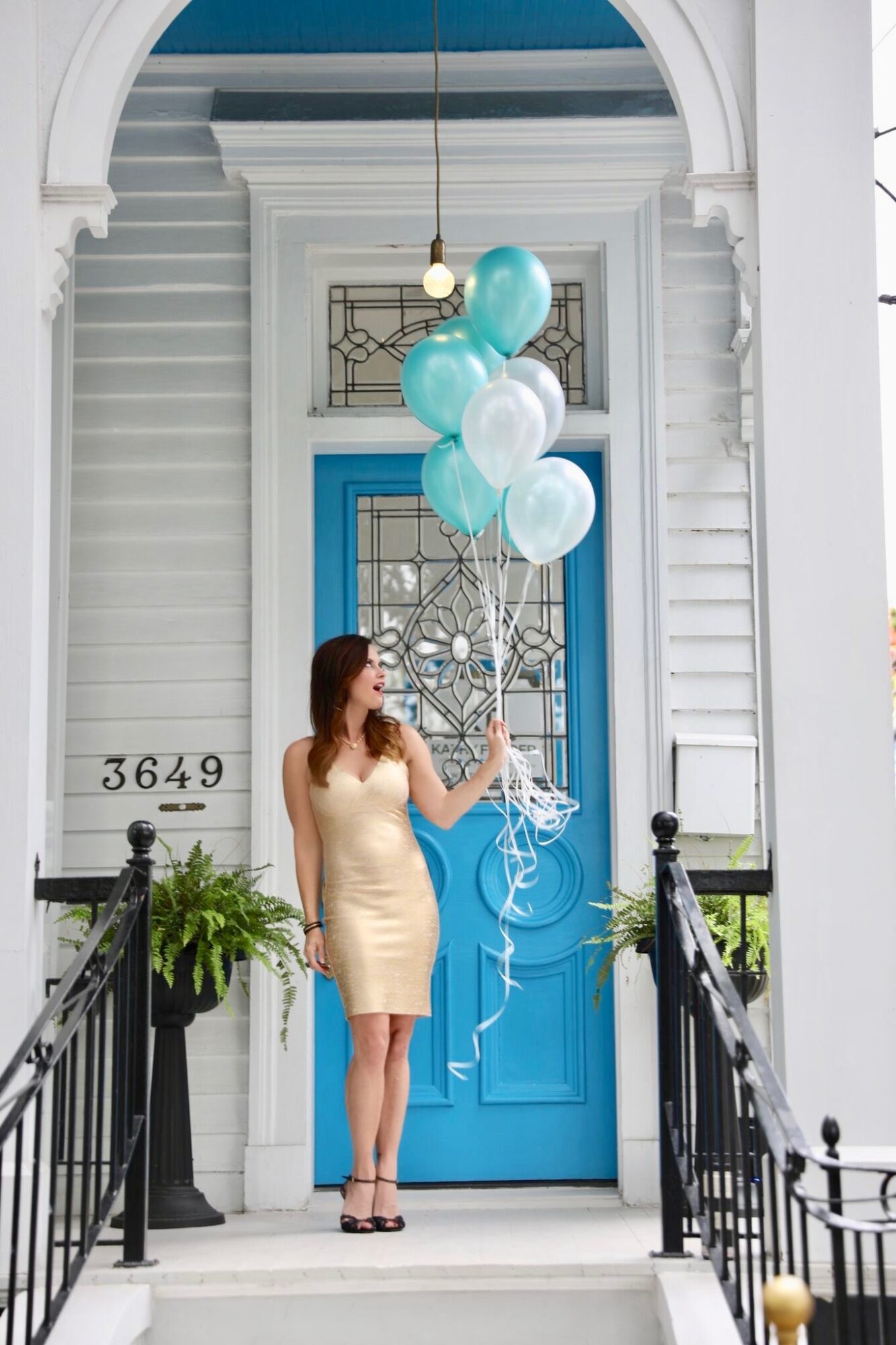 The Saints Bandage Dress is $120.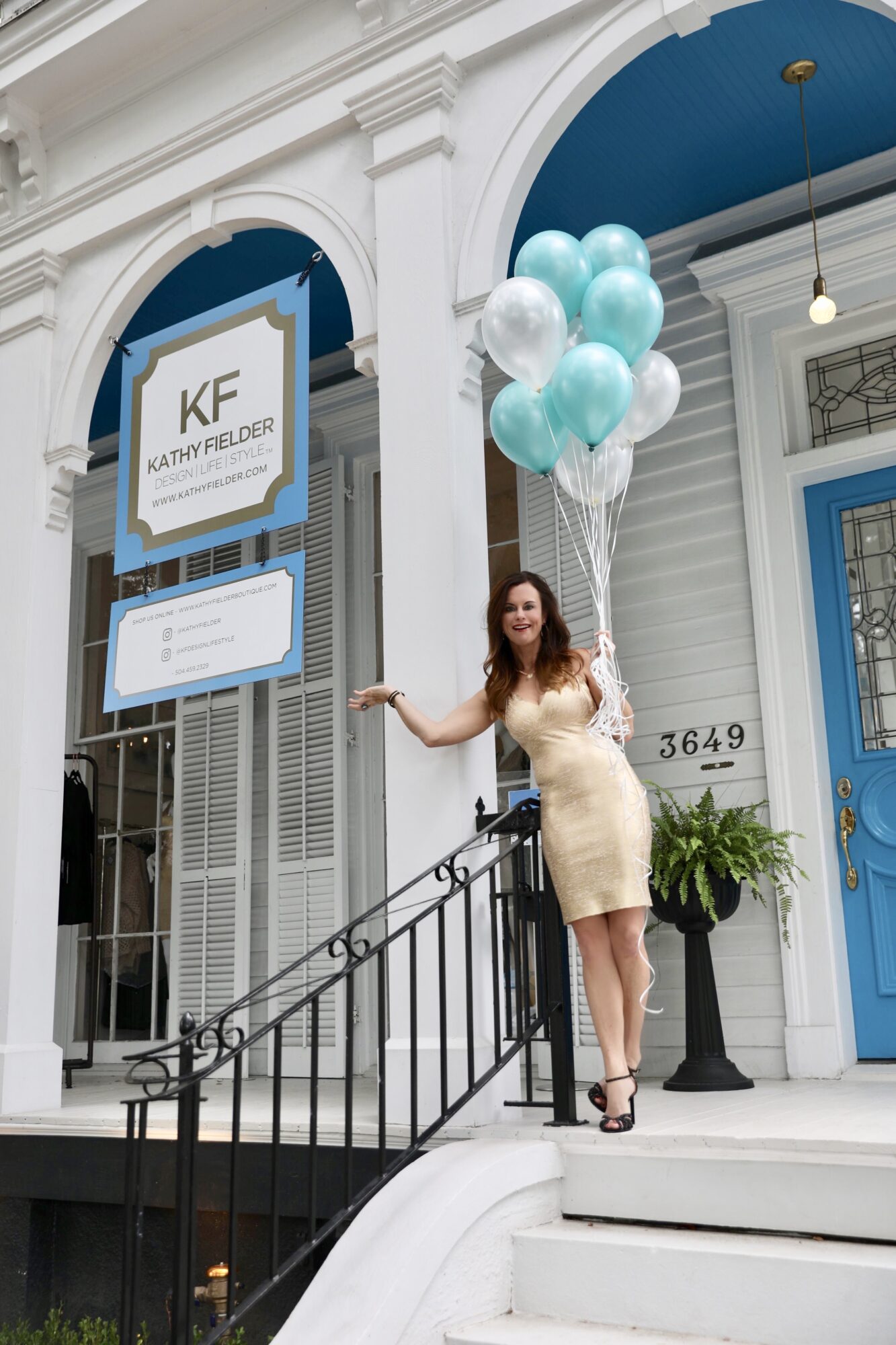 Check out KF in front of her second and now open New Orleans location! It truly is a destination spot at 3649 Magazine Street. It's open 7 days a week from 11-5 and has the most chic and sophisticated clothing at the best price in NOLA. Kathy rocks this with a necklace from Tiffany's Fine Jewelry and bracelet from KF Design | Life | Style.
Sporty Spice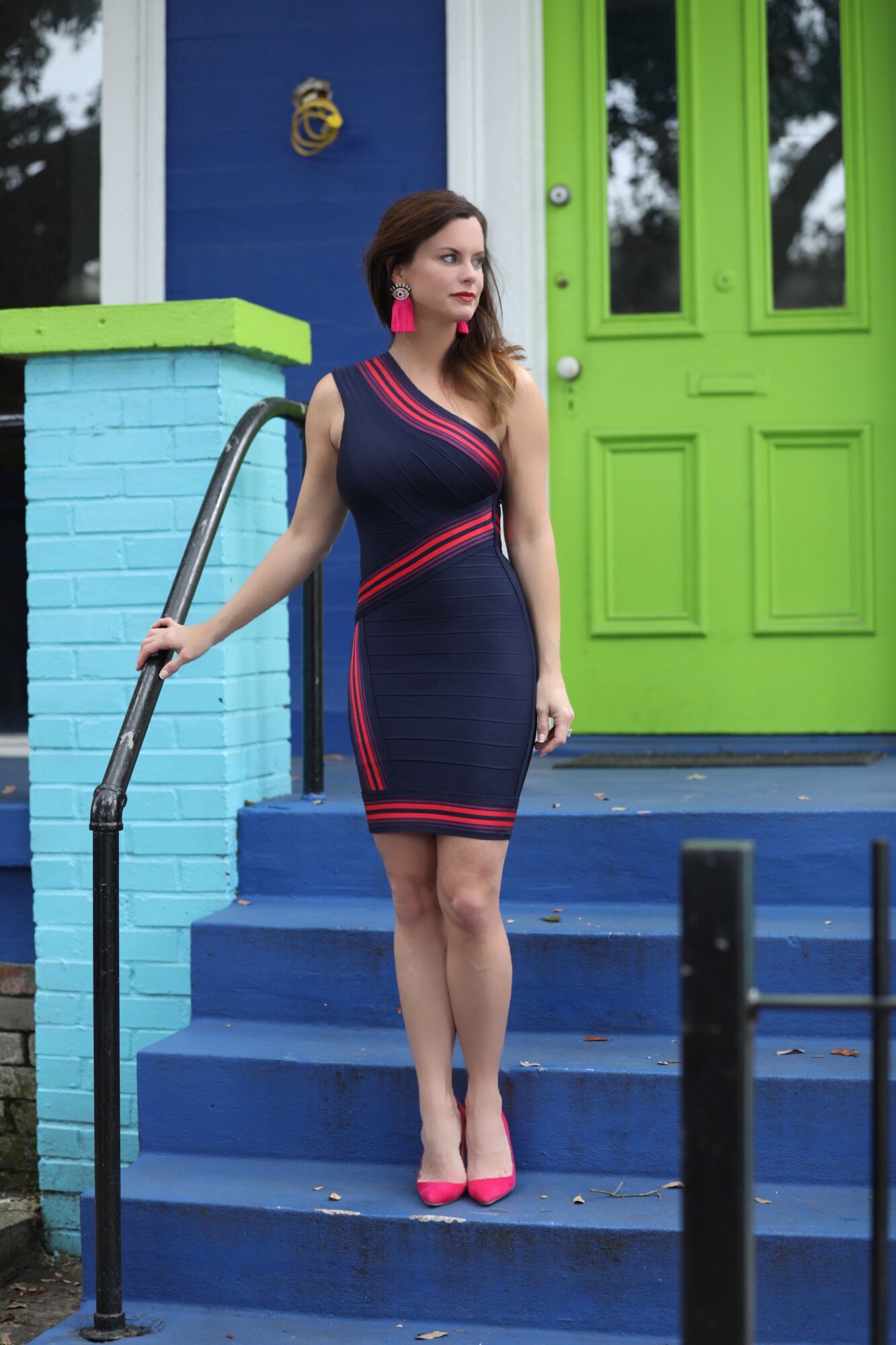 Our team has worn it with chunky sneakers for a sporty look, while KF paired these fabulous Minolos for a chic, glam addition. This little number sucks you in in all the right places, and is soooo flattering. It's beautiful deep navy color and contrast striping along the neckline and hem are the perfect pops of color to this bandage style. Accessorized with eye-catching earrings from Diadem Jewelry by Andrea Reich, you will be noticed when you walk into the room in this little number.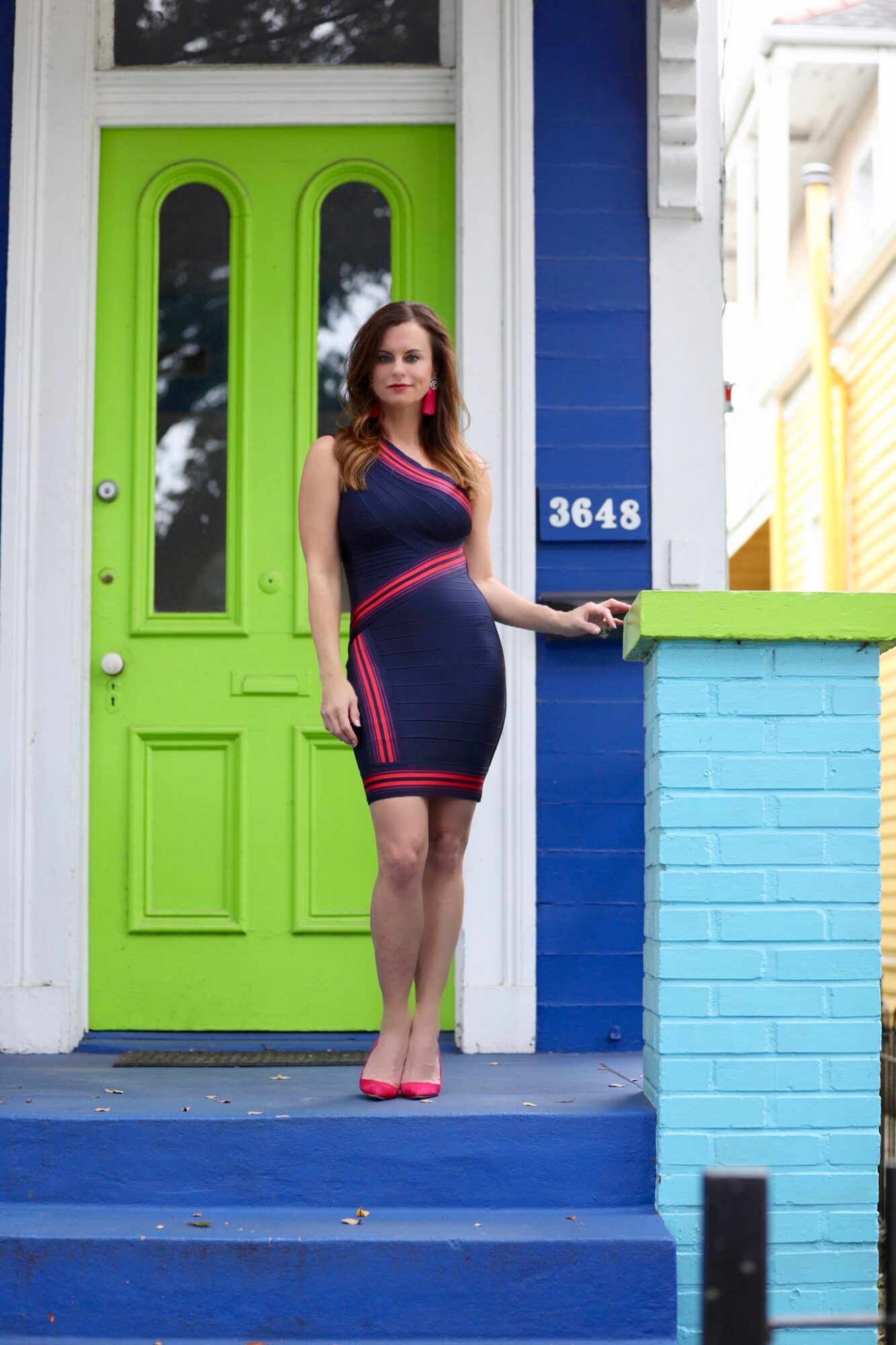 Walk The Line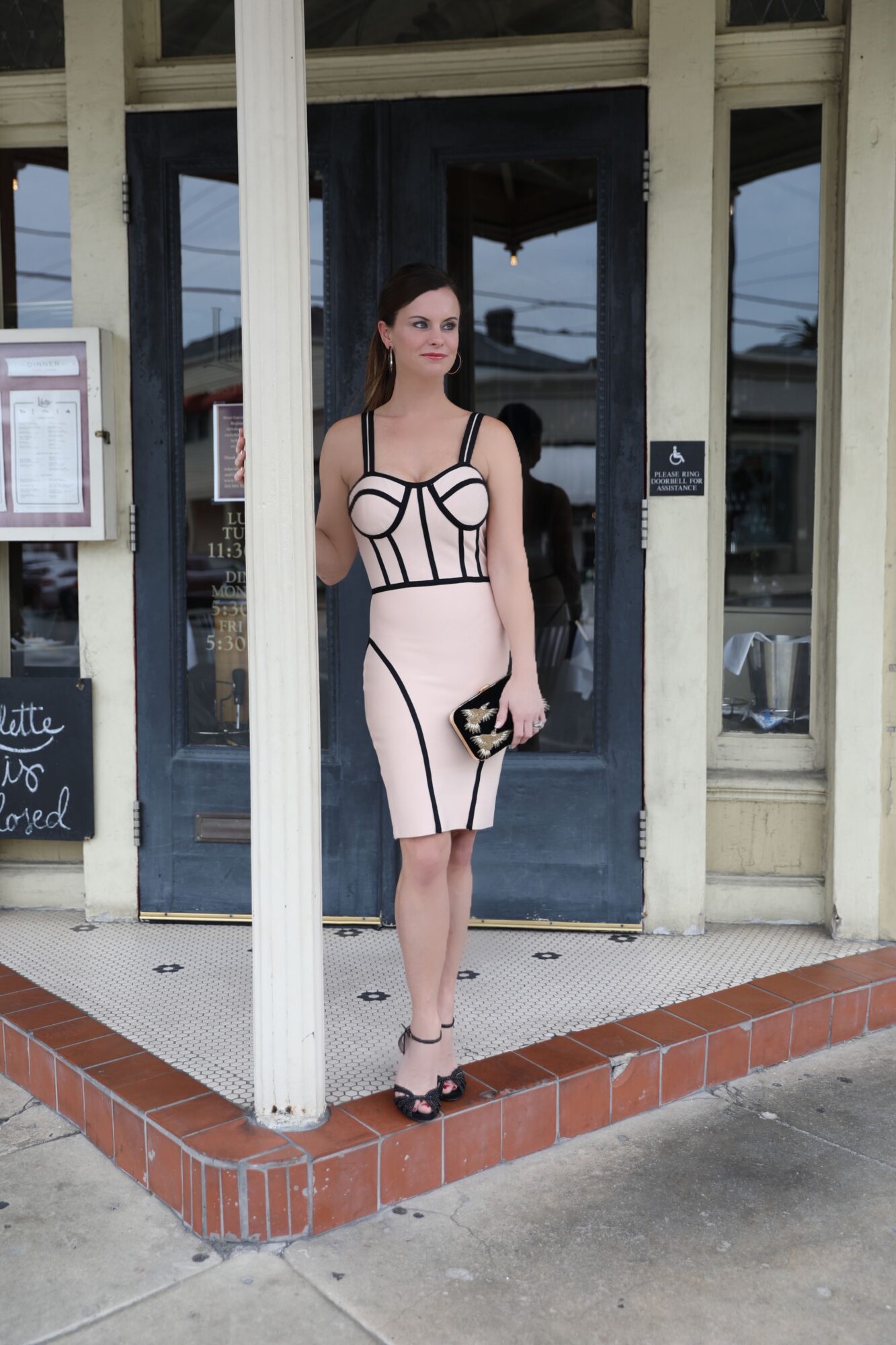 It was hard for Kathy to pick a favorite, but this one certainly is in the running. The blush hue with black contrast is oh -so flattering. The lovely soft pink color is very feminine, and the accentuating black contrast creates the perfect hour-glass figure, which might make it the perfect dress. Kathy rocks this dress with a Samser Designs clutch and earrings from KF Design | Life | Style.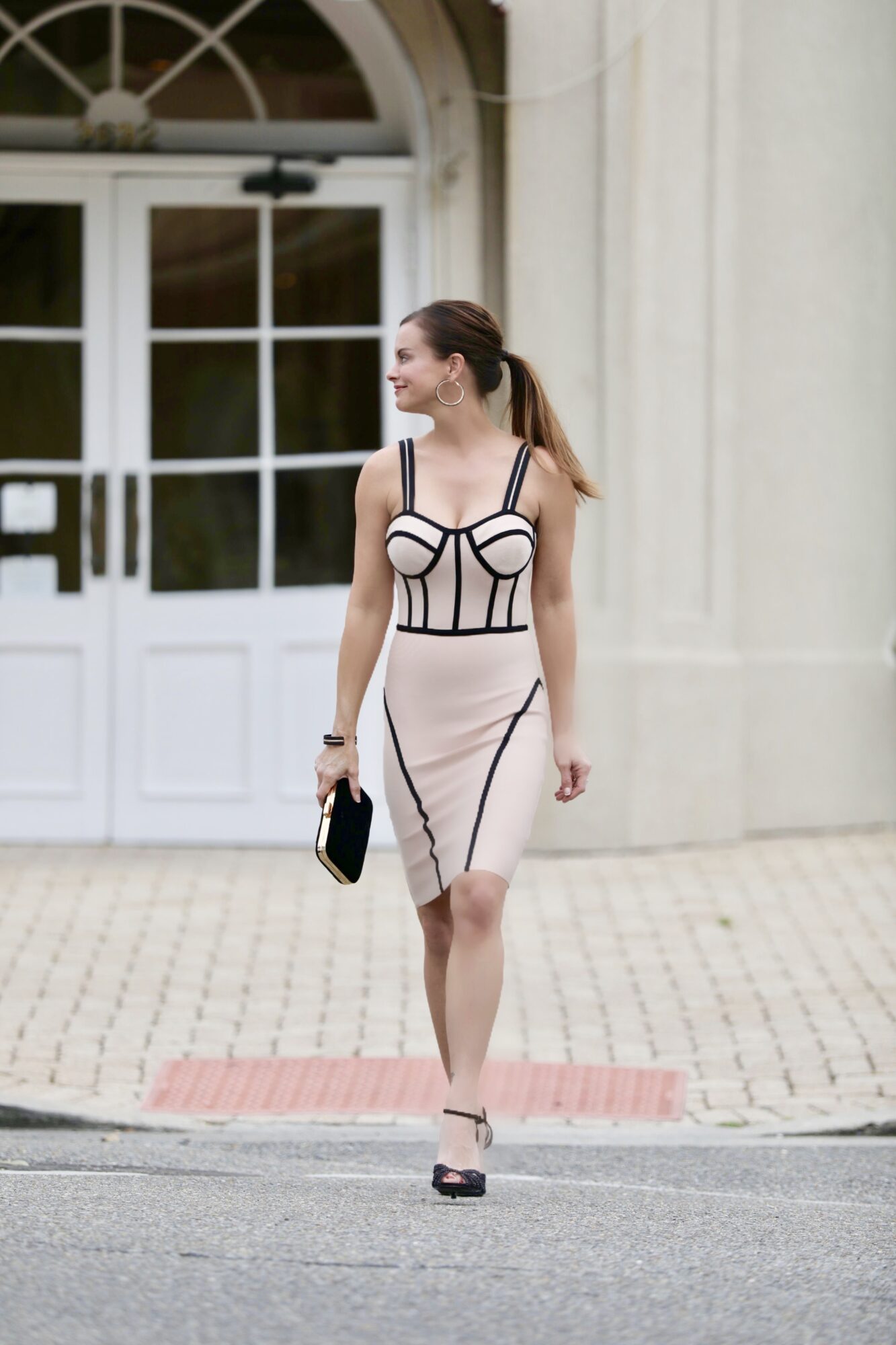 The Read Between the Lines Contour Dress is $90
Sparkle + Shine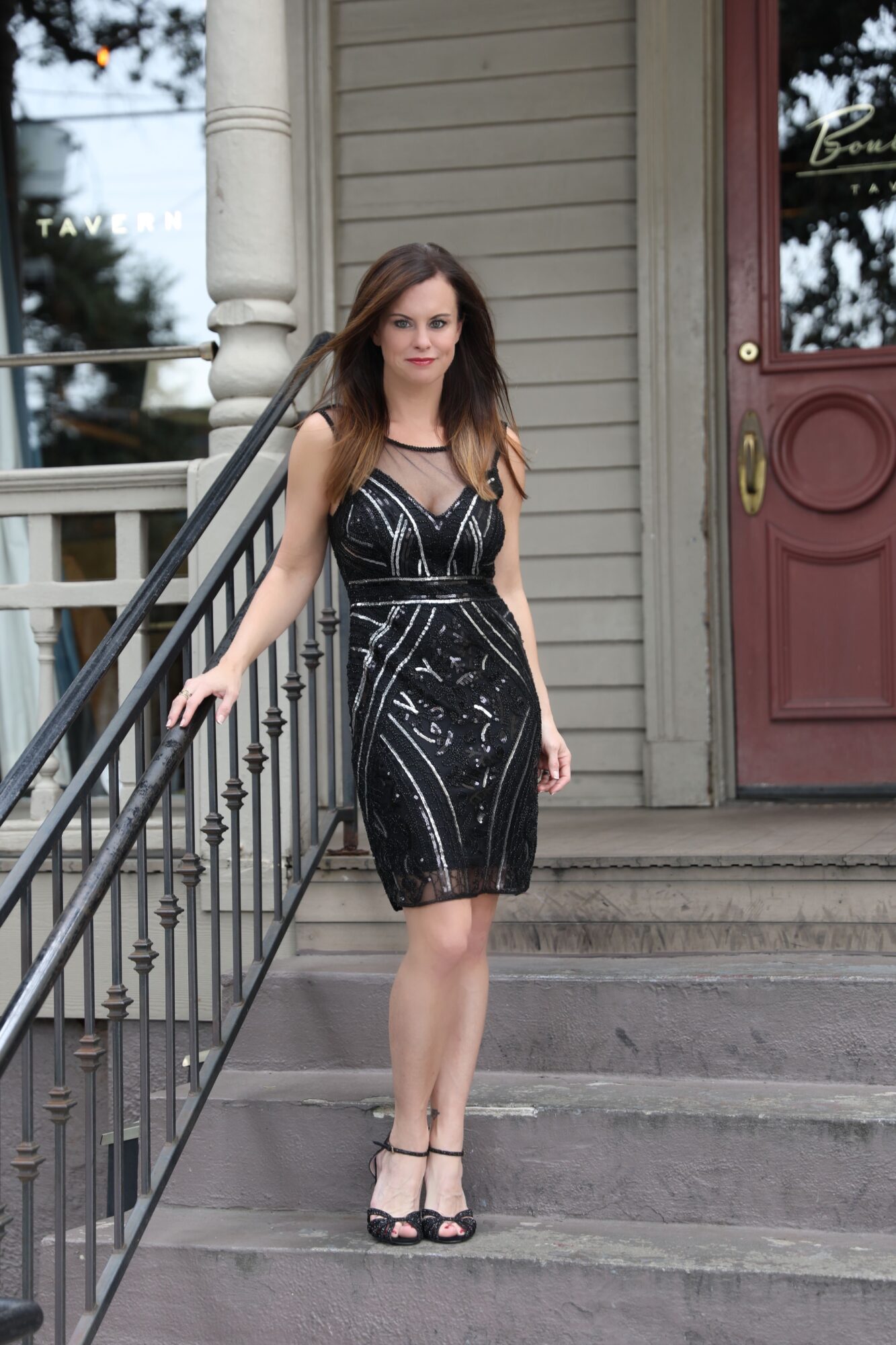 The 20's called and they want their dress back! This little black dress is as sophisticated as it is sparkly! It's gorgeous sequin and rhinestone detailing adds to the silhouette of a classic 20s style. It's mesh overlay neckline modernizes the look and gives it a touch of sexiness without being too much.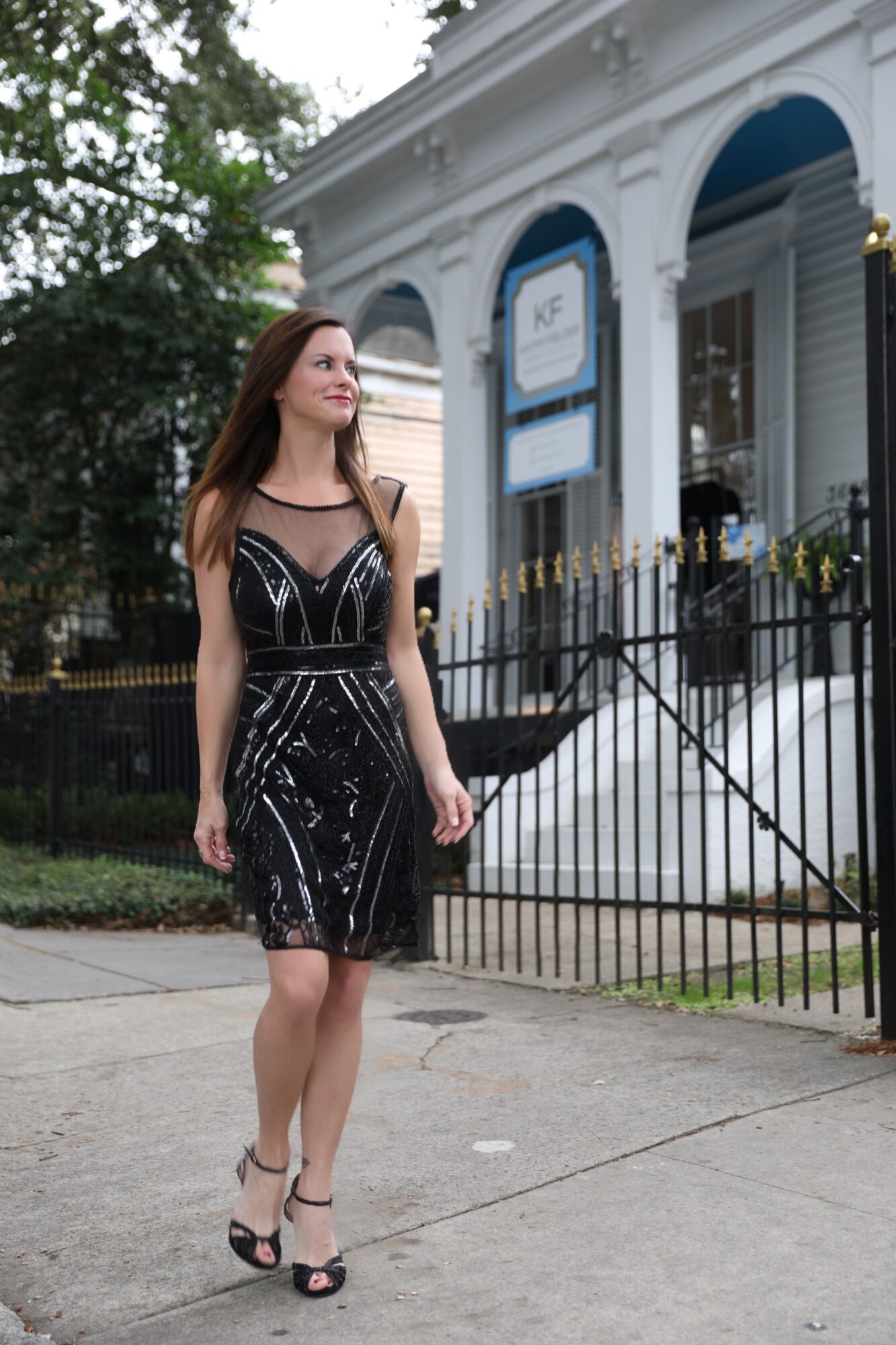 With it's level of elegance and refinement, you'll never believe the price! The Gatsby dress is $79. WOW!
Feline Fine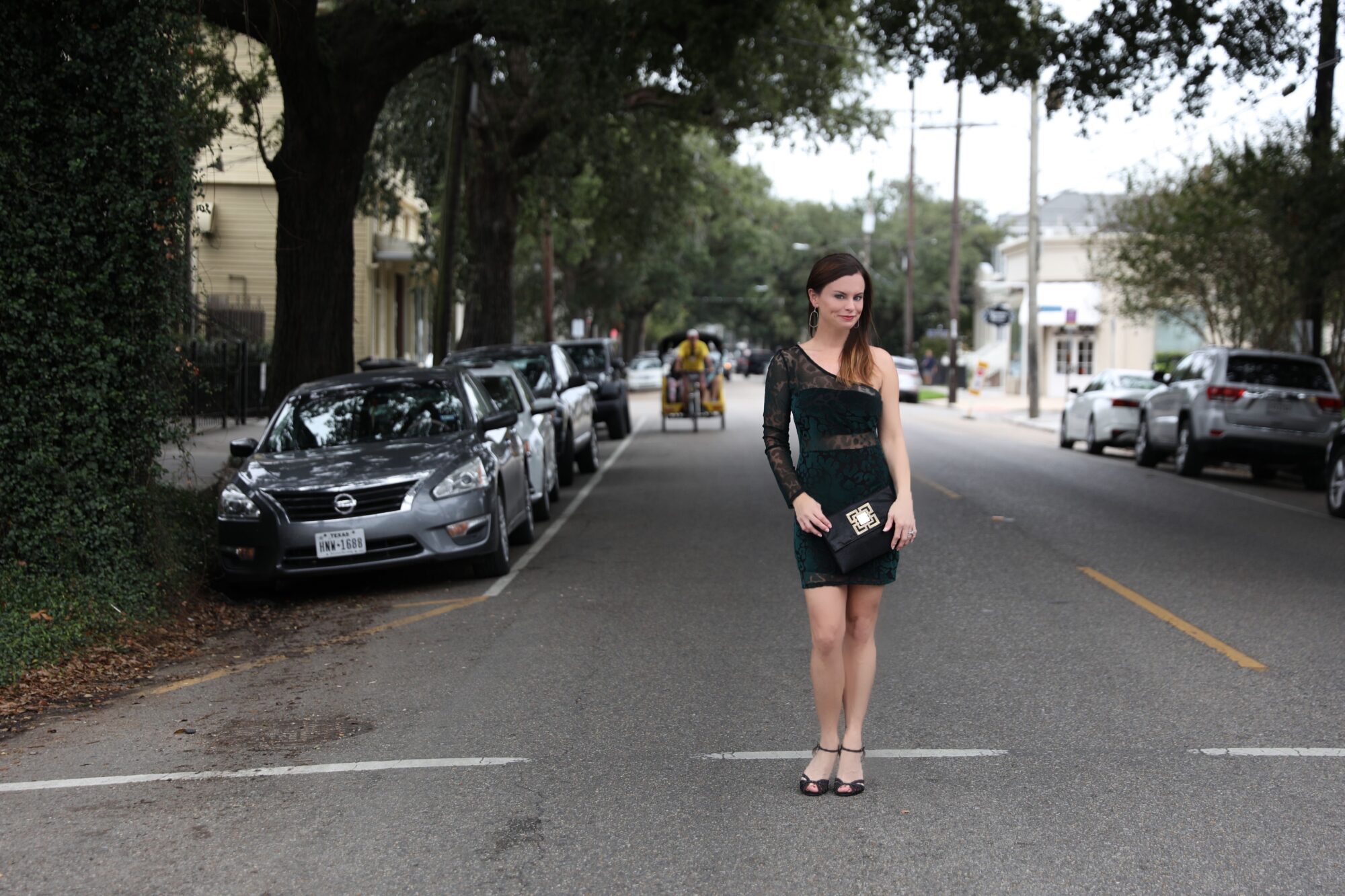 For our spunky fashionistas who aren't afraid to take a little risk, this Velvet Elvis dress has one-sleeve with a leopard velvet mesh overlay. It's the perfect mix of trendy and sultry, and we adore the subtle pop of the emerald green color because after all, jewel tones are all the rage this season. Kathy rocks this dress with a Samser Designs clutch, ring by Tiffany's Fine Jewelry and earrings from KF Design | Life | Style.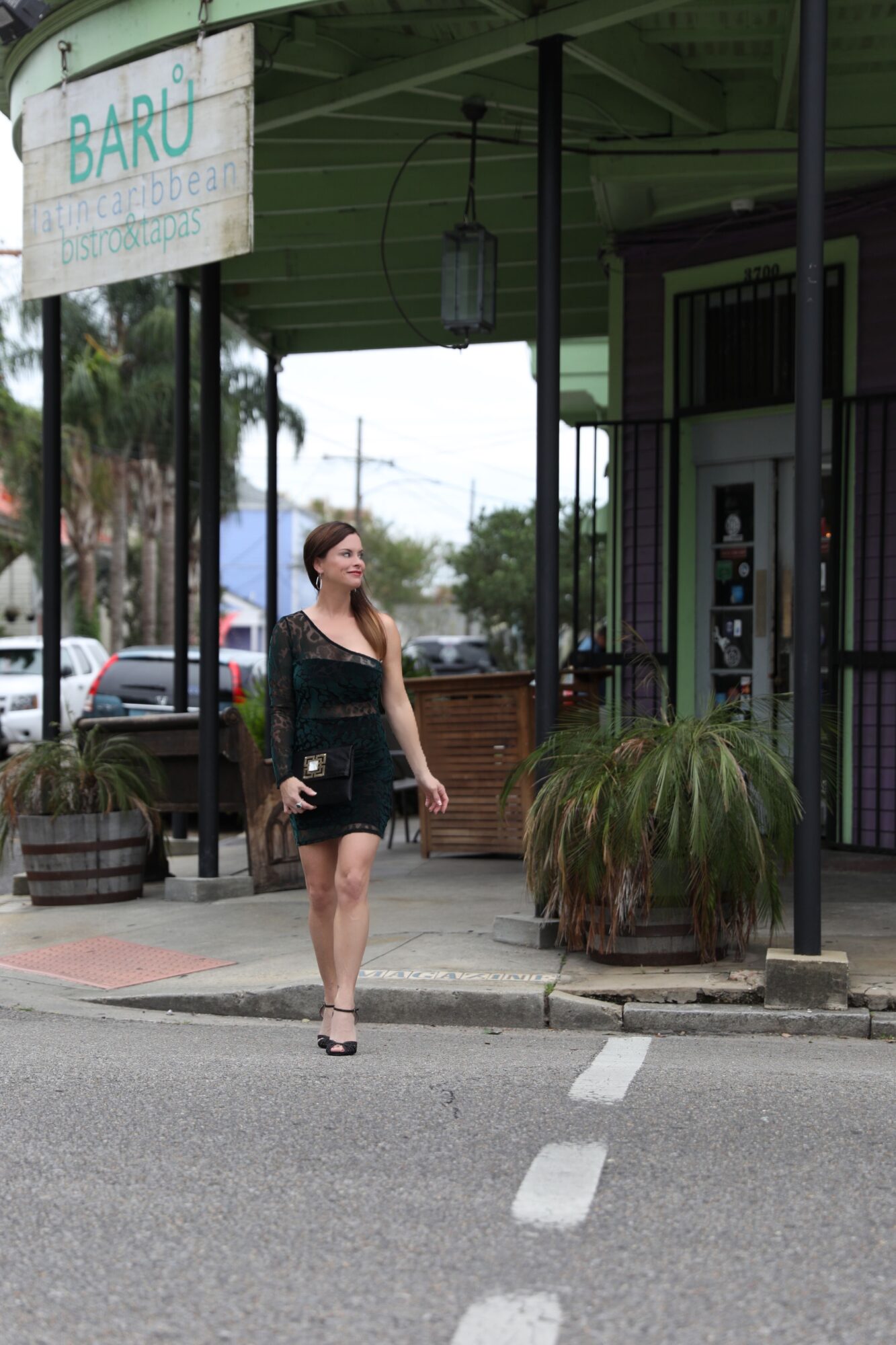 Our Velvet Elvis Dress is available in hunter green and maroon, and it's only $49, which makes it an easy choice any day of the week.