Gift wrapping! Just the thought of those words brings some people joy, while it gives others massive anxiety. Whether you love to wrap presents or think your skills could use a little improvement, it is a fantastic skill to have and makes the person receiving your gift instantly feel more special. Gift wrap is the first thing your recipient sees and essentially sets the tone of the gift you are giving. There are so many different ways to truly customize the look of your wrapping with papers, bows, name tags, and other unique and surprising elements. All of these items work to help personalize any gift you're giving. KF and team have compiled some great gift wrapping inspo to help you make every gift you wrap this season special and take away some of the stress of making the season beautiful!
Metallic Wrapping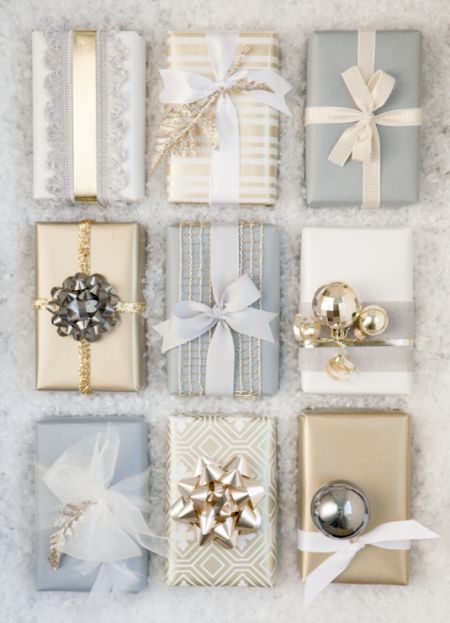 Wrapping gifts with metallic paper and details is a classic look that never goes out of style. Using champagne, gold, silver, and white will always be eye-catching. It is the perfect way to wrap a gift for the most glamorous person in your life!
Nature Inspired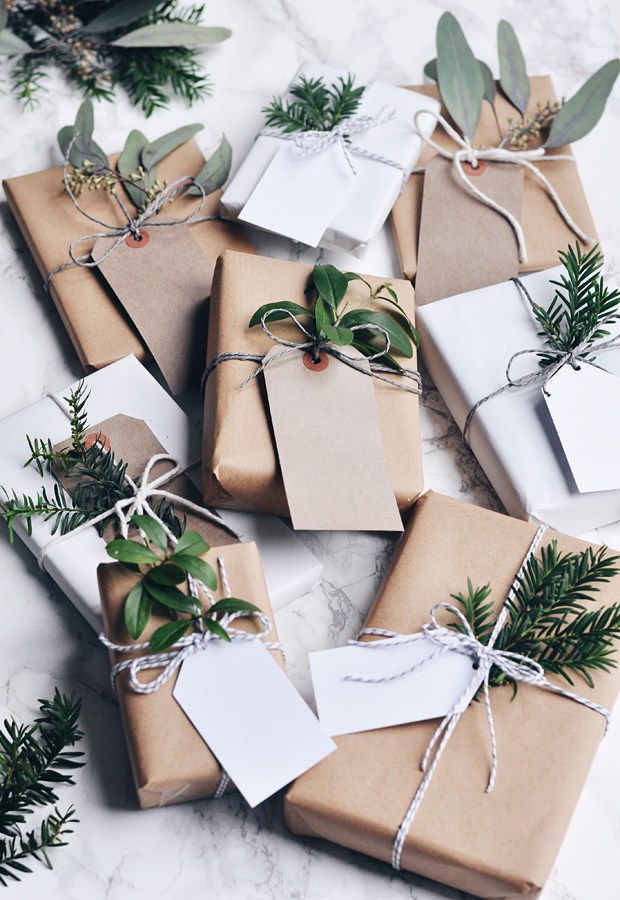 Parcel paper is a perfect paper choice if you are wanting to add a fun detail to your package. White wrapping paper always looks sleek and chic, and butcher paper is pretty easy to come by. Make sure the paper is thick enough so nothing shows through. Use twine in white, cream, grey, gold, or silver to add a glam effect. You can purchase gift tags with a natural look in white or brown, or create your own out of paper. Attach the tag to the twine when tying bows onto the package. For the final touch slip in festive foliage under the bow, we recommend using holly, ivy, eucalyptus, or fur.
Monotone Wrapping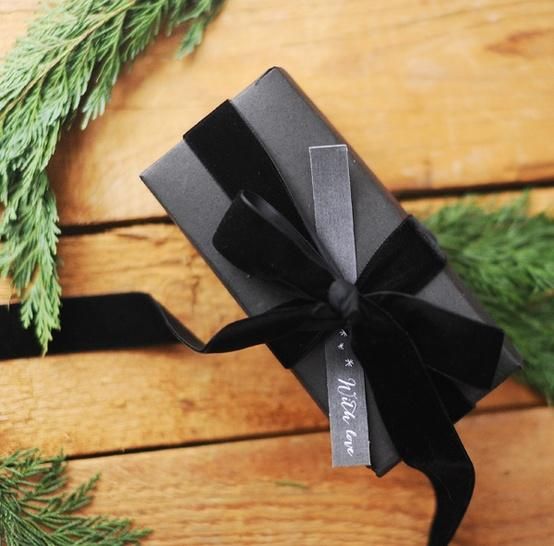 This eye-catching and glamorous wrapping inspo is sure to be hit with anyone you delight with this packaging. Pick paper, a bow, and a tag that all match in color. To really make a statement use different textures with each element. Matte paper, a velvet bow, and a foiled tag is striking indeed.
Blush Holiday Wrapping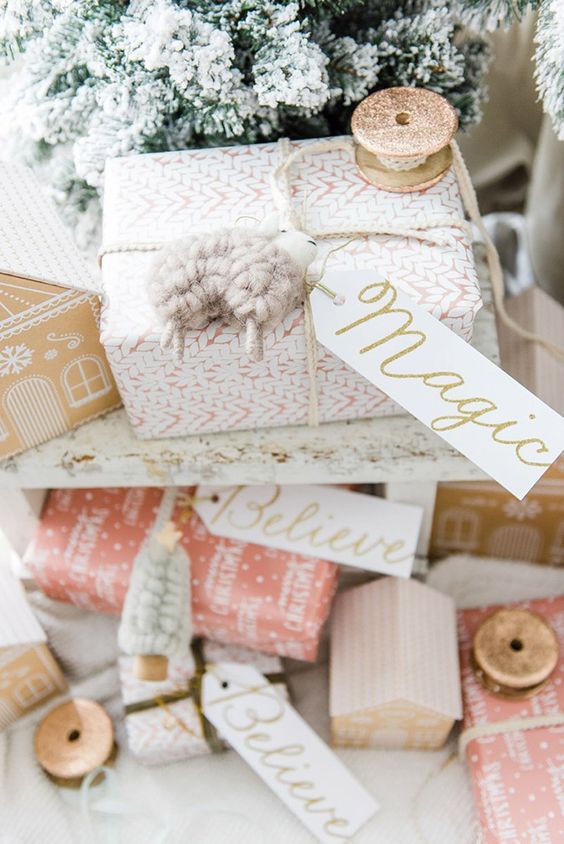 Blush was the color of the year, so why not bring it into the holiday season!?  Although it is a non-traditional color choice for gift wrap during the holidays, it is perfect for the girliest people in your life, which makes it the perfect choice to delight someone special. Make it festive with bows, tags, or a fun holiday element like silver stars or snowflakes.
Personalized Tags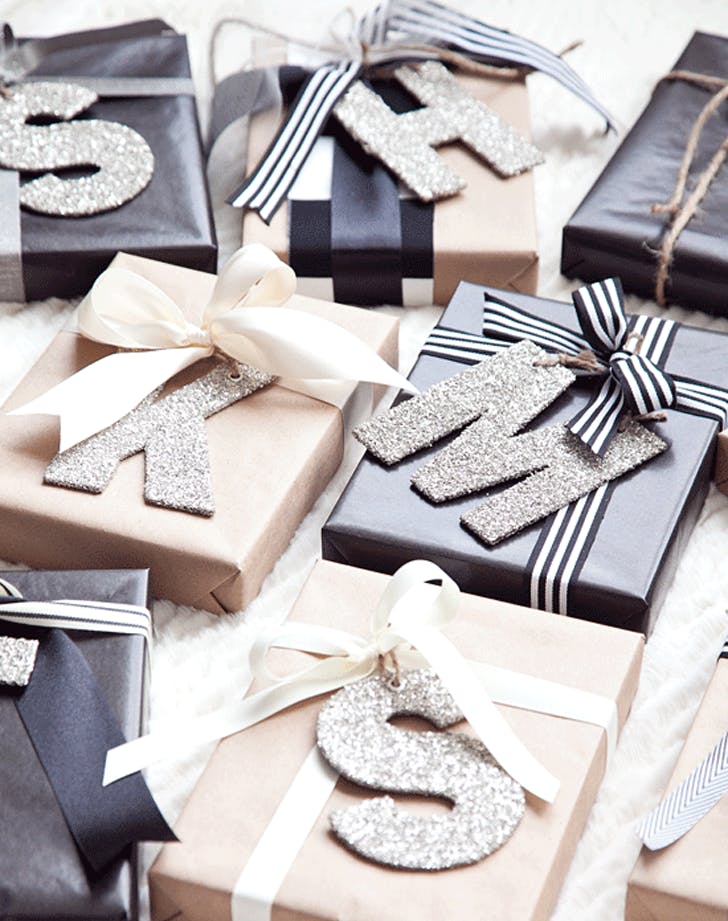 For a fun and personalized wrapping idea, add a tag that is monogrammed, initials, or written in beautiful calligraphy. Add an extra element and attach an ornament that is the letter of the person receiving to the bow of the gift. This is a cute and thoughtful way to truly personalize your wrapping and make it special.
Wine Bottle Wrapping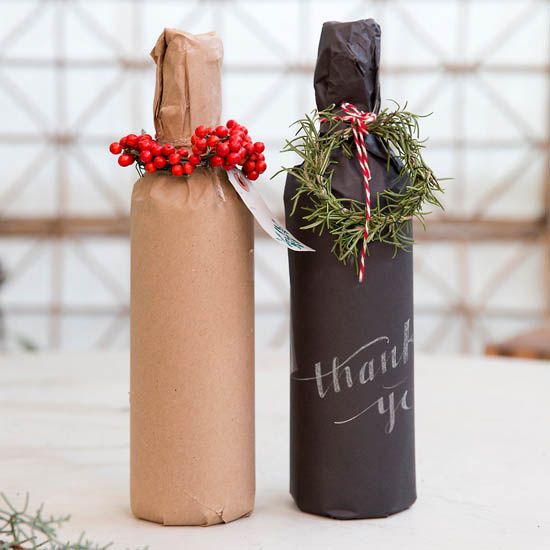 There are many items you can buy from stores to wrap wine bottles. Boxes, fabric sleeves, and decor for the top or around the bottle. If you are looking for a different way to wrap a bottle, try actually wrapping it with paper. Add a bow or small wreath around the neck of the bottle to keep the paper in place. A little different look that is surprisingly simple and looks fabulous!
Extra Tips
If you are looking for beautiful and festive wrapping paper, KF's favorite picks are Paper Source, Minted, or Papyrus.
Plus, ever get frustrated with the bows on your packages?  Look no further, and check out this article on how to tie the perfect bow here!