Even a girl boss like Kathy Fielder knows who's crazy busy knows that using a stylist is a great use of time. A fresh set of eyes on your closet to reinvent some of your key pieces in ways you might not imagine is always a good idea, even for an expert. This is where KF's friend, L.A. & Dallas stylist Myaann Payne (@mynimage) comes into play. This fabulous lady is super talented, (with an optimistic energy that is totally unmatched) and knows how to clean up your closet, refresh it, and refine it. Even the sharpest eye needs a bit of a refresh here and there, a finely-tuned eye on what you need, what you don't, and what you can repurpose or get rid of is a key component of a successfully organized closet. Sometimes you need an expert to help you let go of pieces you don't need. Holding on to pieces that don't fit, are worn, or simply no longer stylish is an unnecessary component of your closet, and it does weigh you down. Mayaann shopped at Kathy's Dallas Boutique @kfdesignlifestyle and picked some of her favorites from our fall collection, and she styled them to give you all the fall wardrobe inspo you need! Check it out, shop, be inspired, and have some fun with us here at KF Design | Life | Style!
Sporty Glam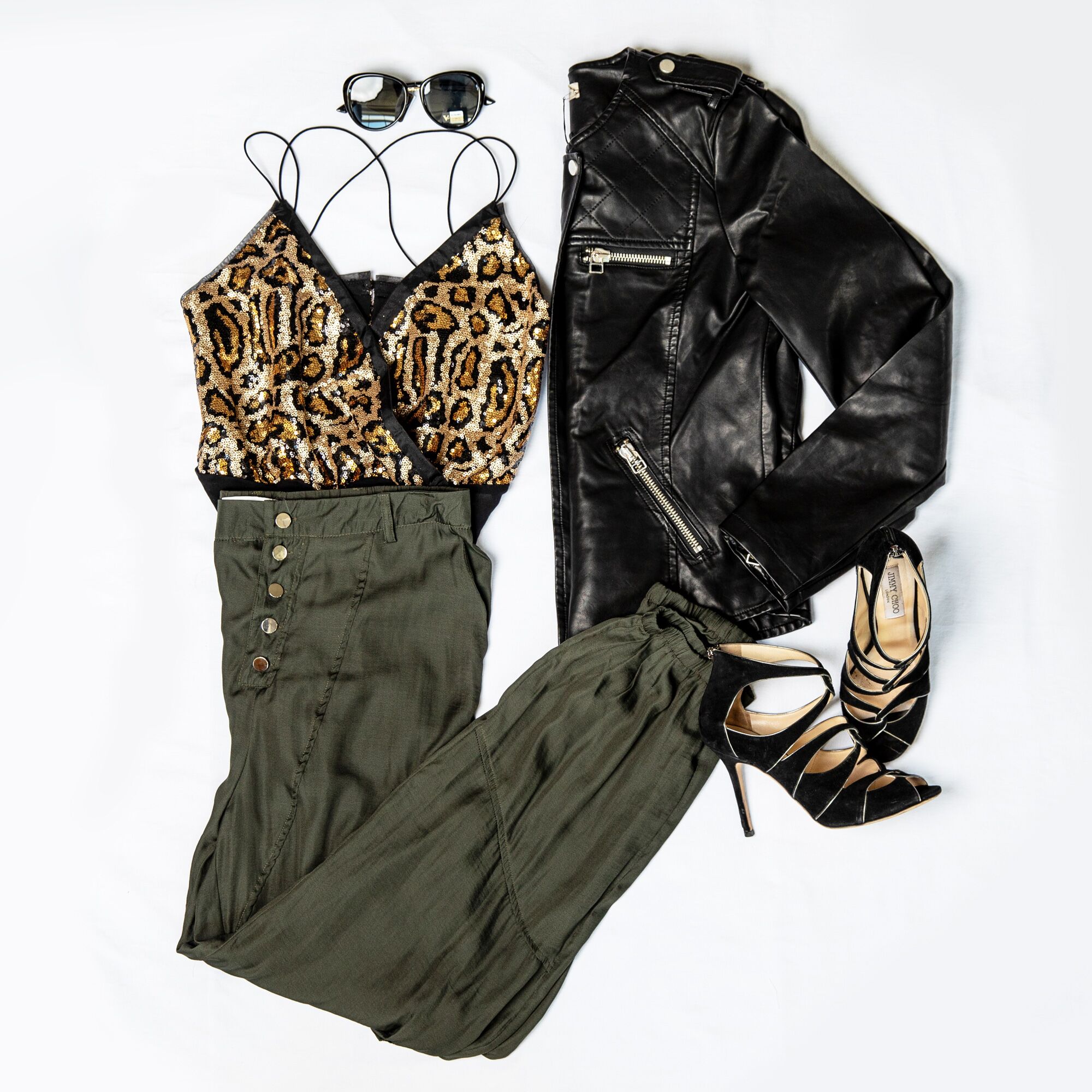 Myaann started with a local KFDLS fave, the Walk on the Wild Side leopard bodysuit and based an entire outfit around it. She took this leopard sequin glam moment and styled it with olive green cargos for a sporty spice KF approved look. Topped off with our Not Your Boyfriends Leather Jacket, Jimmy Choos and big sunnies, it is as glamorous + chic style.
Feminine + Effortless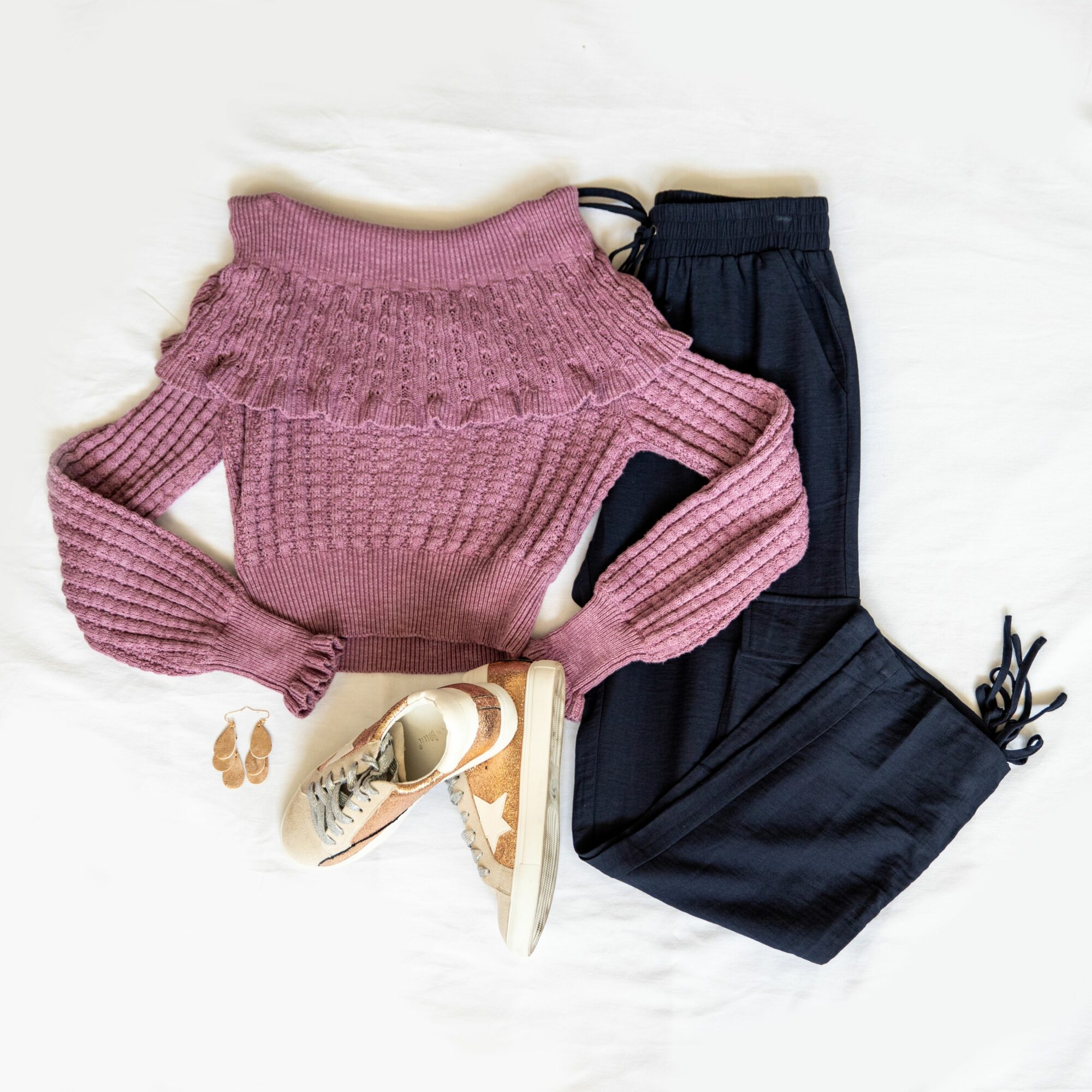 A purple off the shoulder sweater gives a girly shape that is flattering and eye-catching. Styled out with our linen Call Me Beep Me navy joggers with tie detailing, they are the perfect color contrast that screams fall. This transitional look works as the weather starts to cool down right into the winter months. Sneakers make it perfect for running around town doing errands or an easy cocktail hour.
Chic Professional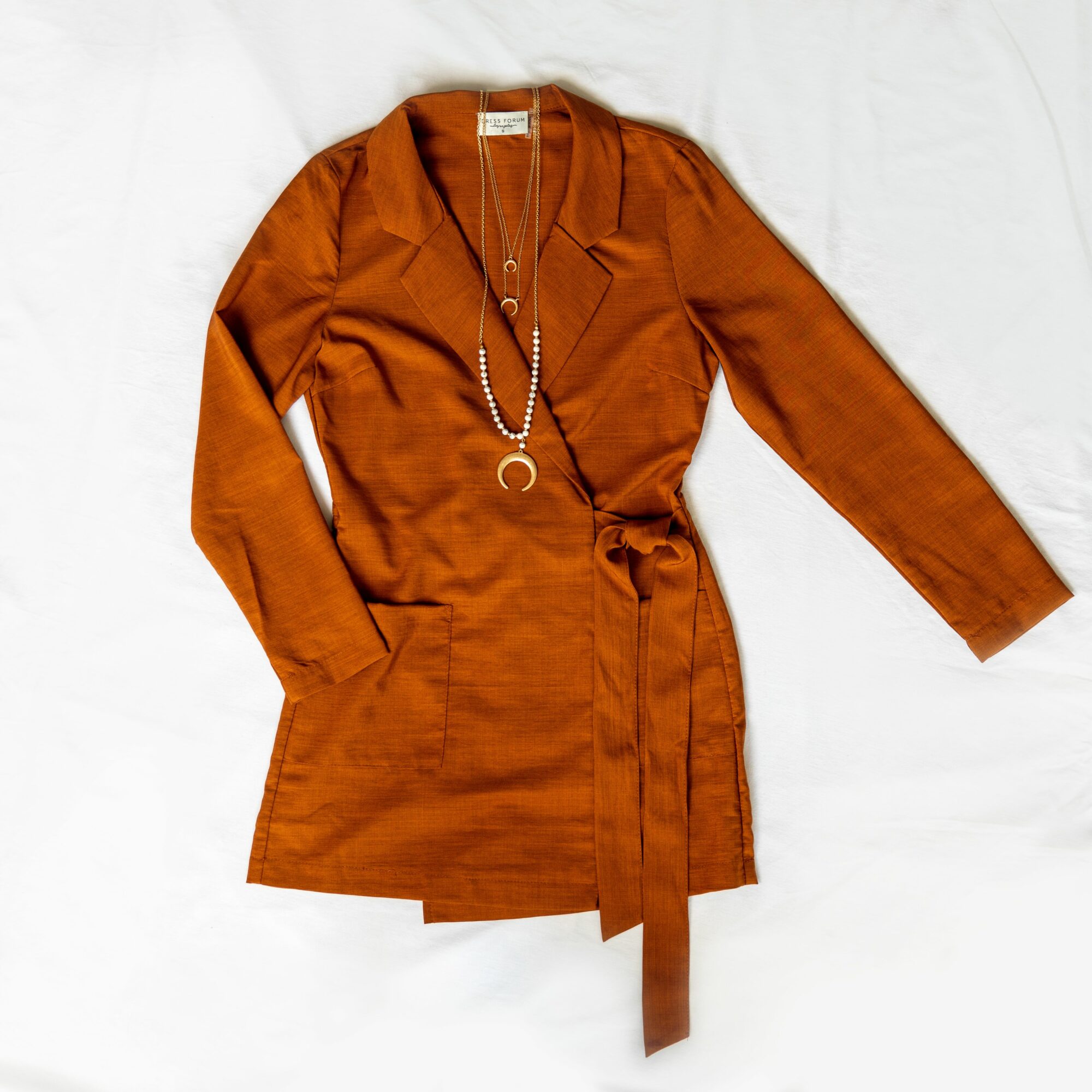 A KF staff fave is the Boss Lady Suit Romper, blazer-style in a simmering orange (which is a hot! fall color), Myaann loves it too (and even snagged one for herself for that matter!) This piece is simply one of the most versatile in your closet. Keep this perfectly at ease outfit minimal with a couple layered necklaces and key accessories, or if you are headed out for a night on the town, GLAM it up with fab heels and statement accessories. You simply can't go wrong with this piece.
Leather + Floral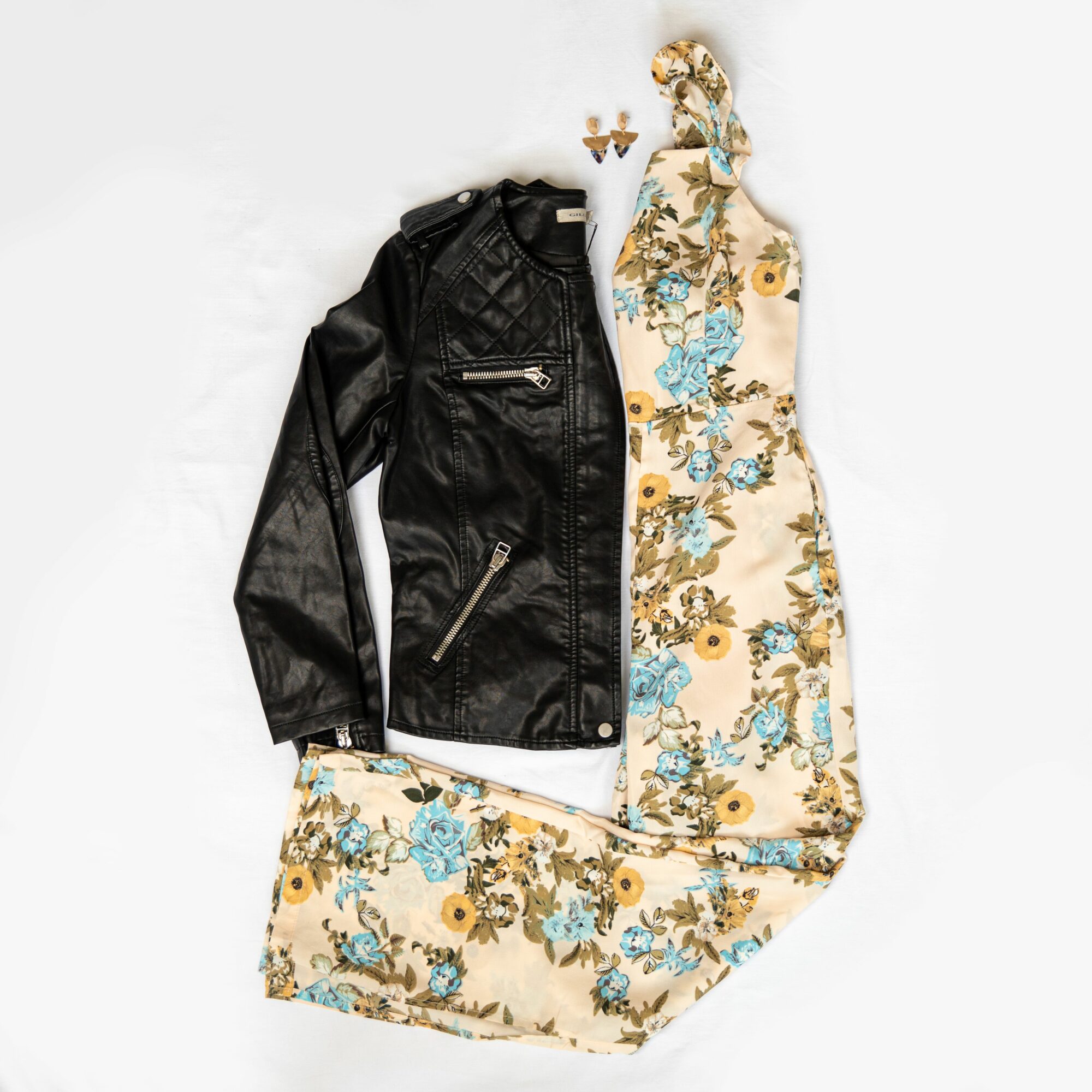 Two unexpected textiles come together in this engaging and feminine look. The Versailles jumpsuit with ruffled straps contrasts against a sleek leather jacket for the perfect mix of edgy, yet feminine style. The finishing touch is a simple earring, and you are out the door and the best dressed girlboss in the room.
Cattitude
We adore these cheetah shorts! Essentially they work as a neutral and pair perfectly with classically beautiful pieces and statements alike. Myaann styled them out with the Cut It Out Sweater, which adds interest with a black key-hole neckline and pairs perfectly with strappy heels. KF tassel earrings finish off the look, for a comfy yet totally striking ensemble.
Chunky + Sleek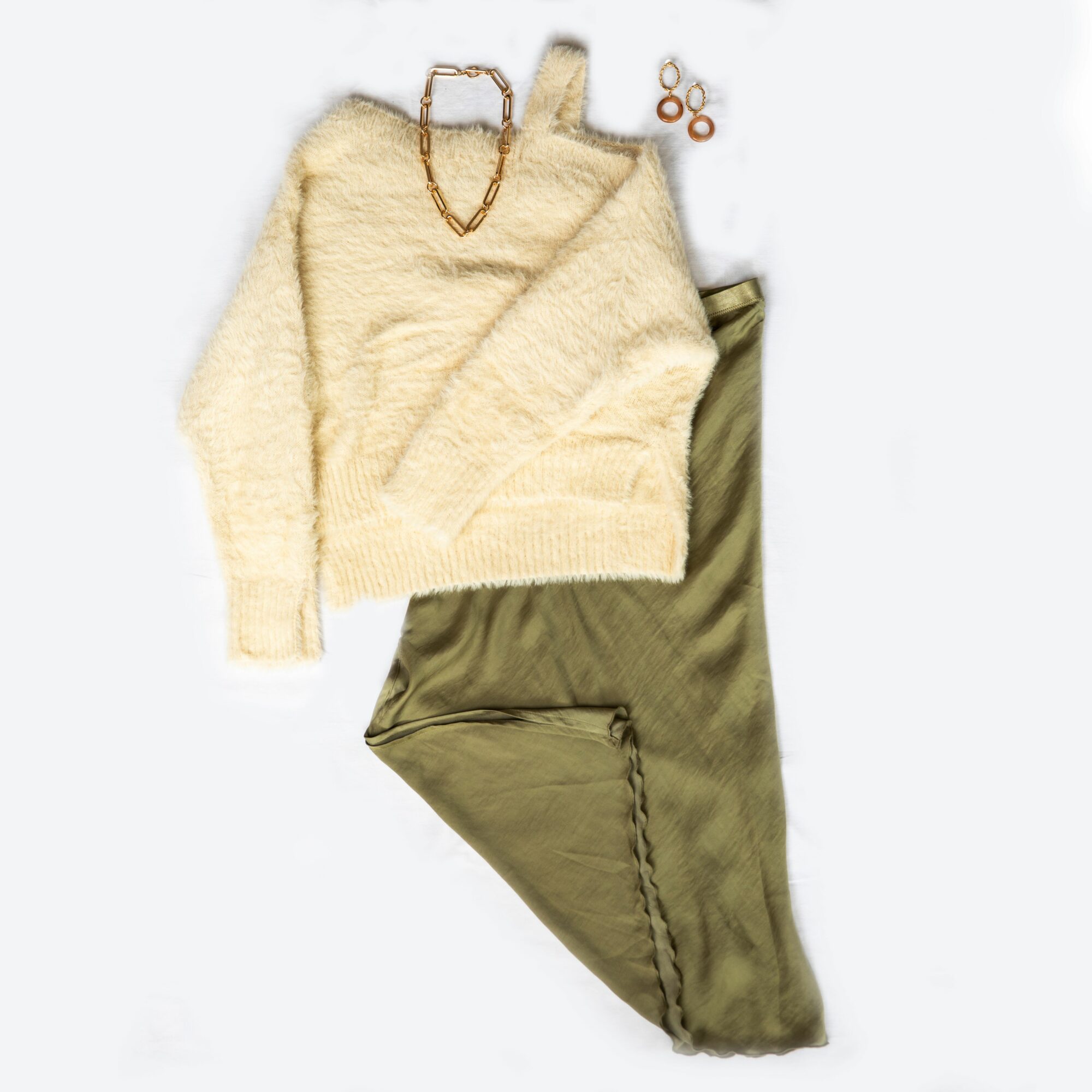 A thicker, bulkier sweater contrasts beautifully against the girly silkiness of the Serene Green midi skirt. We love the color combo of cream and green for the perfect transitional look into fall. This sweater has a fun shoulder detail that sets it apart and is also sexy and flattering. The skirt is a universal silhouette in an easy, neutral color that works with almost any top, which makes it a wardrobe staple. The chain style necklace and fall-inspired corresponding earrings are the perfect finishing touch because the right accessories are the key to any successful ensemble.
Pumpkin Spice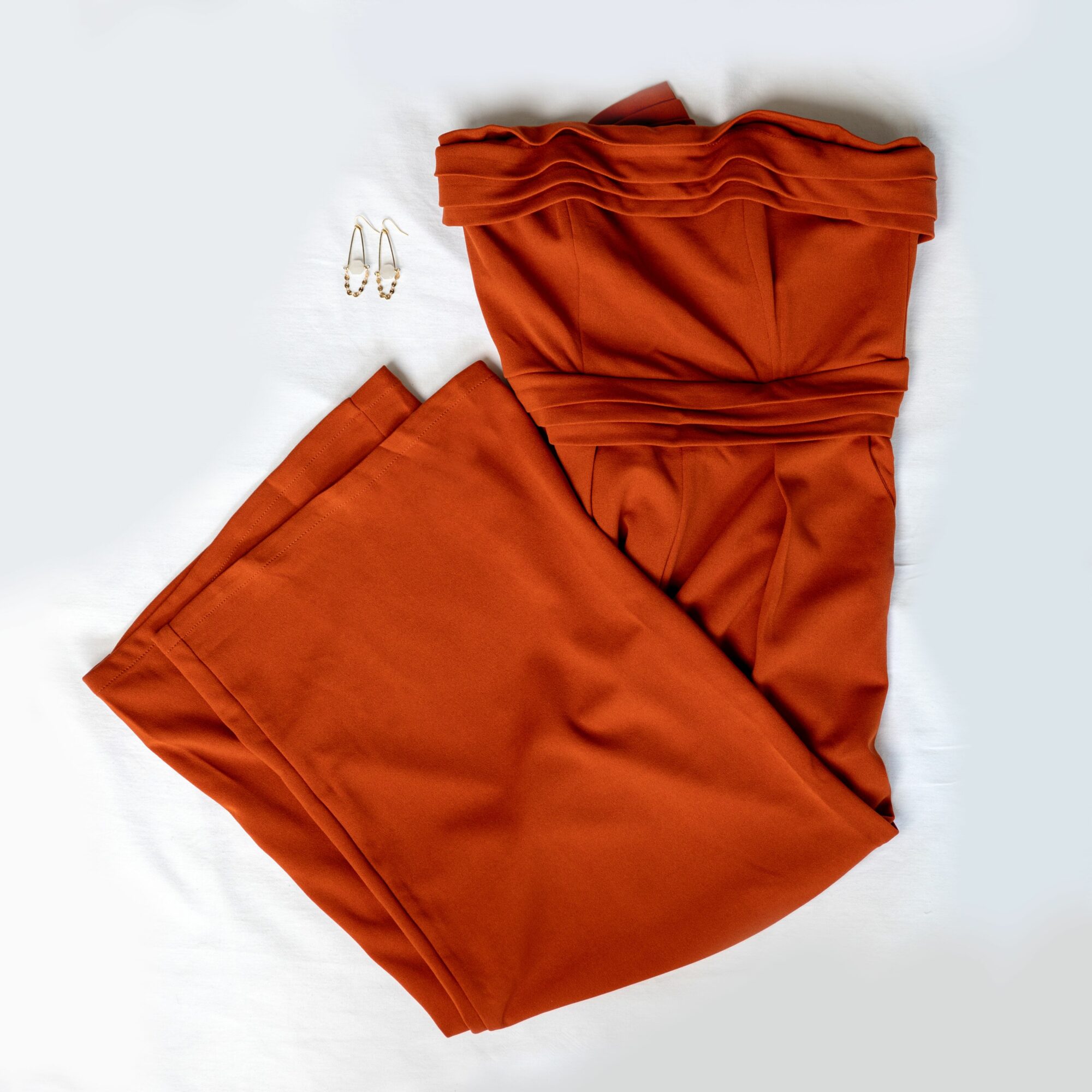 A Jumpsuit is a staple year-round, but we love finding fall ones that are totally relevant. Myaann took the Sashay jumpsuit in orange and styled with chic dangle earrings, perfect for fall, evening events. Paired with fab heels and a statement bracelet, you can walk into any room with confidence, which is what every girl wants (and needs).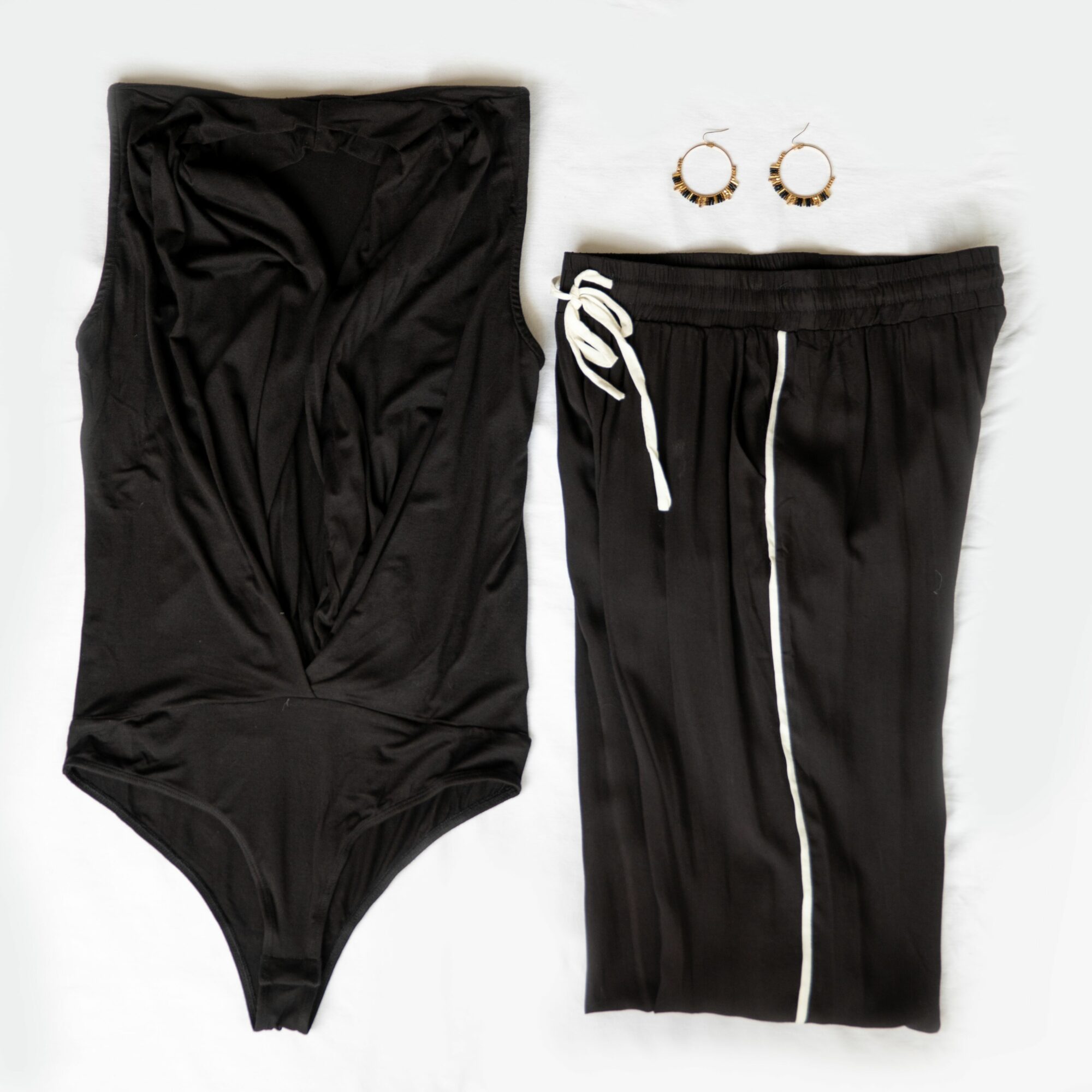 You can never go wrong with an all-black look. A drapey black body-suit tucked into a jogger with the New York Minute joggers is oh so chic and absolutely easy to wear. The slimming white racing stripe down the side of the pant is always universally flattering and elongates the leg. Myaann paired them with some fabulous gold and black hoops for a simple and clean look for the on the go girl. Paired with your fave sneakers and (on a chillier day), your fave denim jacket, and you are out the door looking like the girl boss you are.