Fall Soirées are in season, and our EIC Kathy Fielder has been to a plethora of events lately.  We drool over her instagram feed and wander how a busy entrepreneur can look so put together at any moment.  Here is KF's  ultimate guide on what to wear for your next cocktail party, brunch or formal event. A fashionable outfit is a must. We know it can get stressful when you have to attend event after event, trying to put together a stylish outfit for each. KF is an expert on styling outfits for any type of social occasion. Take a look at some of her recent outfits for a little inspo on what to wear this event and holiday season.  No matter your budget, we have lots of inspo right here.
Boutique Event at Escada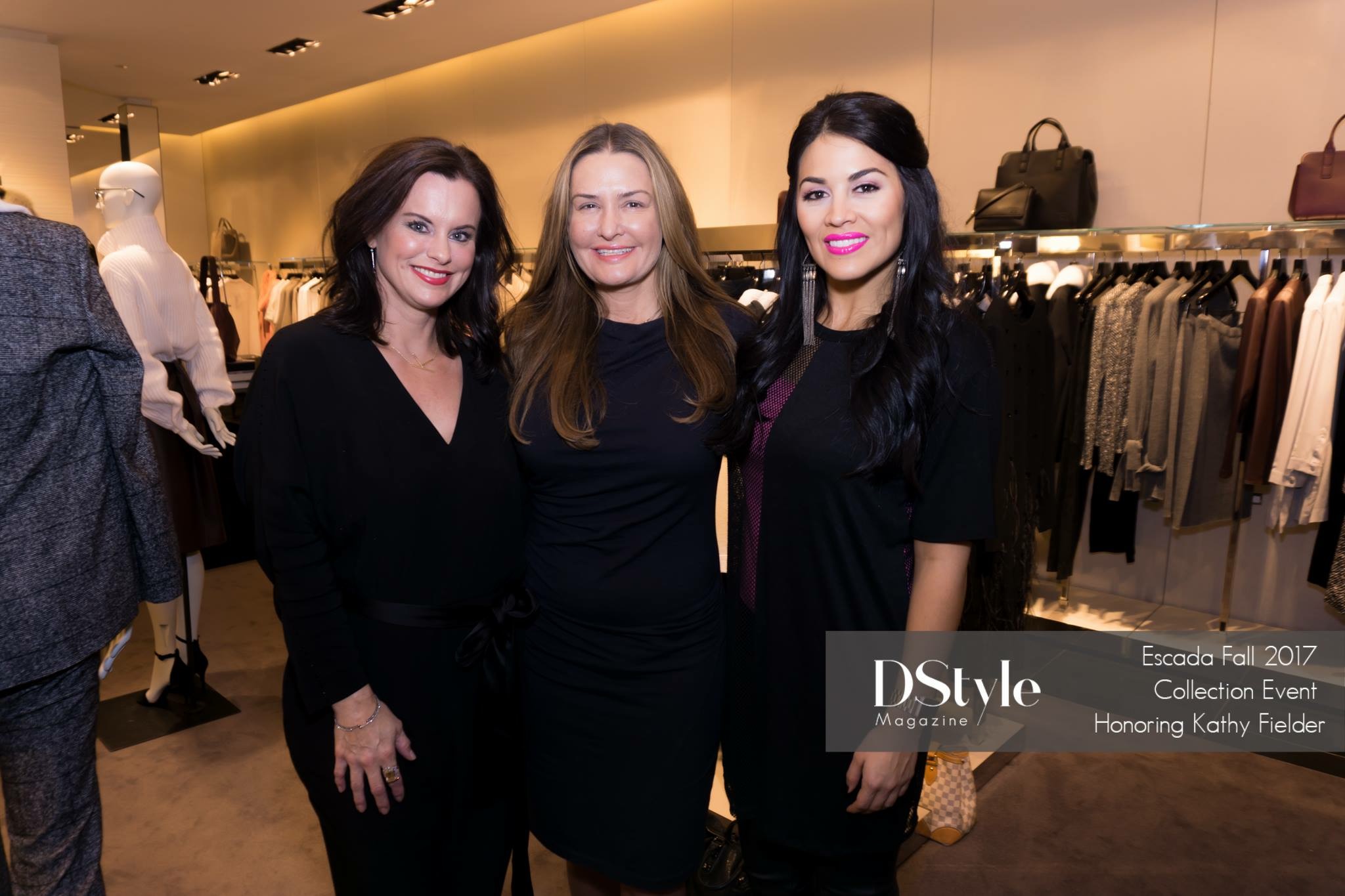 Photo Cred: Oscar Garcia of Style Magazine
Escada recently honored Kathy as an empowered woman of Dallas, an incredible honor and it definitely turned out  some of the most fashionable crowd in Dallas.  Here Kathy wears an Escada jumpsuit with studded details down the sleeve and poses for a picture with colleagues and friends, Ashley Burgess and Alanna Sarabia, co host of Good Morning Texas.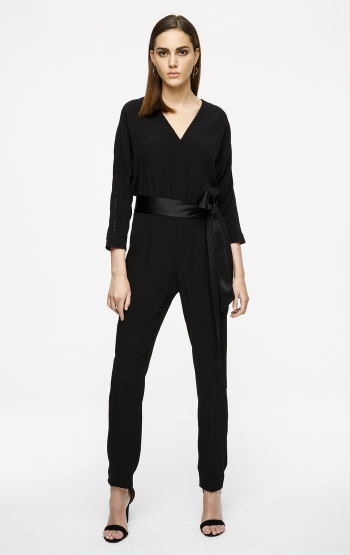 Shop Kathy's jumpsuit at Escada
A fabulous pair of sunglasses is always a necessary accessory to get to and from your event and make a statement.  These are the perfect sunnies from Escada, so glam and very refined.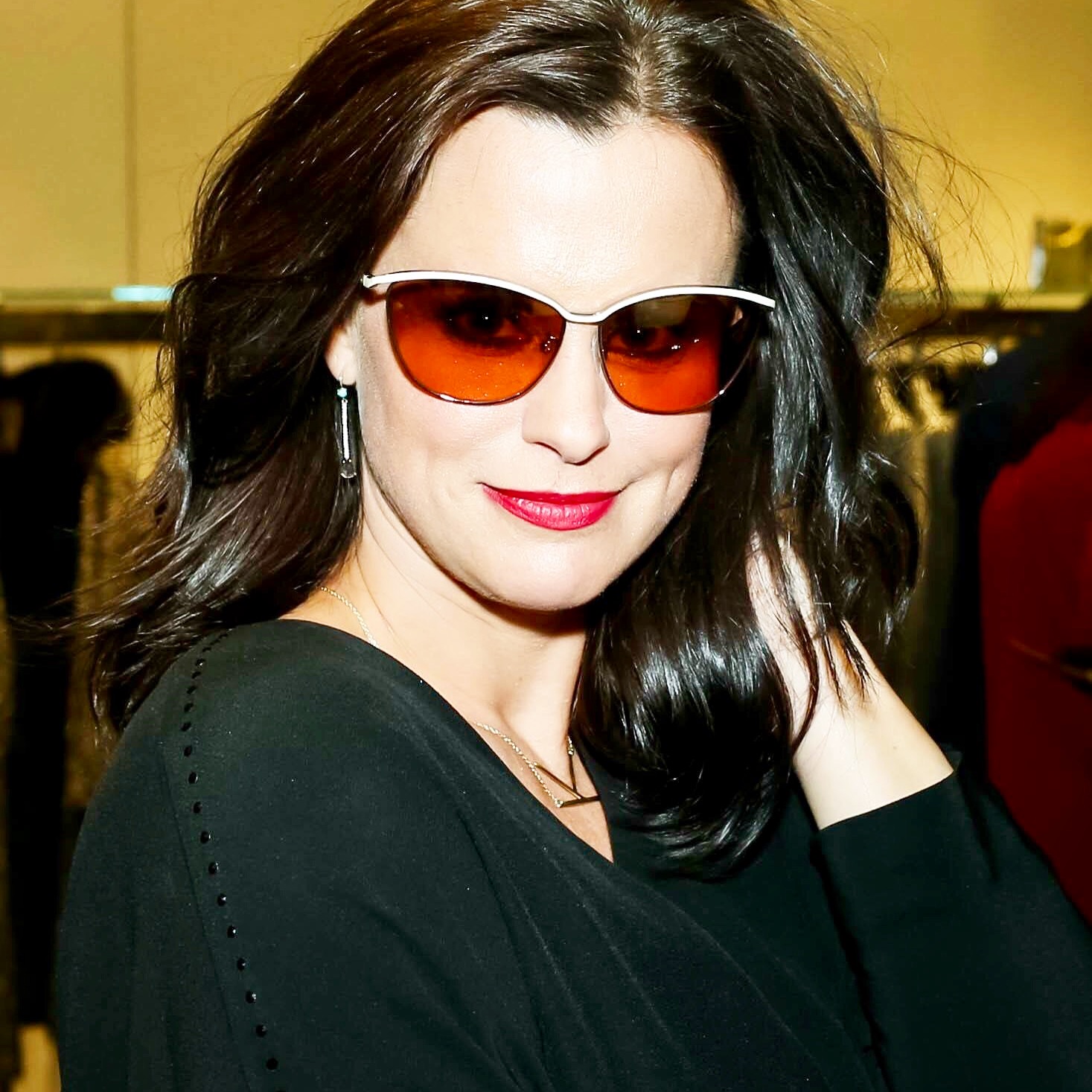 Photo Cred: Bob Manzano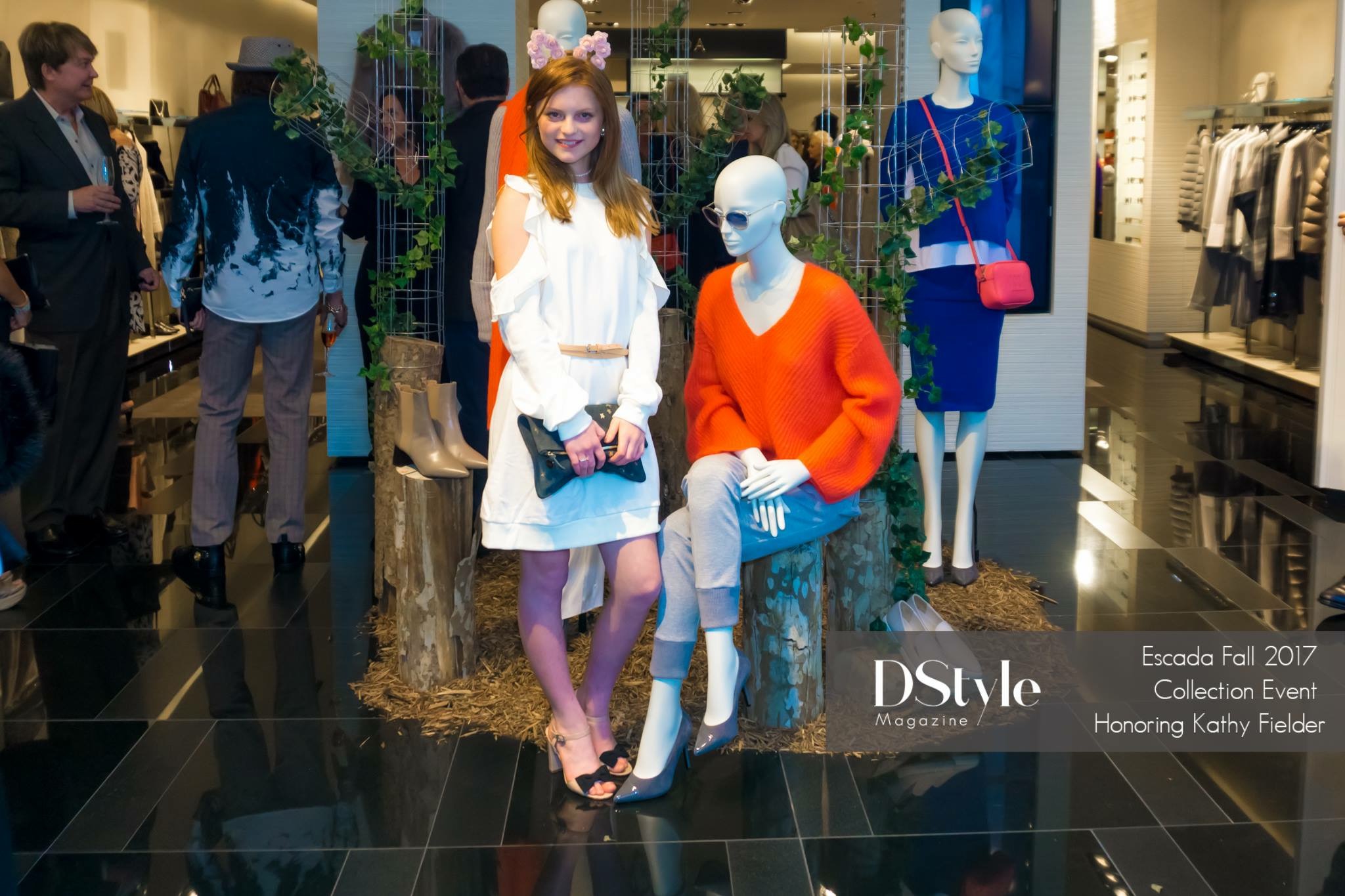 Isabella Fielder looks perfectly chic and appropriately dressed for a trendy 13 year old.  Dress from F21 and Kate Spade shoes make her perfectly polished. A little whimsy like Bella's headband from F21 is the perfect accent to keep her looking fresh faced, young, and age appropriate.
Cocktail Attire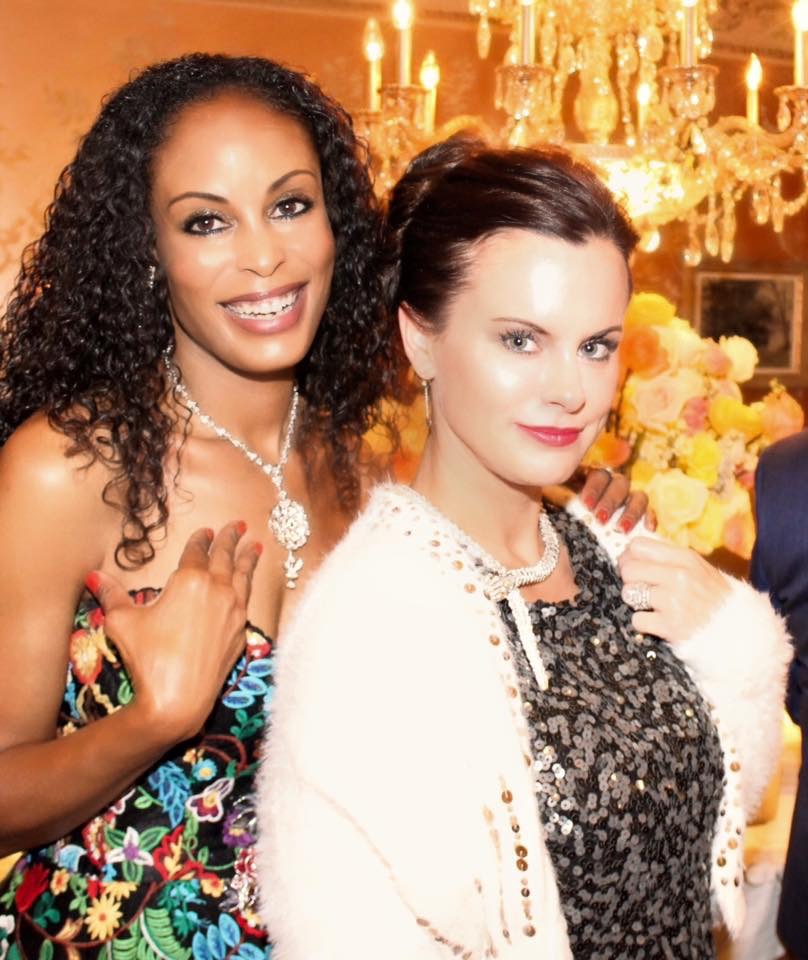 KF attended the Patron party for the season kickoff of The Dallas Opera. Bulgari, along with generous hosts Clay and Lisa Cooley created a magical evening with live opera and the magical experience of trying on dreamy, gorgeous gems by Bulgari. Deve Sanford wears a dress by Esé Azénabor. Kathy wears a shrug by Anthropologie (the perfect addition with cooler weather), along with her sequin sheath.
Anthropologie Soiree Cardigan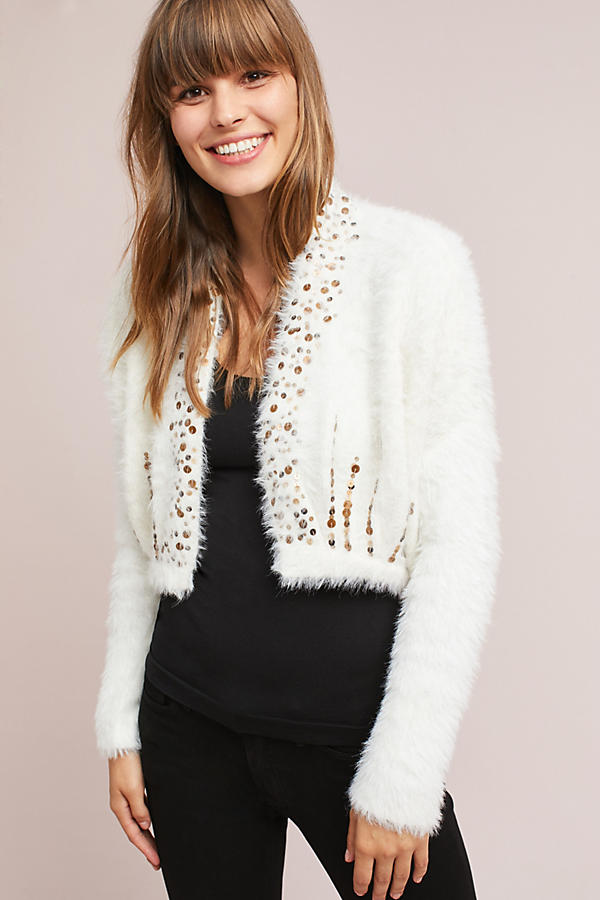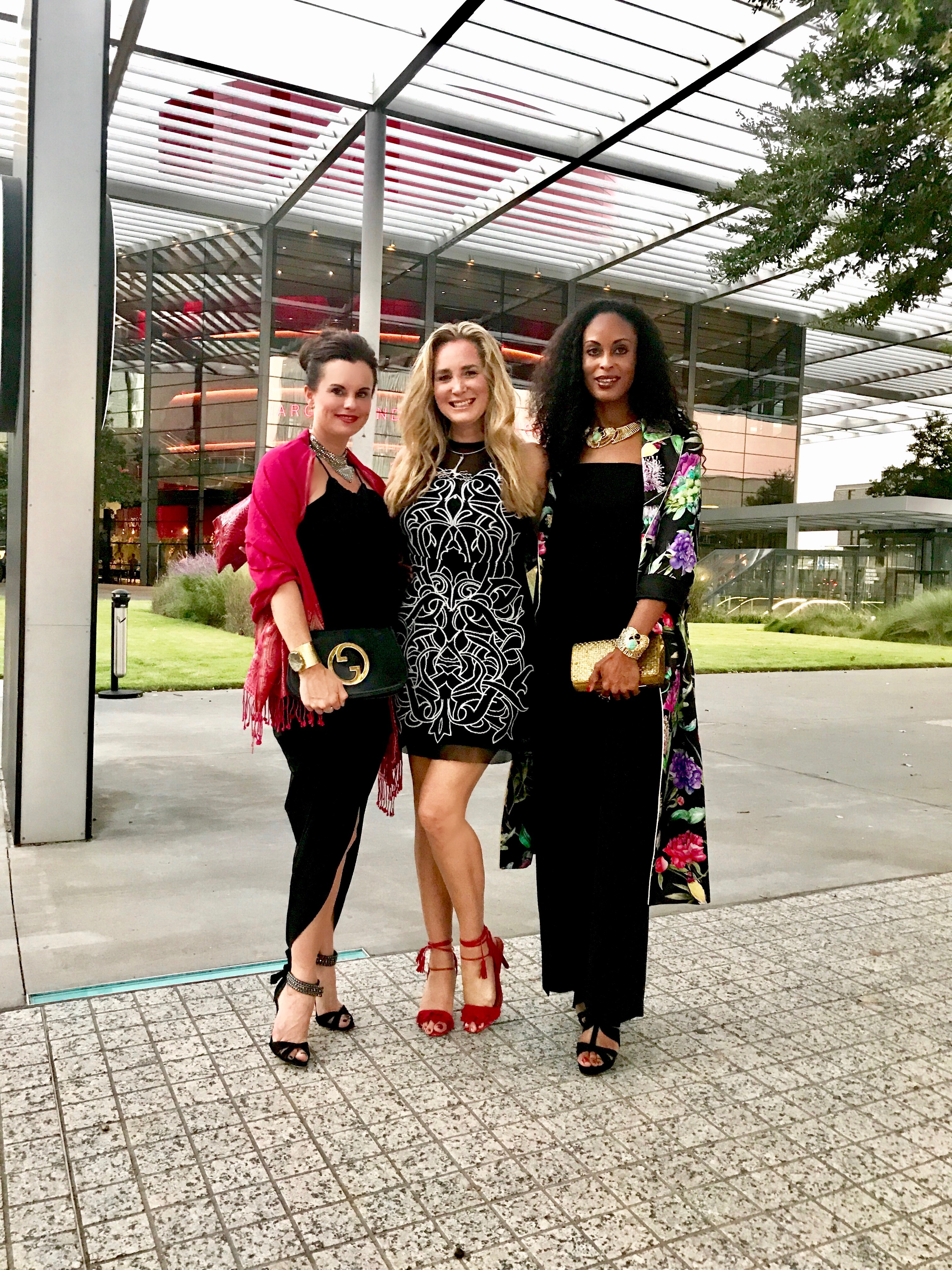 Pictured at the Premiere of Nardos Fall Collection at The Winspear, KF wears a dress by Level 3 Active.  Yes!  it's actually active wear with easy fabric for the ultimate glamour and comfort.  A vintage Gucci clutch, fab studded heals, and a quick and easy undo make this ensemble a definite go-to.  Pictured here with friends and colleagues, Deve Sanford (art curator) and Britt Harless (BAHZ).
Business Attire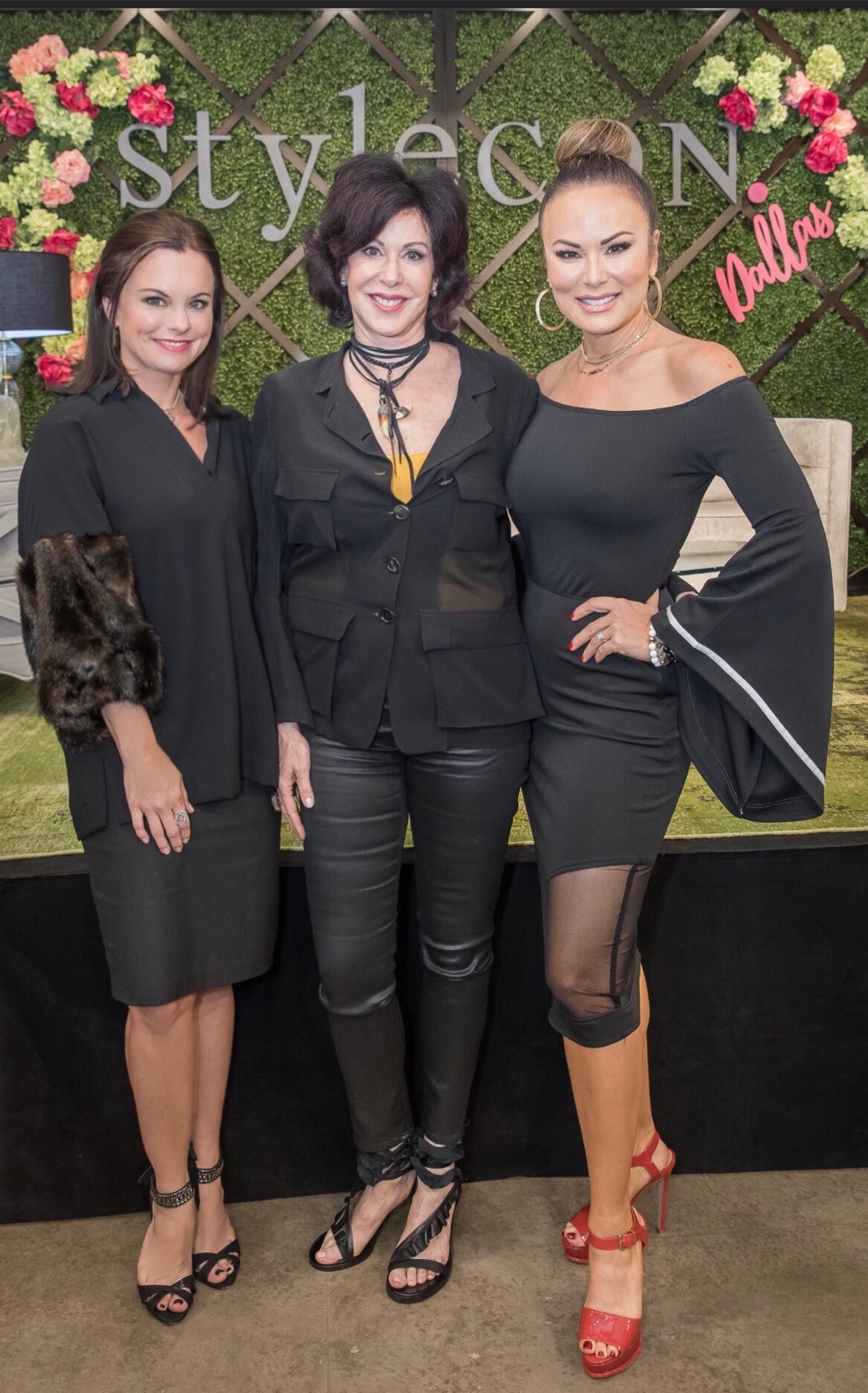 Recently, Kathy designed the StyleLounge at StyleCon, also spoke on a panel with cosmetics entrepreneur Susan Posnick about what it means to be a woman entrepreneur, mediated by Real Housewives of Dallas star, Tiffany Hendra. Kathy chose a fur trimmed tunic from Zara with a pencil skirt and scrappy heels. Hair half up and half down is perfectly professional and pretty.
Brunchtime Fashion Show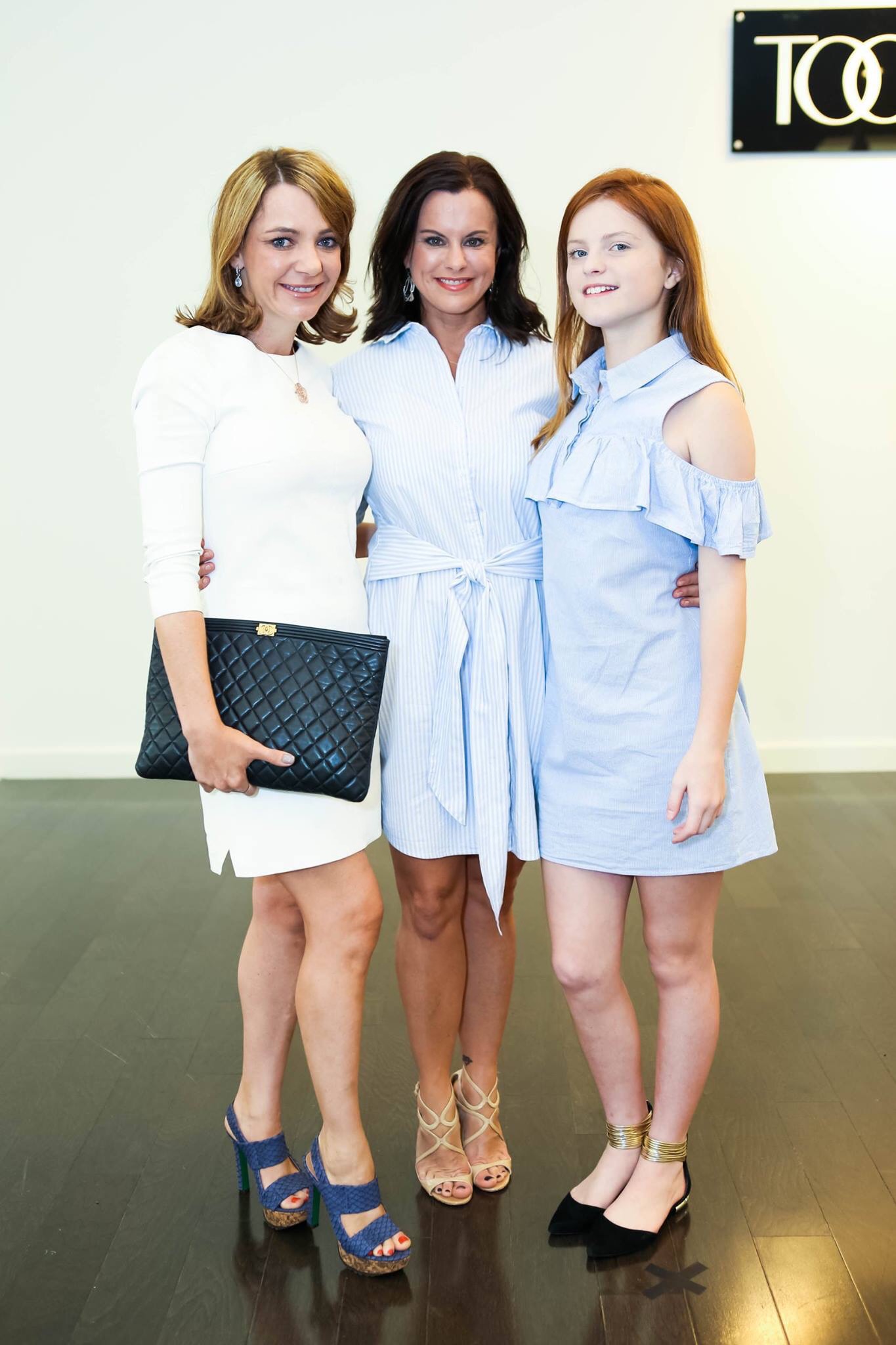 At the Elisa Project, an Esteem event held at Tootsies, Kathy wears a wrap dress from Dillards and nude Jimmy Choo heels. A morning event which she attended with her daughter Isabella, it called for an easy and effortless look that was fresh and pretty.
Nordstrom Socialite Tie Front Shirtdress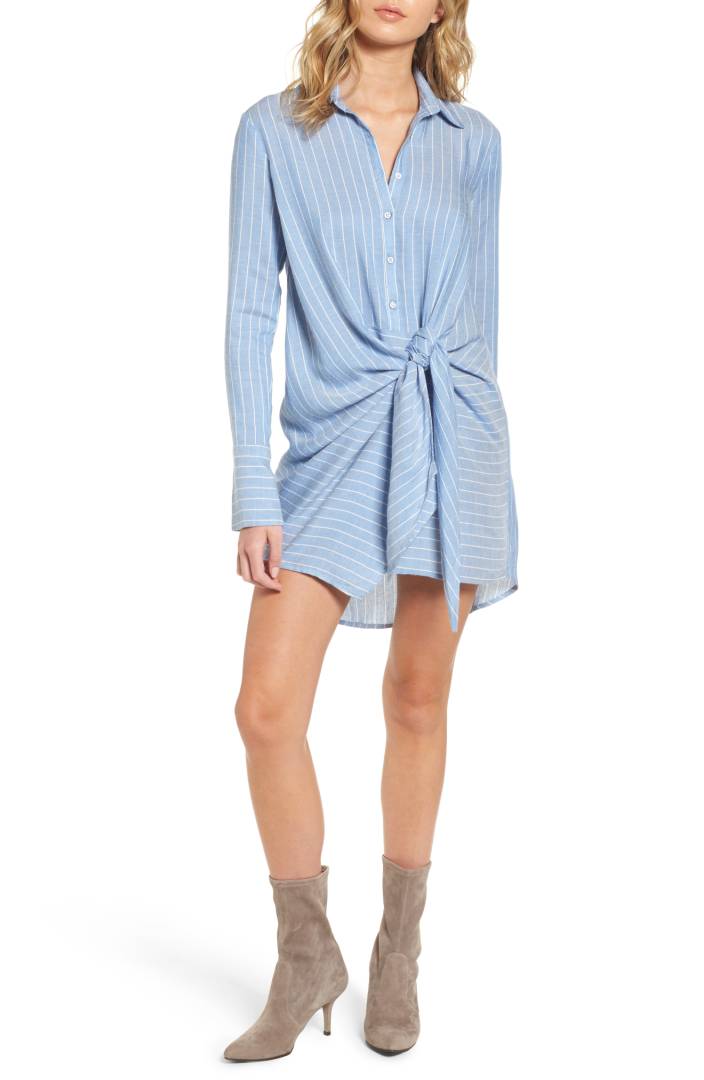 FSFAC 2018 Kickoff Party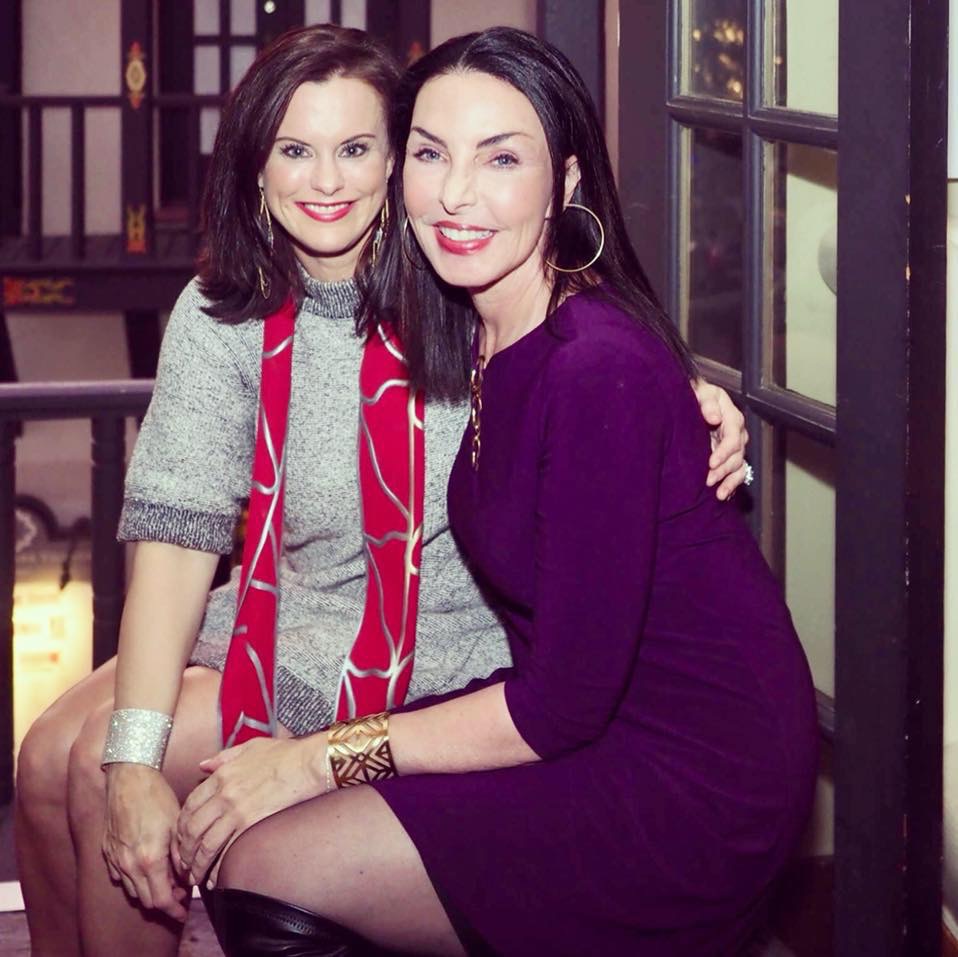 At the Fashion Stars for a Cause Event benefitting Suicide and Crisis Center of North Texas, KF and Mary Bentley pose for a gorgeous shot. A simple dress that shows a little leg, Kathy added a hand painted scarf as her eye-popping accessory.  Accessories really do make or break an outfit, so make sure you have just enough to finish off your outfit before you walk out the door.   Kathy plans on walking the fashion show for this event in the Spring as a Fashion Star For A Cause, as will Mary.
Formal Event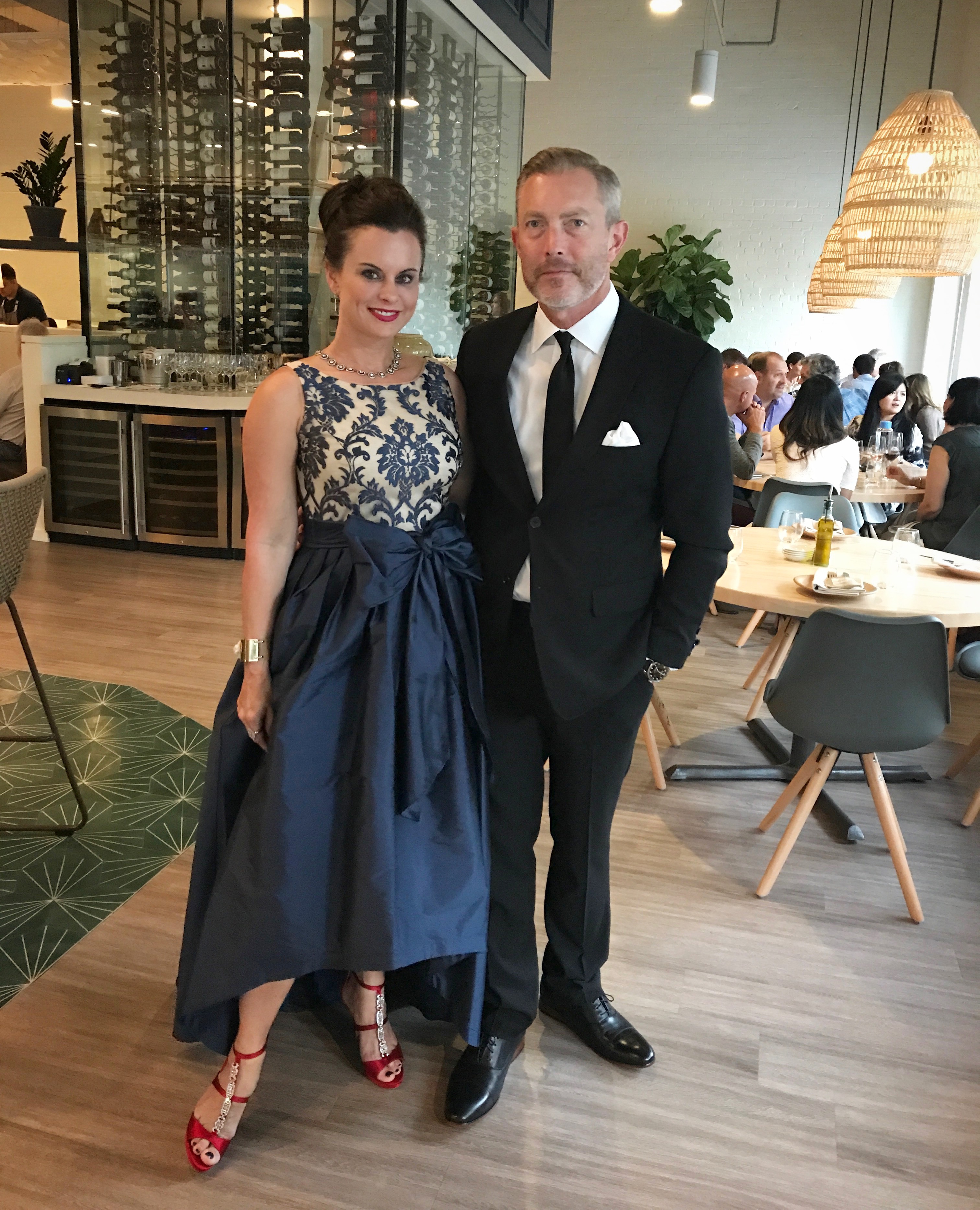 KF attended the SPCA Furball to support a better life for our furry friends. She is wearing a dress from Dillards, Badgley Mishcka shoes and KF Design|Life|Style accessories.  Silk taffeta is always glam and especially feminine, and the pop of red with the saturated blue tone makes a stunning statement and gives this outfit incredible depth.
Karl Lagerfield Jacquard Gown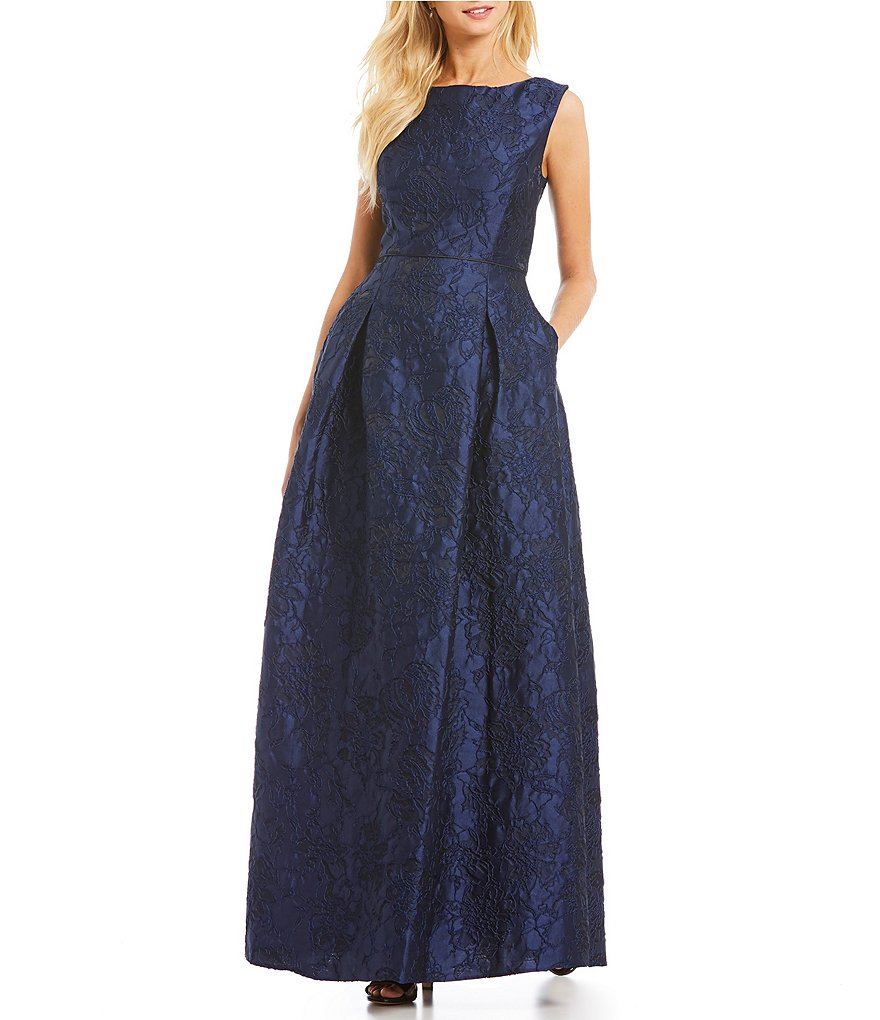 Adrianna Papell Hi-Low Sleeveless Gown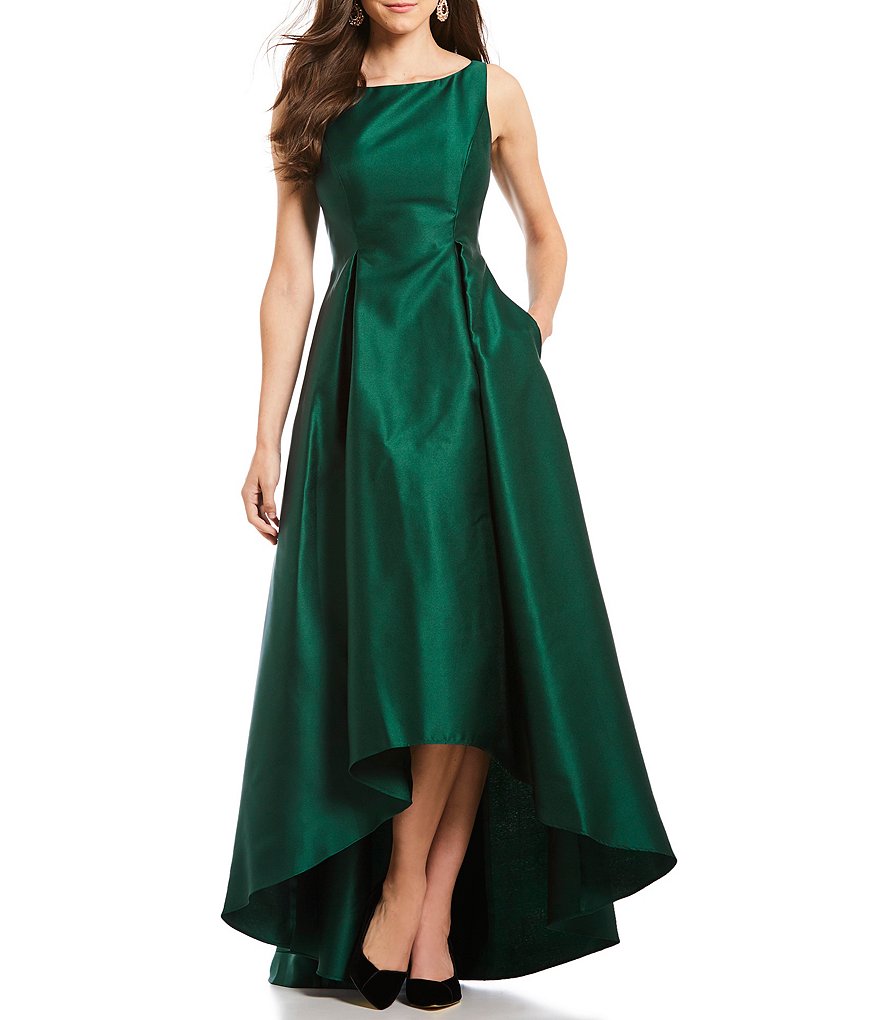 Kid's Attire
KF loves bringing her family along to as many of the events she attends as she can.  If you need a little inspo for the perfect kids' outfits, we have it here for you.  A firm believer that it is never too early to teach your child how to look or dress at an event, Kathy makes sure to stock her kids closets with something that looks put together, so there's never any stress when getting ready for an event.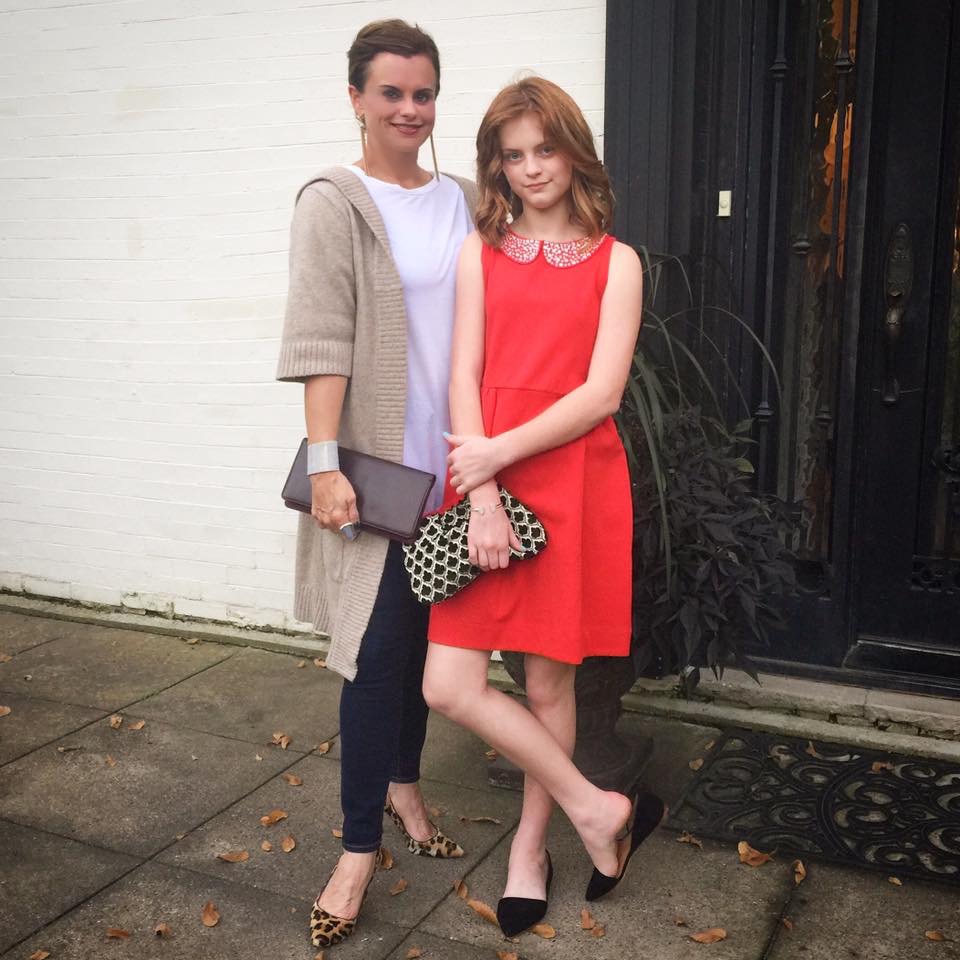 Bella wears a dress from J. Crew with a KF clutch and J Crew shoes. Kathy is carrying a Saint Laurent clutch, leopard shoes (which always looks super chic), and fabulous statement earrings for a perfectly subtle outfit for a  first middle school dance!
The Harriet Foldover Clutch by KF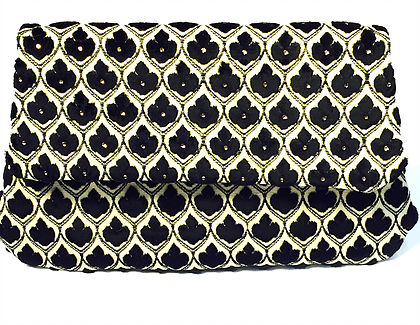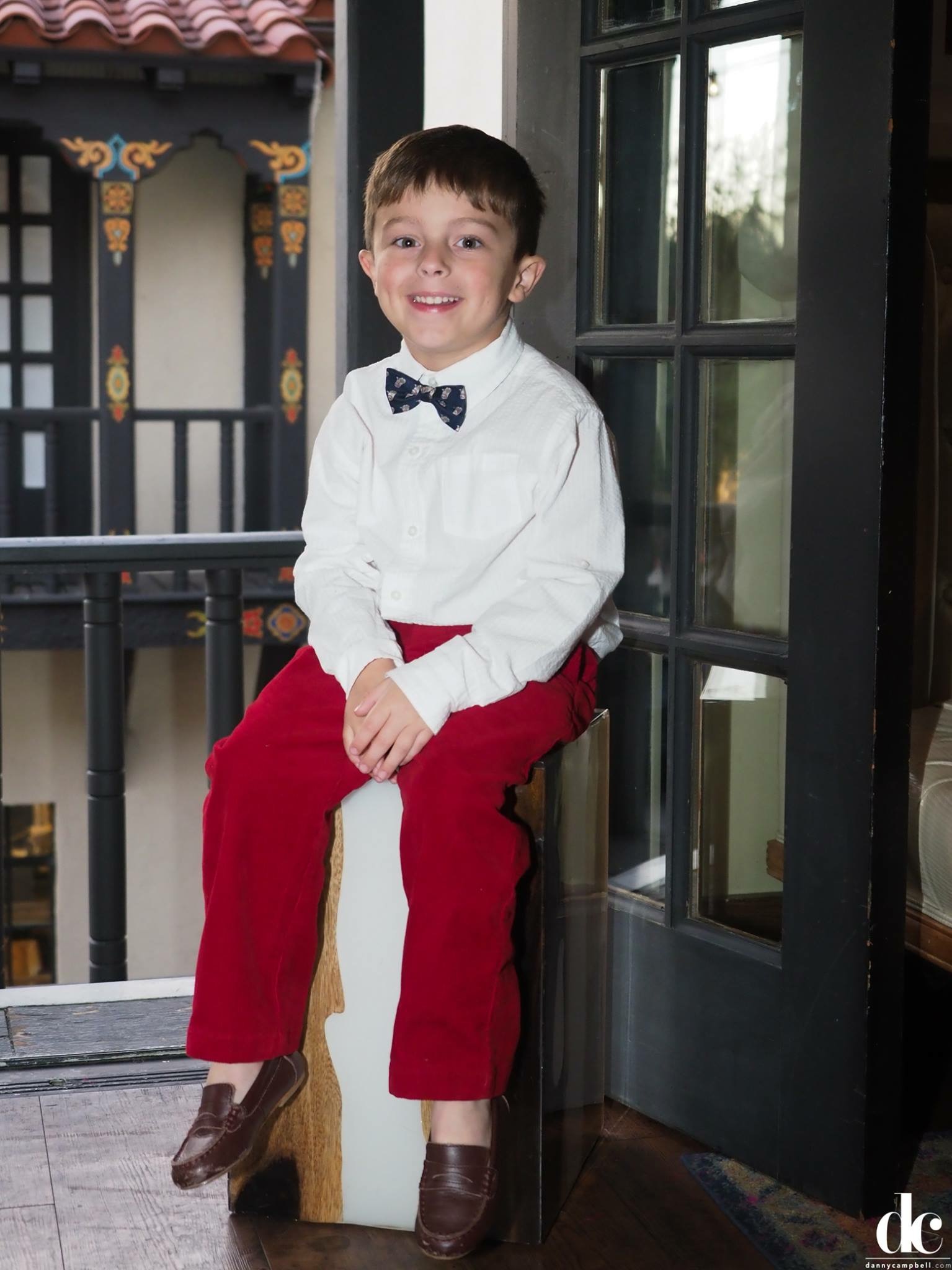 Kathy's handsome Harry wears Janie and Jack at the kickoff for the Fashion Stars for a Cause Event held at Bistro 31 in Highland Park Village.
Janie and Jack Bulldog Bowtie