Summer is the time for entertaining – both indoors and out. Whether you're having a few friends over or a big party, a beautiful table that is easily ready for hosting is a must. Hanging by the pool or throwing a more relaxed dinner party, maybe a touch of both? We have you covered! Spending the evening indoors and then cocktails by the pool, we've got all the inspo you need to create a beautiful event. See KF's inspo here for quick and easy tablescapes, whether you're hosting indoors, outdoors or all of the above!
Indoor Table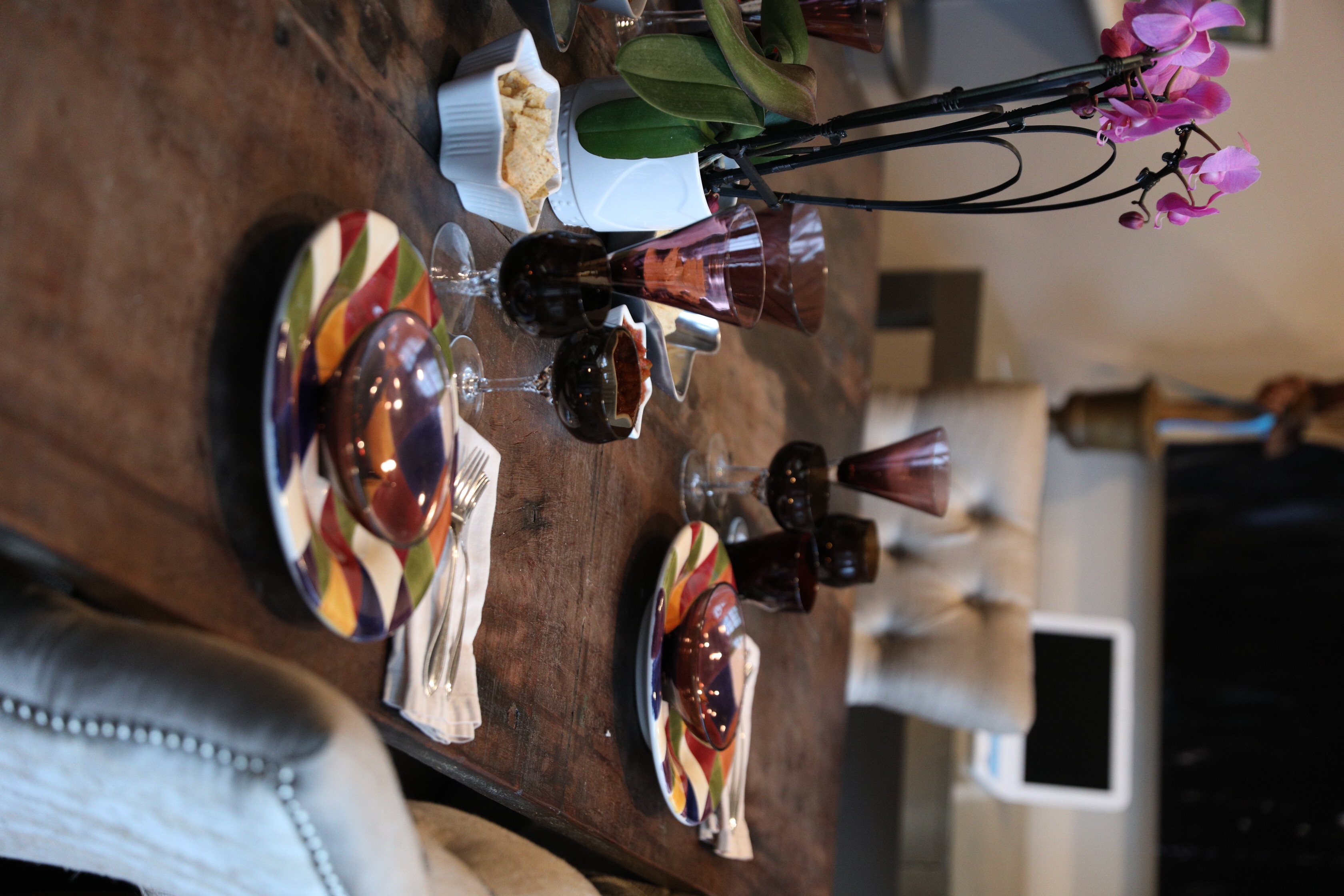 KF knows the importance of utilizing essentials. She usually has her table set with universally chic pieces so it's easy to add needed items to mix and match and add to your theme. One of the quickest ways to add a touch of personality to your table is with your centerpiece. It easily is one of the key pieces that sets the theme and tone of your party.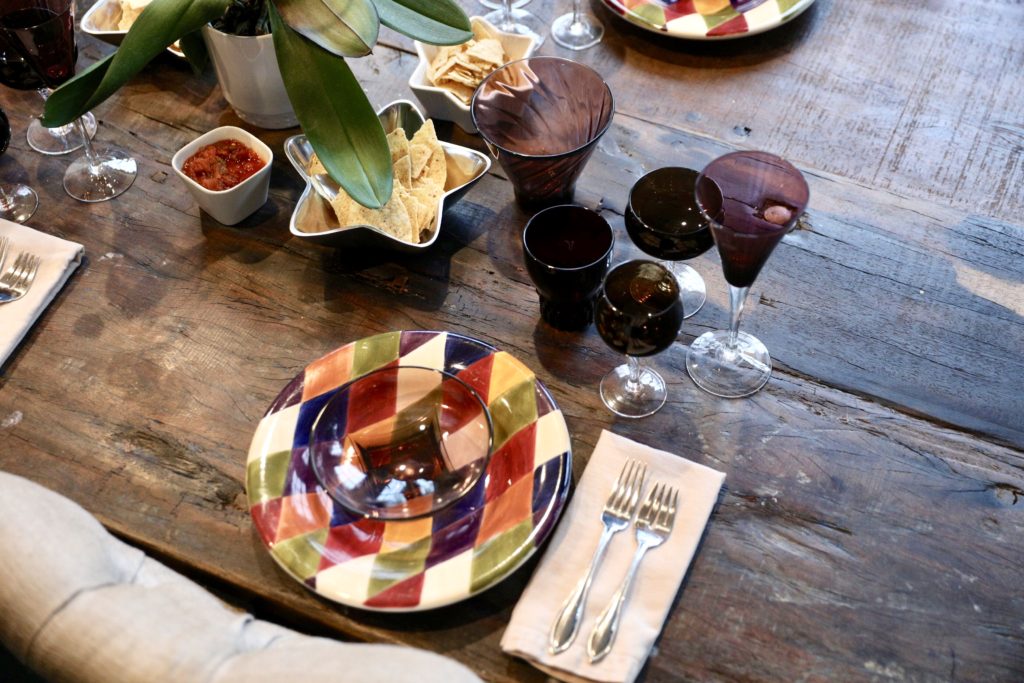 Mixing patterns with solid colors adds interest to any table setting. KF mixes uniquely diamond patterned small plates with her vintage purple dishware to create a festive and fun vibe, and an unexpected color combo that proves why she is the lifestyle expert! This perfect pairing is so fun for your summer table and is suitable for all kinds of themes and meals.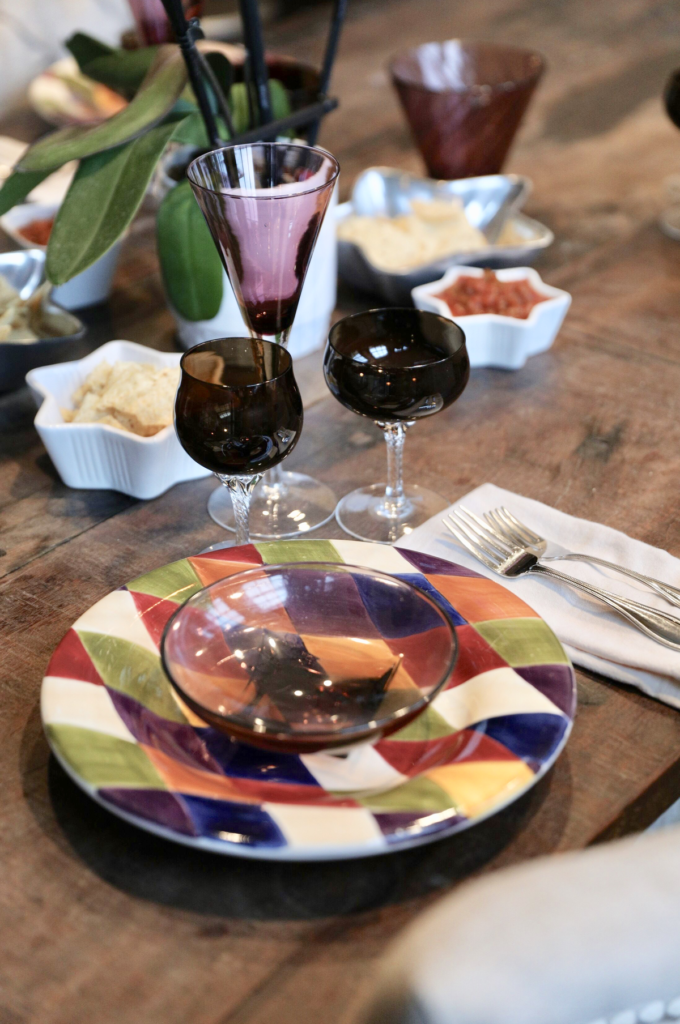 This table has all the essentials for hosting a dinner party or serving a quick meal so everyone can hop in the pool to cool off after dinner or enjoy a nice cocktail al fresco! KF utilized some unique vintage pieces from plates to glassware along with a festive harlequin touch to create a one of a kind tablescape that is whimsical, fun, and inviting.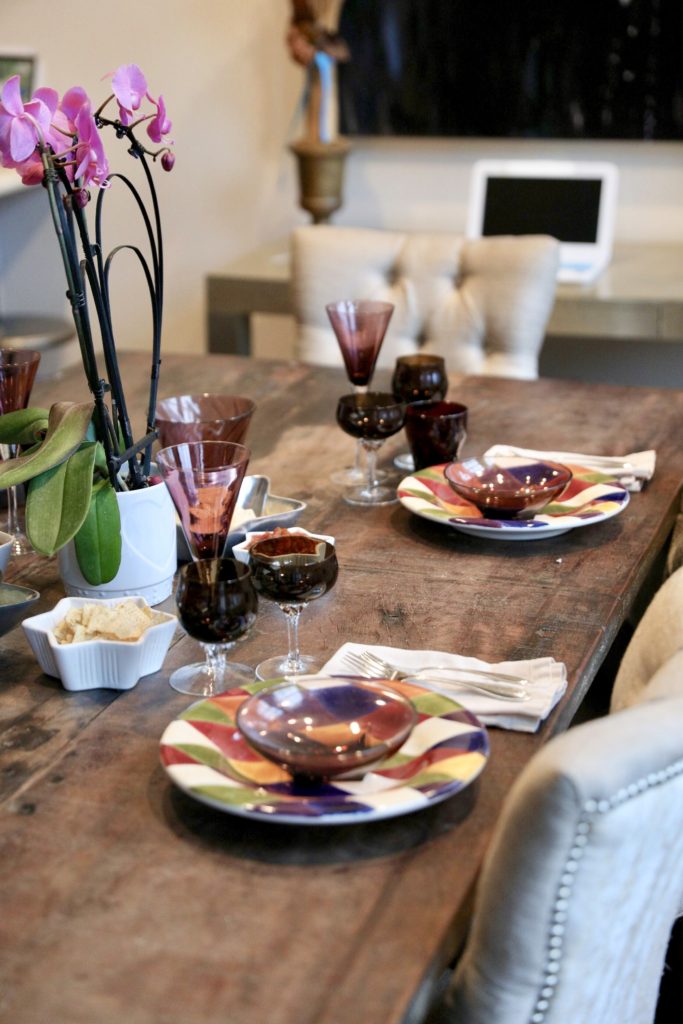 Mixing different sizes and shapes of glassware adds a level of sophistication to a table and allows guests to sip on multiple beverages during the meal, ensuring your guests' ease and enjoyment during your dinner party.
Outdoor Table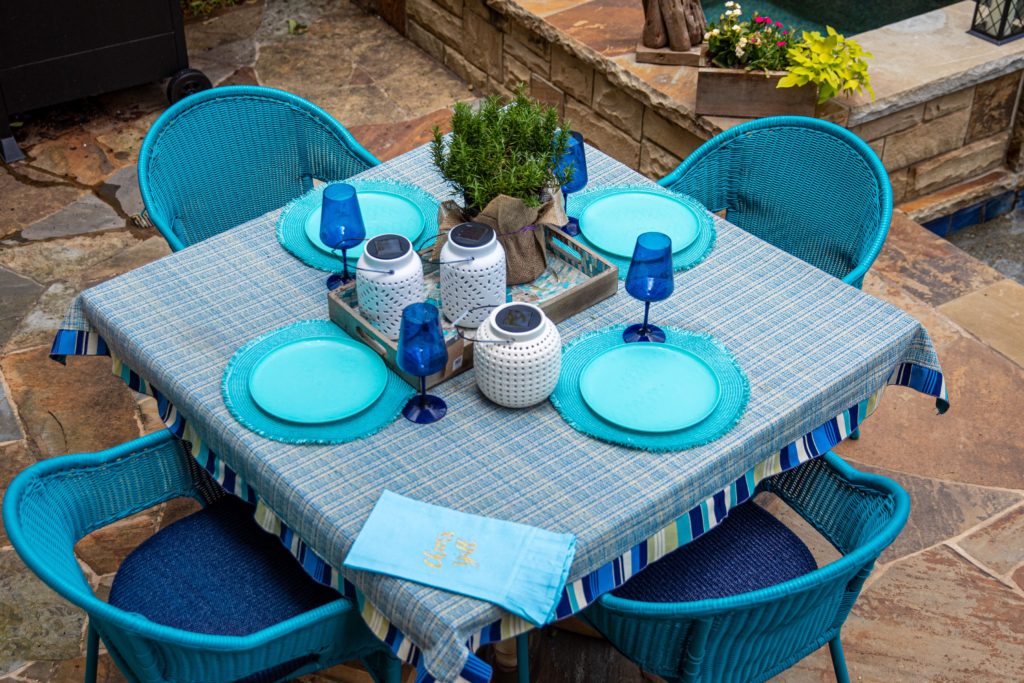 Is this not the most KF table you've ever seen? Perfectly styled in her signature color and perfect for the summer season!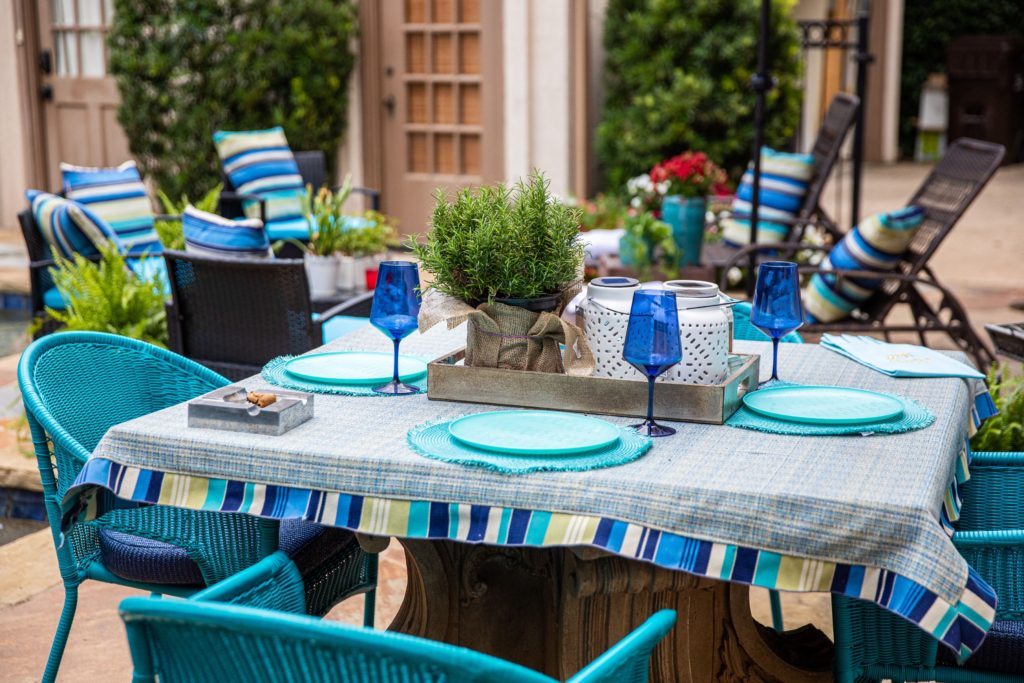 An outdoor meal is the perfect place for plastic wear. It makes for easier clean up, but with such economic, yet chic choices on the market, you just can't go wrong. Brilliant!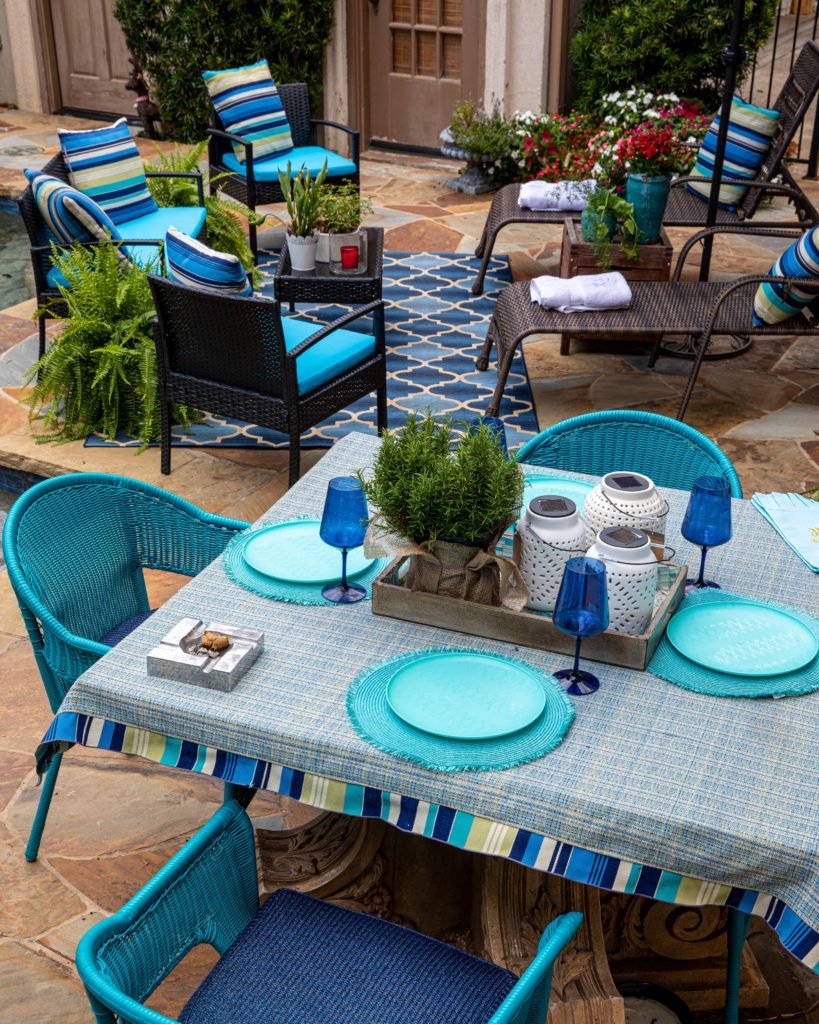 A center piece with solar powered lanterns from World Market, paired with rosemary gives her table an invitingly natural look.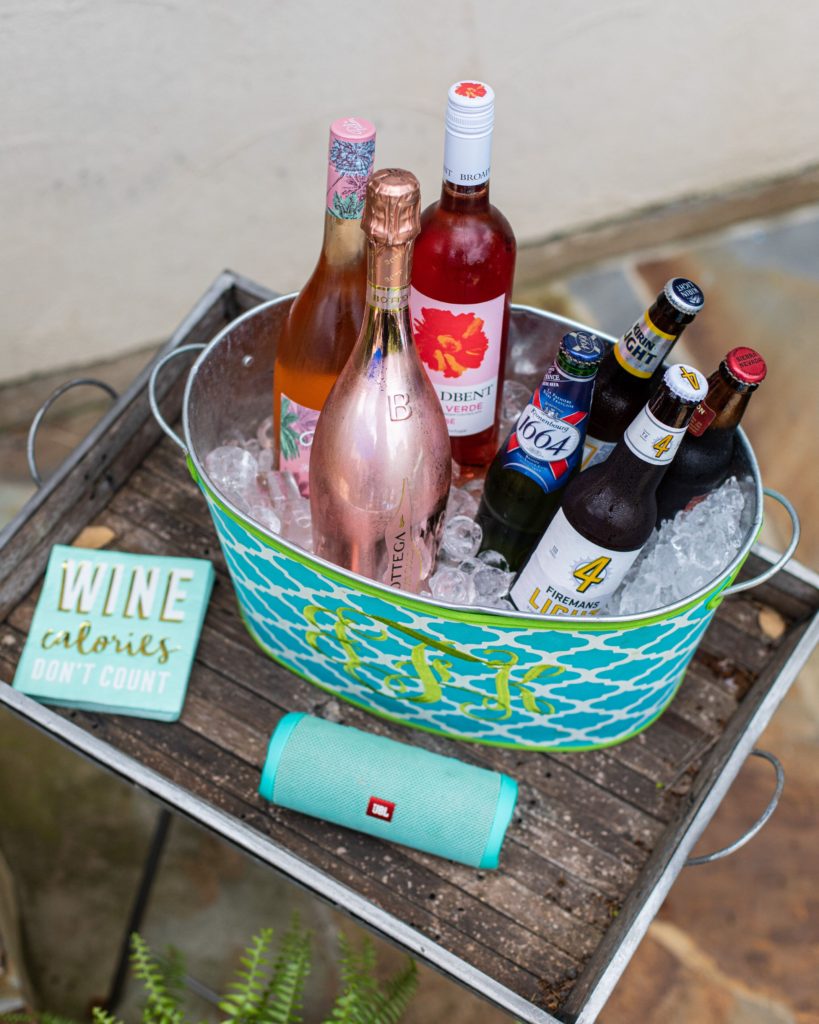 KF tip ~ An ice bucket with different drink choices located close to your table makes it easy to quickly refresh drinks while you are outside and feels a little less formal and more inviting to guests. Have a mix of what everyone is enjoying so you can easily help them refill throughout the party and don't have to run inside too often and can enjoy yourself as well. Also, don't forget the music. A Bluetooth speaker is the perfect way to keep the vibe relaxing and festive.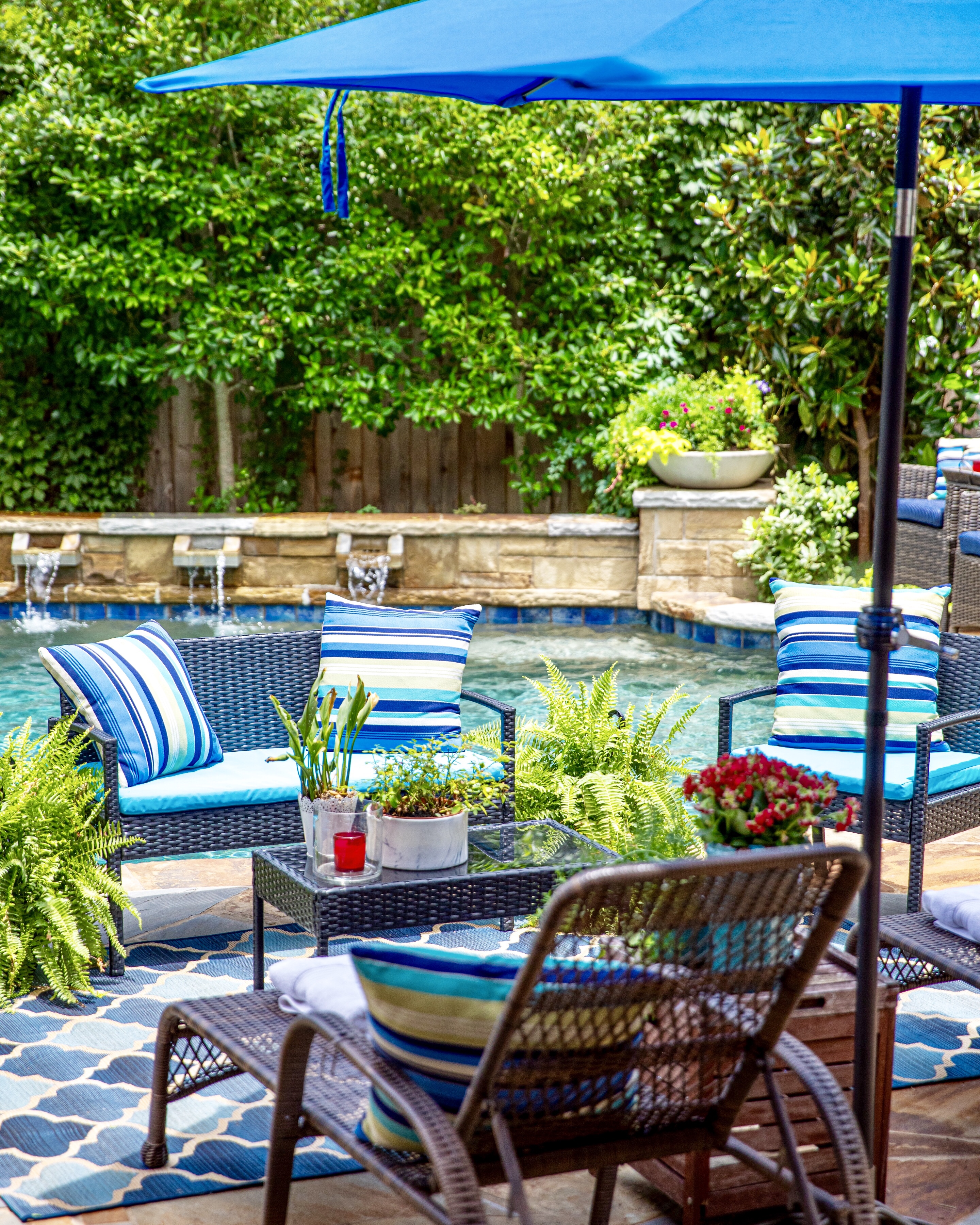 Having other seating areas outside of your dining table ensures your guests comfort and enjoyment all day and into the evening. KF styled her outdoor seating area by the pool and with all of the outdoor textiles and rugs you can find on the market today, the sky is the limit on creating your outdoor oasis.