Blue interiors are IN – in fact, they are a classic and are always on trend. All shades and hues. From light and soft tones, to rich and saturated tones, blue makes a beautiful statement. Whether it's for a large space or small, it is refined and elegant.  This week we look at ways to remake your room with shades of blue, no matter the size of the room that needs a little refresh.
Perfect Pairings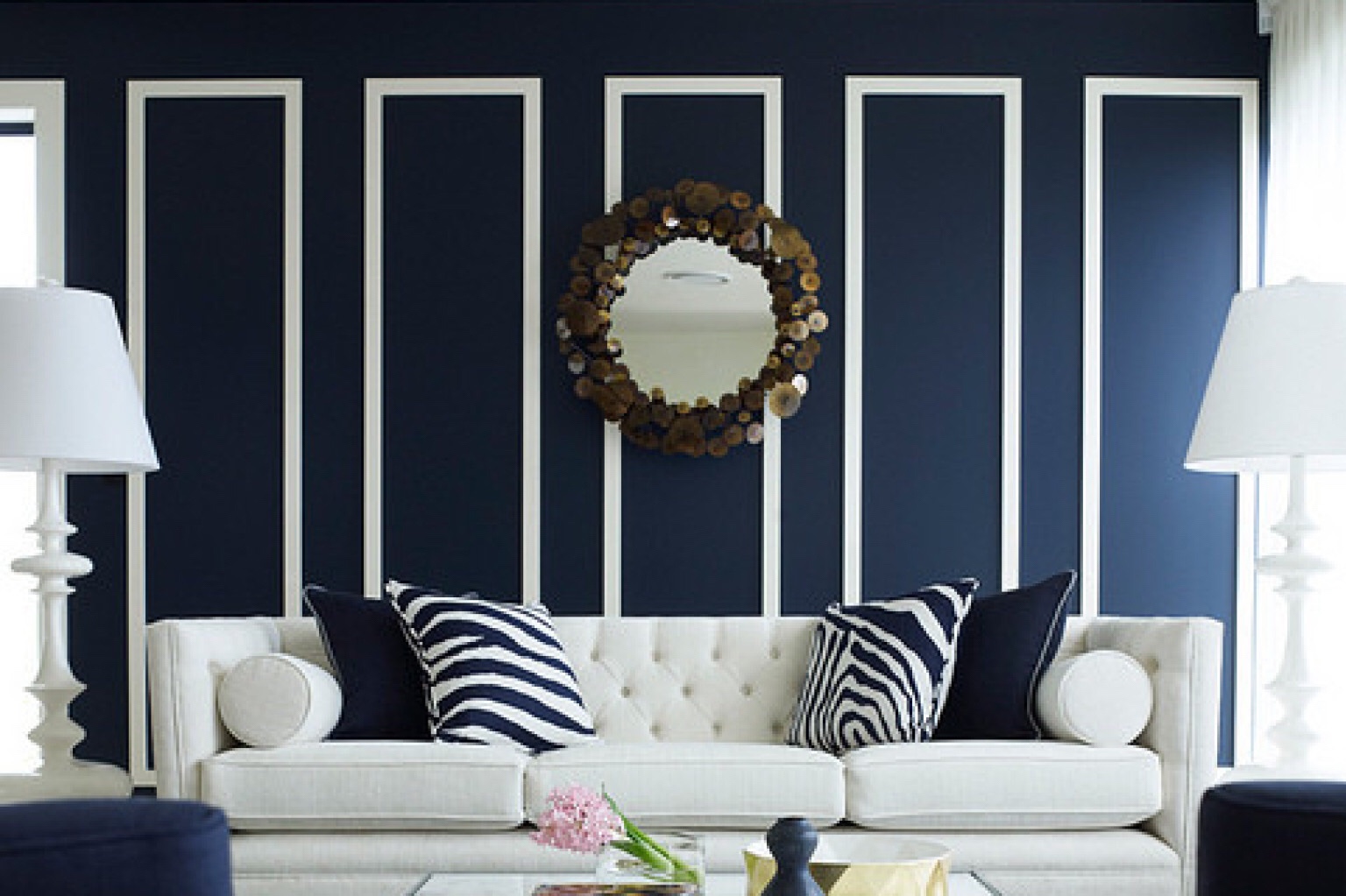 Blue & White always makes a serious and impressive visual statement.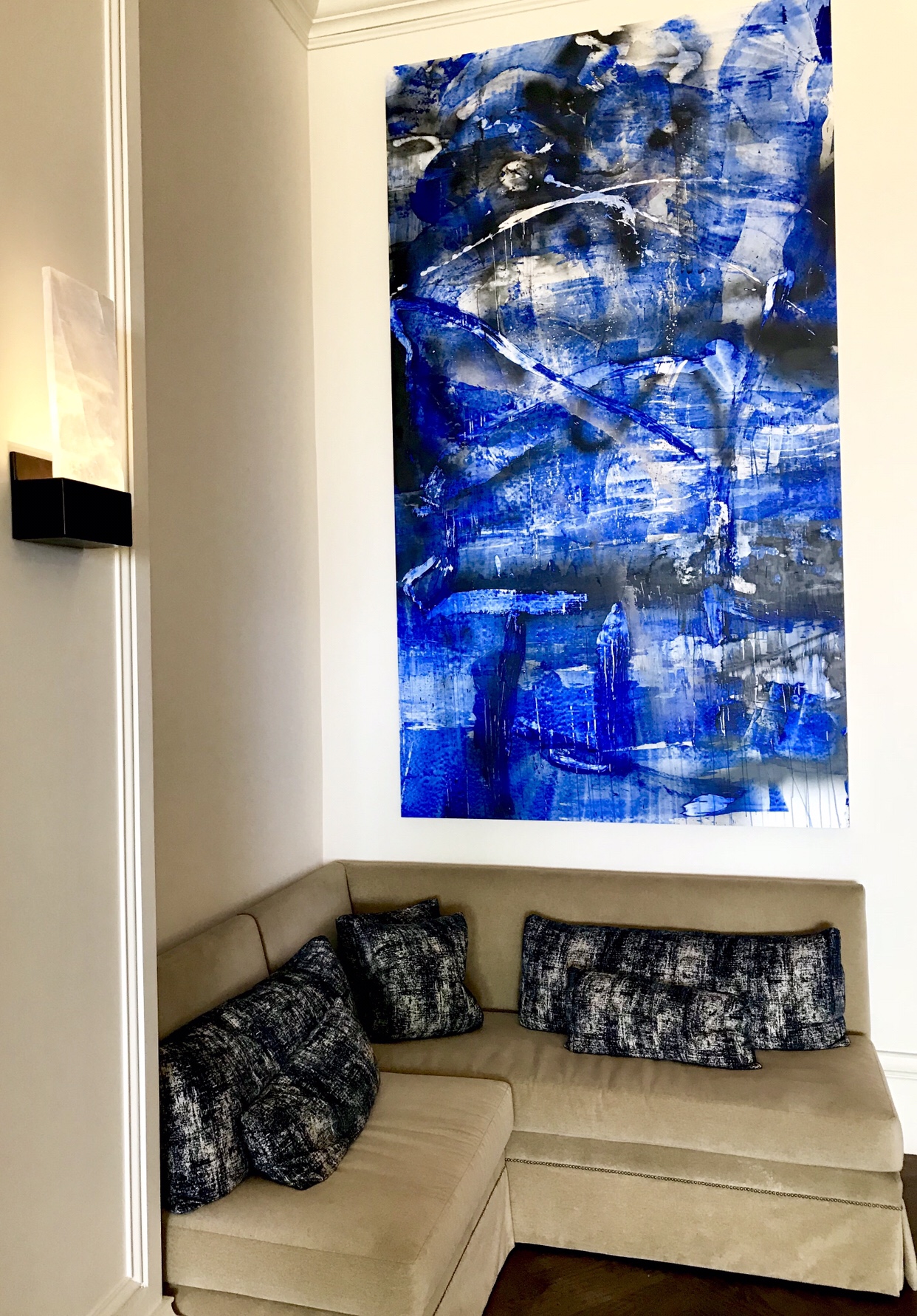 Photo: Kathy Fielder at Monarch Bay, Laguna Beach, California
A statement piece of art in cobalt blue turns this sitting area into something spectacular and makes you want to grab a seat and relax.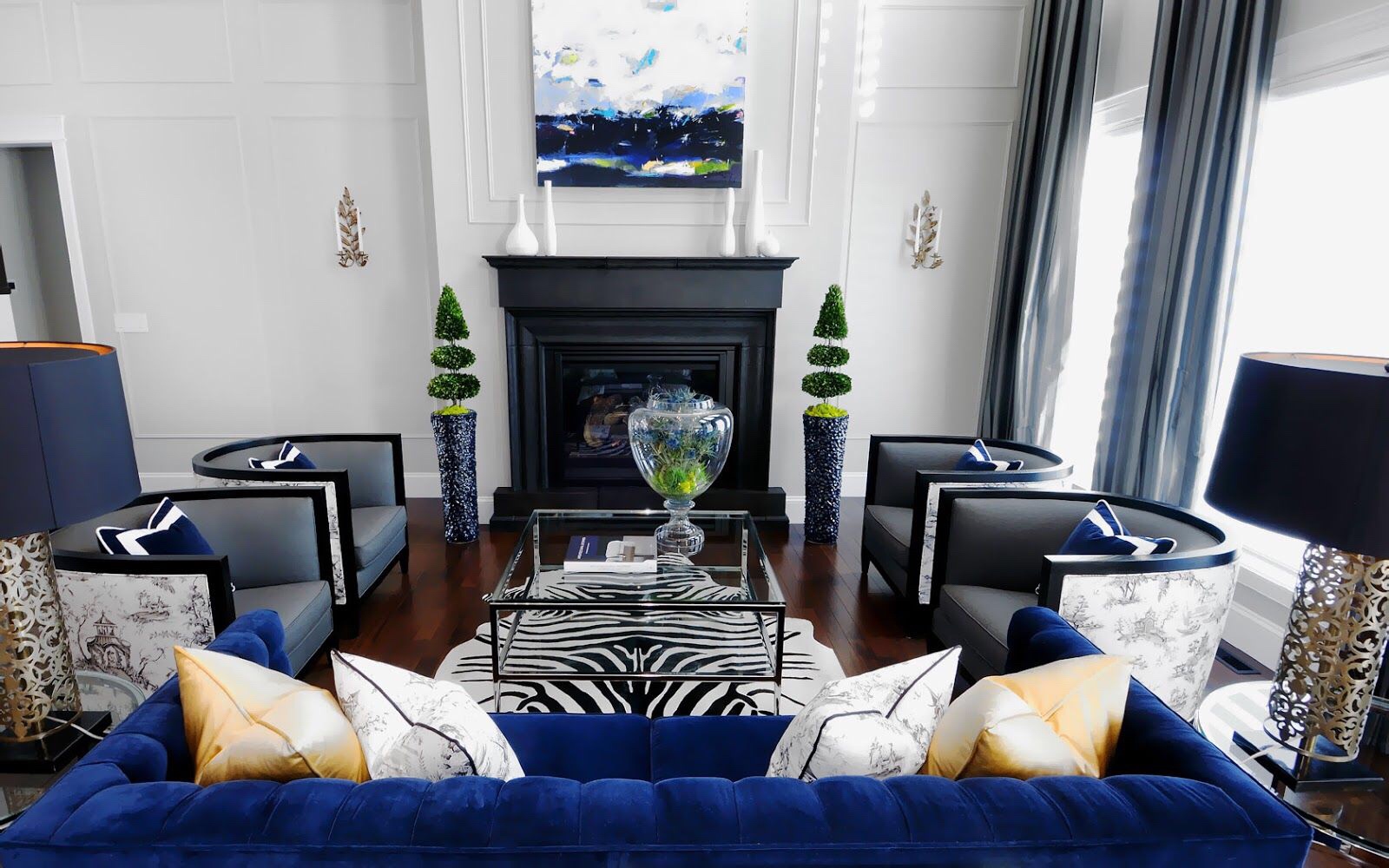 Modernize bold blues with touches of blacks for a stunning space. Not a fan of blues and black together or more of a statement then you want to make? A soft blue paired with a deep navy is stunning and makes the same statement as well.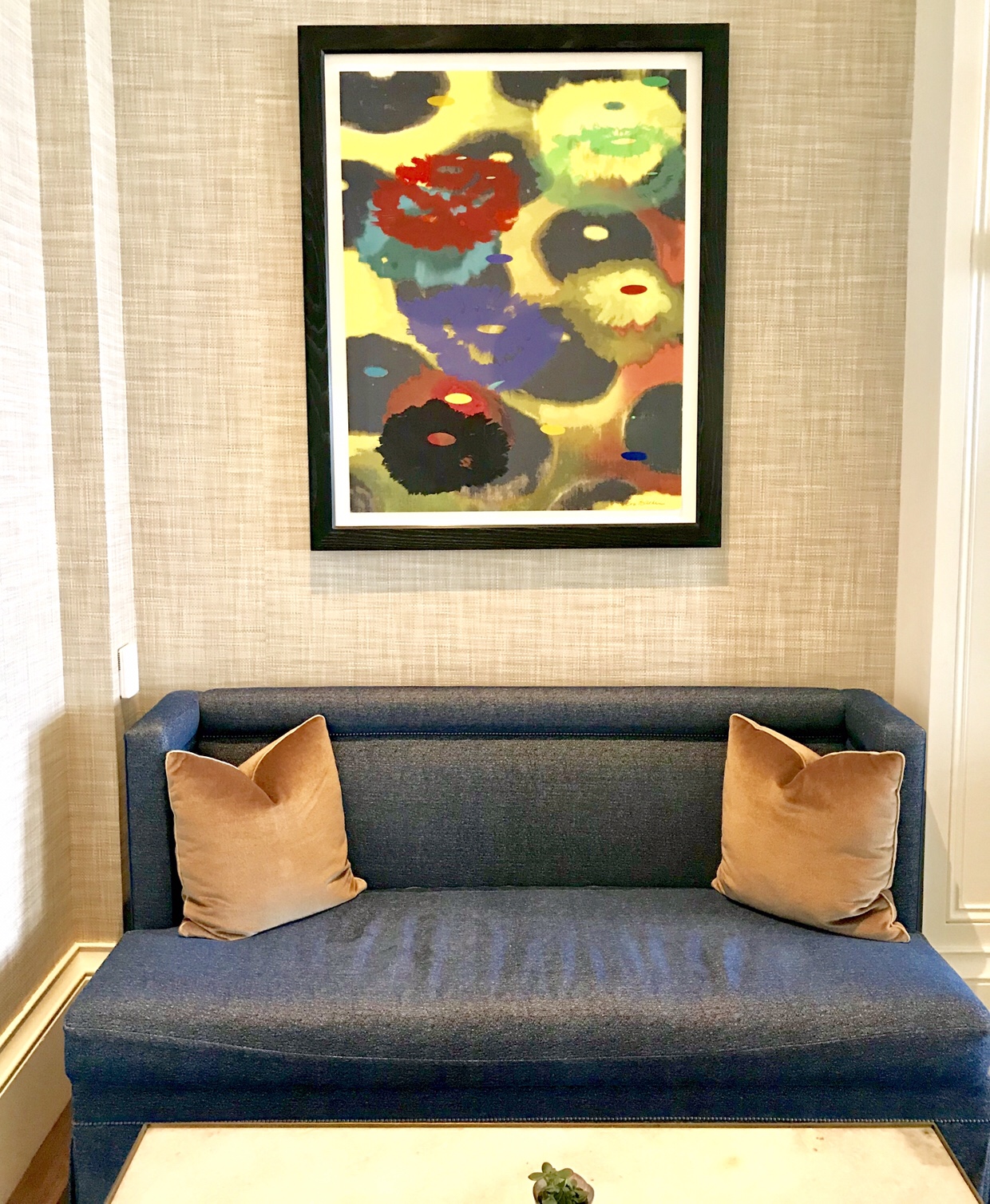 Photo: Photo: Kathy Fielder at Monarch Bay, Laguna Beach, California
Statment art full of color makes a bright and happy statement.  Orange is always a great contrast for blue to create a modern vibe.
Small Spaces
Blue hues are the perfect addition to small spaces within your home or office. With our recent revamp at KF Design | Life | Style we are utilizing this cool and calming color to amplify our displays and decor. Our goal is to make it feel like home while you sip and shop and enjoy yourself. Blue is an engaging and inviting color.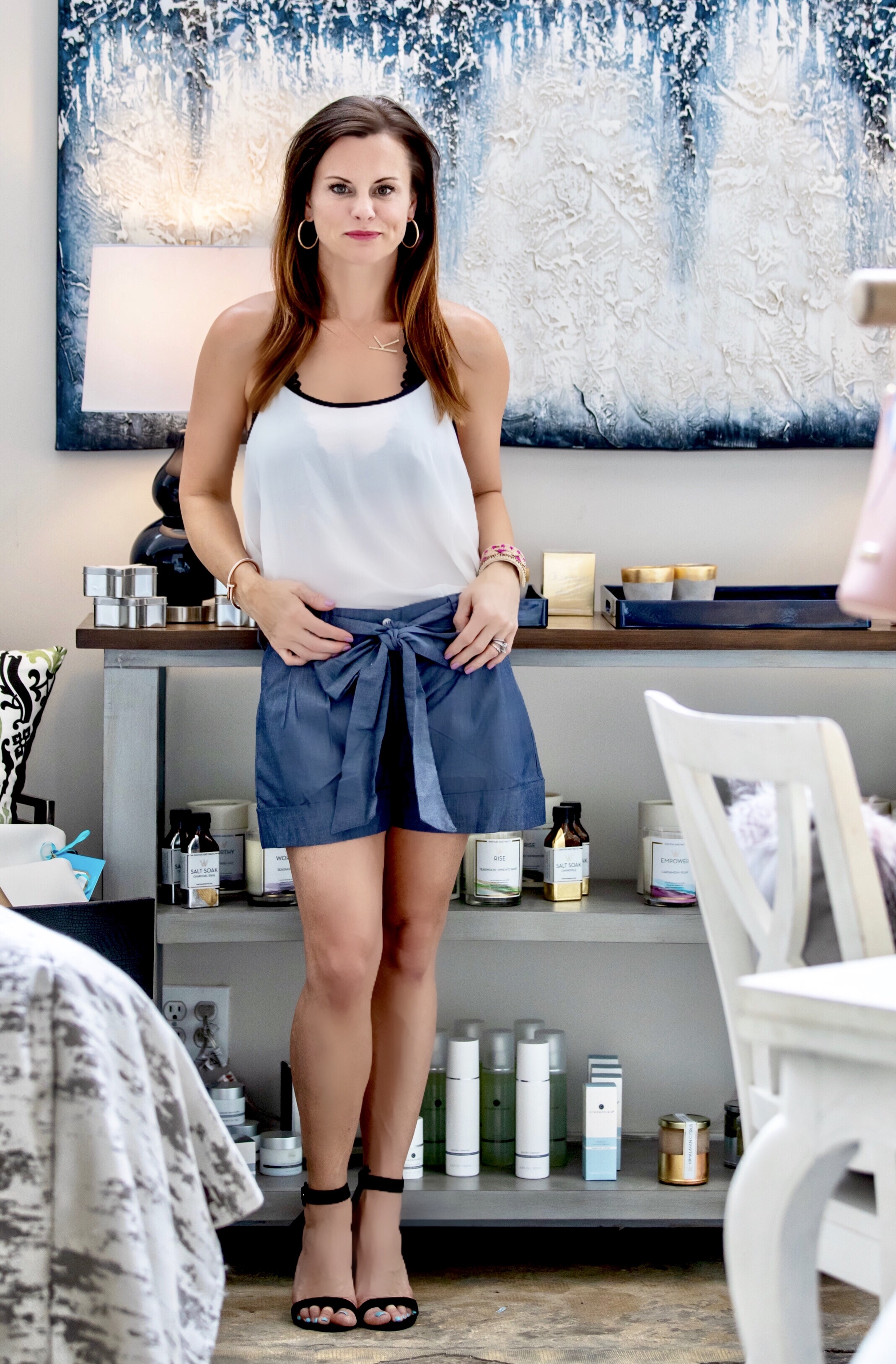 Blues, greys, and whites effortlessly create a modern and glam feel.
Blue Upholstery
Blue velvet upholstery is a definite statement-maker. It has a lush and refined feel to it.  It's a classic that can be styled very traditionally or modern.  In all shades, it gives your room a global, well-thought out appeal.

Photo: Bob Manzano on location at The Stoneleigh, Dallas, TX
The perfect upholstery to set this dining space apart and give it depth and dimension. Utilize texture to make a cool tone color feel warm within your room.  Modern carpeting finishes this dining room off to perfection.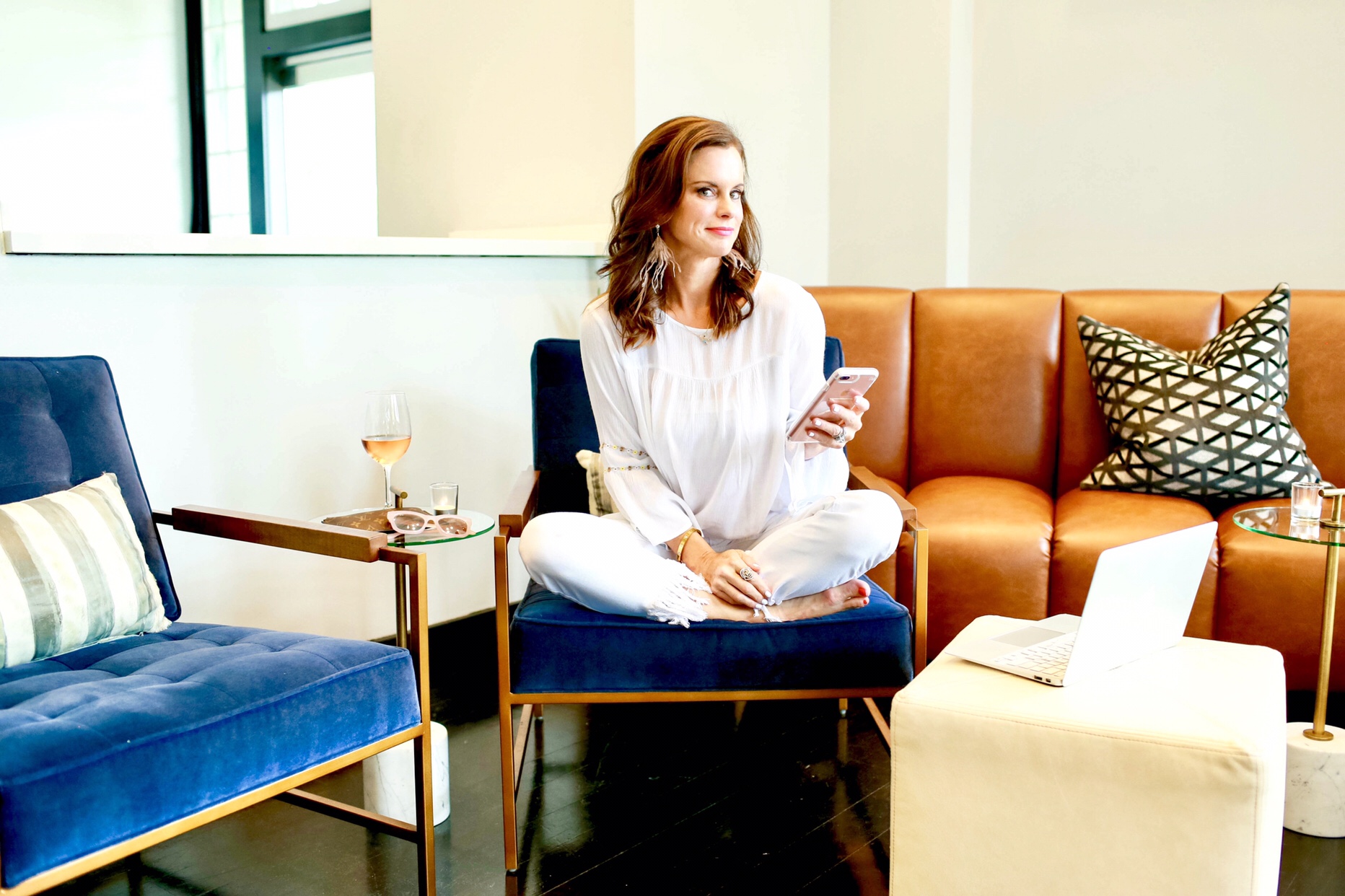 Photo: Bob Manzano on location at The Stoneleigh, Dallas, TX
Blue velvet chairs with luxe metal finishes elevate your room.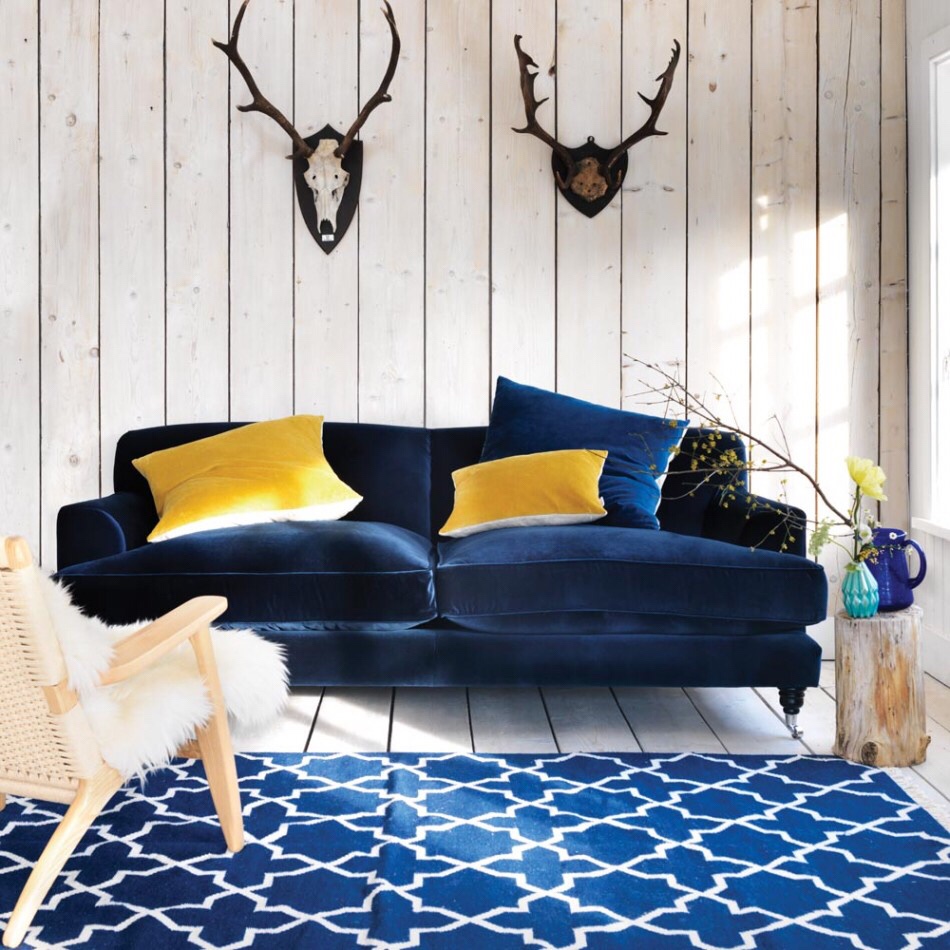 Soft and elegant
Soft blues, creams, and metallics make for a relaxing space to melt into and unwind.  They are soothing and elegant.  They can be classic, modern, or somewhere in between.  The possibilities with this palette are truly endless. Bright pops of color on navy velvet look modern and clean.  When styling out softly-hued blues, make sure you include lots of texture to give the room depth and dimension.
Isabella Collection by Kathy Fielder Caspin Collection
Soft blue bedding that makes you slip into dream land is a soft and dreamy finishing touch in any bedroom.  Shop it now on isabellacollection.com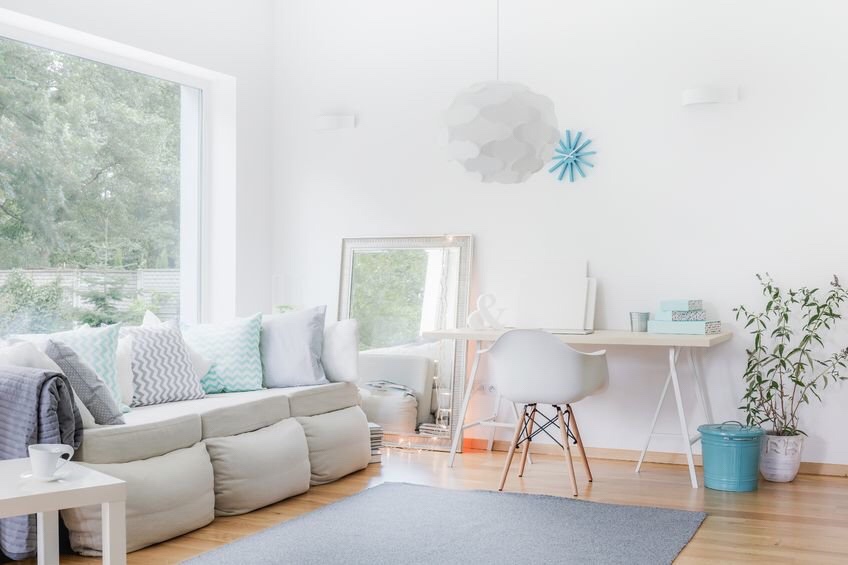 Photo: Pinterest
A modern take on soft blue hues, who wouldn't want to be in this room?  Touches of turquoise give it a contemporary, livable appeal and a soft California vibe.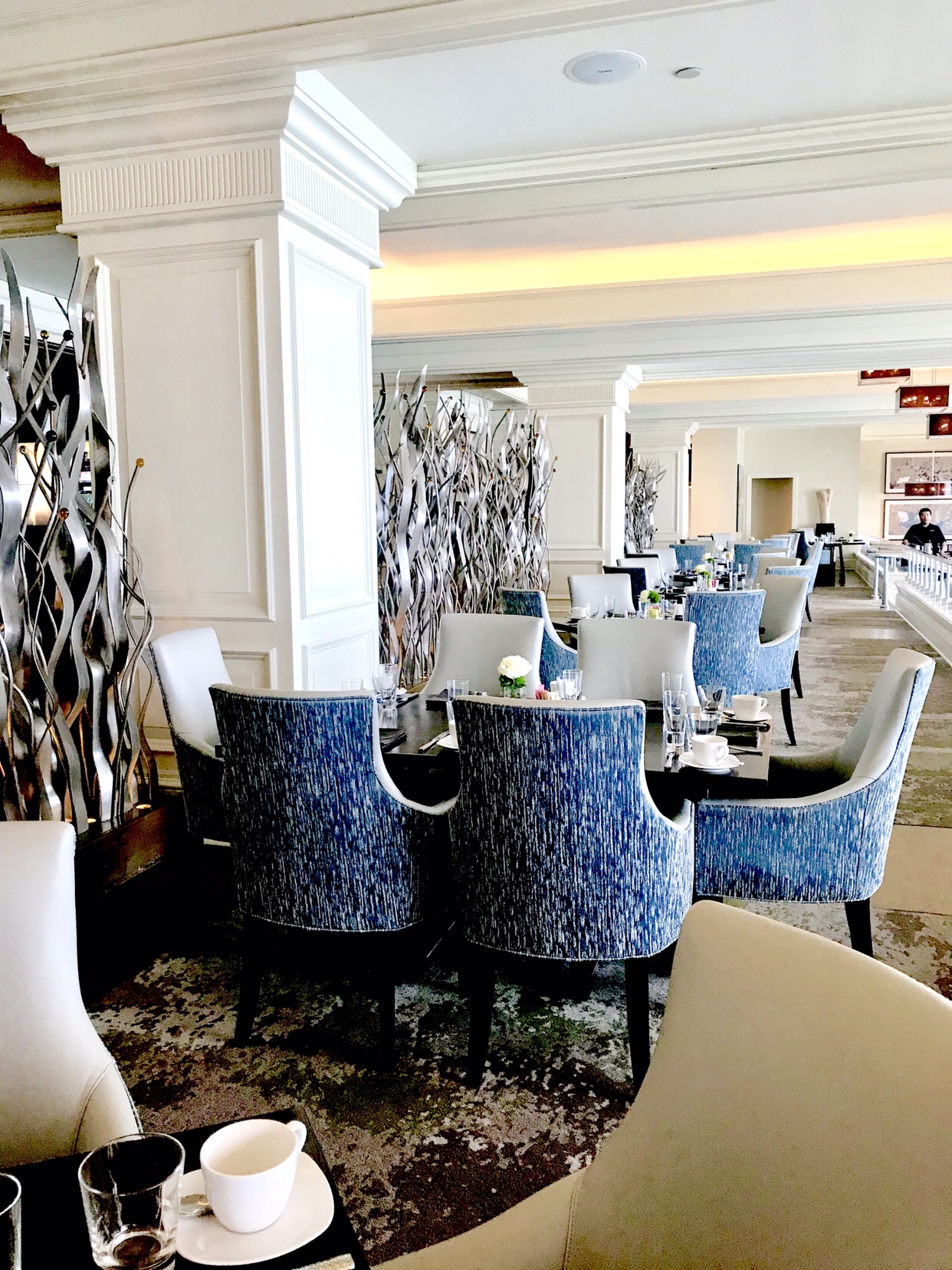 Photo: Kathy Fielder at The Ritz-Carlton Laguna Nigel, Laguna Beach, California
Adding blue upholstery on the back of more neutral chairs is a great way to add in a pop of color and give your room a designer and inviting feel.
Mid-Range Hues
Love turquoise?  We do too.  In fact, it's KF's favorite color.  Mid-range blues tend to have an updated, almost bohemian vibe.  Paired with tangerine and fuchsia, you can really up that vibe.  Less accessories and cleaner lines make it appear more modern.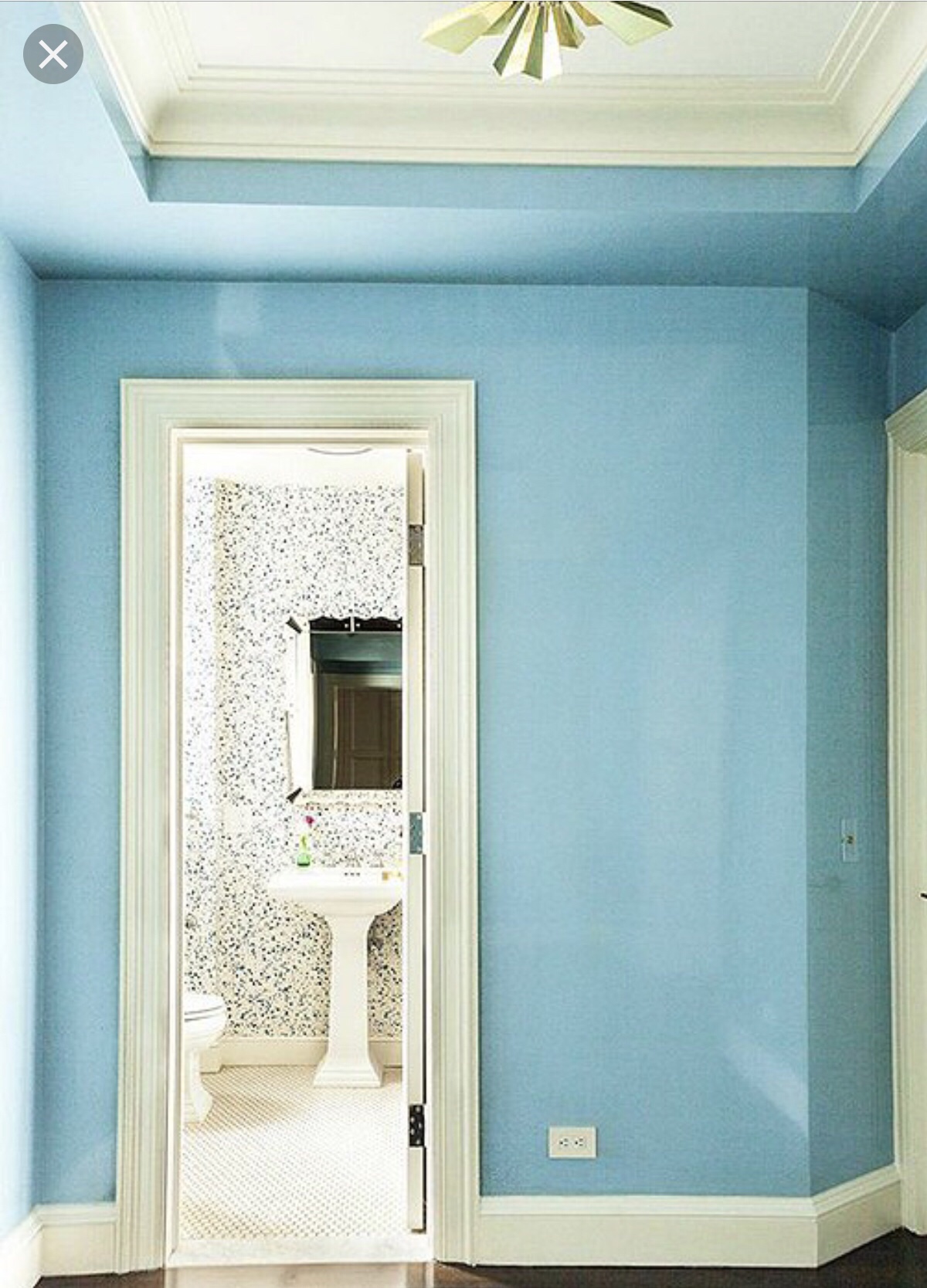 Photo: One Kings Lane
Statement walls can definitely be accomplished with the perfect paint color.  Paint may be one of the most affordable ways to transform a space.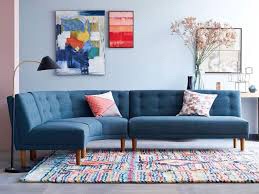 Bright, with a mix of colors doesn't have to mean bohemian. This living room has a modern day mid-century look that we adore.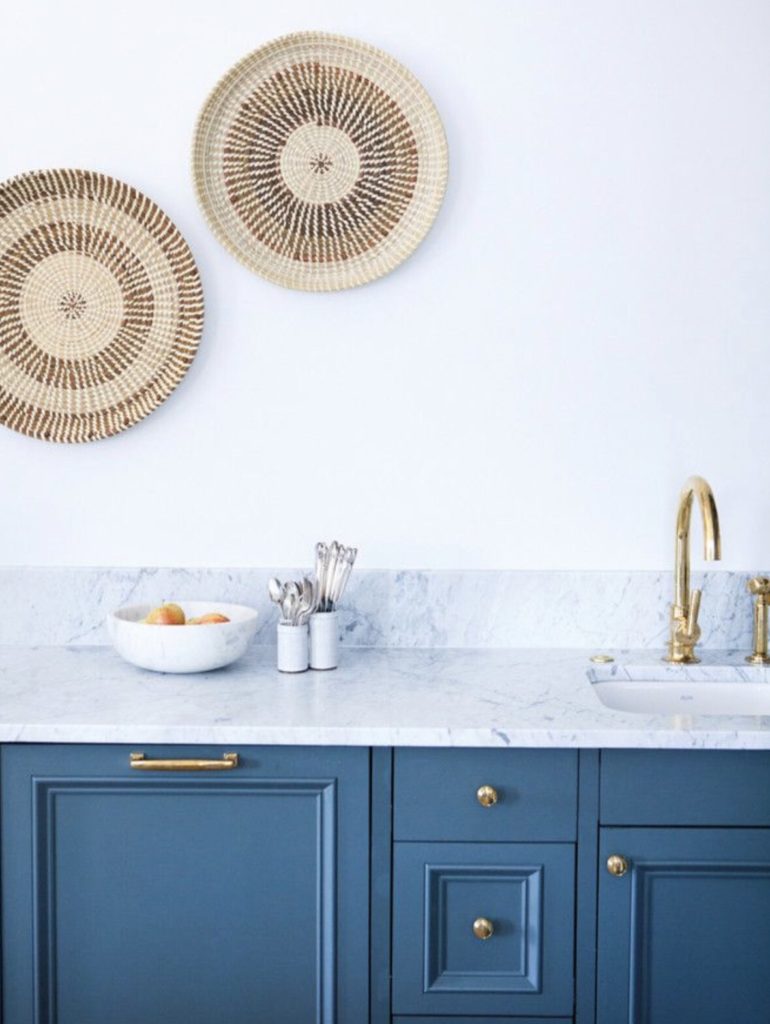 Photo: Pinterest
Brighter blue, softened with white marble and gold fixtures make this kitchen an instant and timeless classic.
Coastal Style
Who doesn't love coastal style?  It's one of the most timeless and appealing interior styles.  It reminds us of lazy afternoons by the water.  Downtime and spending time with family and friends.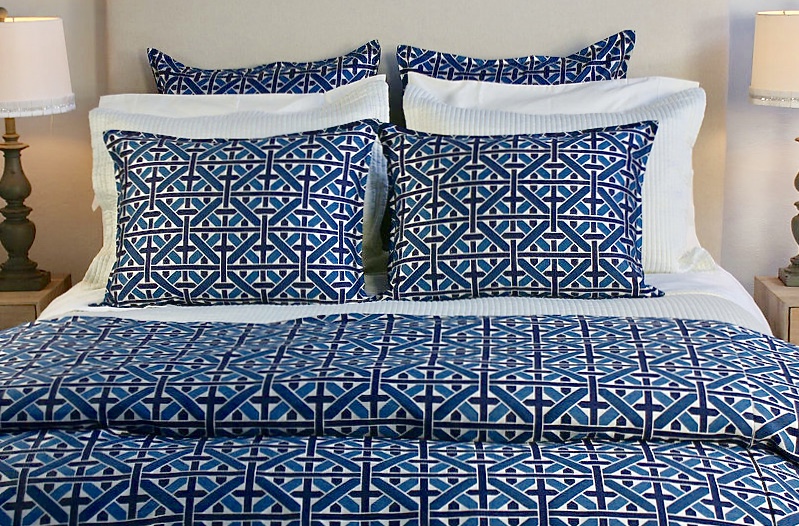 Isabella Collection by Kathy Fielder Aiden Collection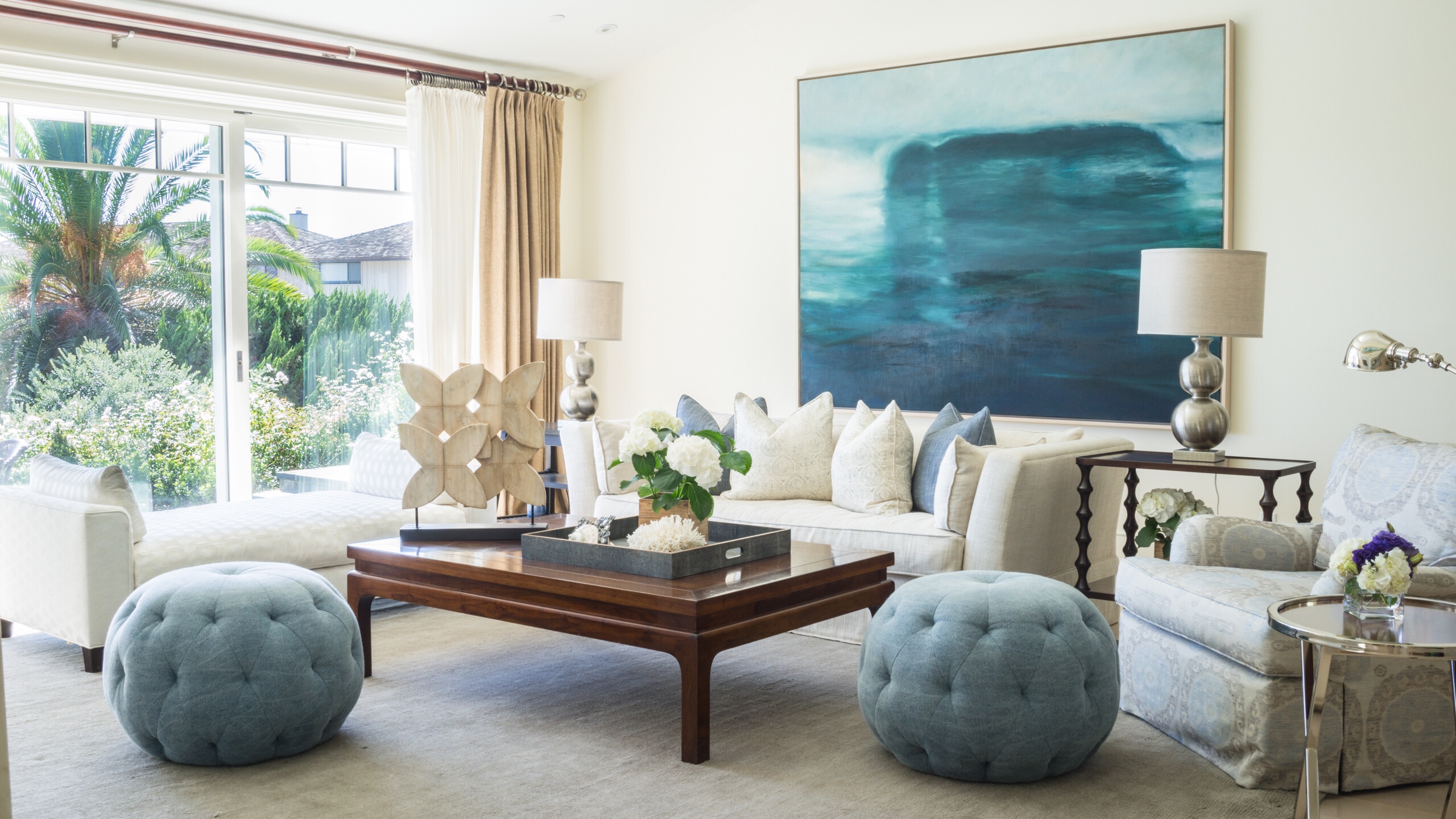 Art really helps to define what you want your space to express.  There are so many choices out there no matter your budget.  Make sure to select a piece that tells the story you want your room to tell.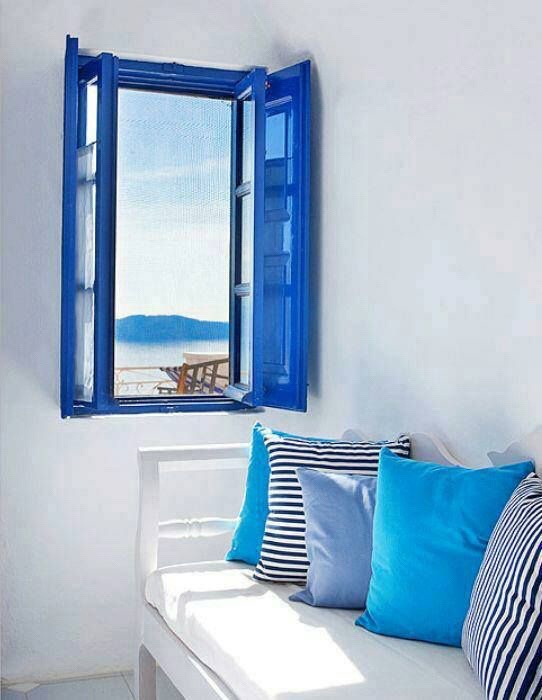 Can't be in Greece?  Well, we say bring Greece to you and create an oasis right at home.  Bright blue and white are classic Greece and have a truly inviting appeal.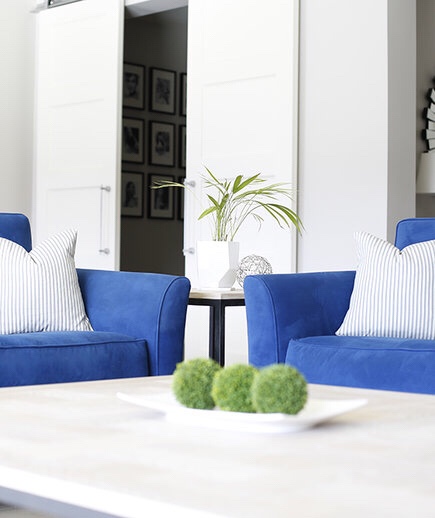 Crisp, yet inviting, this room beckons us to the beach and we can already hear the soft waves through the open windows.  A lovely and updated look on classic style and the pop of chartreuse green is the perfect accent.