Happy, happy New Year! 2020 taught us a lot about ourselves. It forced us to slow down and really think about what is important in our lives. As we move into 2021, I am hopeful we will take what we learned to better ourselves, our surroundings, and leave some of the negative aspects behind us. Shedding some of the weight was a huge positive for me in 2020. I have learned the real value of slowing down, saying no, and being truly present in my home life. With that in mind, I've focused my resolutions and goals for 2021 around just that. I've refreshed and revived my spaces. I'm spending some of my time nesting in one of my most favorite and most used rooms – my bedroom. What was my goal?.. Creating an oasis not just for me, but to share with my family on those long cold winter days when we are stuck inside. It's serene space that is peaceful and relaxed for the evening, and makes me feel energized and happy when I wake up. I'm so excited to share the changes with you and hope you enjoy.
xo, KF
Check it all out on The Fielder Report, as I walk you through the solutions and changes I made to create my perfect bedroom.
Tip No 1 ~ Refresh Your Linens
A quick linen refresh is the quickest and easiest way to achieve a revitalized look in any rom, giving you instant gratification and a fresh start. I switched out my usual blue hues for a smoky charcoal paired with simple white monogrammed basics, creating a modern and clean look.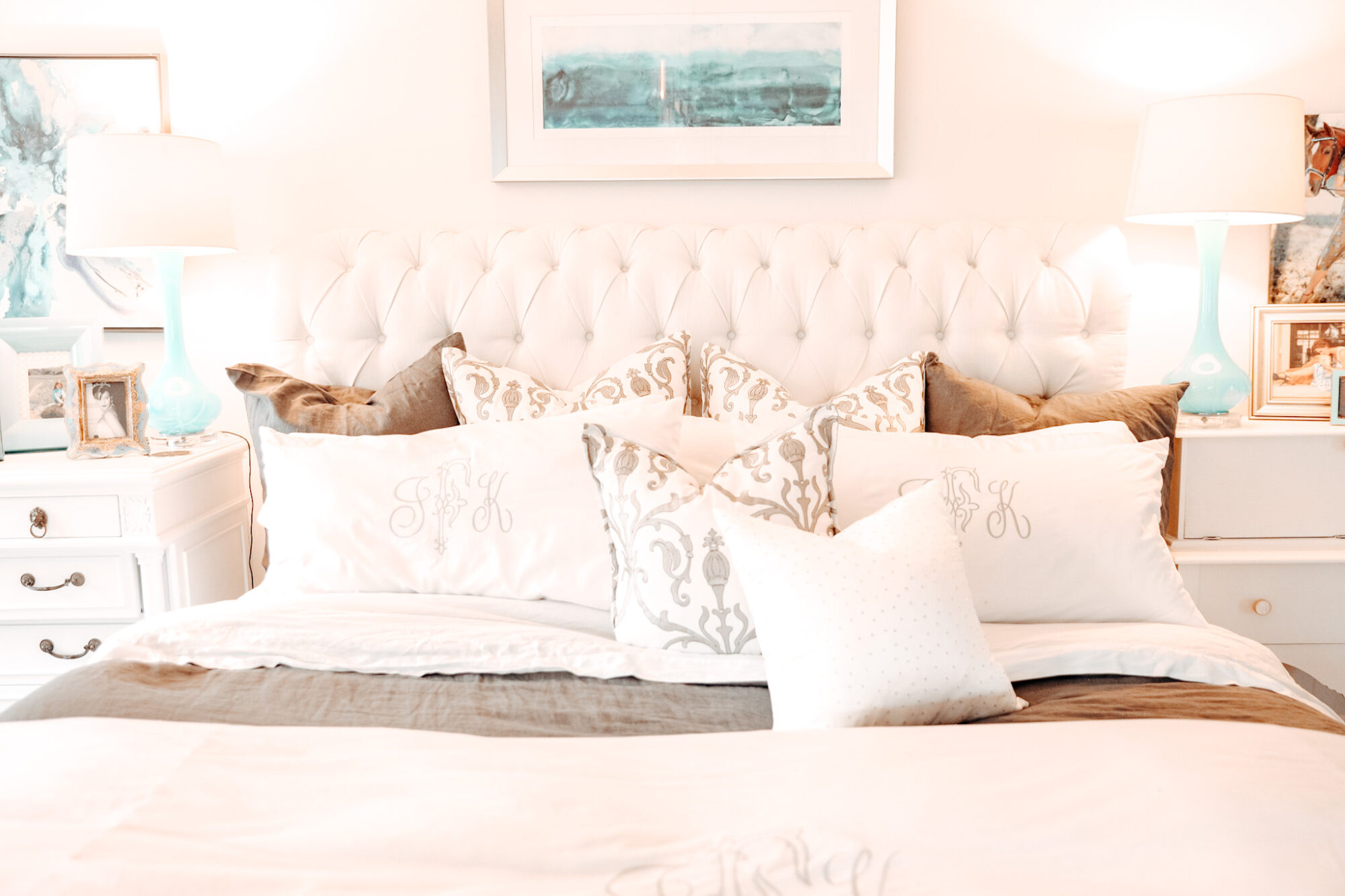 Since January is the month of white sales this is the time to stock up. Whether you've had your eye on something in particular or are just looking to mix it up, now is the time to revamp + refresh your bedroom oasis. One of your go to tools for inspo, Pinterest is a fantastic resource. Pin the rooms you love and scour the sales for your must-have look-a-like to create the room of your dreams. Here are a few sales myself and team are loving at the moment…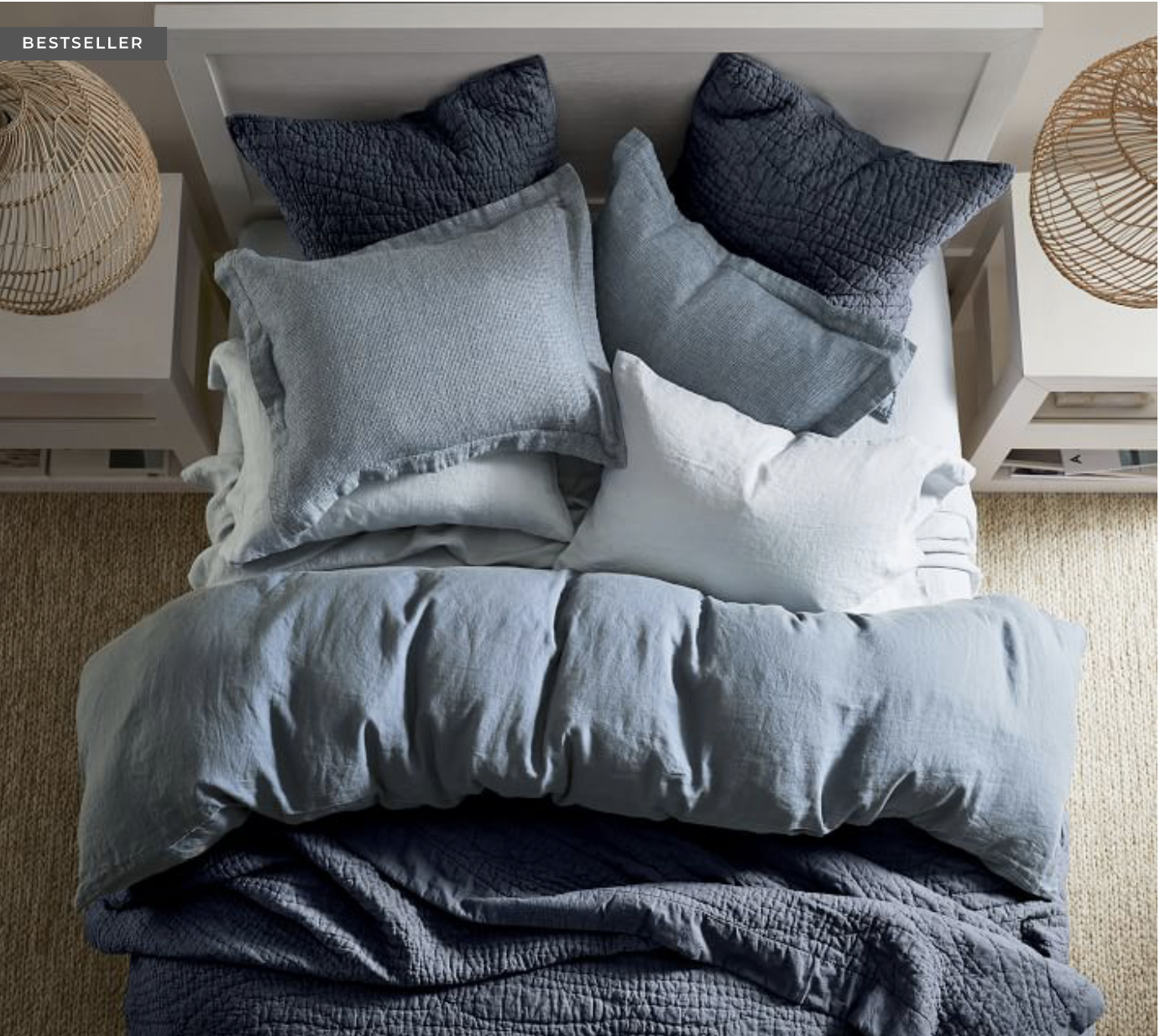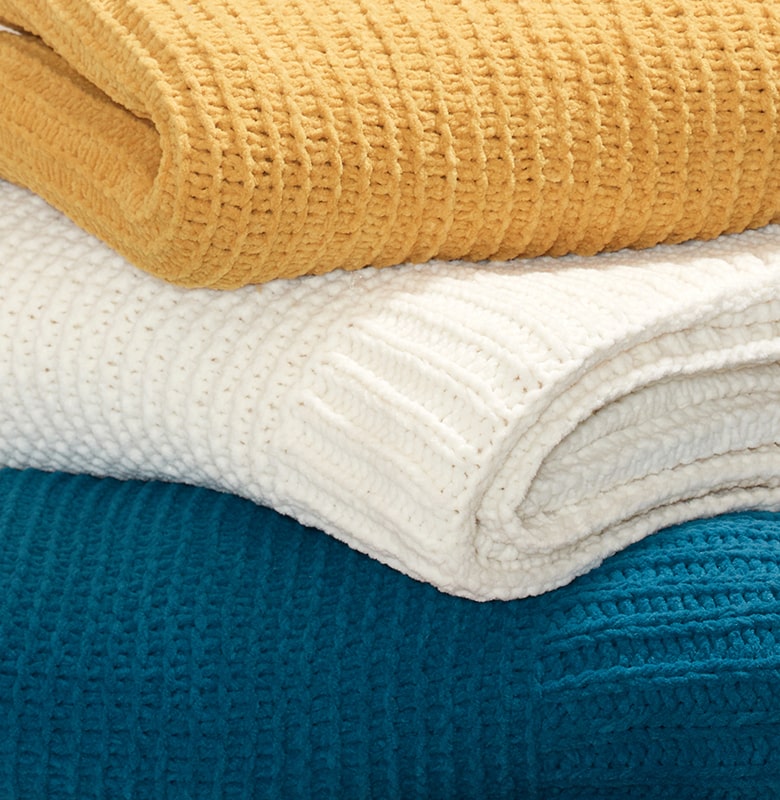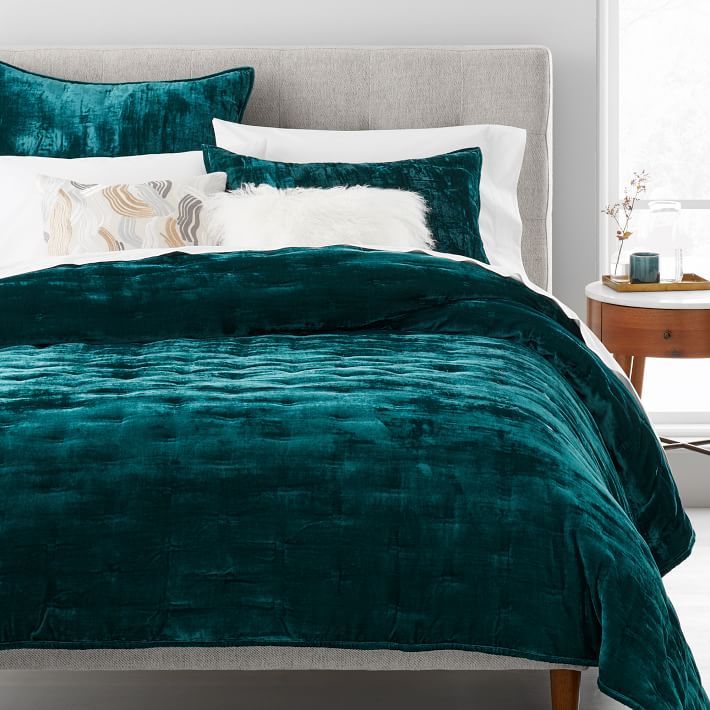 Tip No 2 ~ Must-Have Textiles
KF's number one go to for your room revamp… texture and layers are key.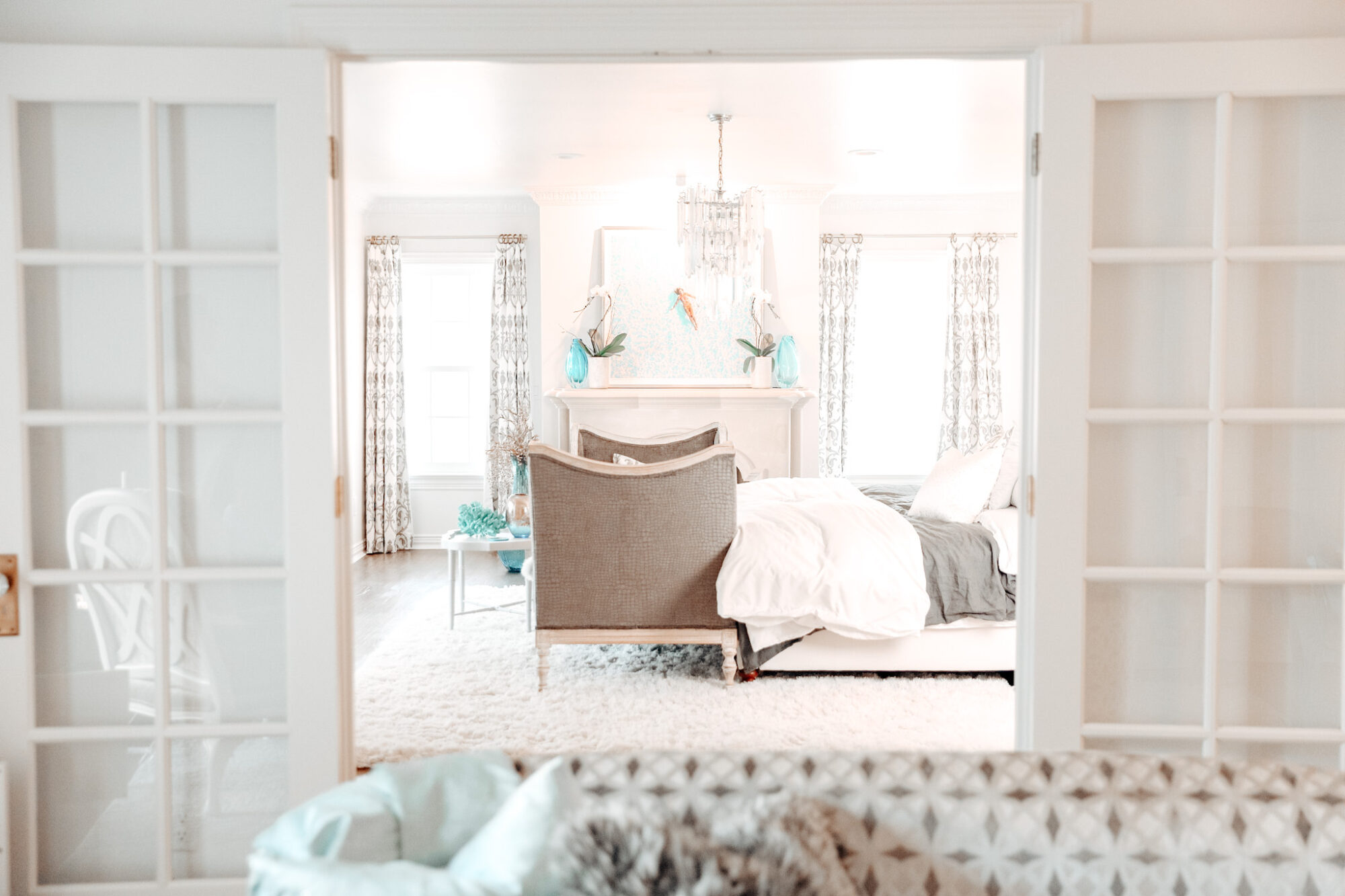 Find soft textures to layer your bed so you simply want to dive in at the end of they day (or stay in a bit longer).. Add plush blankets and rich velvet pillows to your chairs, sitting area, or wherever you lounge outside of your bed for a rich, decadent and professional look.. The more plush you create the environment, the more you will enjoy the benefits of a perfectly curated room.
No 3 ~ Amplify Your Art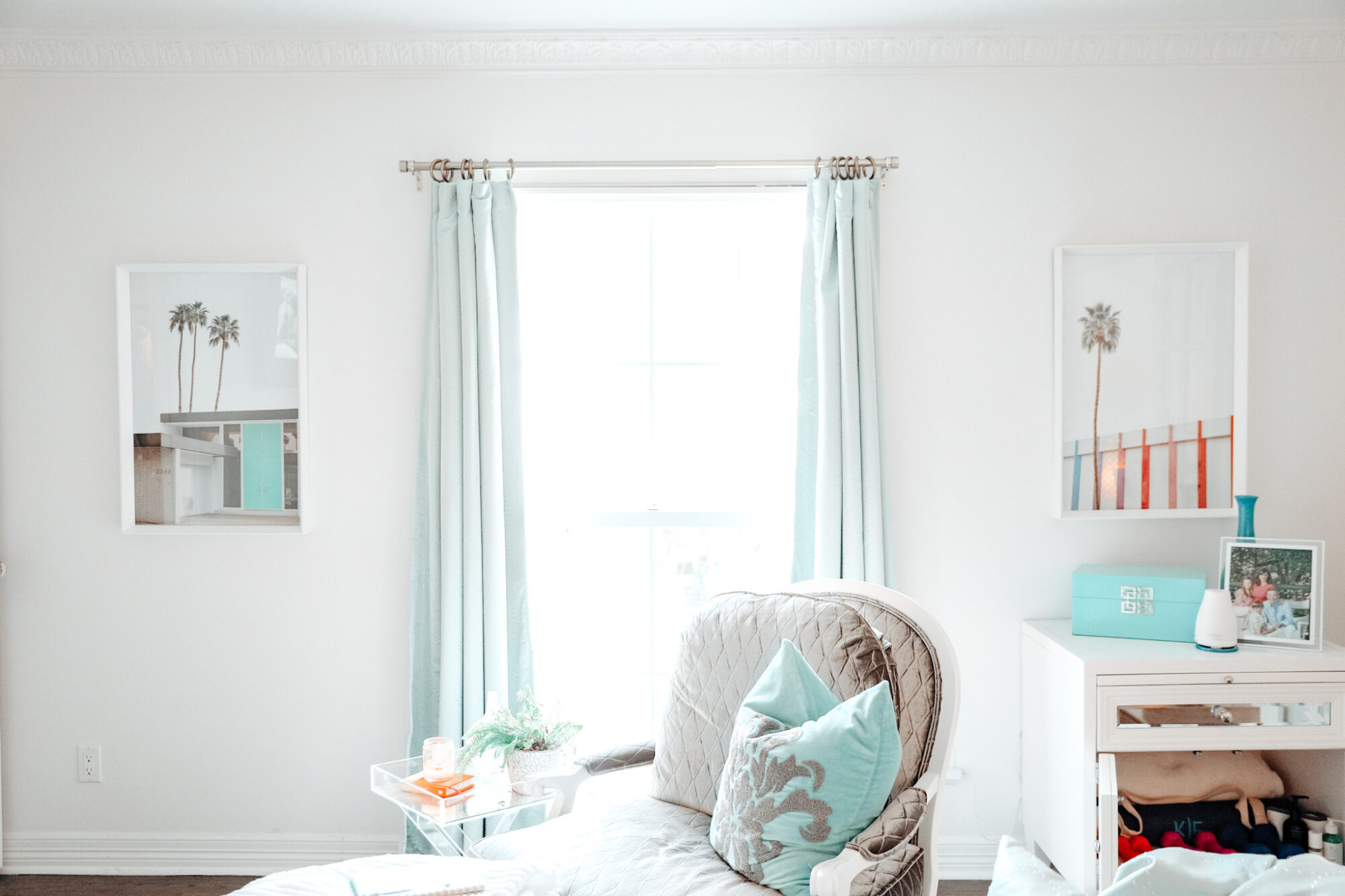 It's time to switch out drab art for something that makes you feel inspired, takes you to a happy place, or feeds your soul. That doesn't have to mean expensive, it just means well chosen for your budget. Find pieces that make you smile, make you feel serene, or are meaningful to you.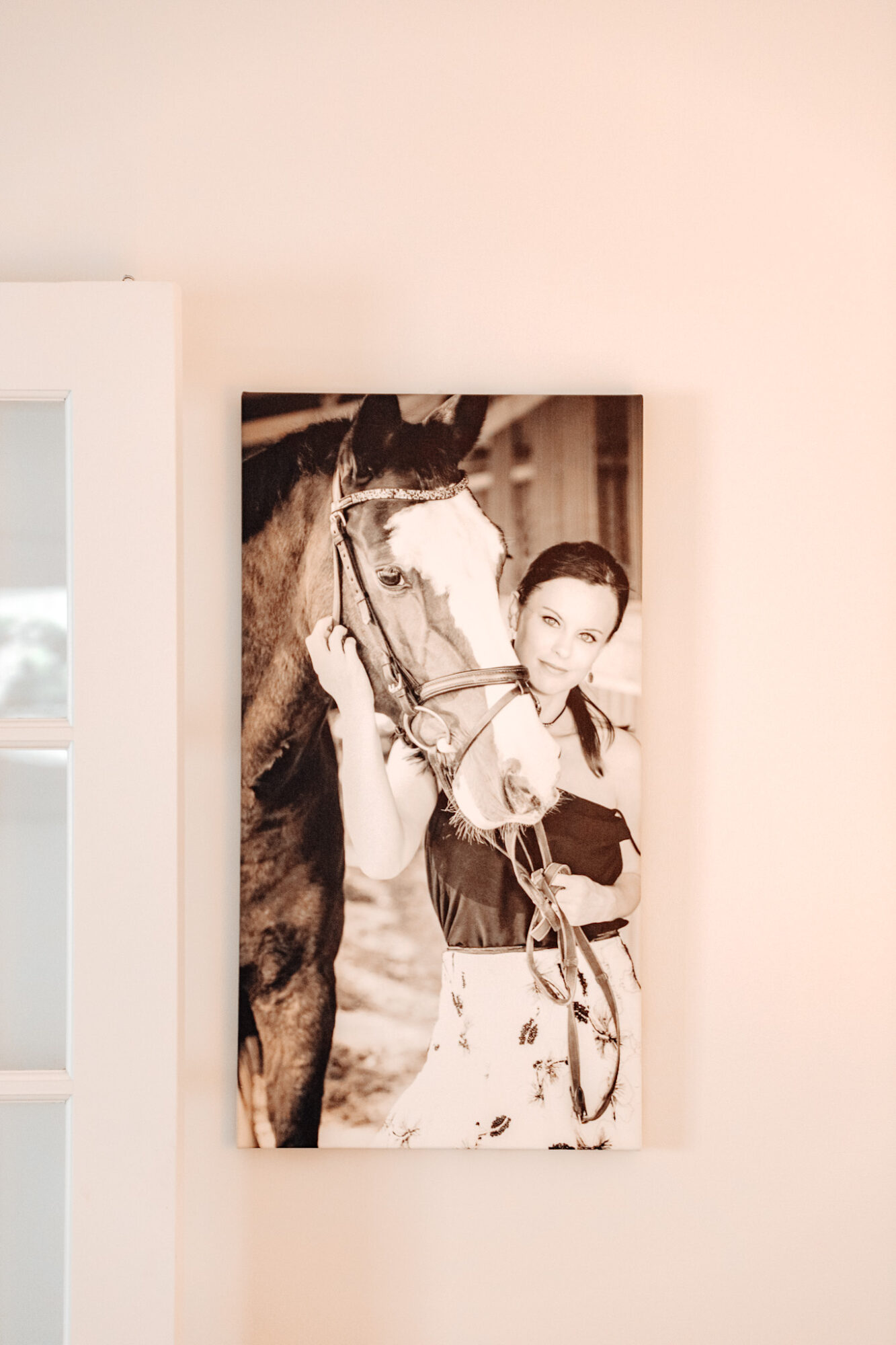 Personal pieces are always a beautiful touch. This picture of me and one of my horses always makes me feel better after I see it and reminds me of some of my happiest, most relaxing times in life.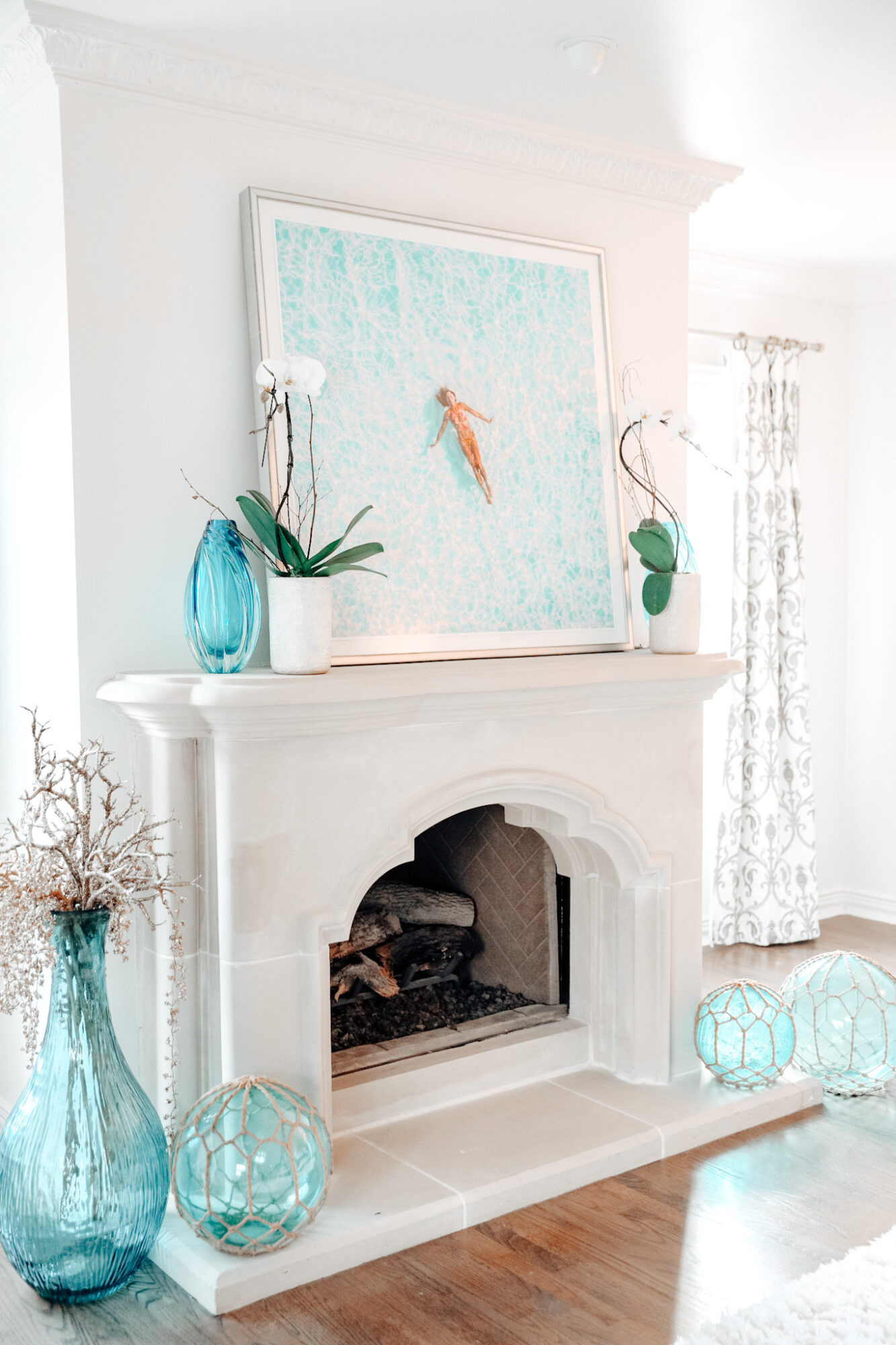 I love blues and water. I know they instantly give me a sense of relaxation and peace. I chose art to reflect that in my room. It also adds depth and dimension to my space with small pops of color.
Utilizing wall space is so important and finding the right piece can't be rushed. Keep an eye out for something that speaks to you and fits in the perfect little (or big) area. For example, it took me some time to find the right place for this window seat, but with a little patience I found some photography that reminds me of one of my happy places.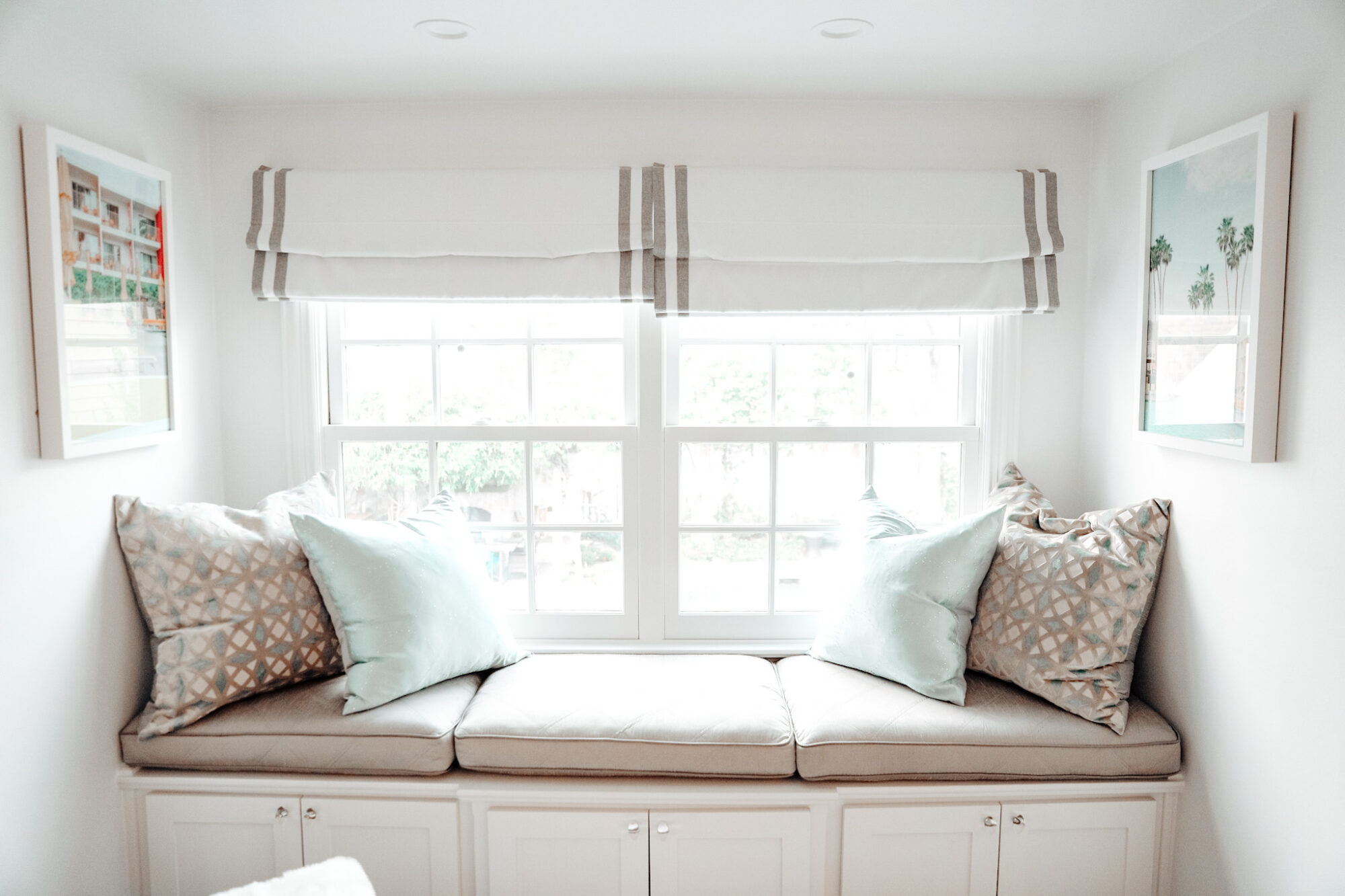 No 4 ~ Organize and Declutter
Ever have a project or a mess lying around that is a constant reminder when you walk past it of another to do you need to check off the list? 2021 is the year to get organized! Take some time out of your day and JUST DO IT. You will feel so much better, fulfilled, prepared and centered. Not to mention, it will make your space feel so much more aesthetic and pretty.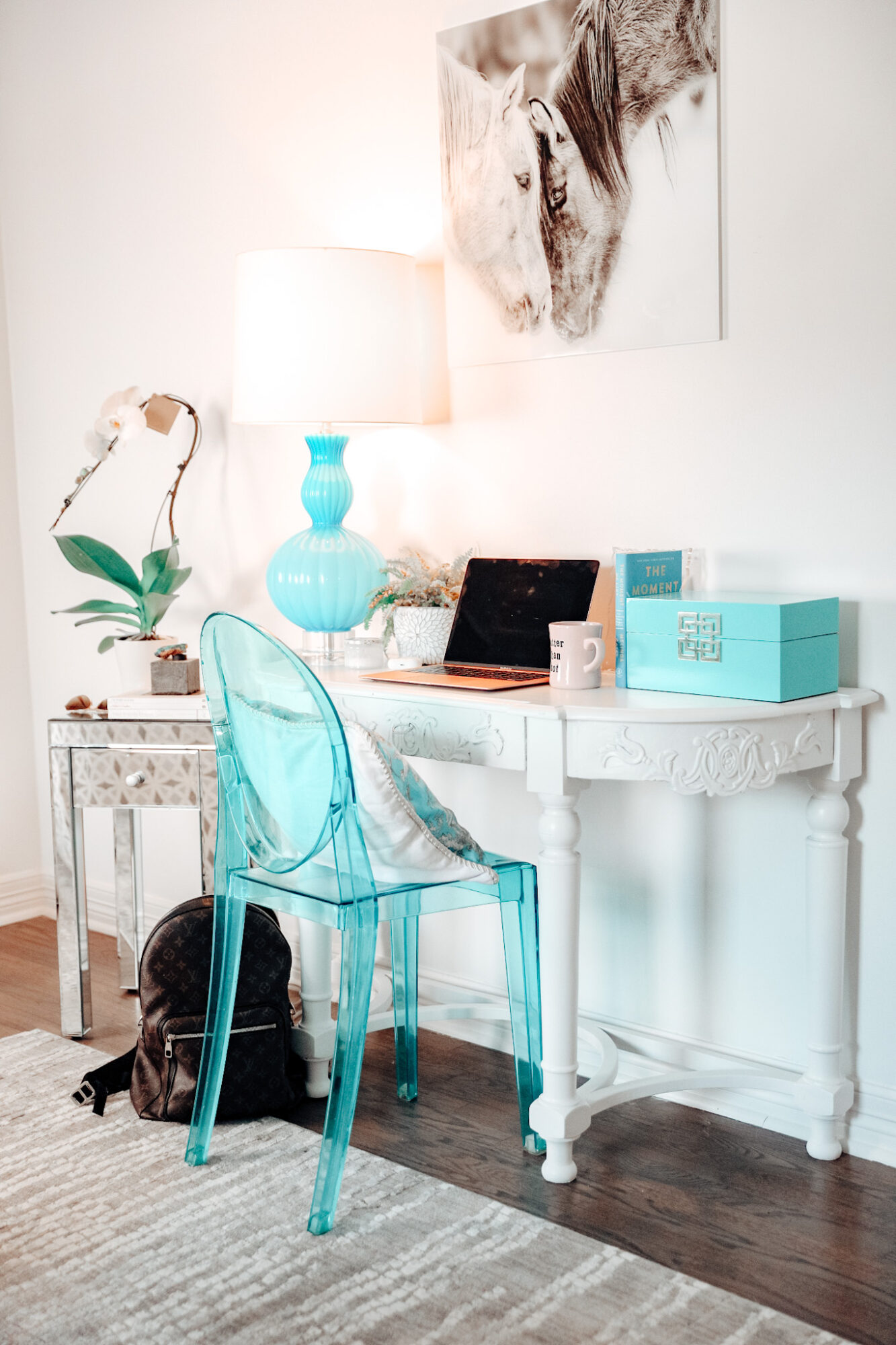 Creating a designated workspace anywhere in your house is a game-changer and although adding one to your bedroom may not be for everyone, it is something I love. I simple, yet pretty little space made for quick morning must-dos. Since my bedroom is one of my most tranquil and beloved spaces, the addition of a desk and work area just made sense for me.
No 5 ~ Reload and Relax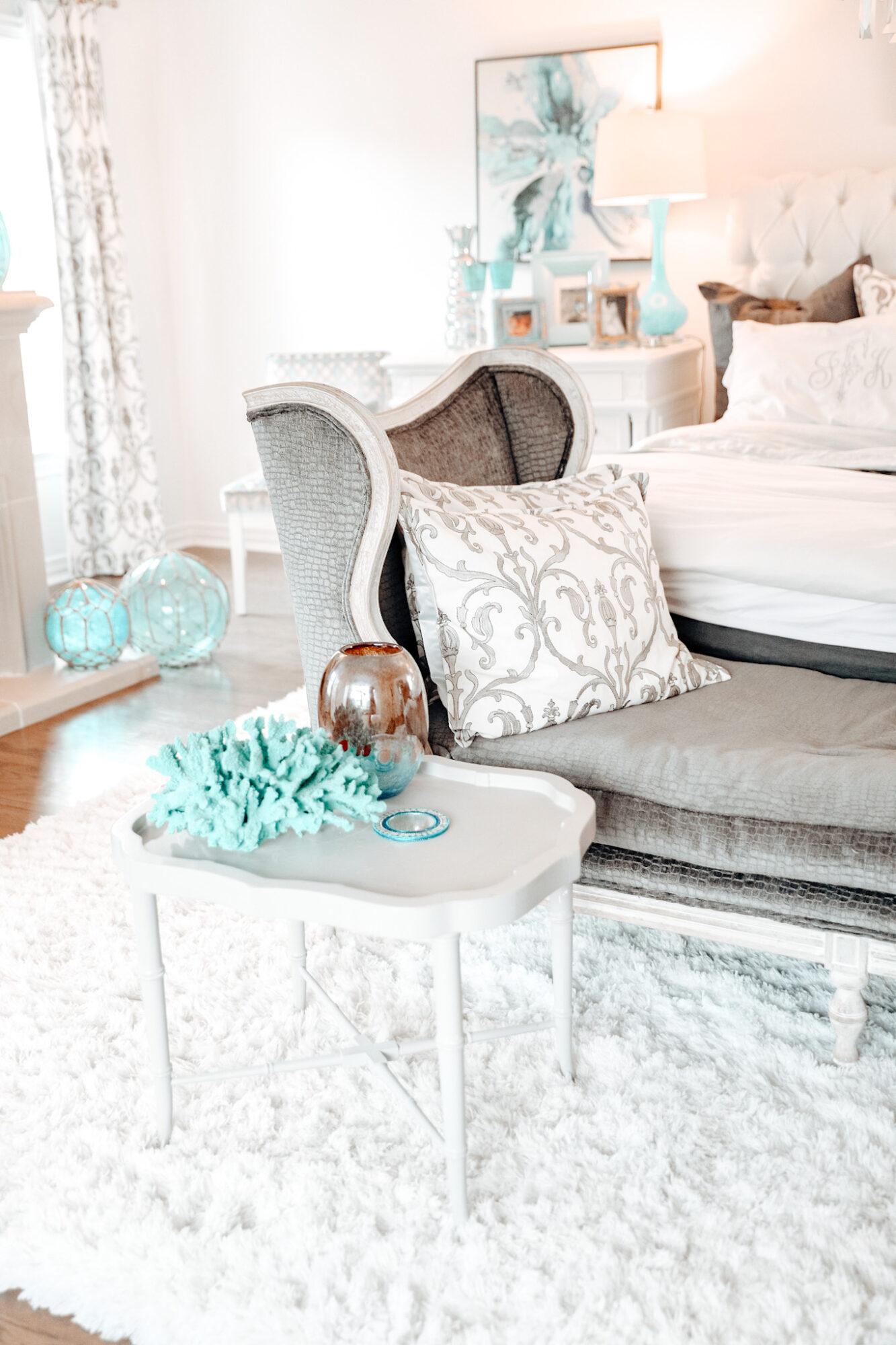 Having designated spaces throughout a bedroom is a must for optimum relaxation. I spent some time re-arranging my room over the holidays. I have key pieces I love, but I simply wanted to mix it up and refine it even more. Set up areas designated for whatever tasks yTou need to complete, and keep your bed for sleeping.
KF Tip ~ Try removing a TV from the area where you sleep if you can. his helps to keep late night binging and restless noise at a minimum. It also creates healthy sleeping habits. I moved my bedroom around to create the perfect area for lounging and watching, in order to keep it separate from where I slumber.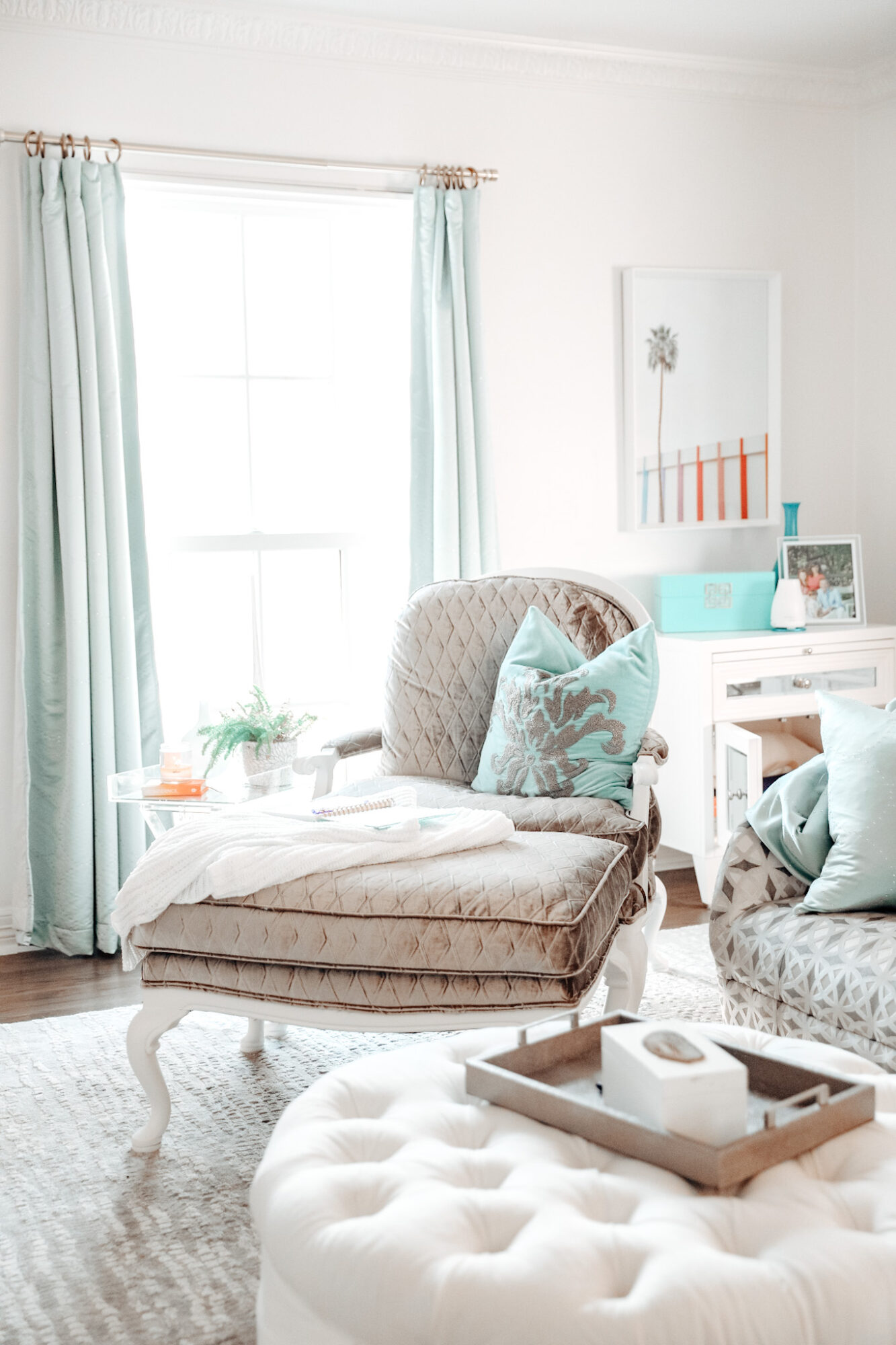 A beautiful lounging area, if you have the space, is so helpful for morning meditation, evening unwinding, journaling, reading a book, or simply collecting your thoughts.
I also moved my workout space into her bedroom over the holidays in order to motivate and make it easier for me to catch a quick workout at the beginning of the day. I turn on my fave YouTube workout channel, BB Fit and get in some quickies before I tackle the day.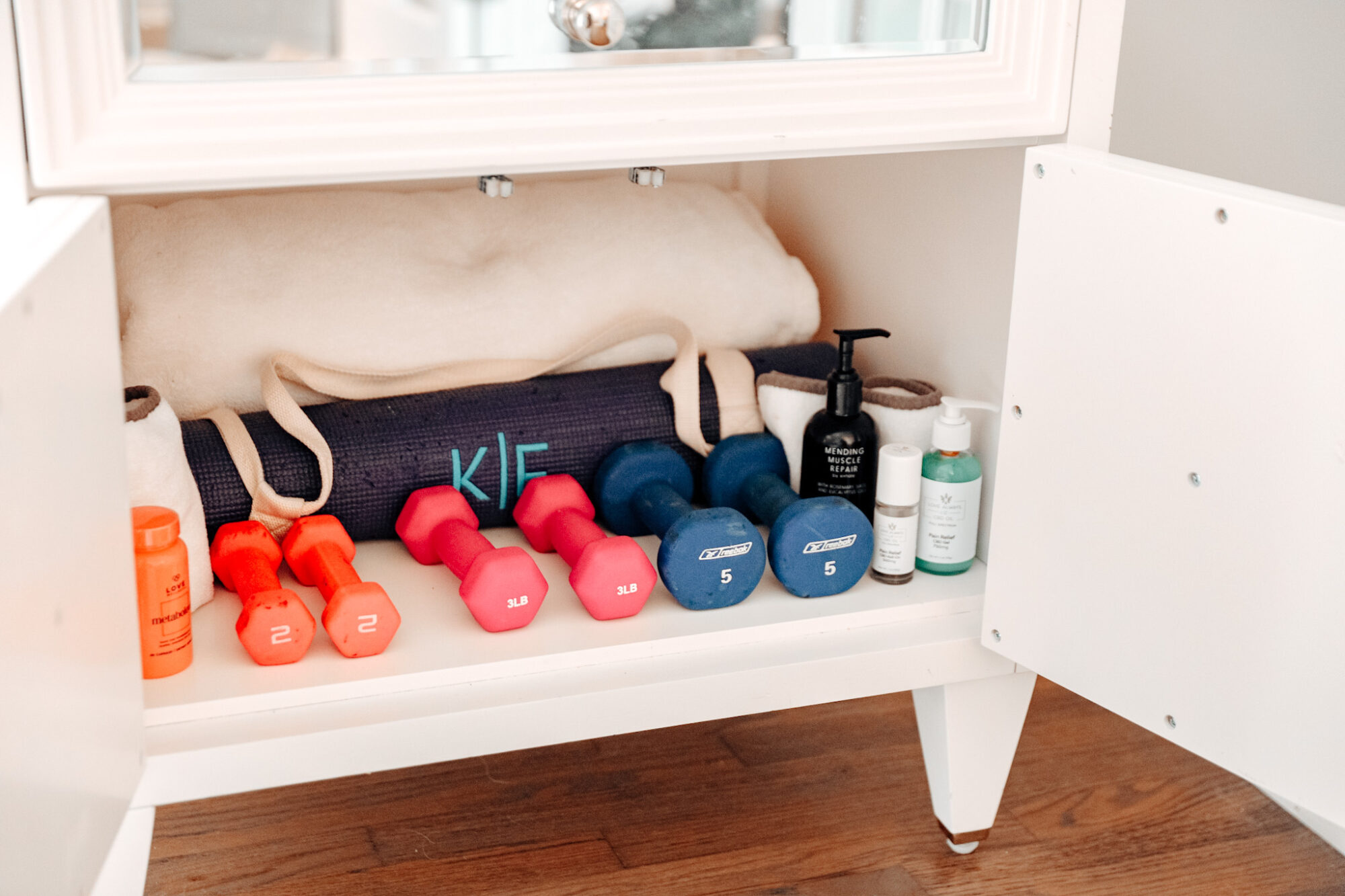 I found it important to create a designated, organized area to keep everything from weights and mats to supplements and balms easily accessible but out of plain site.
No 6 ~ Un-WINE-d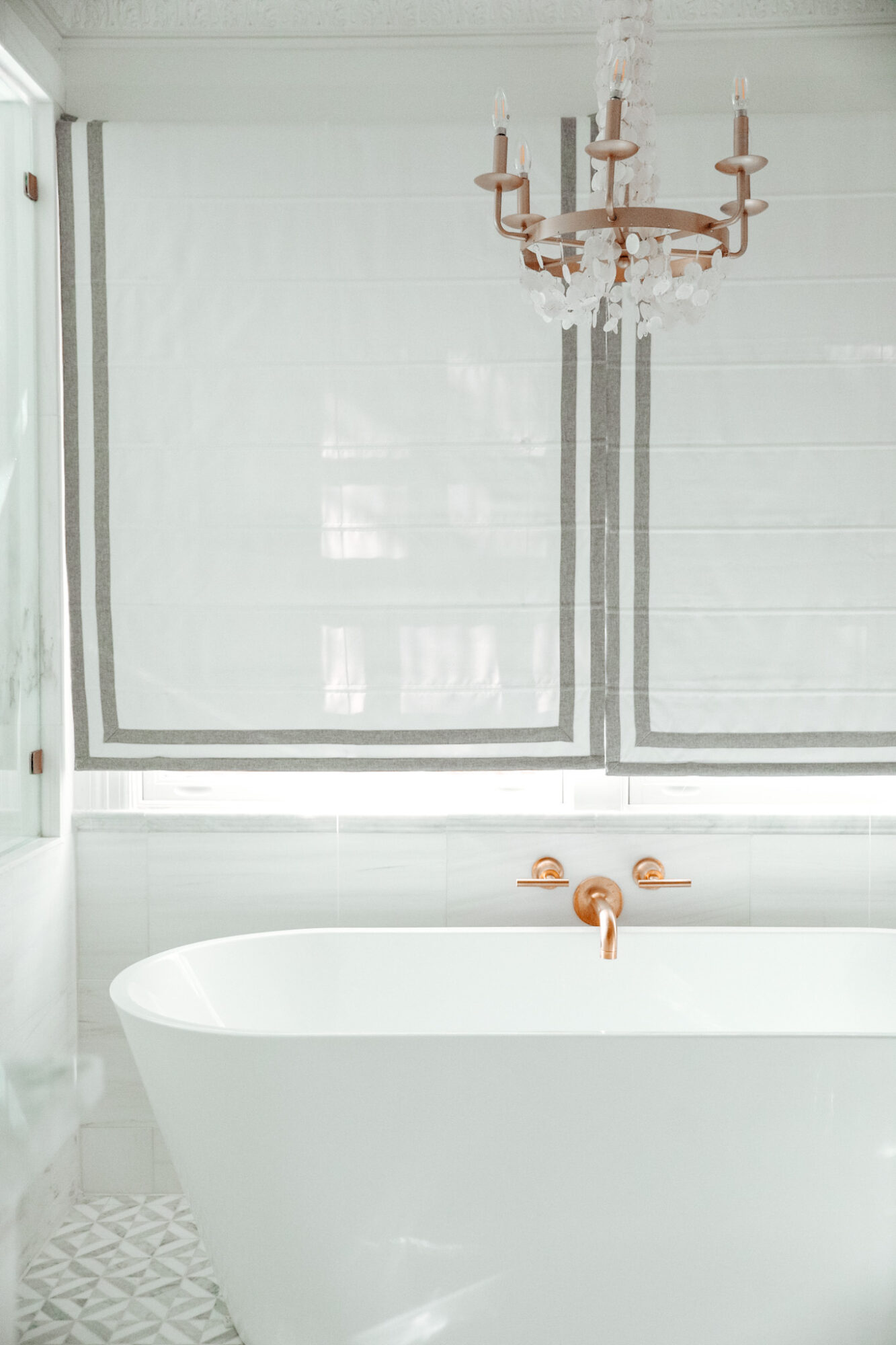 Nothing says relaxation like a nice bath and spa at home day (or hour!). Load the bath full of hot water, epsom salt and bubbles for a peaceful moment all for yourself to relax and unwind after a hectic day.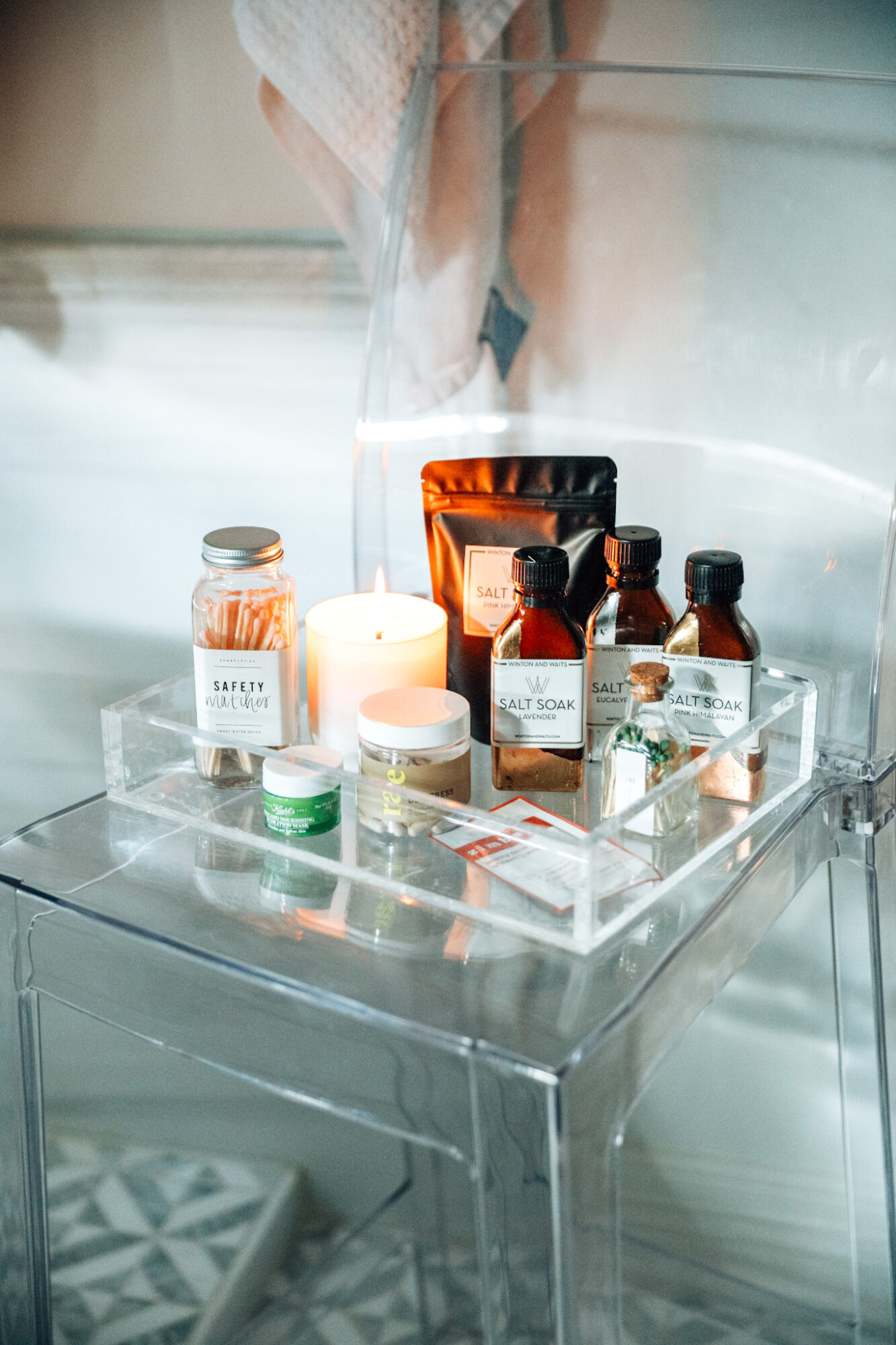 I like to keep my desired bath additions handy on an acrylic tray (amazon), so you can truly curate your perfect bath without too much extra effort. I keep an acrylic stool in my bath at all times. Clear accents don't take up a lot of visual space, and a stool is forever and always handy.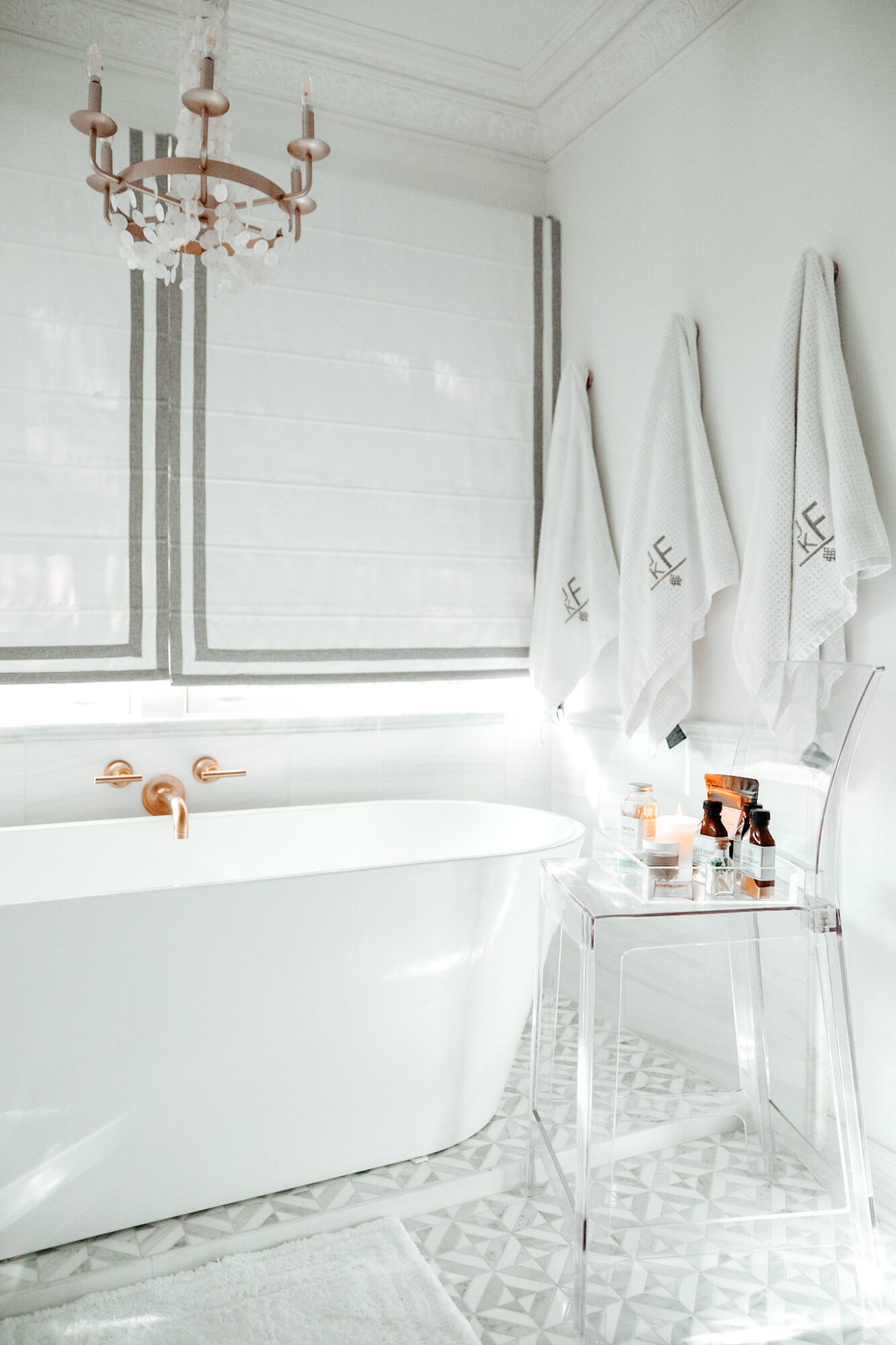 I simply adore a personalized touch of a monogramed bath towels hung on hooks. The hooks are super functional, but it draws the eye in for an aesthetic touch as well.
No 7 ~ What Feeds Your Soul?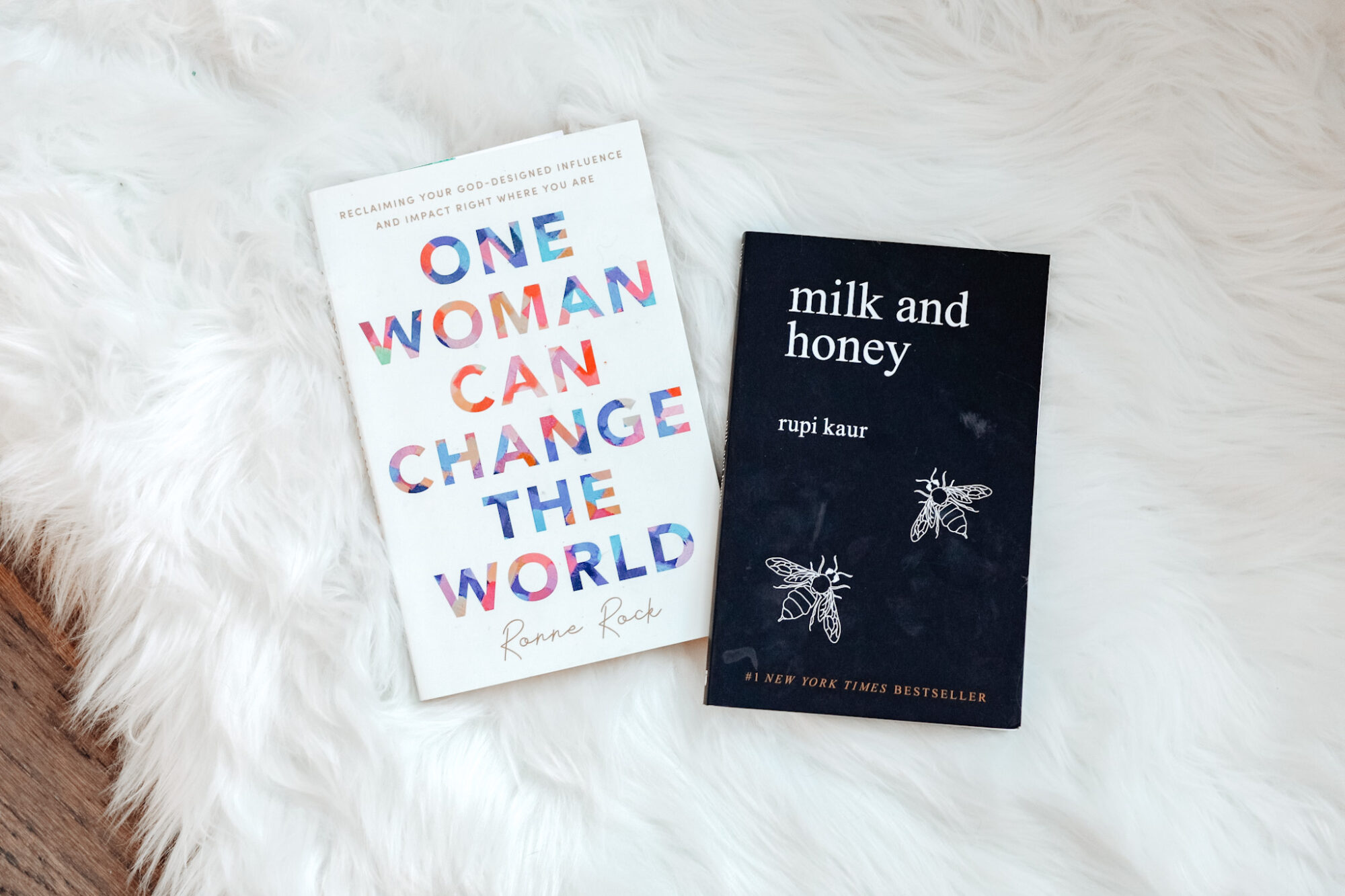 For me one of my goals this year is to read more books, so I made little spaces to put some of my top reads where they are easily accessible. My number one piece of advice to you.. Find what it is that makes you feel your most authentic and most at home to create your perfect bedroom. From pure design aesthetics, clean lines, bright contrasts, natural lighting to small touches throughout your room, really study your space and have fun curating and creating it. Fresh florals and greenery always add a natural touch that is sure to make you smile, as I know it certainly does me. Some thoughtful insight, some highly personalised curating (don't forget your closet), and a little bi too effort, you too can have the bedroom of your dreams. Whatever that is, be sure it feeds your soul because it is the space where you revamp and recharge every day. You deserve your little oasis.