If you are like us, you are probably a little tired of cooking every night of the week. Coming up with new and exciting ideas, getting the right ingredients (not to mention finding them,) and putting them all together can be hard work, especially with all the other demands placed on you at this point in our lives! Frankly, at this point after weeks of stay at home due to Covid-19, it's certainly time to ease in to summer, spend less time making meals and more time relaxing and winding down. KF loves to cook, and even she admitted, "it is time to change up and find some new and fresh additions. We have gotten into a bit of a rut, and it's time for fab and inspirational food that the whole family can enjoy." We went to work, and we've compiled our list of meals that take 20 minutes or less so you can stop cooking (as much), create delicious cuisine, and start enjoying your evenings more. See KF's suggestions and picks for easy, delicious, and healthy meals (including one of her family's faves), as well as some inspo to cook up a little "fun" in your family – "Food Wars"!
Salmon on Fresh Arugula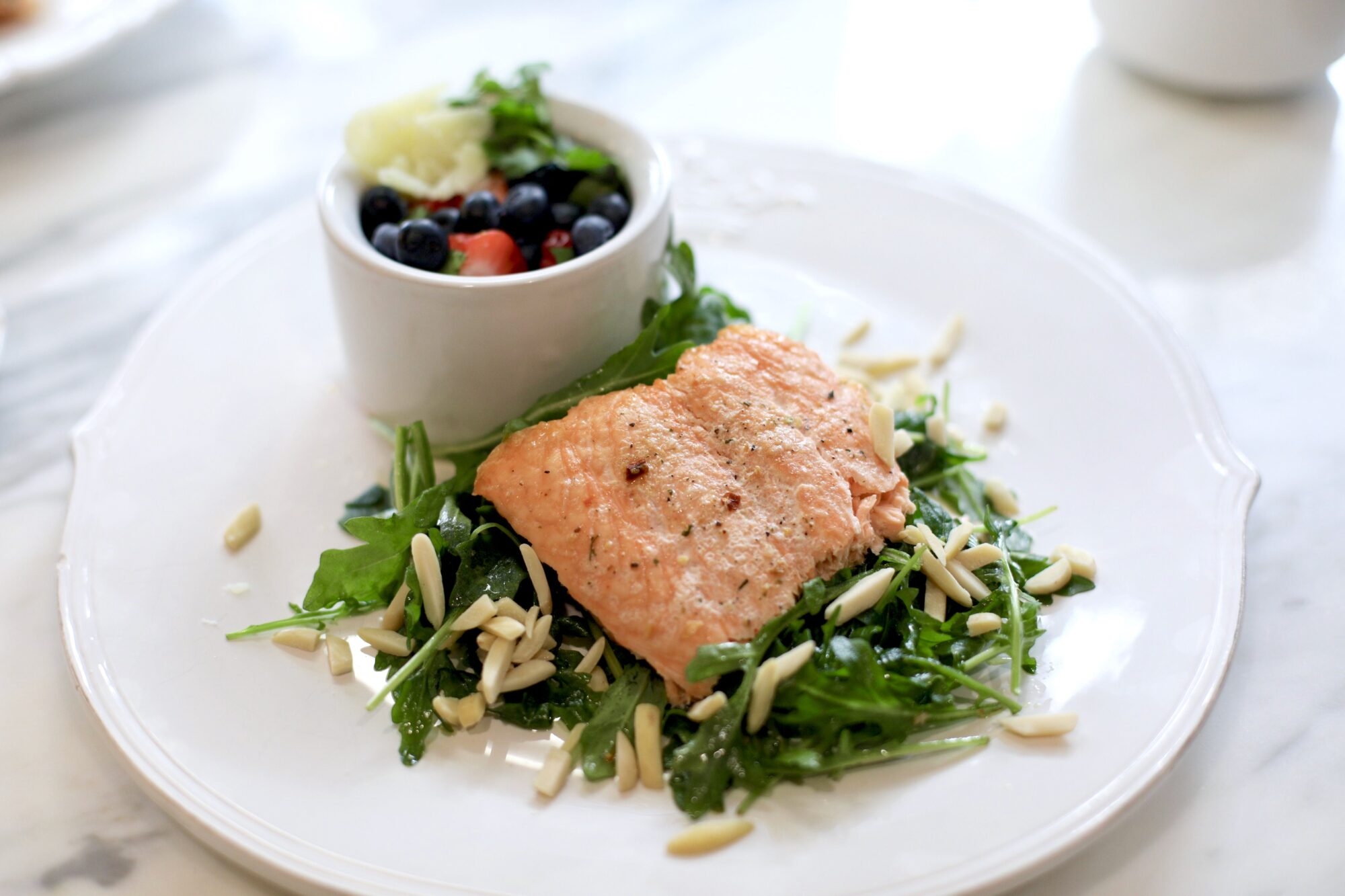 This is a Fielder family favorite, and it is super easy. Check out Kathy & Bella's video below to see just how simple, yet super delicious it really is. Kathy mentioned that if your family isn't big into fish, this can easily be made with chicken or grilled flank steak, and for the vegetarian in your life, the salad with the almonds + parm cheese makes sure everyone will be satisfied at your dinner table.
If you didn't catch Texas Eating Disorder Association's Cooking Up Courage, no worries! KF and her daughter, Bella show you how to make Broiled Salmon over a fresh Arugula Salad and a side of fruit salsa. It's not too late to donate ~ text TEDA to 243725. Eating disorders have skyrocketed over the experience and strain of Covid, and you can help make a difference to fight one of the number one killers in our nation by supporting TEDA.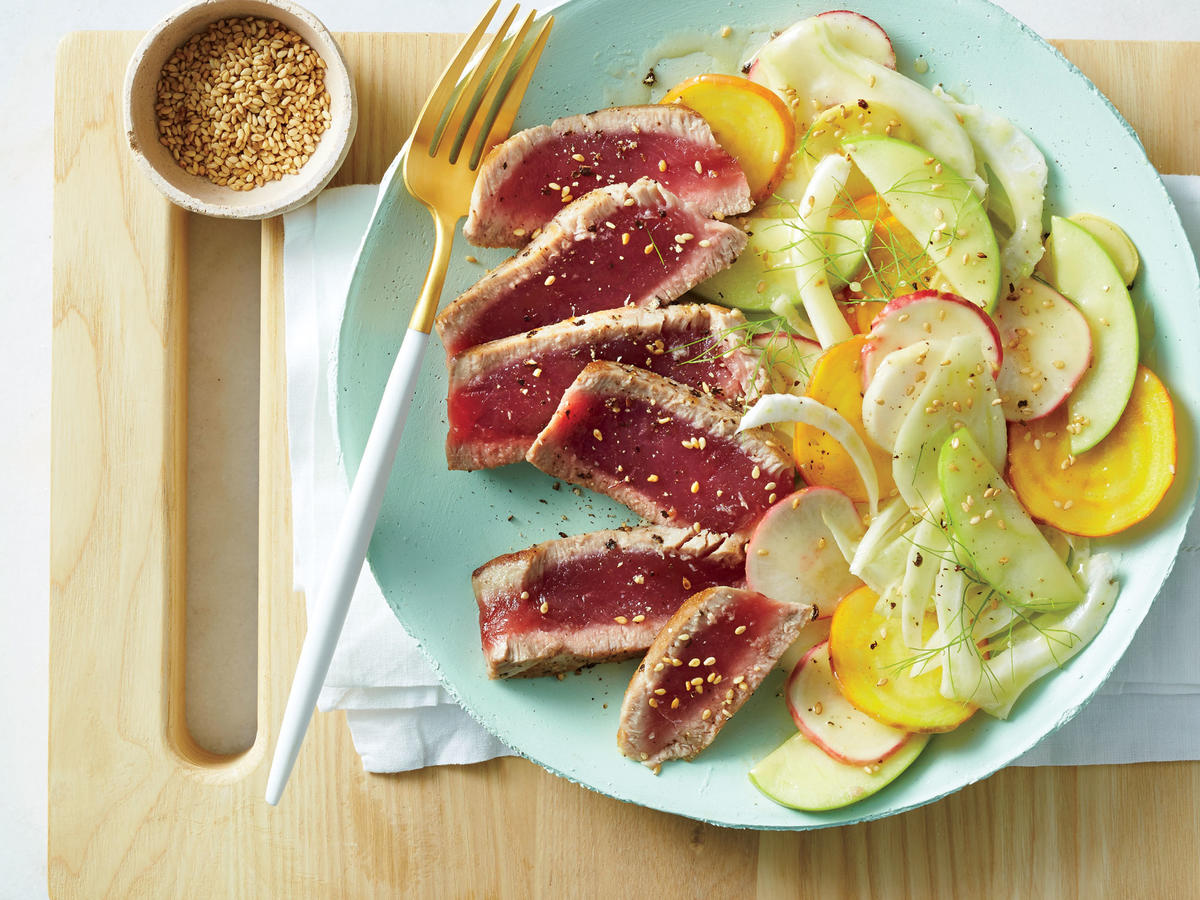 Fish is KF's fave, sushi, sashimi… she loves it all! See some clean, quick, and easy meals with fish as the center here.
Cast Iron Skillet Recipes
A cast iron skillet is your new bff for easy meals. They cook quickly and efficiently, and you can find many meals where ingredients can easily be thrown in one pan together, which simplifies your evening. Kathy's favorite choice in cookware, "a cast iron skillet is a must", she says. It's ability to cook well makes your job much more simple and easy". A quality cast iron skillet is a must for quick and easy meal prep. It's important to know how to season and care for cast iron, so make sure you read up on how best to take care of your investment.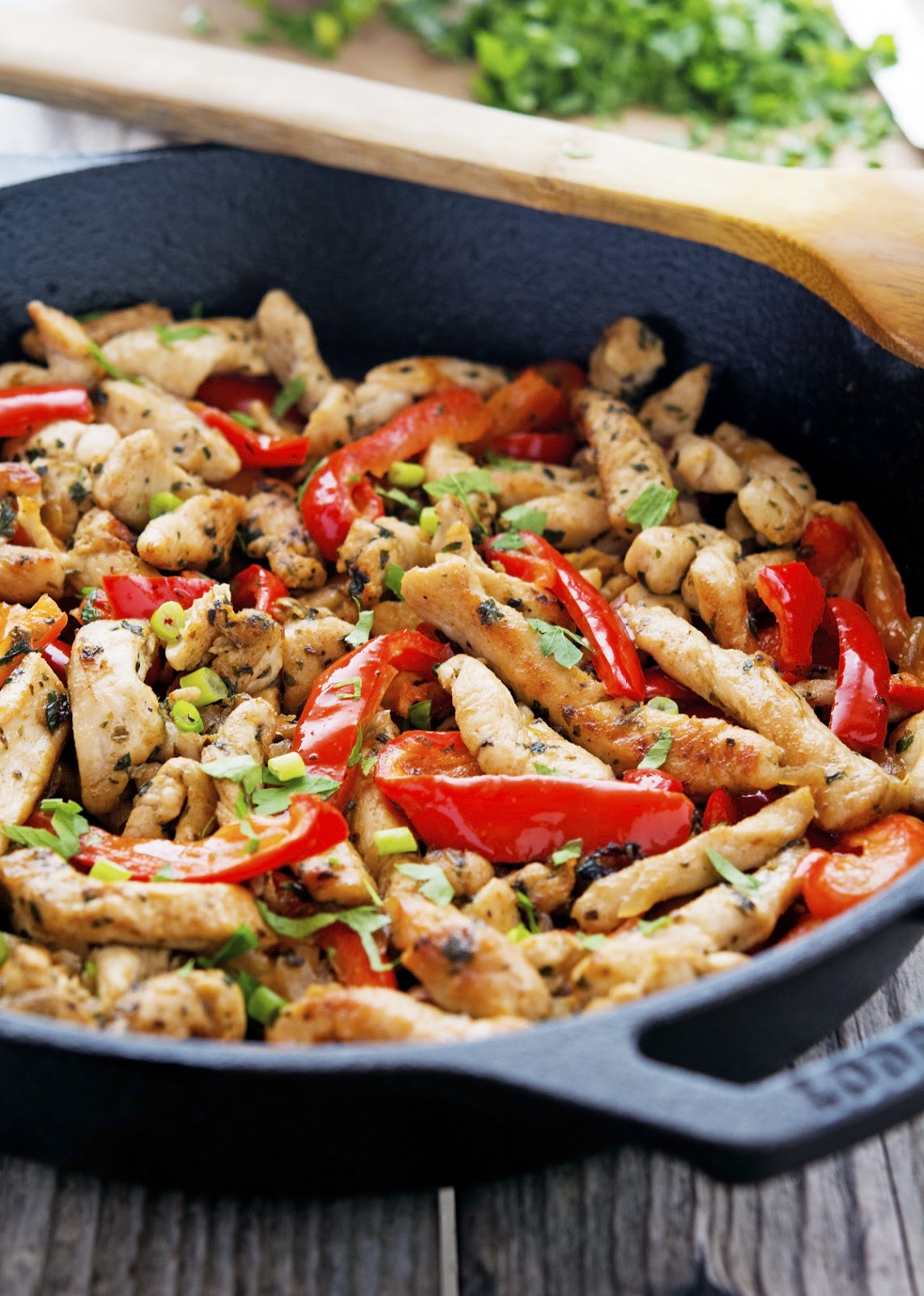 What says fun more than fajitas?! This dish is festive, easy, and brings a little Tex-Mex spice to your evening (pair this with our fave skinny margarita recipe). Mix it up with shrimp or even steak and add tortillas along with pico, sour cream, and grated cheese for TexMex style perfected. Check out the delish recipe here for all the quick and easy details.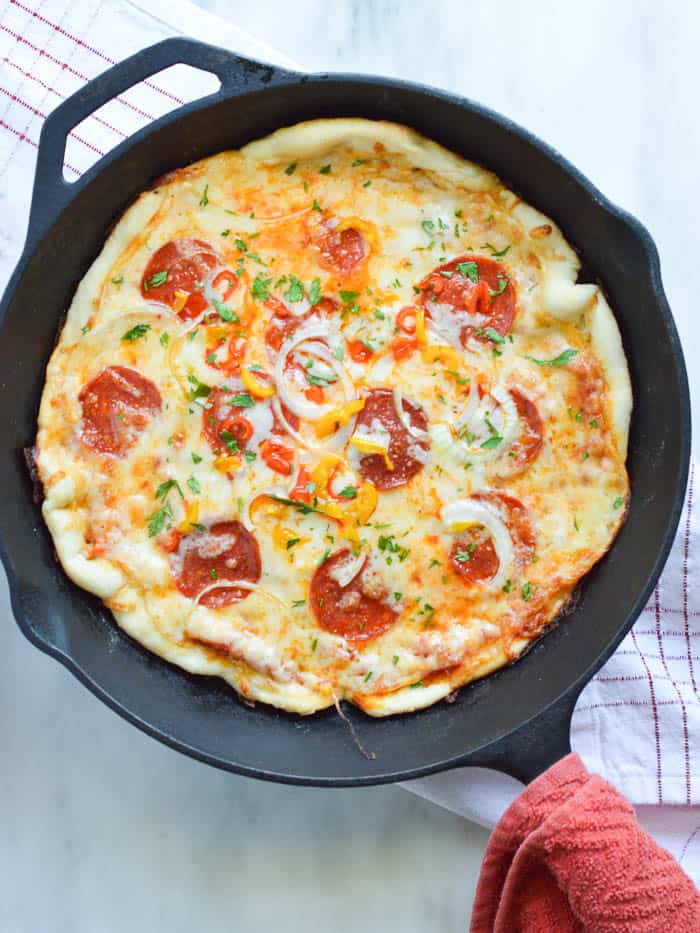 You can have a homemade pizza in 20 minutes. Crazy right? It's way faster than delivery, and more fun too! Use store bought dough or make your own with this recipe. The options are endless, and you will delight everyone in your household. Check out the recipe from Sugar Dish Me. This is a fantastic way to get creative and have a little fun with the family, while making something simply fresh, yummy and delicious. Why not have everyone in the family build their own pizza and enjoy!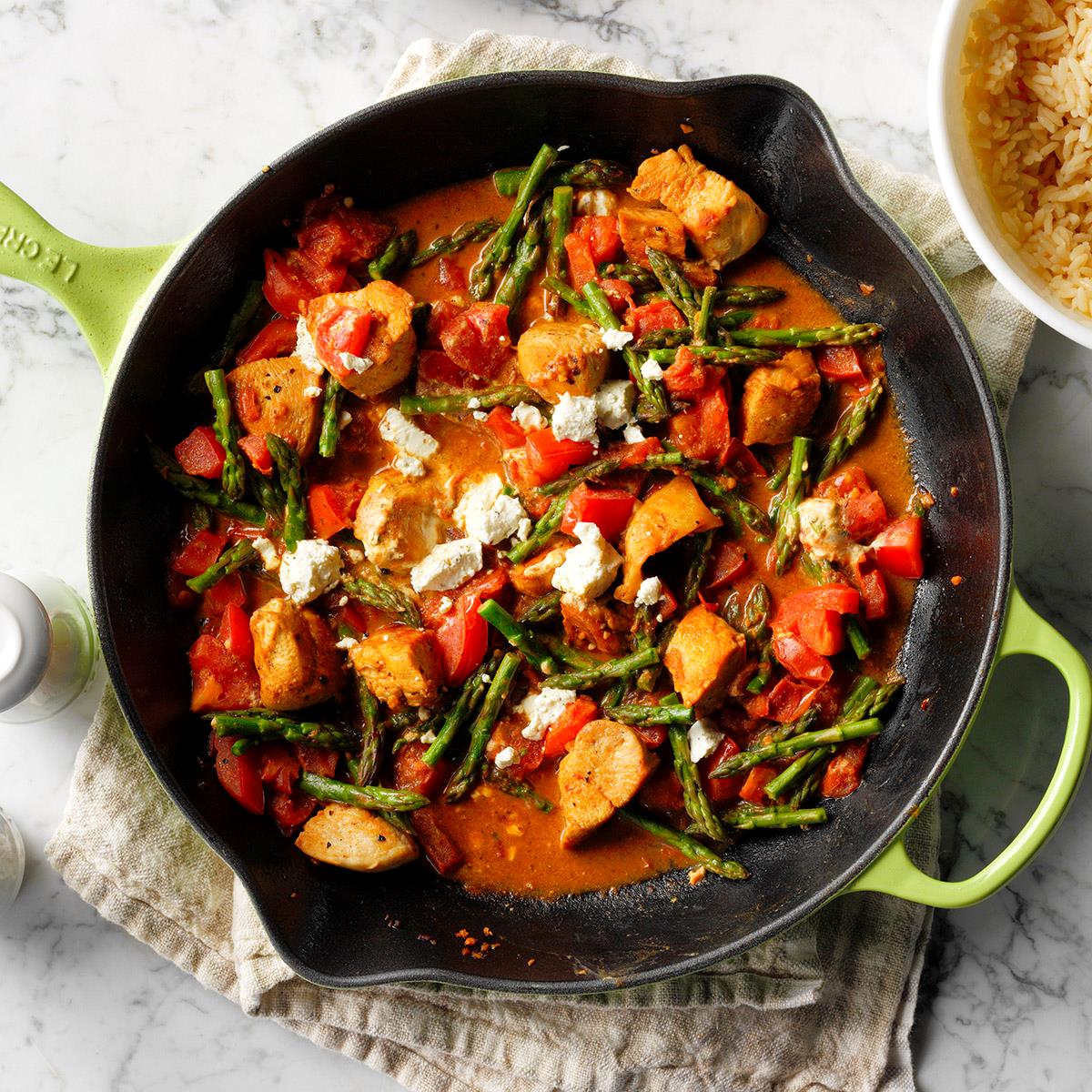 Need a little more skillet inspo? Check out these quick meals you can make on the fly from taste of home.
Clean + Easy
Clean and easy meals usually go hand-in-hand. KF is a big believer in the cleaner the better, and does believe that what you put in your body makes a huge difference. Since clean meals don't take much work beside the occasional spice or sear, they are usually pretty easy to throw together, and the fresh, clean ingredients give you a chance to truly experience the food and herbs.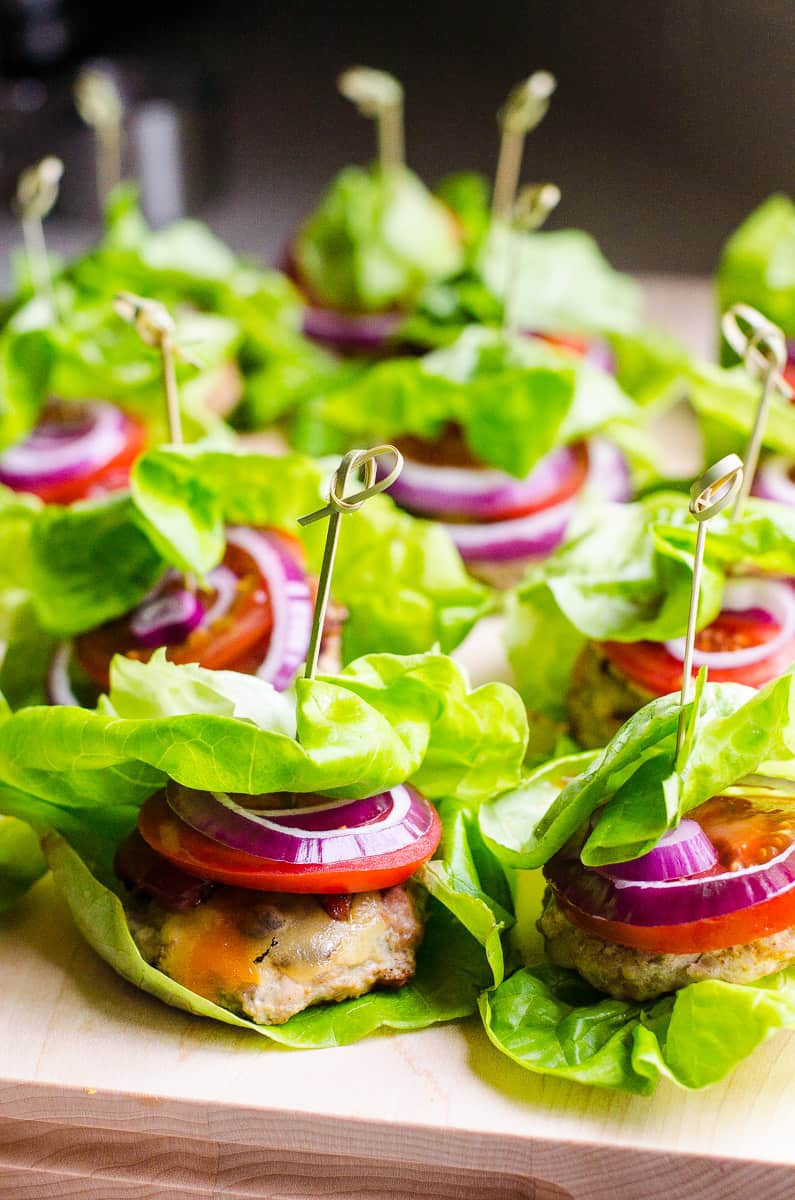 A turkey slider is fast and flavorful. The best part? You can make them as healthy as you like or, for those members of your family who want a little "more", add a little bit of bacon, cheese, or a bun. Check out these super healthy + yummy sliders here.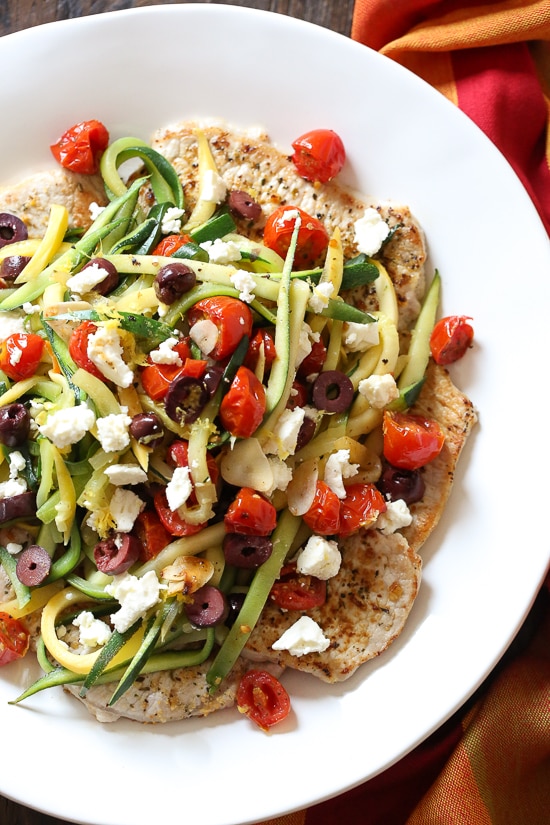 Mediterranean pork chops with summer veggies, sounds mouth-watering and divine. Since most of us don't have a trip to Italy planned this summer, we thought we would bring a touch of Italia to you! A mix of summer squash, roasted tomatoes, lemon juice, olives and feta make this a wonderful dinner dish that looks pretty too.
KF Tip ~ Now is the time to go all out and make dinnertime special and engaging for the whole family. Start the family off with a yummy hummus (or two!) with pita bread for a fun Mediterranean–inspired evening. Ever made homemade hummus? It's not hard, there are endless choices, and once you do it, you may never go back to store bought hummus again. Check out an easy, yet delectable recipe here.
Family Food Wars
In the mood for a little fun this weekend? Why not have a "Family Food War"? Like all of us, Kathy wanted to find some creative ways to keep her family engaged during Coronavirus. She decided a little friendly competition never hurts and the Fielder Family Food Wars was born! Try it out this weekend and send us pics, we would love to see what you and your family create.
Chicken
Kathy, her mom, Mary (her son Harrison was Mary's partner), her husband Jeromy, and her daughter Bella competed on the first evening by making their favourite chicken dishes! Everyone in the family agreed it was some of the most (and messiest!) fun they had in a while. Chicken, street tacos, pizzas… whatever your family decides, the key to a great success is let everyone pitch in, get creative, and even a couple of big messes might be on tap.
Jeormy's Recipe:
Fresh, grilled chicken and veggies seasoned with spicy sea salt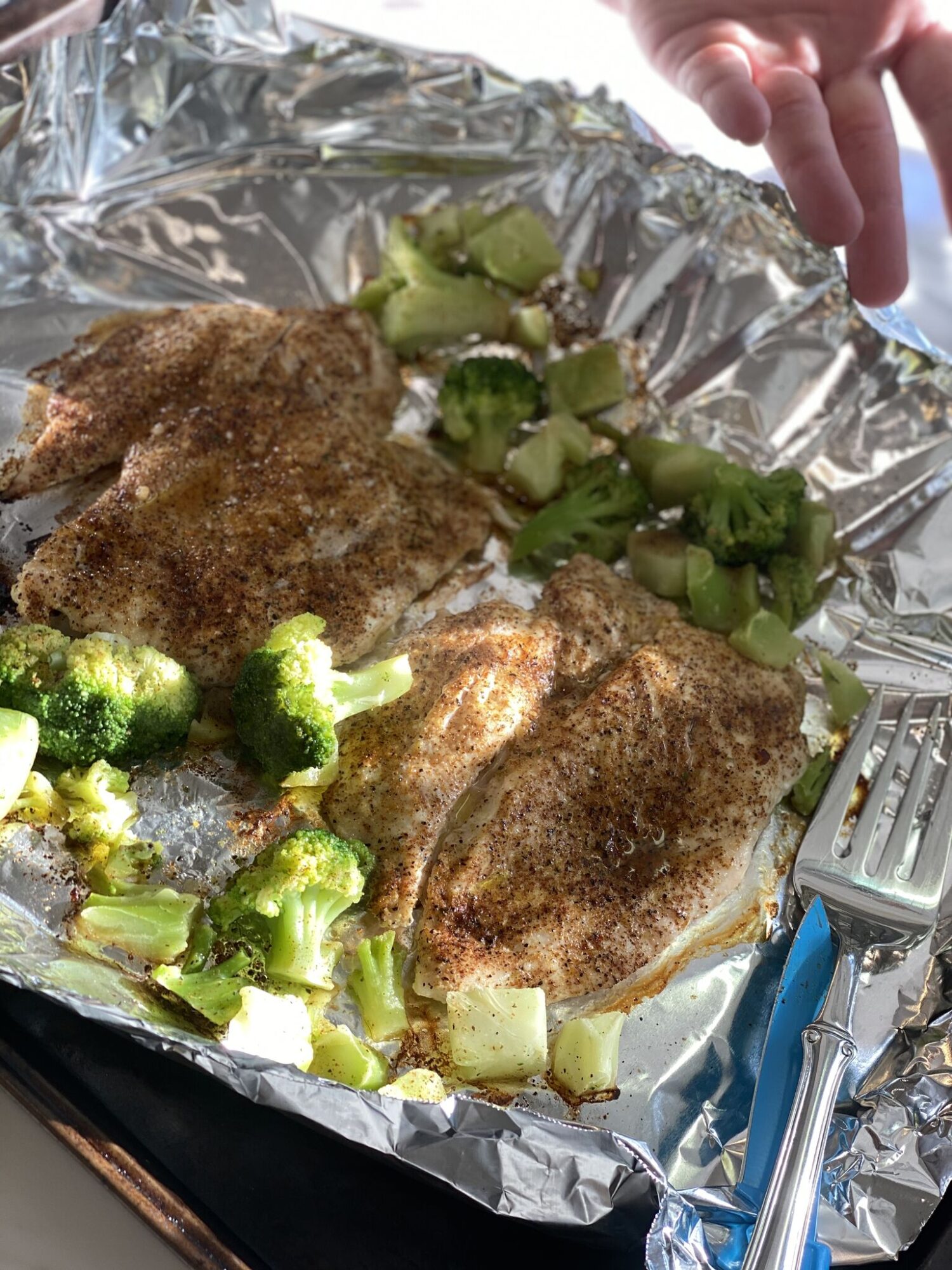 Isabella's Recipe:
Sauteed chicken with a dijon marinade with whipped margarita guacamole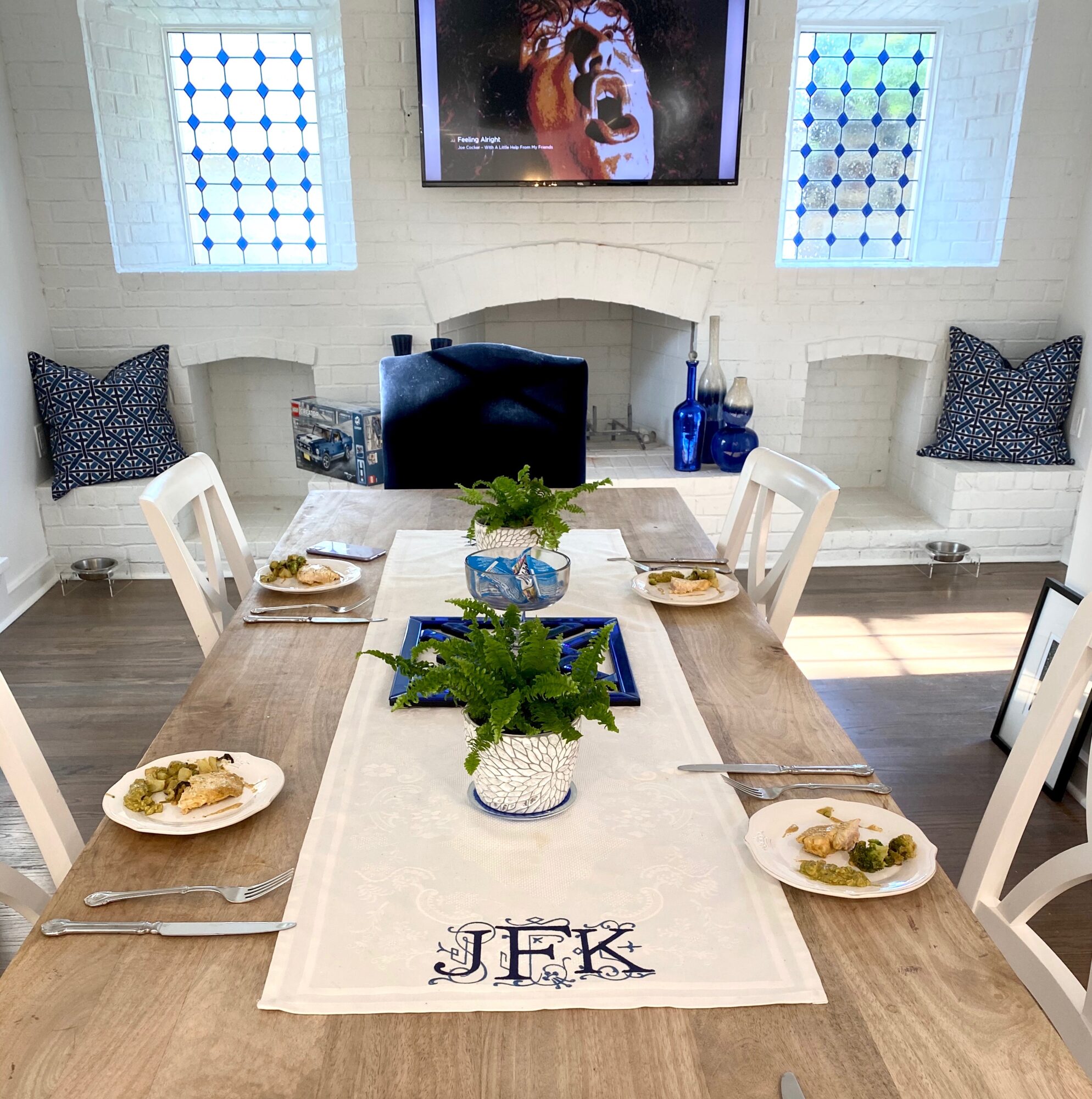 Kathy's Recipe
Broilded chicken with marinara sauce and provolone cheese garnished with basil.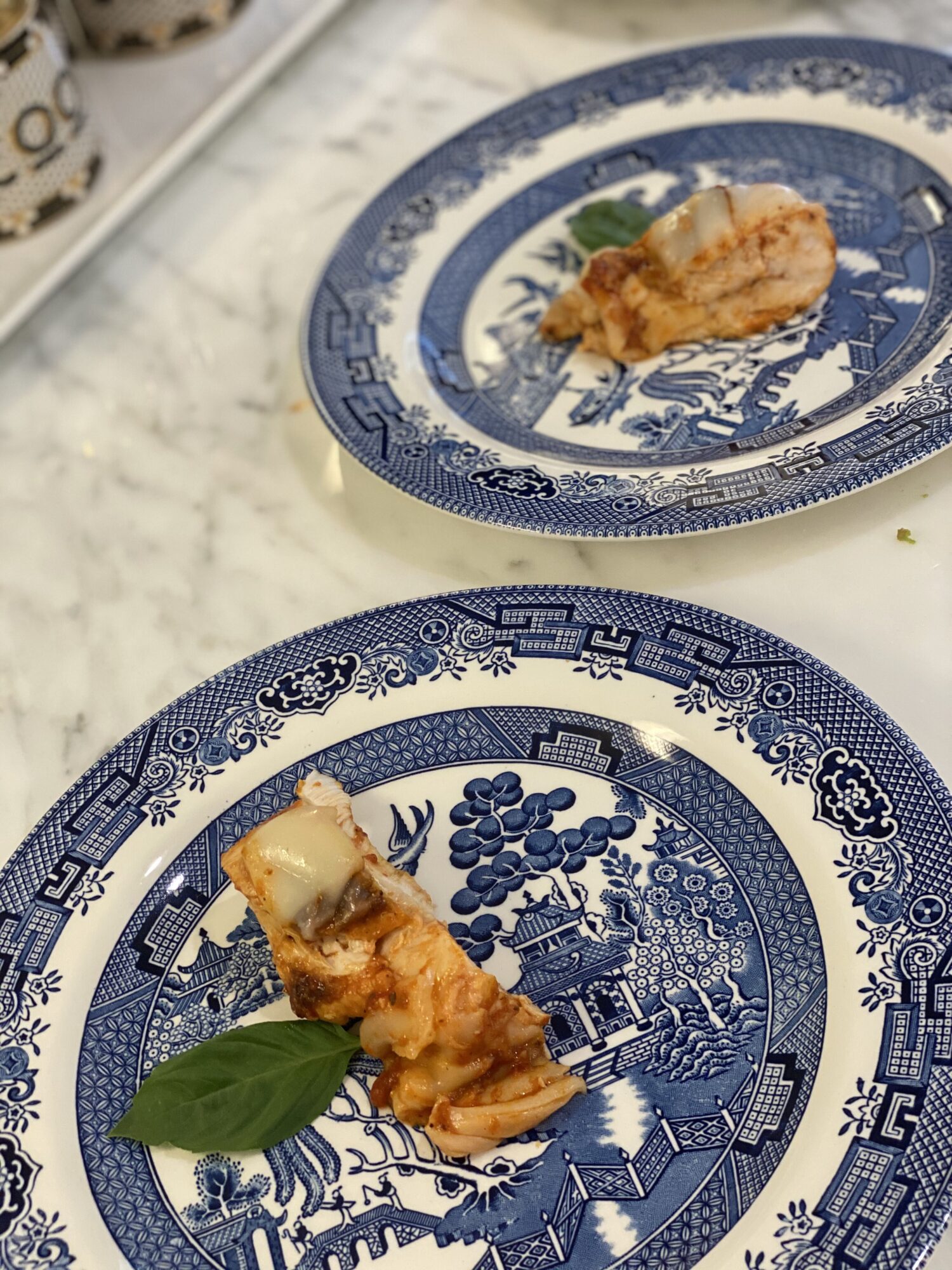 Mary + Harry's Recipe:
Mary and Harrison went with southern comfort food all they way. Check out her original recipe below.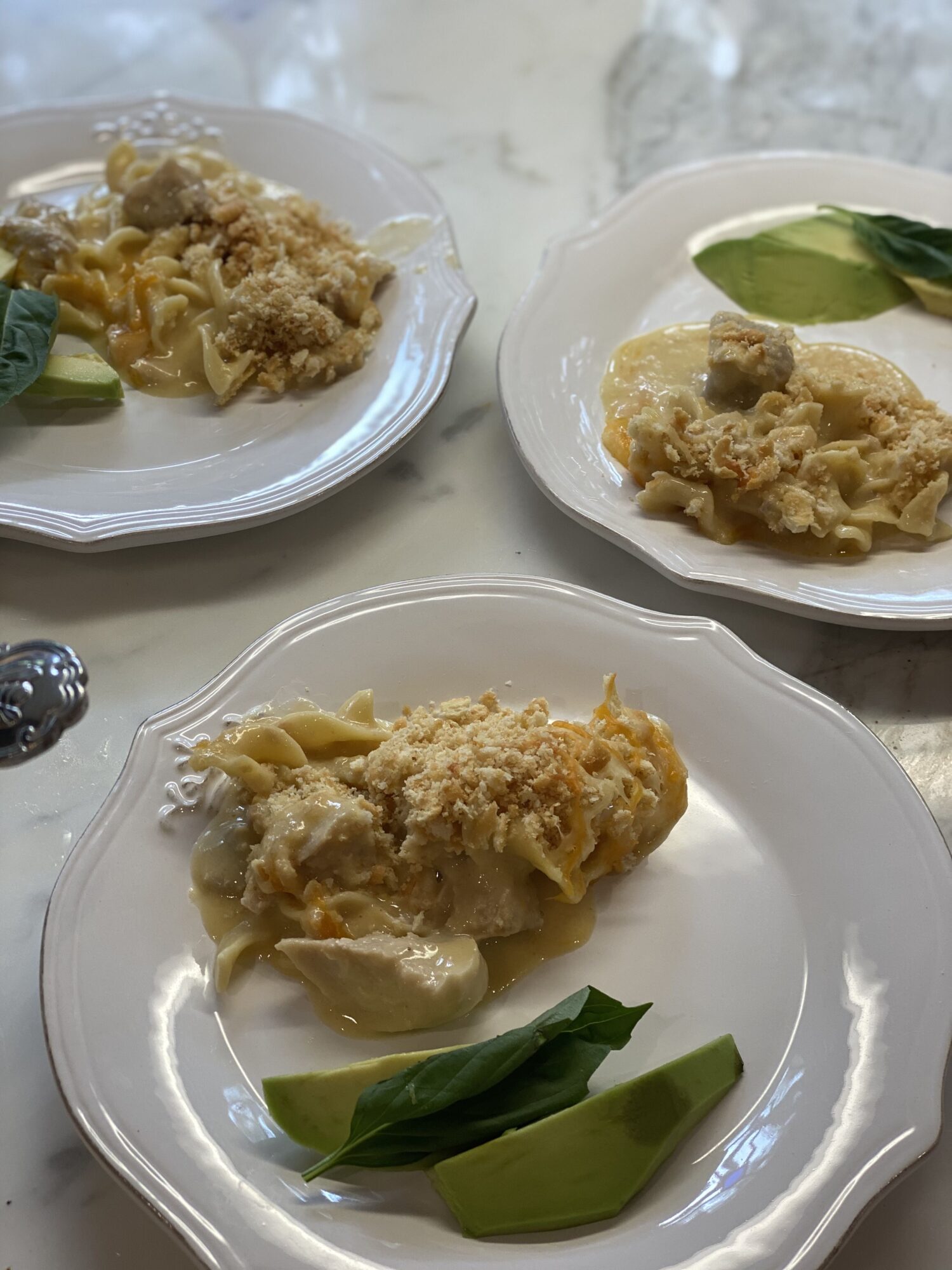 1-1/2 cups egg noodles
1 can cream of chicken soup
2 cups diced chicken
Garlic salt to taste
Garlic powder to taste
Pepper
2 Tabs soy sauce
Add whipping cream 1/2 cup
Instructions: Mix all together and place in an oven proof dish. Top with 10 crushed ritz crackers and place crackers on top and dot with butter, Around cracker add grated cheese and bake @350 till heated thru and crackers are crisp.
Sundaes For Dinner
The key to a good sundae? Toppings! Stock up on crowd favorites, different syrups, nuts, and fruit. Get creative and maybe even add in some unexpected items too (Nutella was a big hit for this sundae adventure:), and go for it! Kathy's family decided to change it up one evening and it was sundaes for dinner, topped with a blast and a lot of laughs.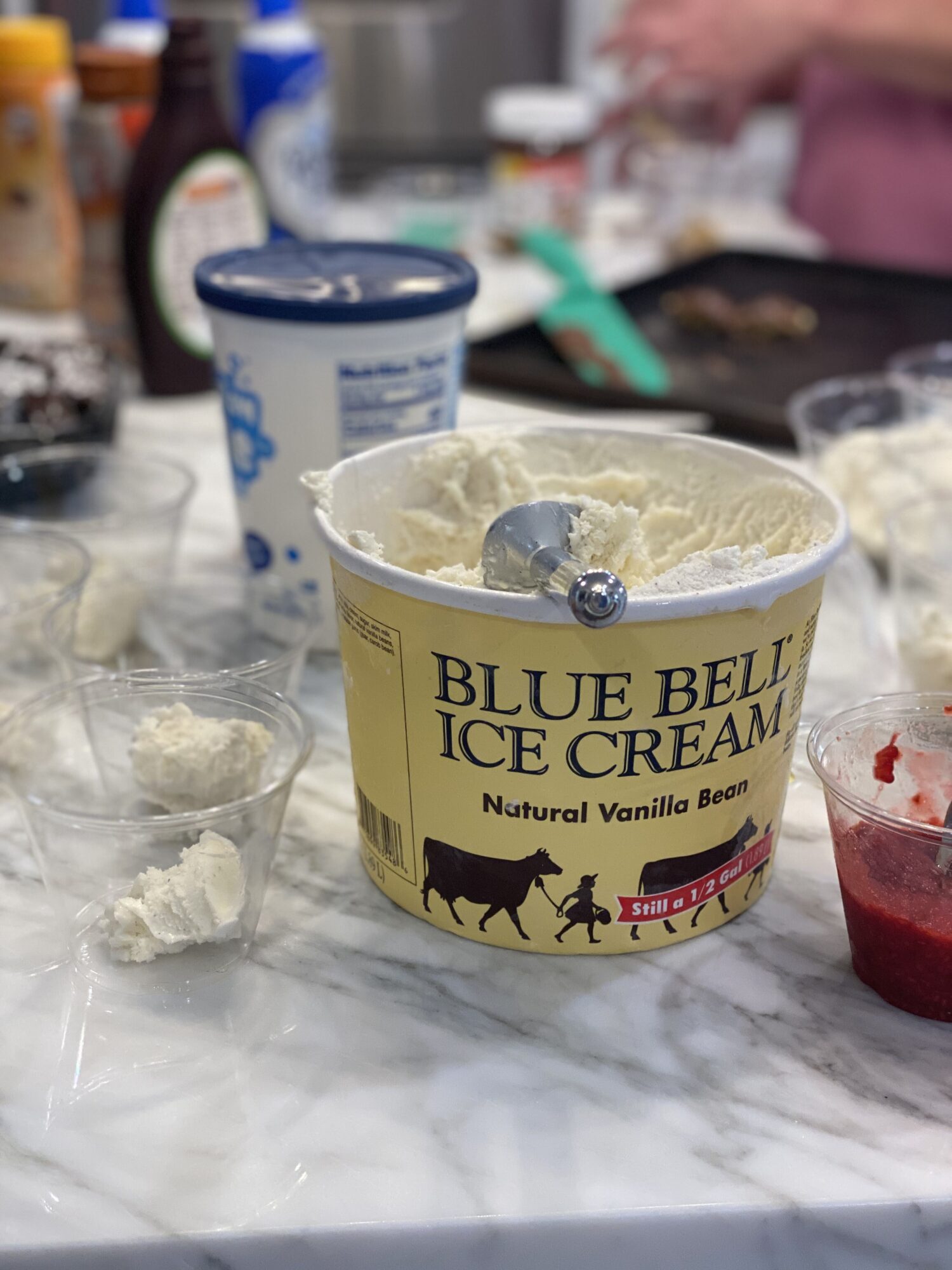 A classic, who doesn't love Blue Bell vanilla ice cream.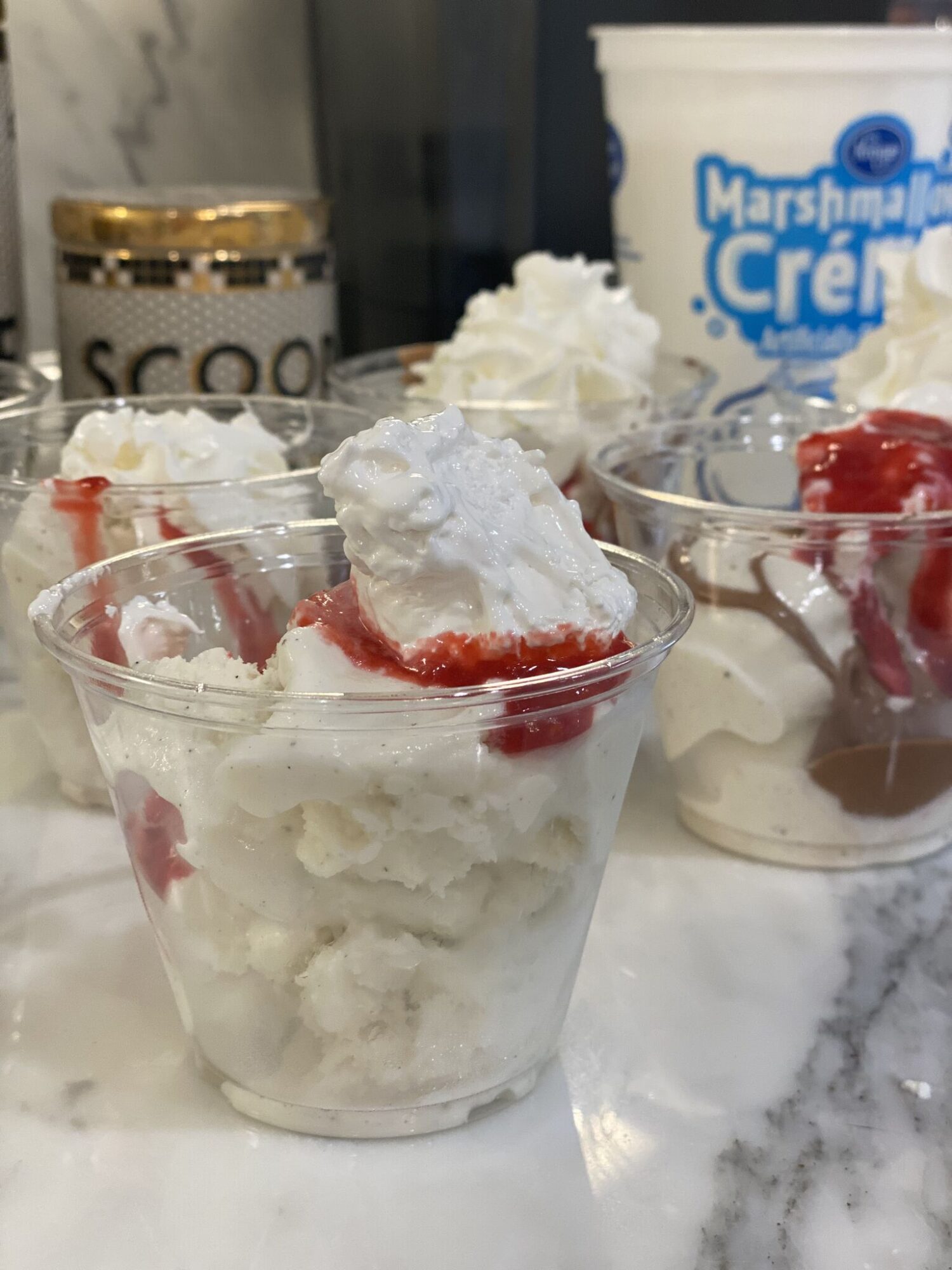 Everyone concocted their own mini creations. One for each member of the family to try.
KF Tip ~ Plastic wine cups make it easy to clean up and throw away after the tasting.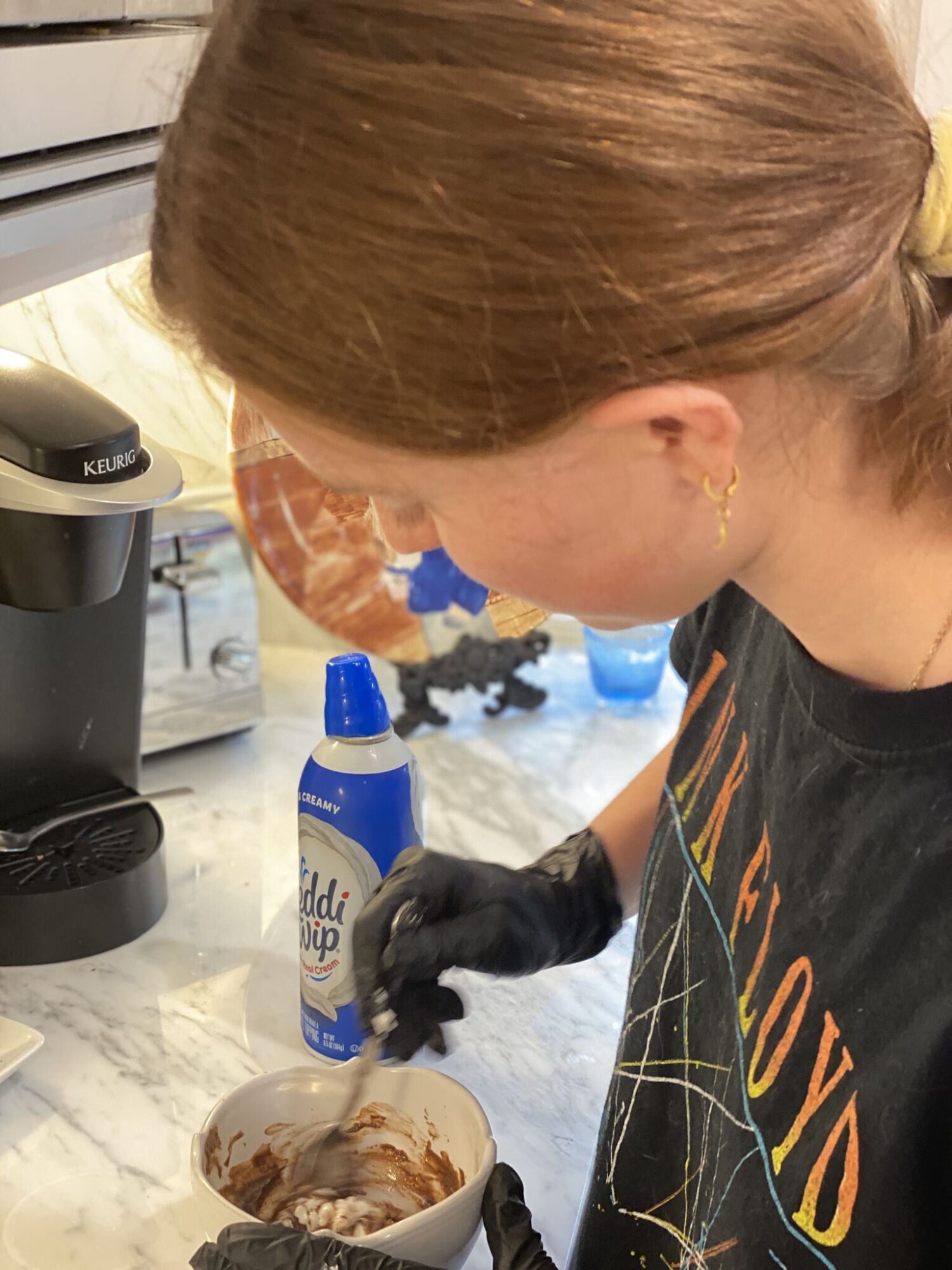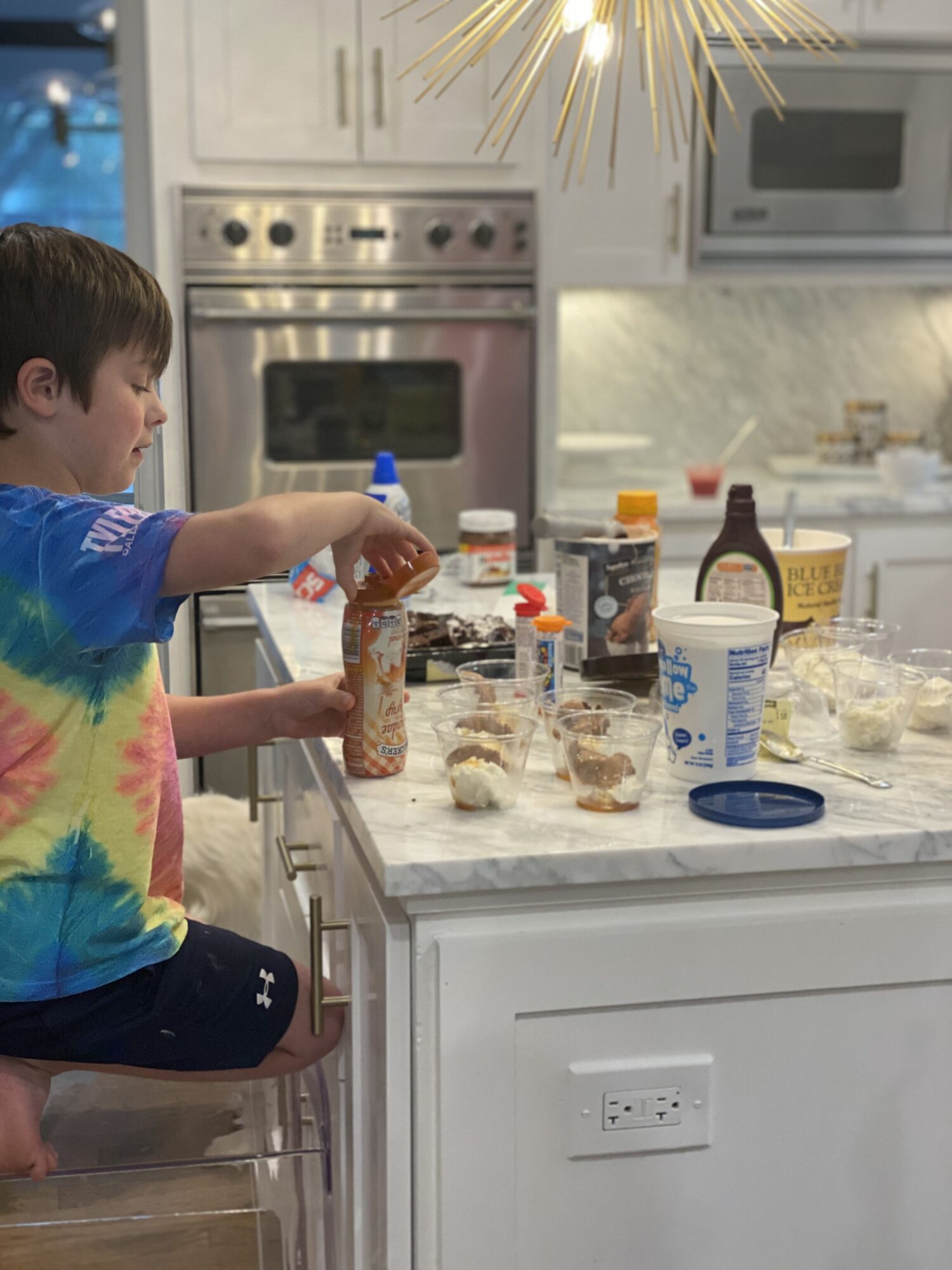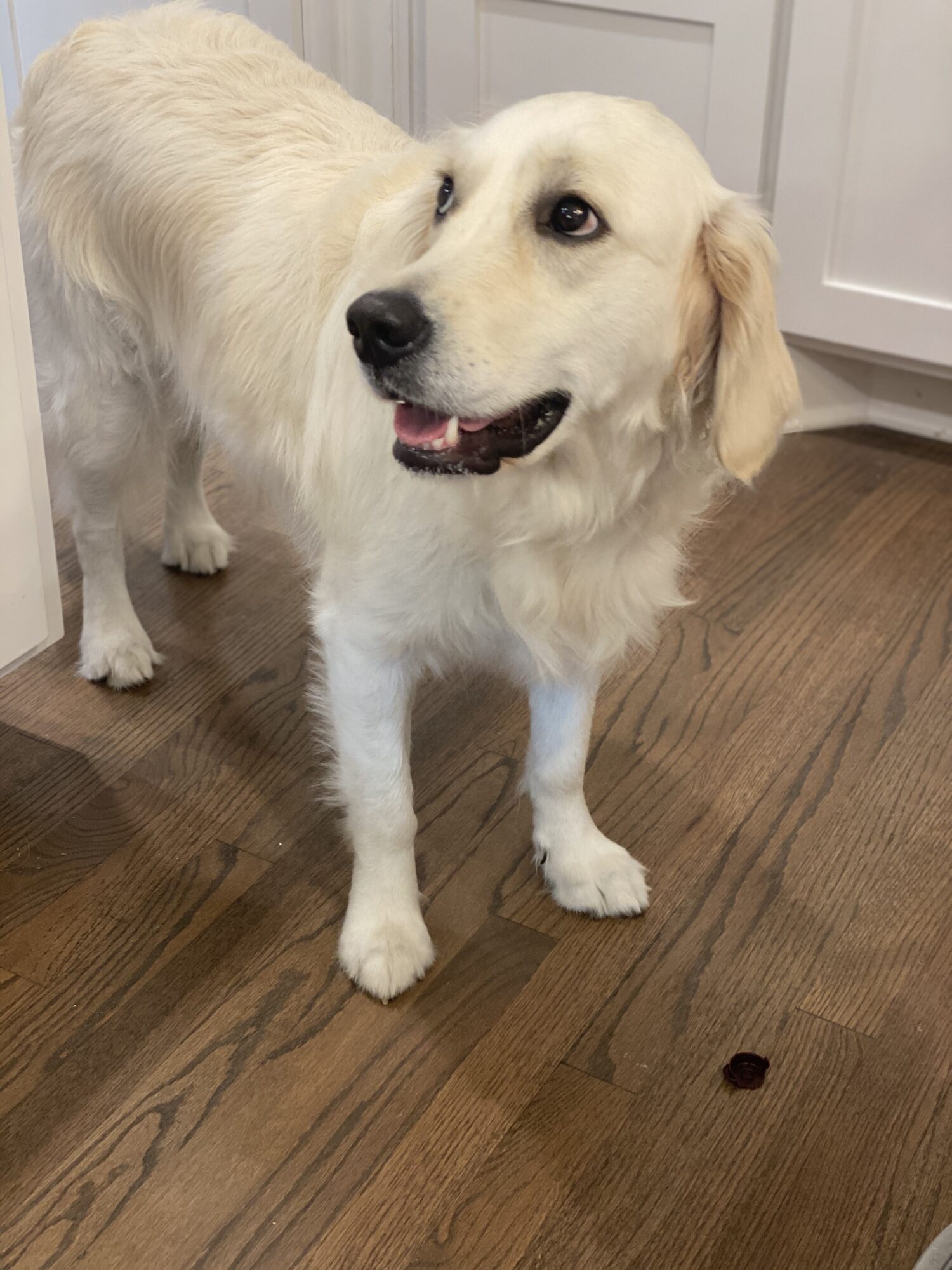 Pups can participate too!