Easter weekend is here, although it looks a little different than most years there is still time to make it fun + festive. Since we are all at home, this is the time to curate your perfect intimate Easter brunch or dinner table with your family and enjoy your blessings. This is something fun to pour your time into and your whole family can get involved. Utilize what you own and mix and match older items with newer ones to create a cohesive and engaging theme for your brunch or dinner. Add in some of the pieces you rarely get to use, but love to see as features in your tablescape. Here are some fun tips for your perfect Easter table. Whatever your style more classic or playful, or a mix of both, here's some inspo to make it special and fun for the whole family.
Sophisticated + Elegant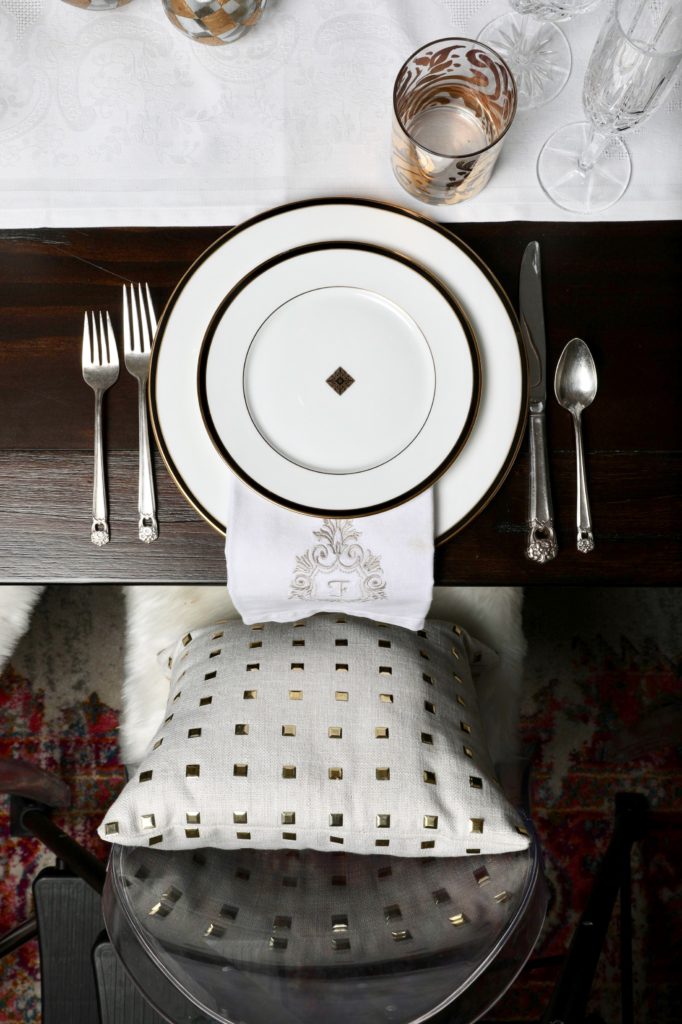 From the textiles to the place settings, classic screams sophistication. Everything corresponds beautifully and invites you to the table to sit and enjoy a lovely meal and each other.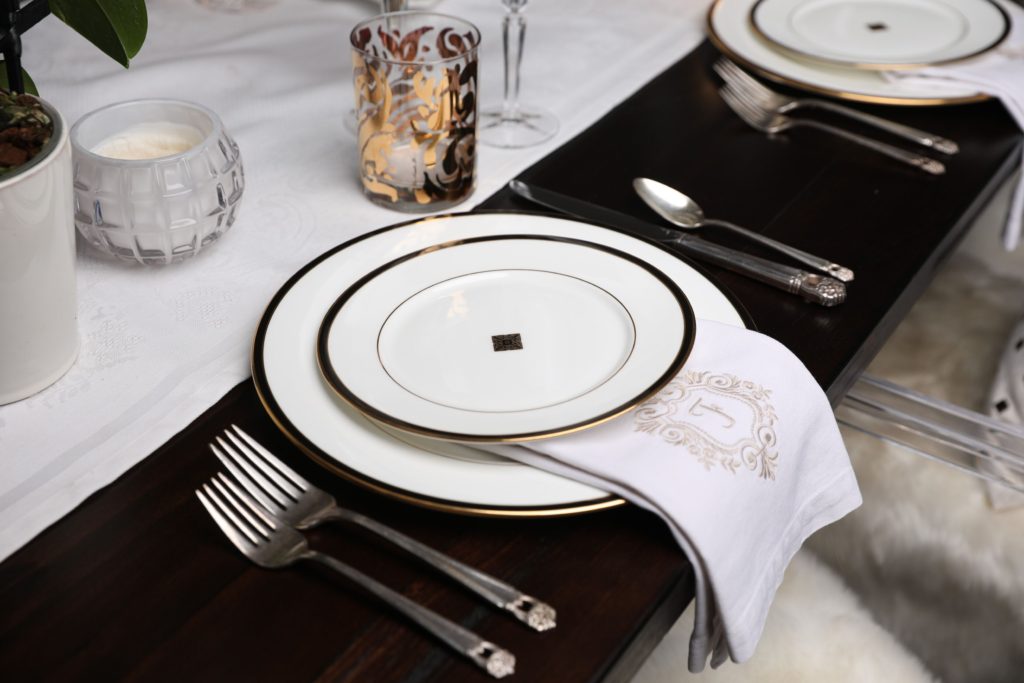 It all starts with the place setting. Refined, striking, and elegant is key for an elegant meal. Gold and white accentuated with fine crystal and vintage sterling make for an effortlessly fabulous setting.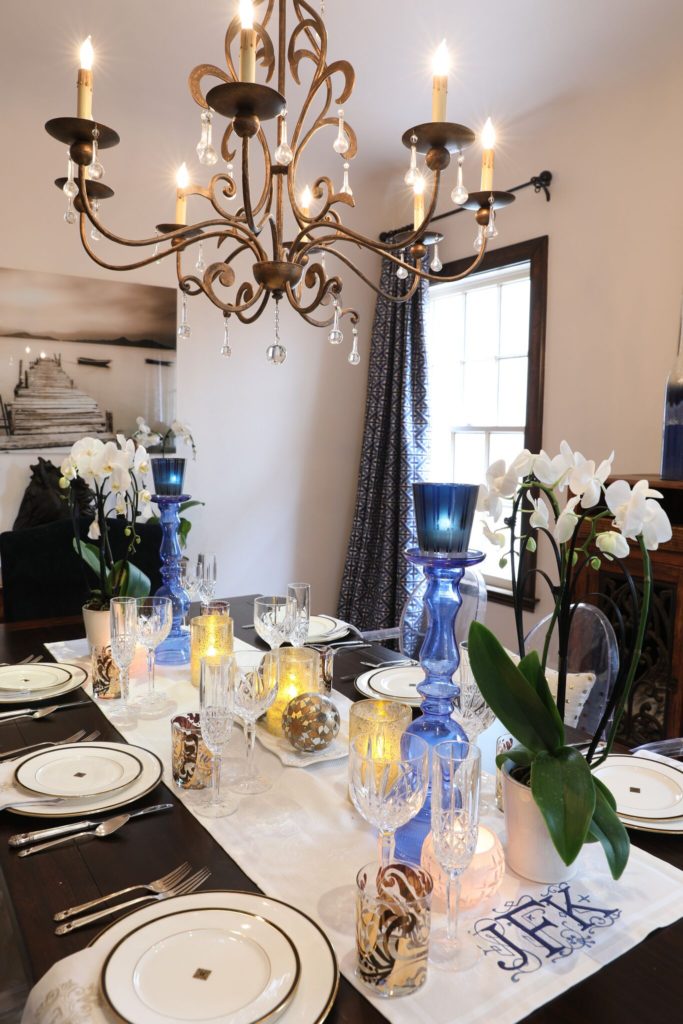 Centerpieces should be eye-catching without competing for total attention of the table. A little sparkle and ambient lighting all work with your glassware, dishware, and flatware to create a space that glows and invites your family to connect, to linger and enjoy.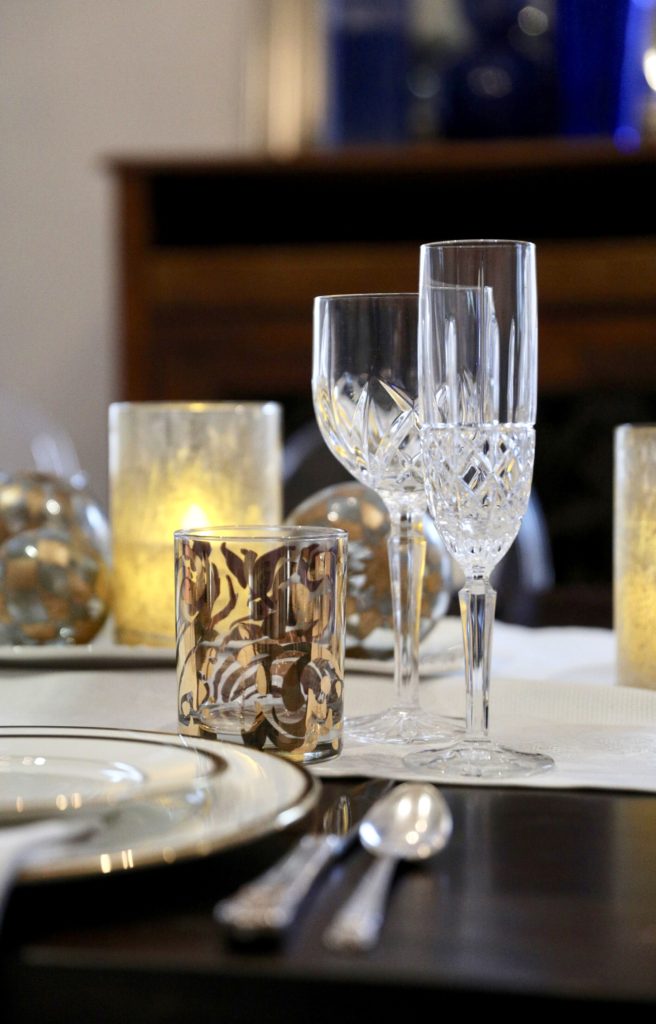 Everyone should be able to see each other and socialize without too much going on in the middle of the table. Shorter centerpieces with decorative candles and accessories give you a beautiful and inviting ambience without being overly distracting and invite more conversation.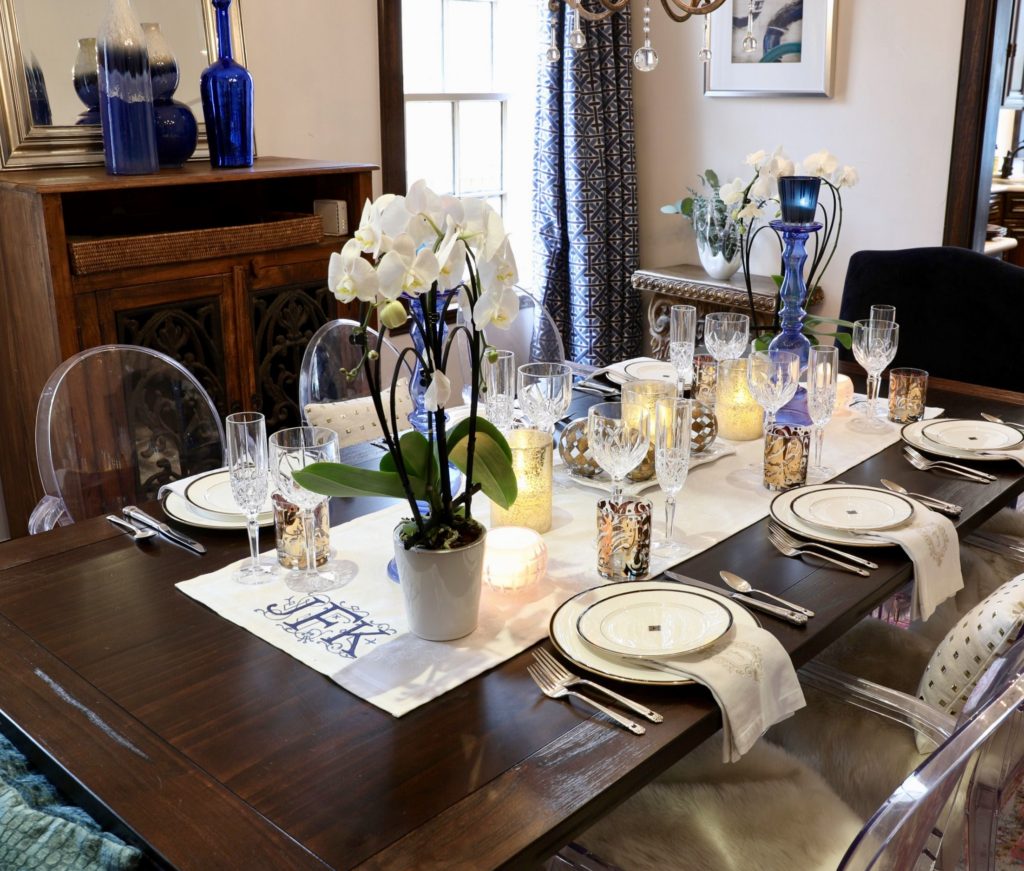 Everything in the room should work together to create a beautifully cohesive space. Place hides and pillows in chairs to add warmth and texture to your room. This is cozy while you dine, and also so aesthetically pleasing when you're not utilizing the room.
Playful + Colorful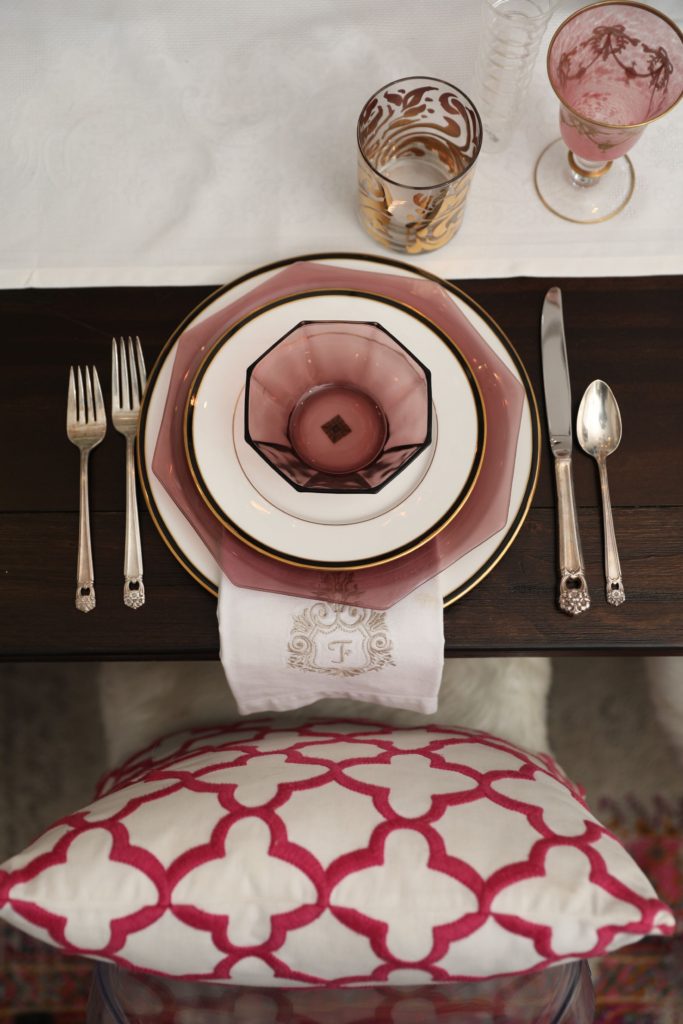 A quick switch easily turns your classic table into a more playful design! Mix and match unexpected pieces, use color, and be creative. This completely transforms your table into something kid and adult friendly alike.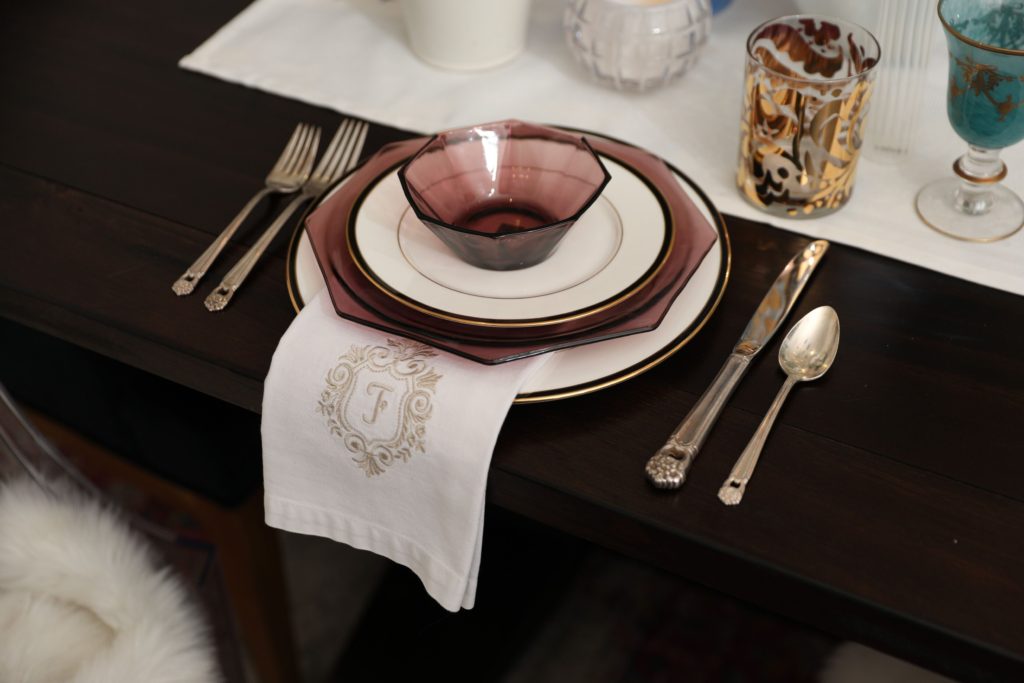 Pops of color are key in creating this fun Easter tablescape. Mixing multiple brights gives the vibe that creates an eclectic and fun table for all to enjoy and savor their meal. If you have pastel pieces, mix those in for a some more traditional, Easter color stories.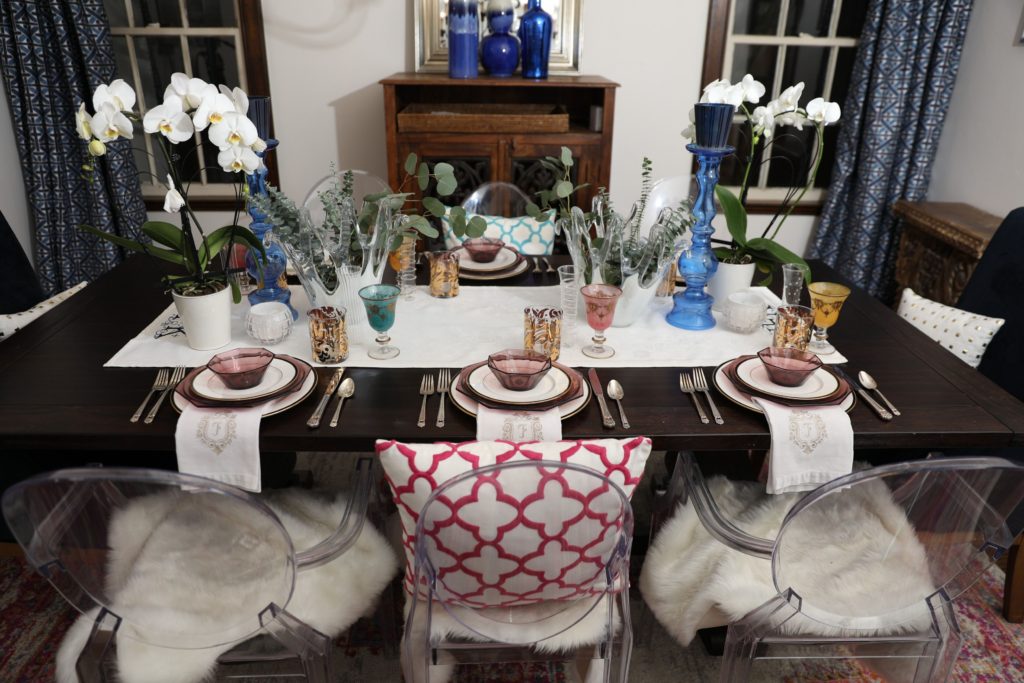 Eclectic styling is also the key to an exciting and visually appealing room. For example, each setting gets the same style glasses but in different colors, all anchored by something each place setting has in common, such as the gold tumblers with interesting detail. Each person can pick their favorite color, too! The champagne flutes and wine glasses add an interesting aesthetic to the table and give it that lively twist with loads of style.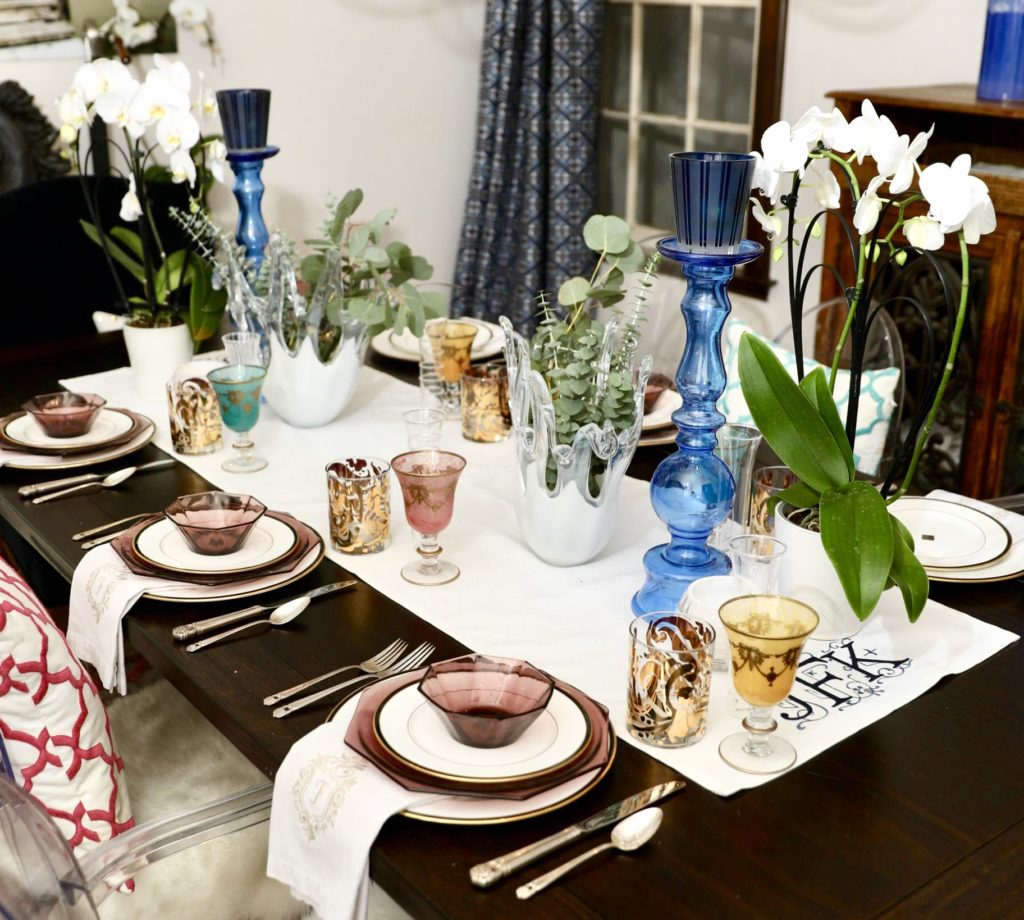 Since it isn't so easy to run to Trader Joe's for fresh flowers and eucalyptus, utilization of your own garden could be key. If you have flowers and greenery you love make a fabulous centerpiece with it. No garden or not feeling like taking apart your yard? Get creative! More candles and candle-sticks, in a couple different shapes, colors, and sizes. Have your kids create something fun and colorful to pop in your favorite vases. Or serve your food family style for a more casual vibe.