This week we sit down with Myaann Payne, resident Kathy Fielder boutique stylist and friend. She shares with us her top tips for transitioning pieces you already have seamlessly into your new spring wardrobe, as well as her top in-store picks and KF new arrival must-haves.
"My super power is creating curated, edited wardrobes. You get wear out of everything in your closet and you also shop smarter – only purchasing items that will add a fresh appeal and value to your closet!" Myaann's top winter picks to easily transition to spring are joggers, a statement leather jacket, sweatshirts with a twist, fun jumpsuits, and fuzzy sweaters. She tells us how, "these items are perfect to have in your wardrobe because they are staples you can pair with items you already have."
The Transitional Styles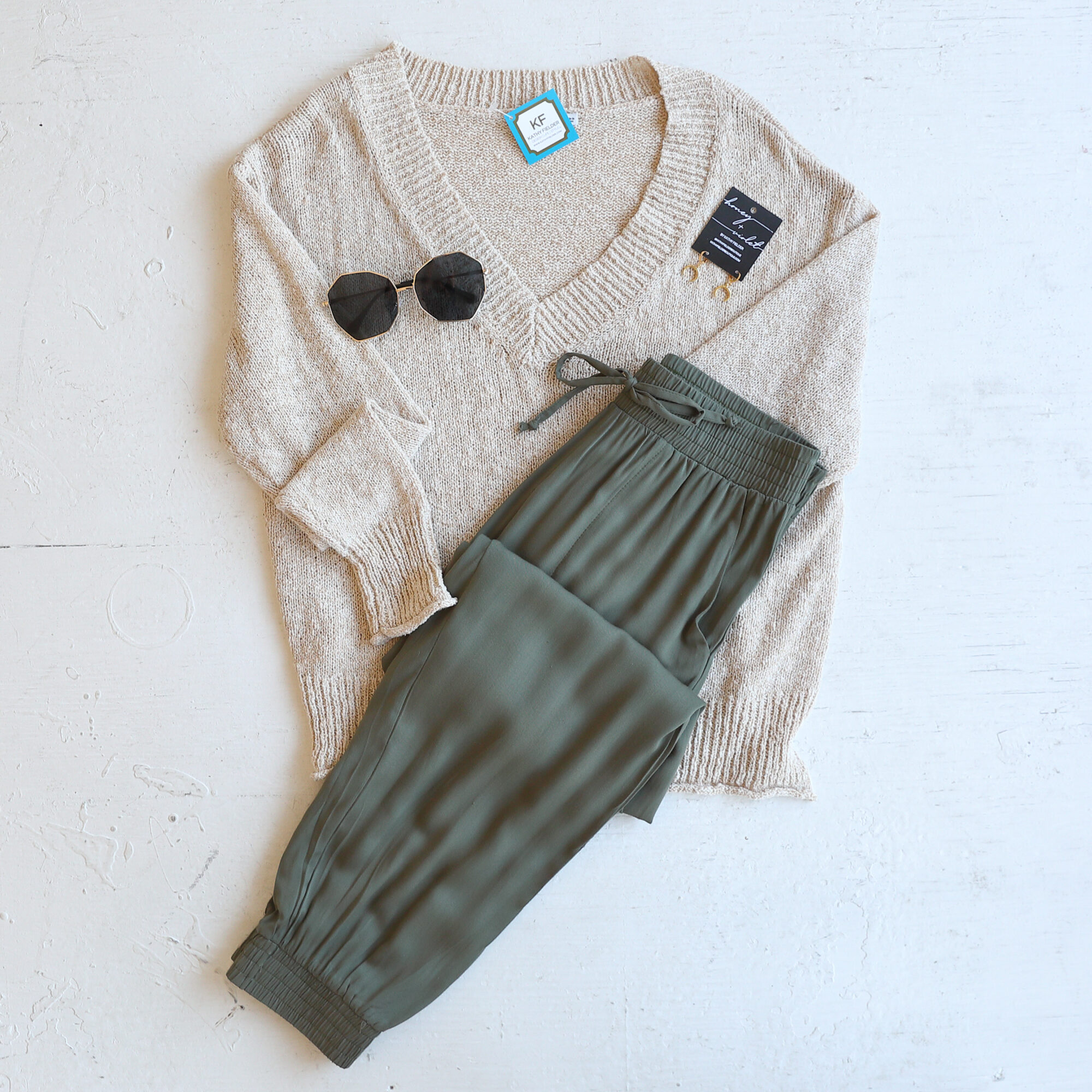 "Joggers are great for running errands or a casual weekend brunch. Paired back with a neutral sweater, this is perfect low key + comfy chic outfit for any girl on the go."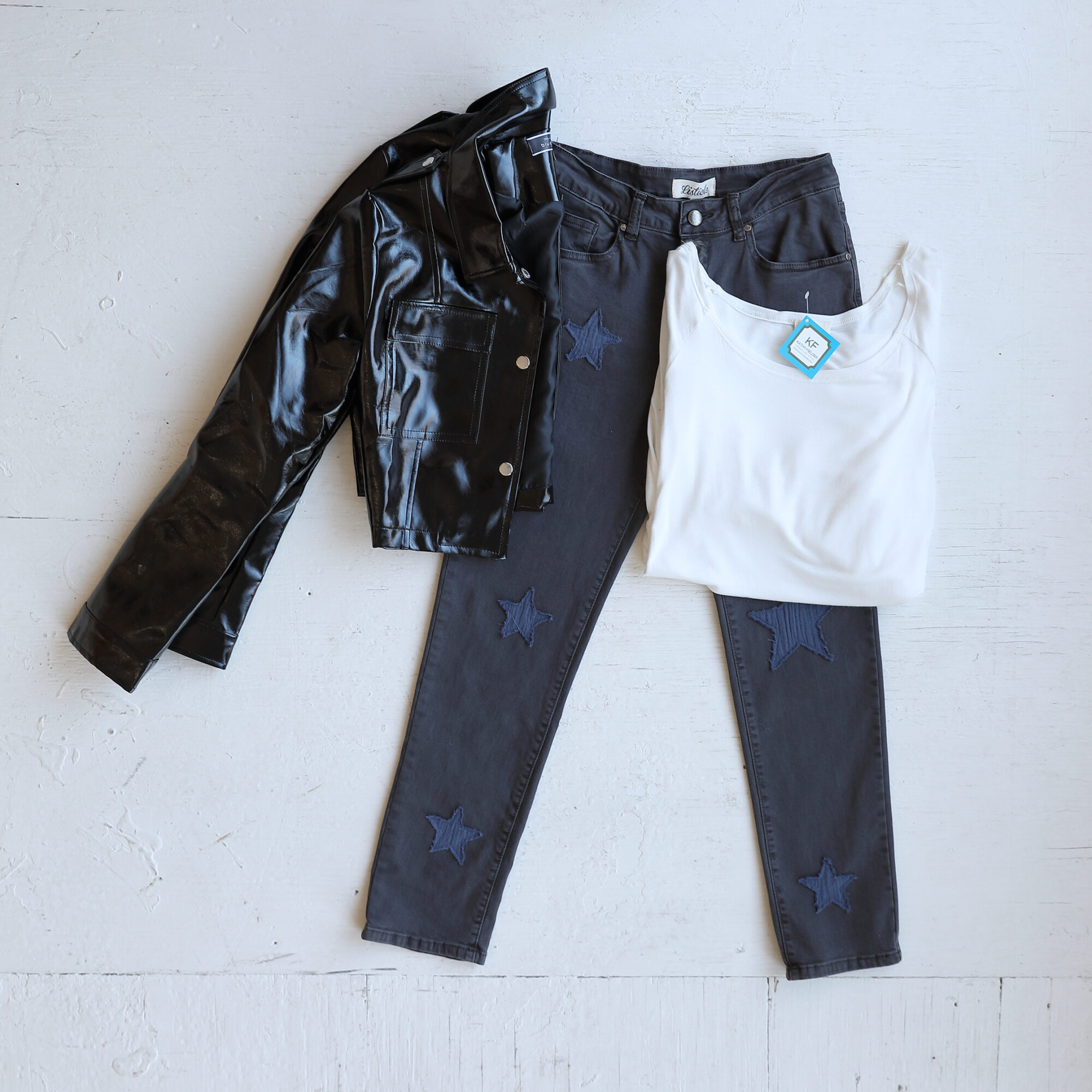 Myaann shares, "I love a leather jacket with a t-shirt and jeans, and this cropped one is a fresh upgrade in a trendy fabric!" We recommend pairing with your fave boyfriend tee and jeans. If you are feeling an extra fab twist, try our Star Girl Jeans.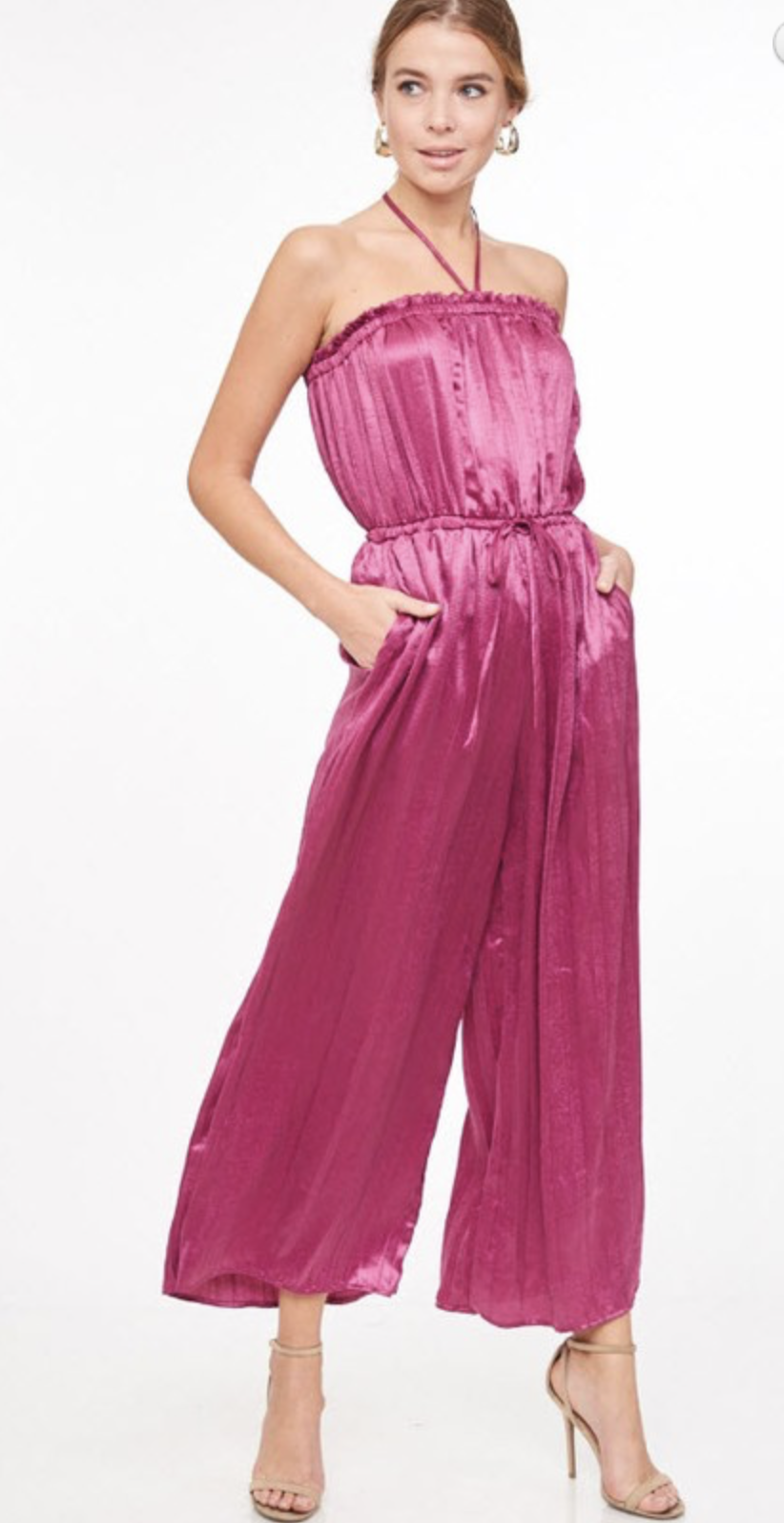 The Magnetic Magenta piece makes a statement. Myaann has a few tips to keep rocking it no matter what you are up to. "Wear it to work with a black blazer, and you can easily ditch the blazer and you'll be ready for a patio happy hour in 2 seconds."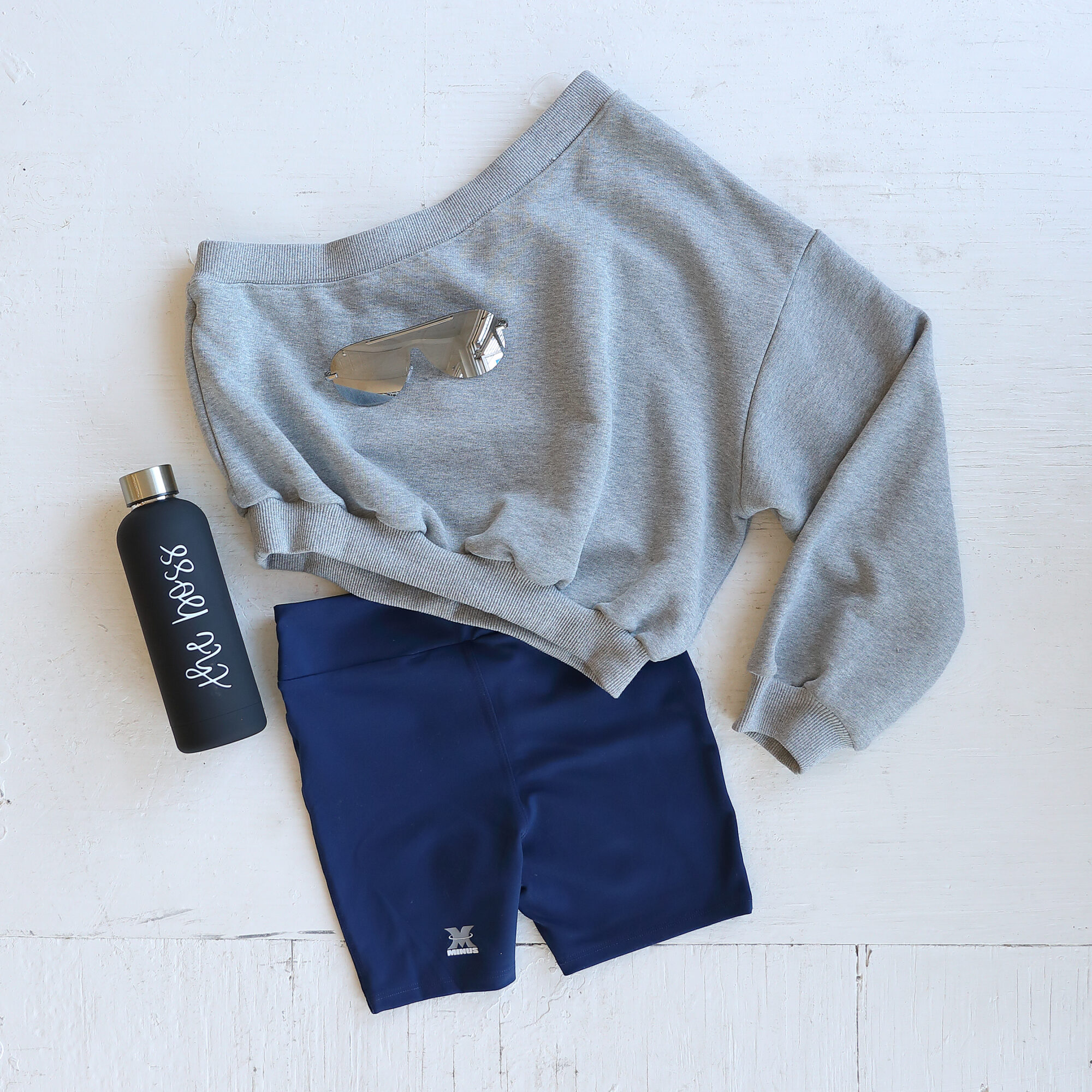 "This top is so versatile, it is great for spin class with a fun pair of bike shorts and seamlessly transitions to cool street-style. Grey and navy are a classic combo and here's a fresh way to rock it for running around town or working toward that summer bod."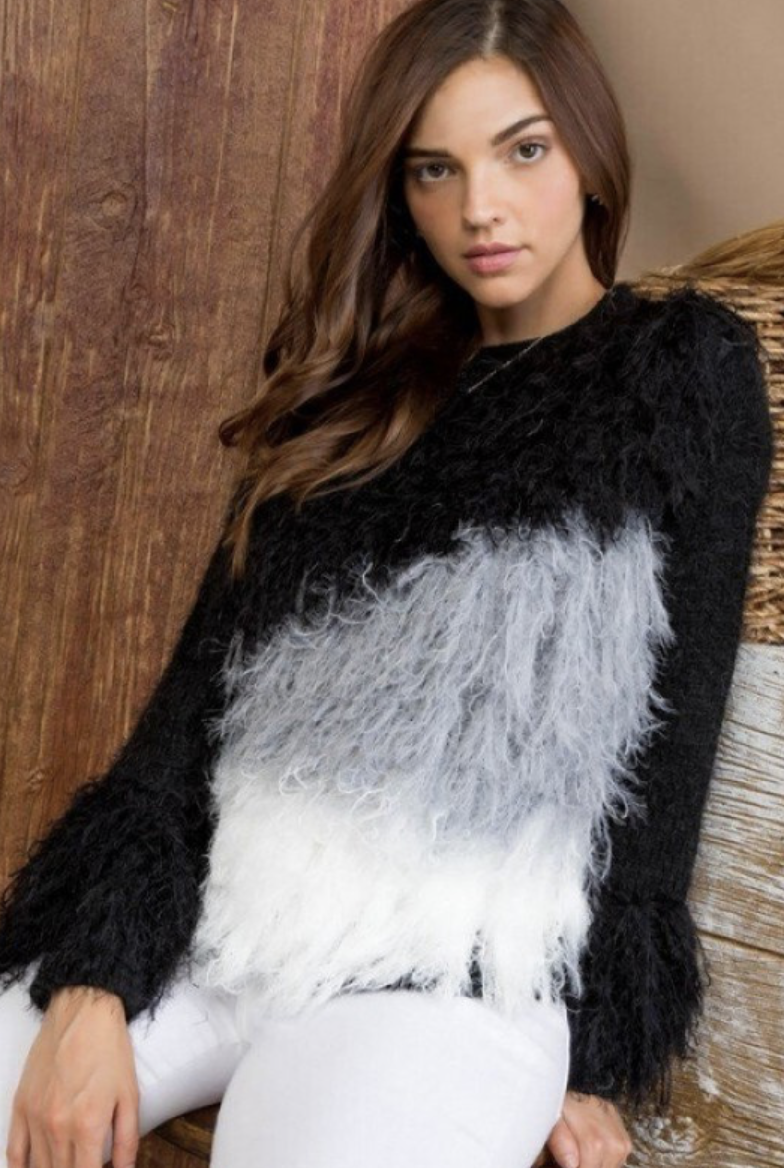 A go-to look for Myaann's clients this winter, sweater + black tights + shorts. In her option it is "a classic fall/winter combo that can be freshened it up for a spring time night out just by taking tights out of the equation!" Give that winter sweater a few more wears on chillier days. We recommend our fresh + flirty Blocked Out Sweater.
Spring Splurge
We are loving our new spring edit and Myaann is too. "I'm over the moon about new spring arrivals! My top must haves are button ups, rompers, military inspired jumpsuits, pleated shorts, lace tops, light sweaters, open back tops, and fab accessories (of course!)" See what she recommends for styling spring faves.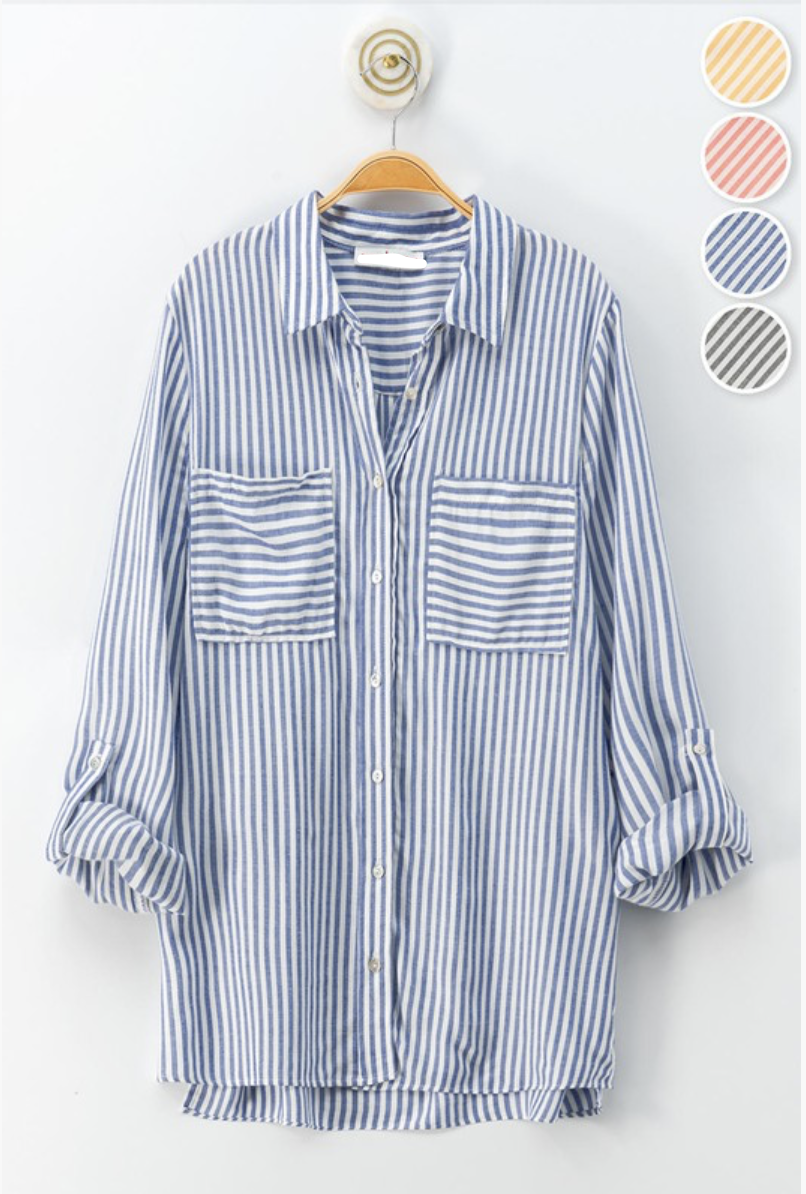 Myaann is "Swooning over the Hamptons striped button up top! You can wear it to work, for girls night out, or spring break vacay!"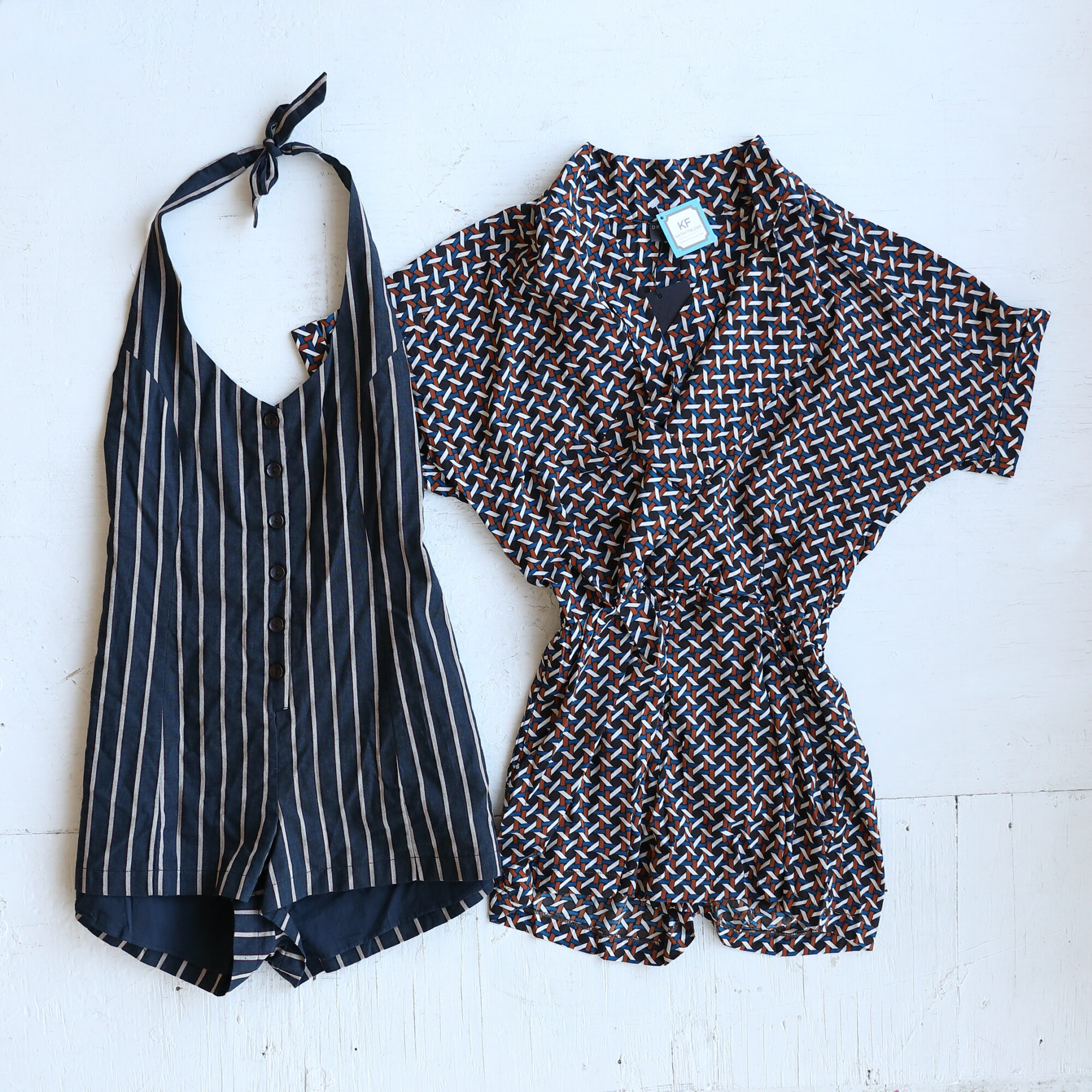 "Who doesn't love a romper?! Here are two that I'm living for right now," Myaann says, "I recommend styling with earrings from Honey and Violet by Kathy Fielder." Go for the Gemini Huggie or the Sparkle Baby Huggie.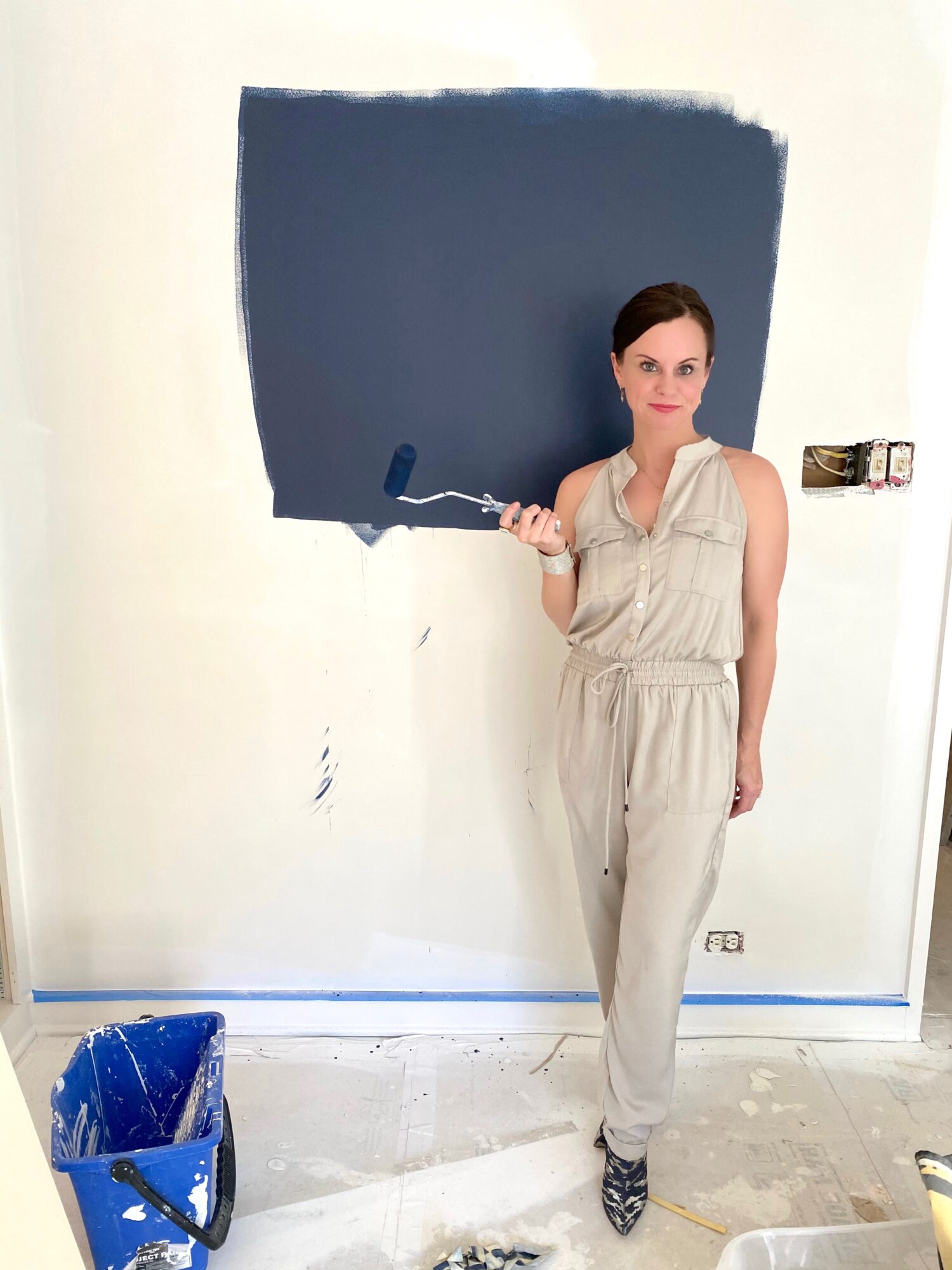 A military inspired jumpsuit is super versatile. "A jumpsuit is always a must have – wear it with a blazer to work, style it with sandals for warmer days out running errands, or spice it up with statement booties for a casual date night." Amp up the Stone Jumpsuit for work or play with cool booties (like these Christian Louboutin KF is sporting).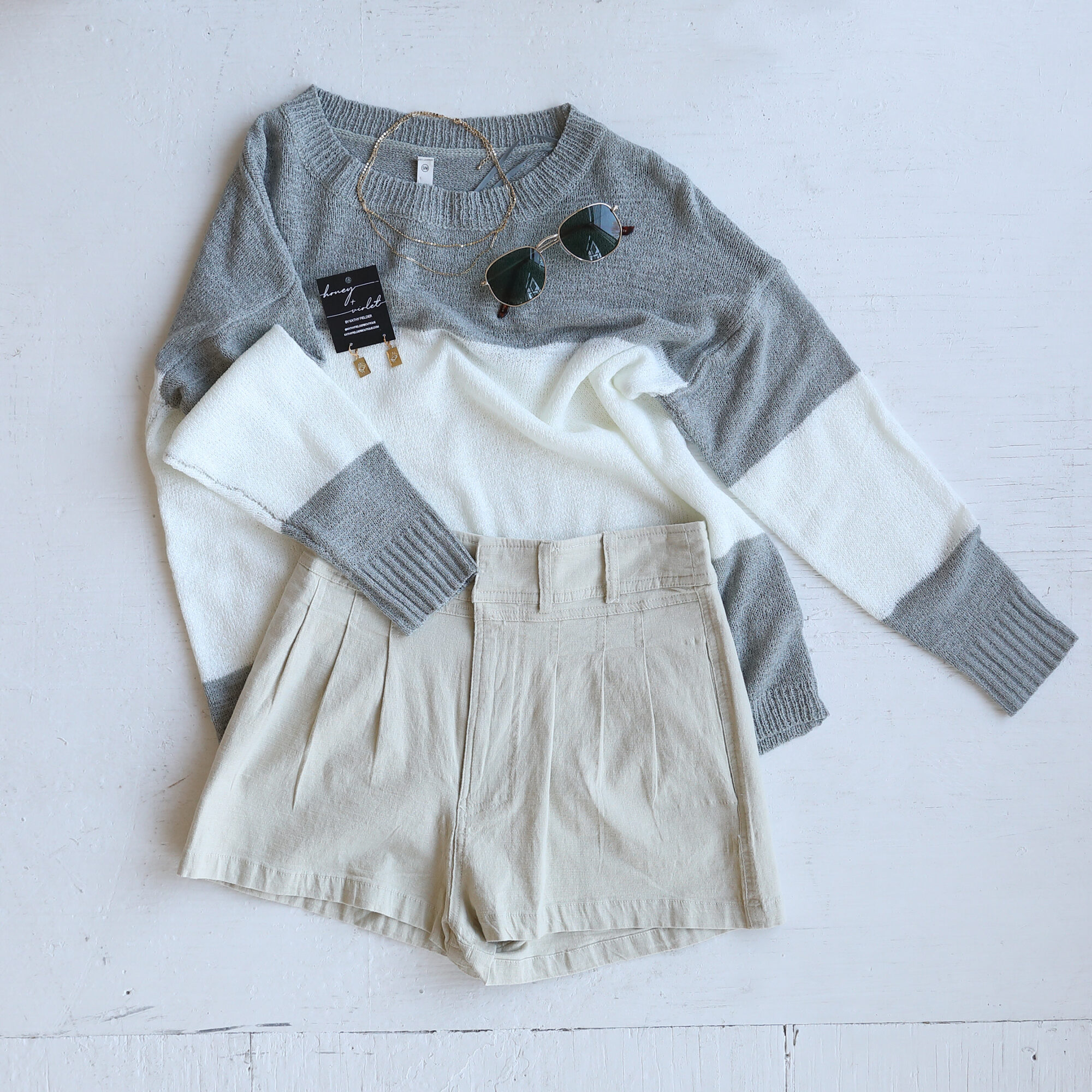 Who doesn't love a perfectly pleated short? Super flattering and available in neutral and black, these shorts are a spring to summer must-have! Paired with our Yale Sweater, this preppy outfit is perfect for those sunny days with just a touch of a chill still in the air.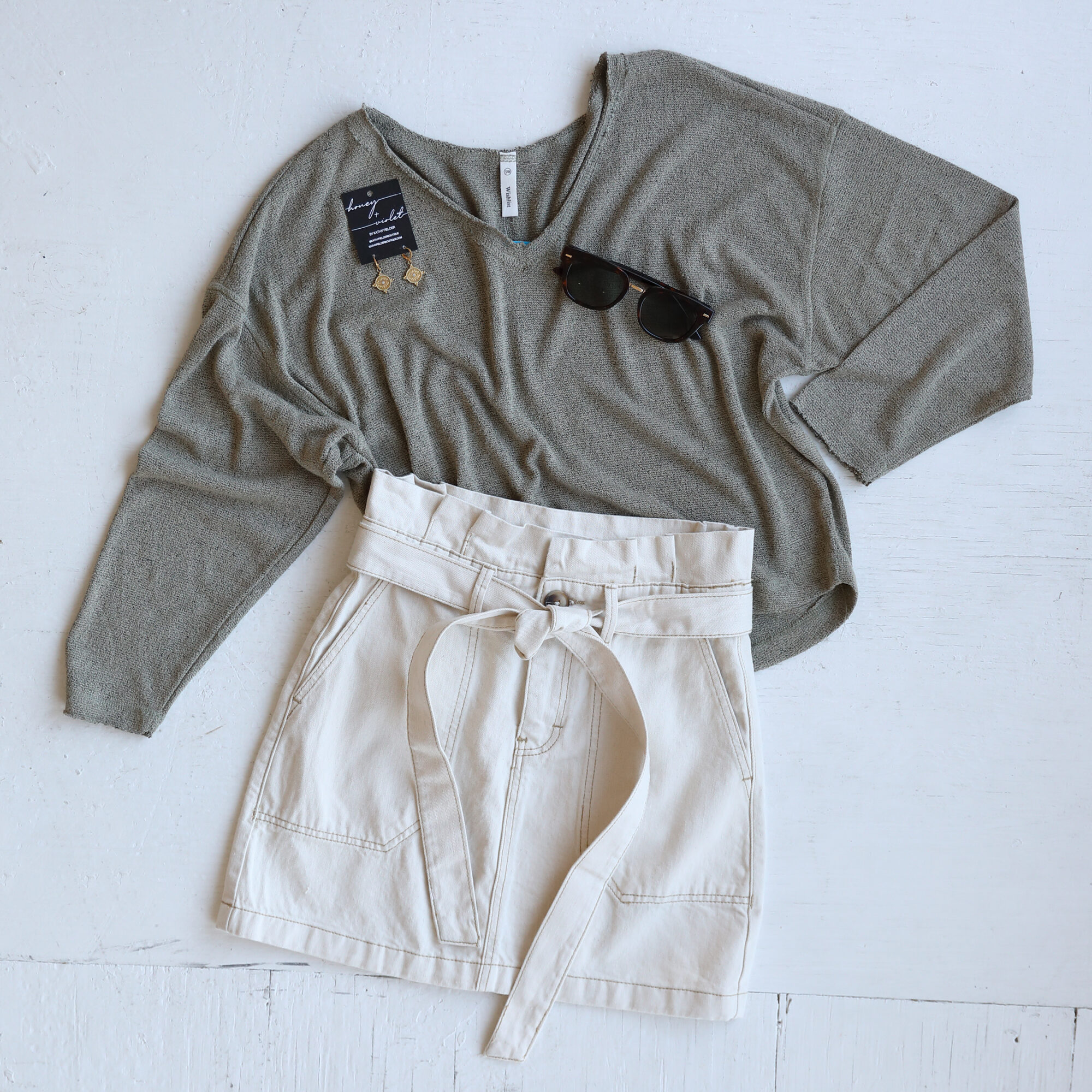 It's time to break out the white denim and "get out of the dark rut by pairing your fave lighter jeans or skirts with a transitional sweater." This adorable mini is super versatile.
"The Nothin' But Navy lace top is a must for everyone from SAHM's to young professionals to boss babes," Myaann says. We have to agree, the nothing but navy lace top is a fab addition to your closet and simply versatile.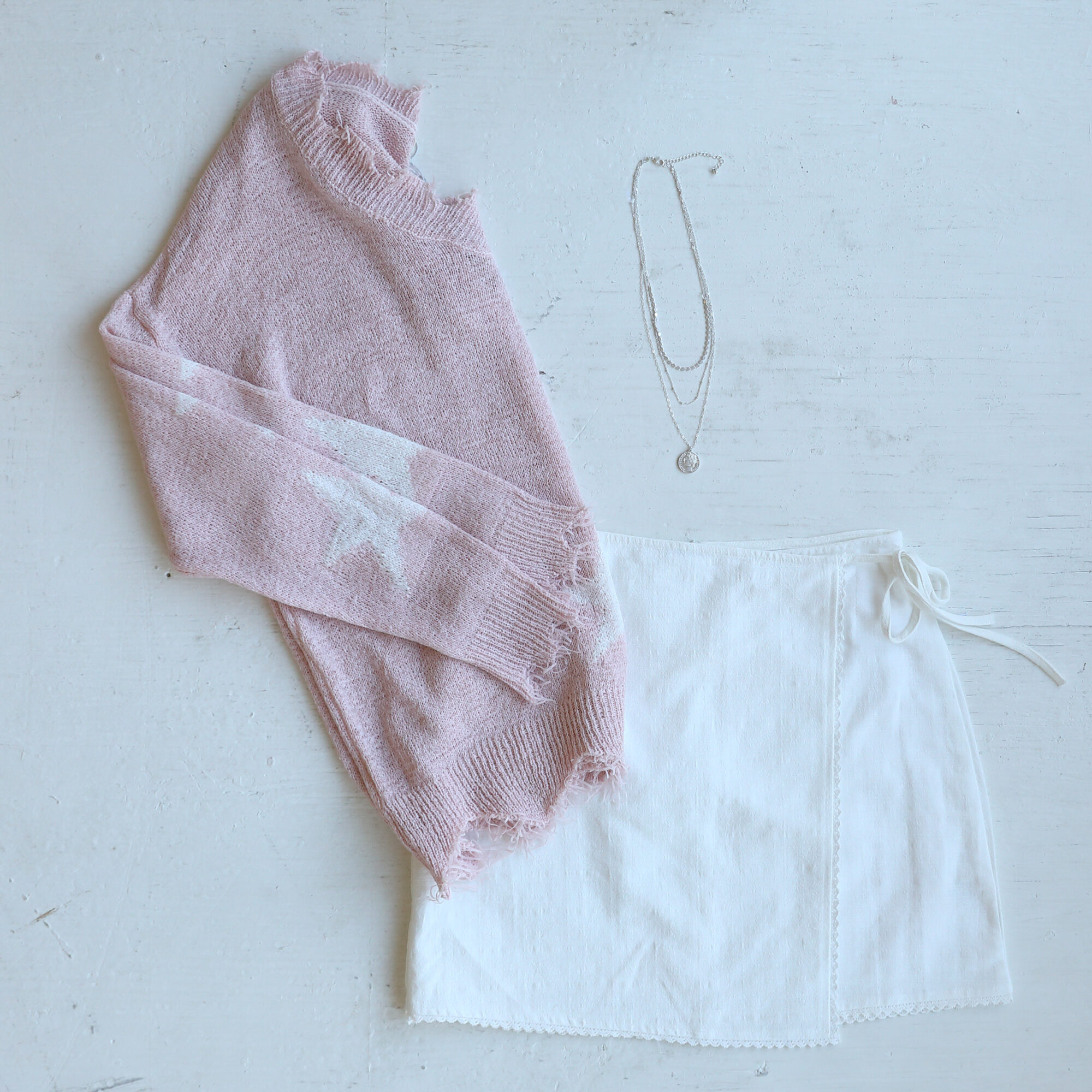 "Think back to ALL the sweaters you have. Now look at your weather report. Chilly in the mornings, warming up, then chilly again at night. A frilly skirt + sweater is the solution, and you get more mileage out of your winter wardrobe."
Myaann recommends checking out the Look Back At It Top. She says, "this open back bubble hem top – perfect for work with a tank underneath AND lose the tank for date night." It's versatile style with a peek-a-boo twist has made it a KF Boutique fave!