Getting ready in the morning can be tricky when you are a busy girl on the go. Whether you work a 9 to 5, are a stay at home mom, work from home, you are enrolled in school, or anything in between, it's not always clear cut what-all your day might entail. If you are anything like us, sometimes your car can feel like a closet on wheels, with different clothing items, makeup, shoes, and bags for everything and anything you may have planned in a week. Here at KF, we are always looking for ways to look glam on the go! We have discovered when you find truly wearable closet staples, you don't have to load your car up with 3 outfits per day. Buying and wearing pieces that can easily take you from day to night is key for a seamless transition. No matter your crazy schedule, work, carpool, events, happy hour, or dinner you can rock one great piece and style it with key elements so you look put together from 9AM-9PM. Say goodbye to your closet on wheels and hello to a couple of transitional accessories in a bag in your trunk. Feel liberated? We sure do….
Day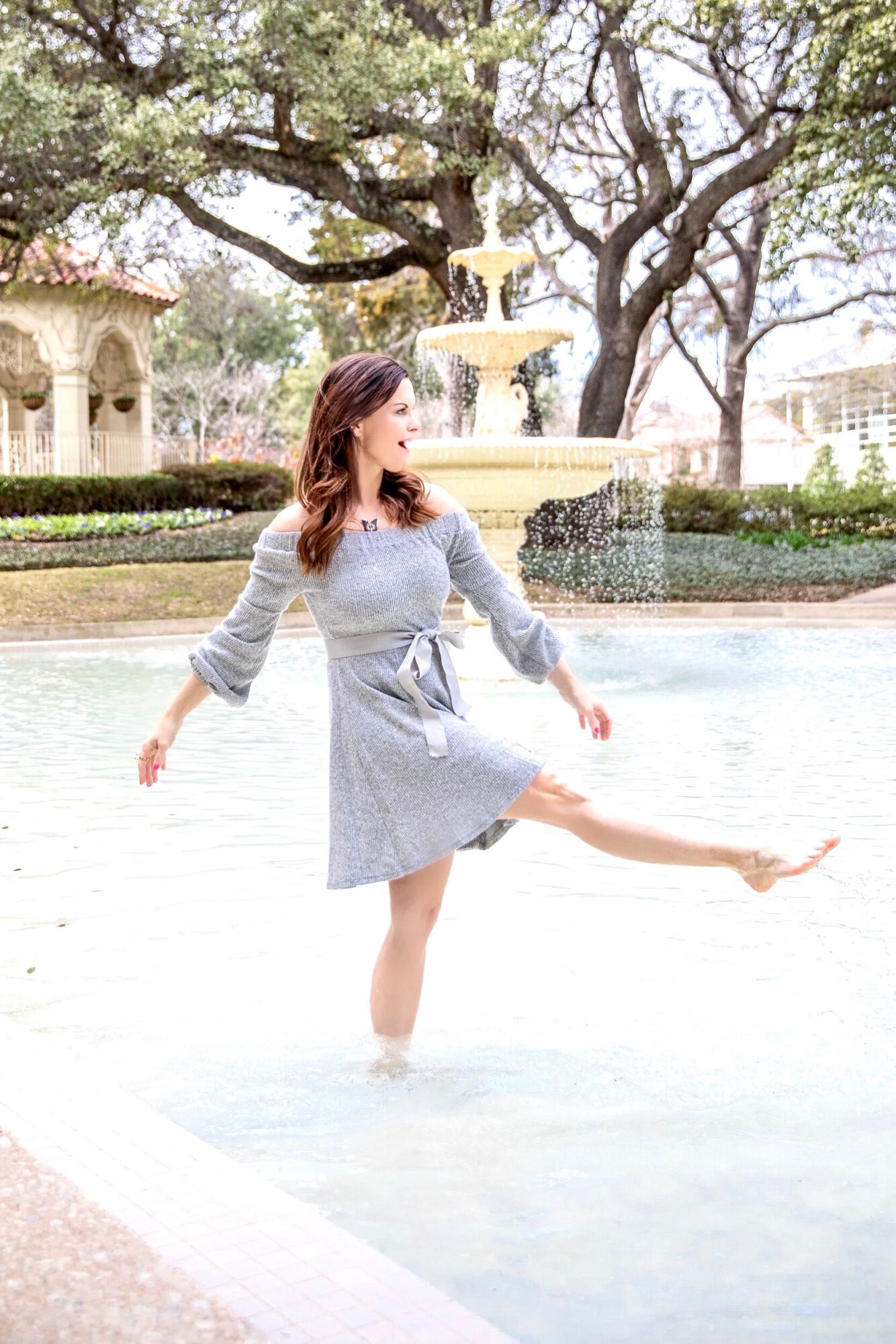 This comfy but stylish dress is the perfect day to night piece. It's fab off-the-shoulder style with balloon sleeves and flowy skirt keep it flattering and on-trend. It's comfortable, flirty and fab.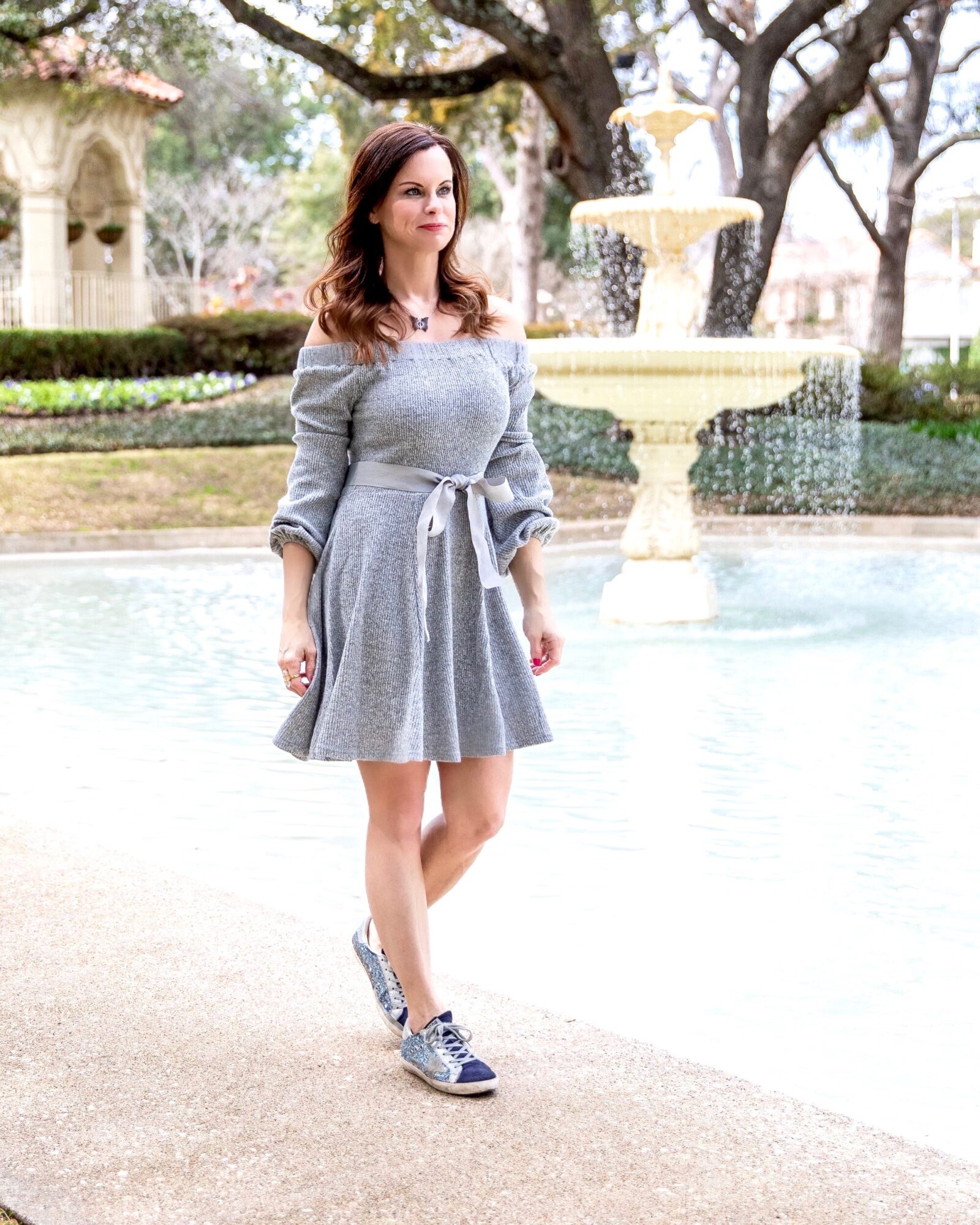 KF styled her day-time look with a ribbon around the waist, some of her favorite designer tennis shoes, and a butterfly pendant necklace from Tiffany's Fine Jewelry for an effortlessly casual, but super chic look!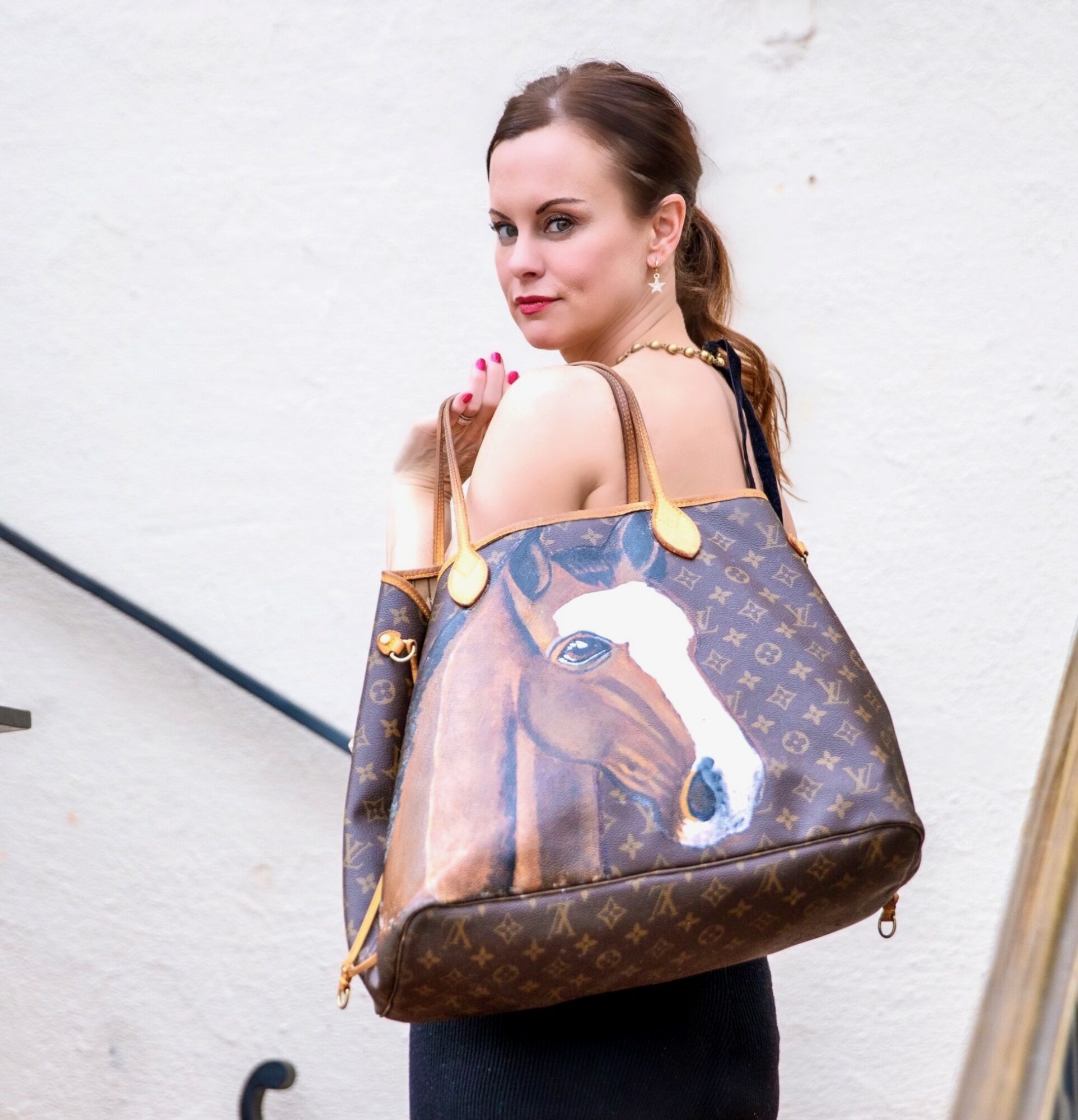 A jumpsuit is one of the best pieces to take from day to night. They're easy, stylish, and simply a great transition piece during constantly changing weather this time of year. KF is wearing our Sashay Jumpsuit, a strapless, stretchy ribbed jumpsuit with a drawstring waist. Style it sporty with sneakers or flirty with a simple sandal.
KF Tip ~ Throw on your fave tote for your day time look. You can carry everything you may need for work, school, or mom duty, along with a change of shoes, some accessories, and a chic sweater for the evening. KF added a nice touch to hers courtesy of friend / artist Andrea Reich and turned her LV into a personalized work of art.
Night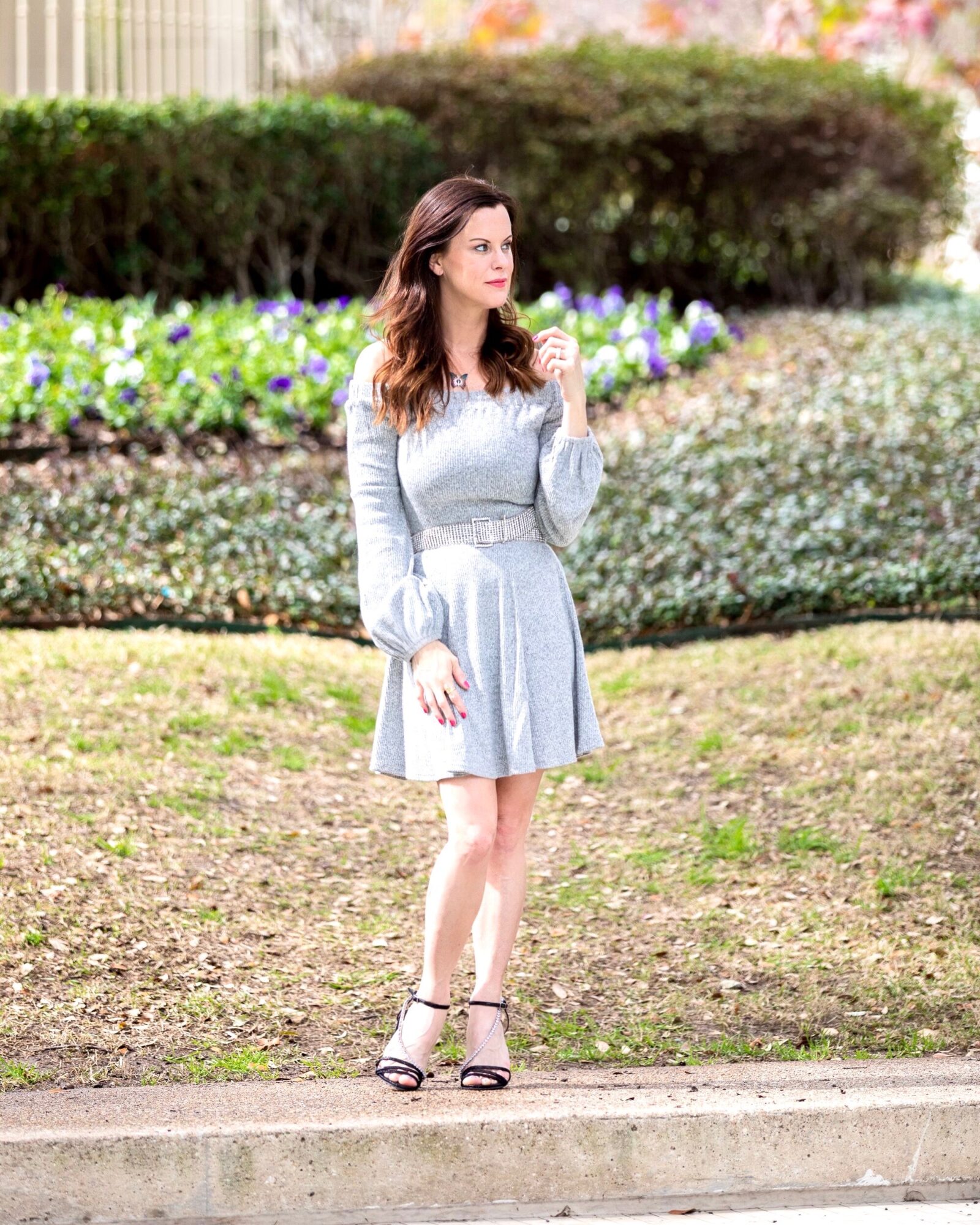 KF's quick night transition? A shimmery belt and fab, strappy Jimmy Choo stilettos. This easy to achieve night-time look totally transforms the dress with only a couple switch-outs that take 5 seconds and turn your outfit into something fabulous.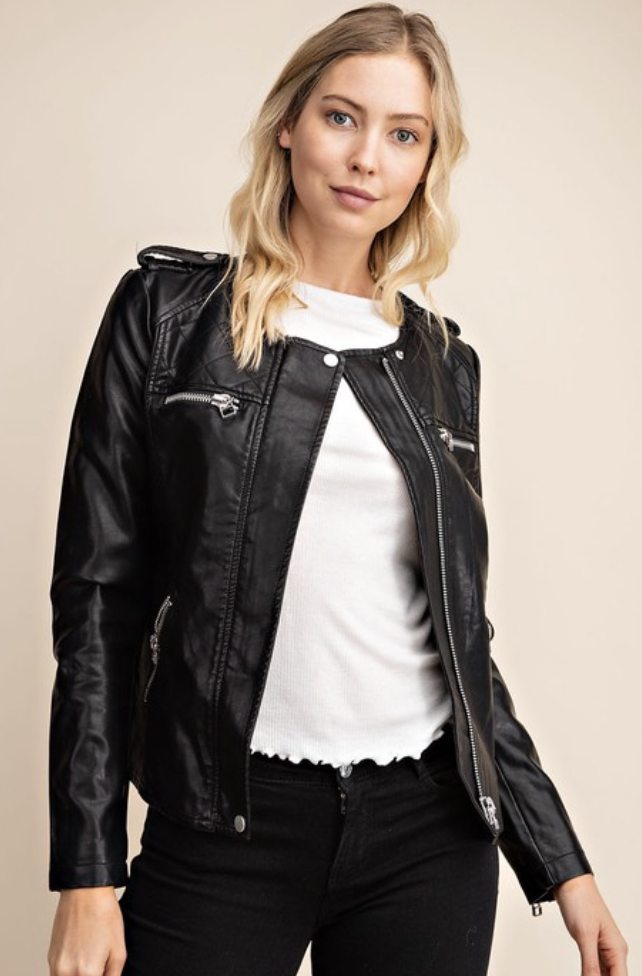 KF Tip ~ chillier weather? Throw on a leather jacket, like our Not Your BF's jacket for an edgy addition that is fabulously functional. PS ~ it's on sale!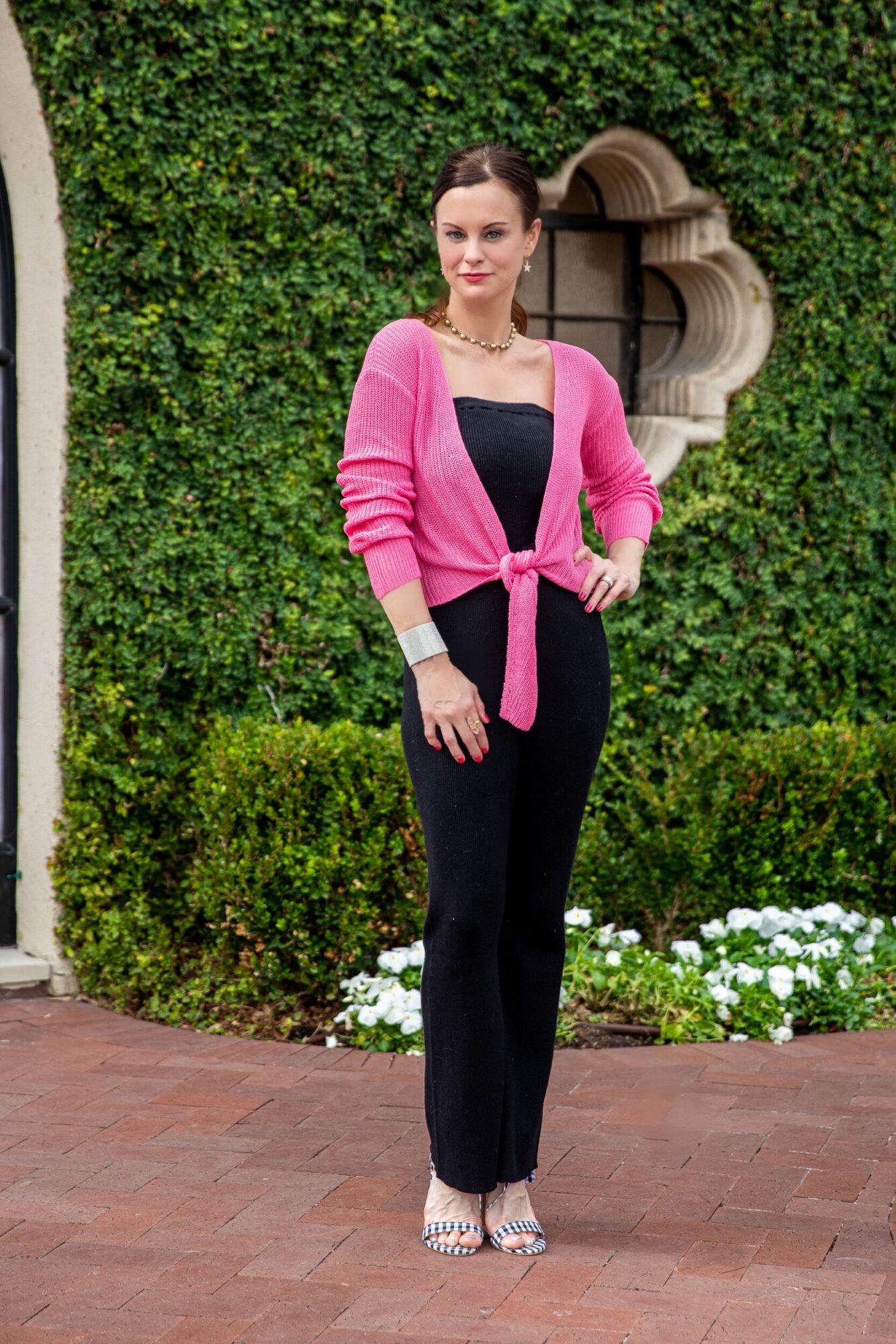 Take your jumpsuit into the evening with an adorable shawl or cardigan like our My Amour Top. The best thing about a piece like this is you can wear it over and over. Style for a night out or with your fave white denim during the day. KF really spiced up her day time to take her to evening cocktails with cool gingham heels, eye-catching jewelry, and a darker lip stain. Voila! you now are ready to go for happy hour or date night!