A fab holiday table is a statement-maker and conversation starter. Everyone knows how much Kathy loves making a fabulous tablescape and entertaining. We couldn't let the holiday season pass without getting some KF inspo on her plans this holiday. In classic KF style, she created one fun and playful and one that is fabulous and classic, just the way we like them! Check them out and get some holiday inspo for the most wonderful time of year.
Cool + Different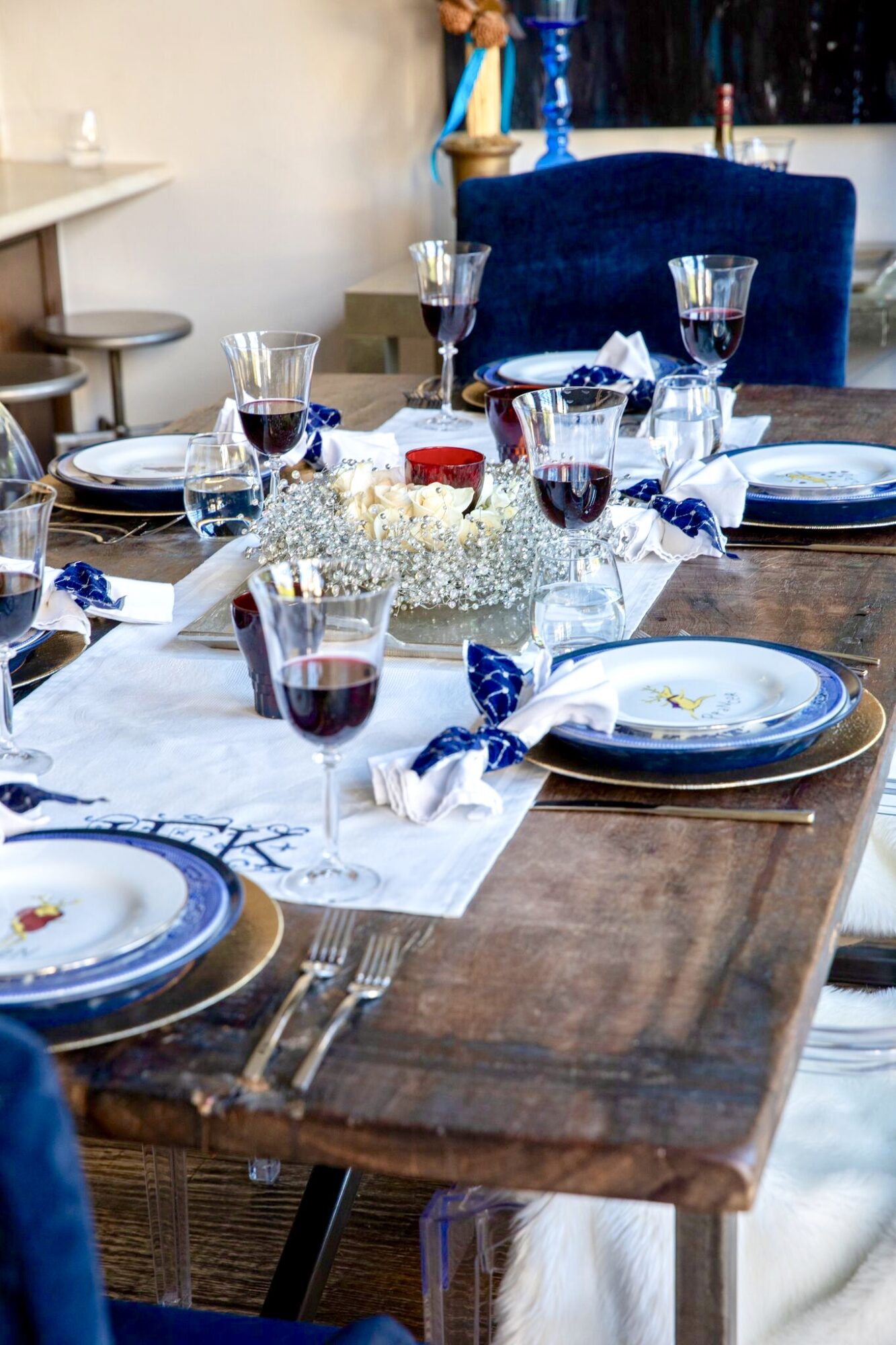 Kathy is notorious for mixing up classic holiday style for something a bit more fun and surprising. Every year she uses reindeer plates for holiday dinners. This cheeky touch adds a level of personalization, and everyone in the Fielder Family has their pick of which reindeer plate they are feeling that day. When entertaining, she often picks the guests perfect persona to add a little fun holiday cheer.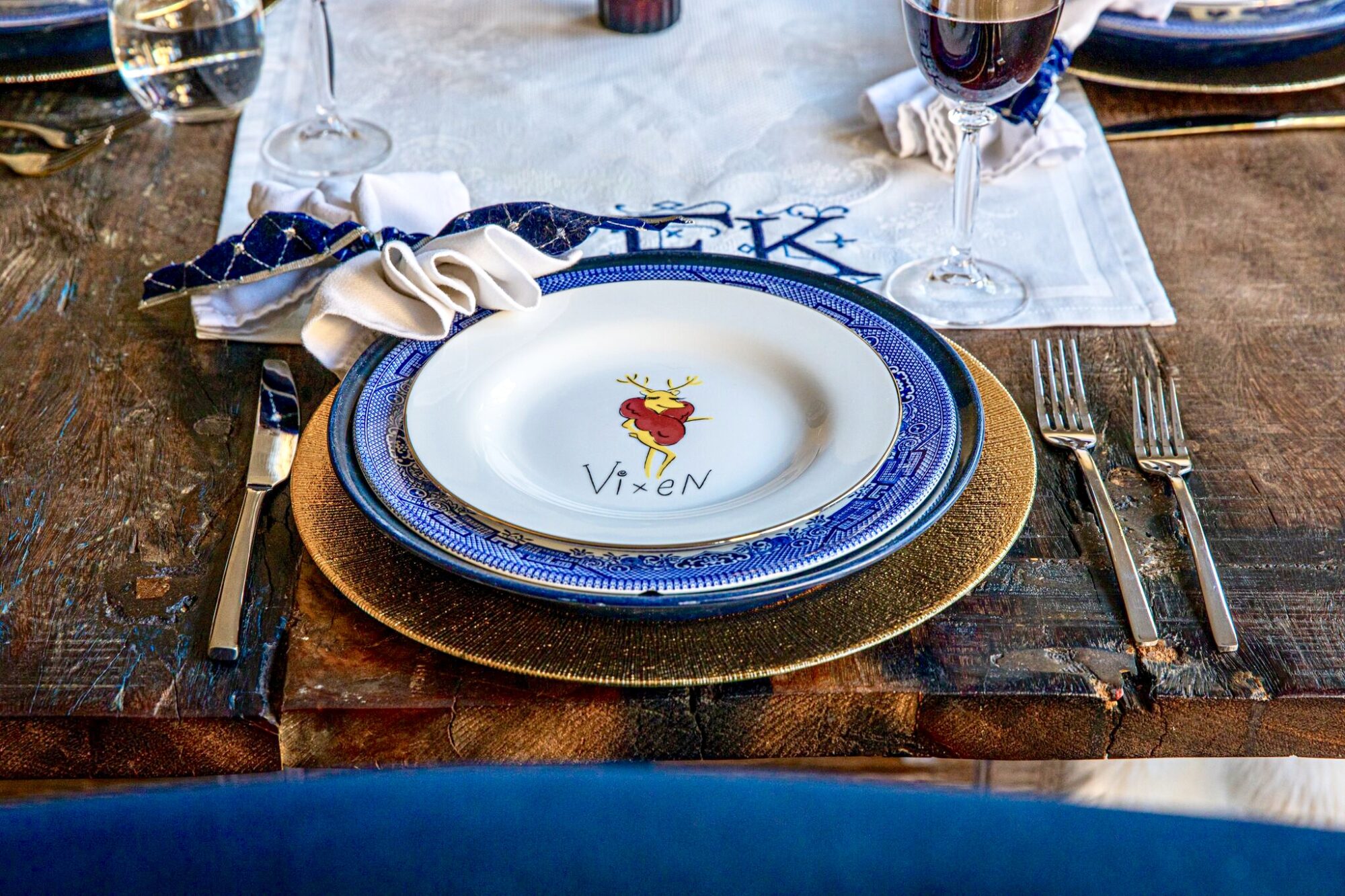 We'll give you one guess who KF's reindeer is…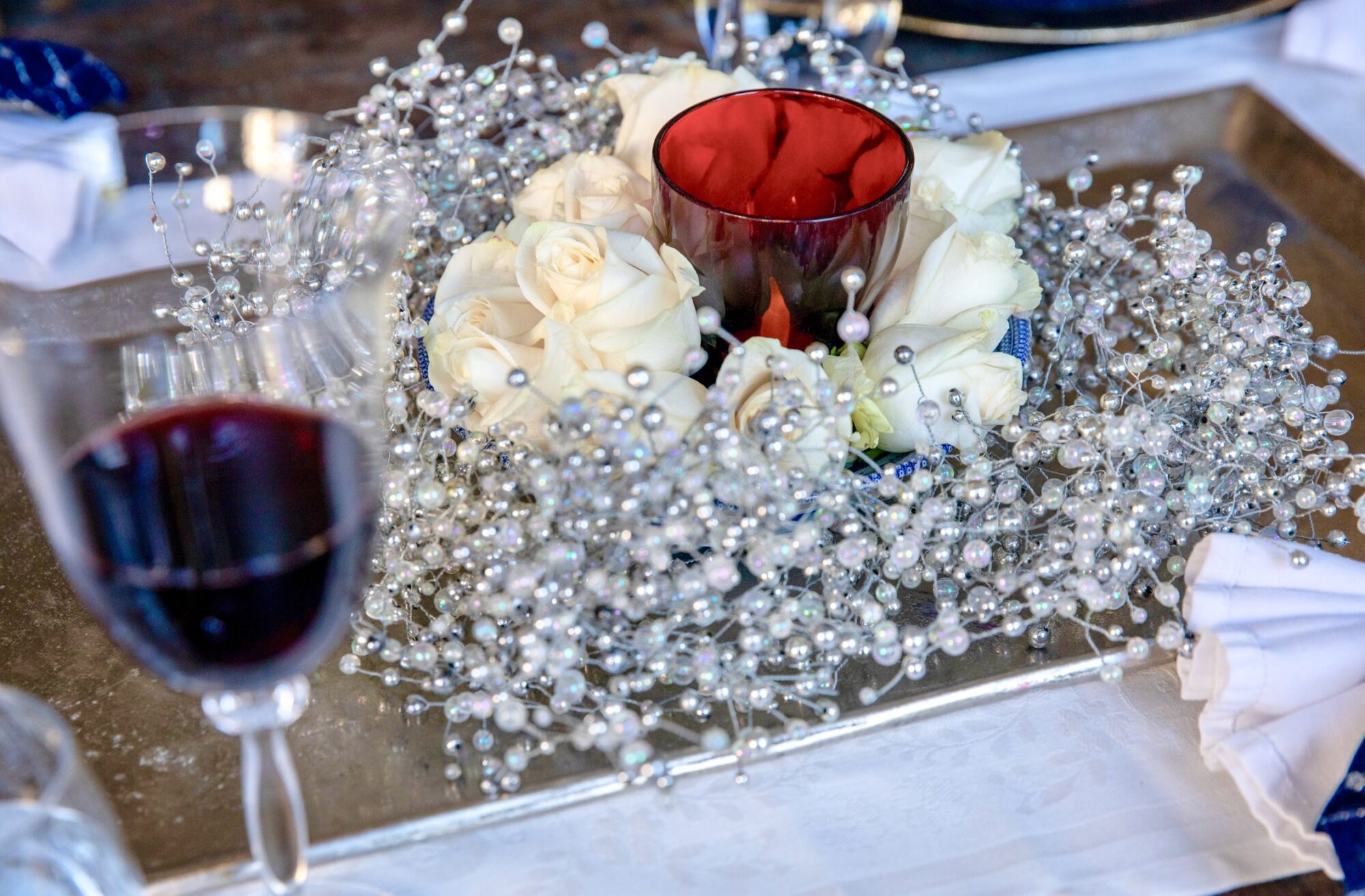 The simple centerpiece adds an element of elegance to this somewhat rustic and playful table. Simple doesn't have to mean boring. Fresh roses, sparkly garland, tea light candles and pretty dish and glassware can quickly add an ambience so your family and guests feel warm and invited during this holiday season.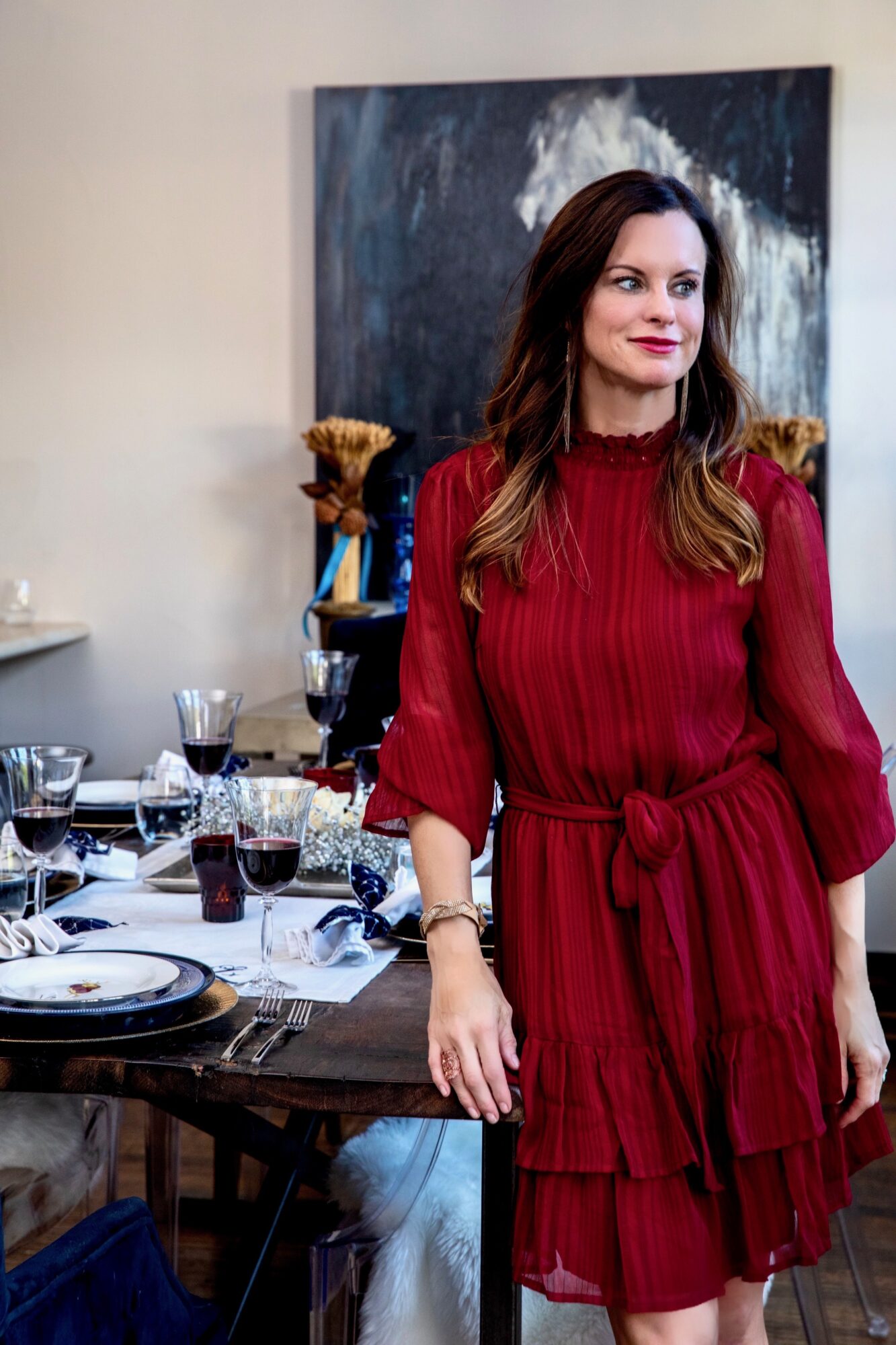 KF Tip ~ Spice up your simpler napkins with ribbon! Whether you're in a pinch and need a last minute touch to finish off you table, it's a thoughtful touch that adds texture and your own style and personality to the table and ties it all together.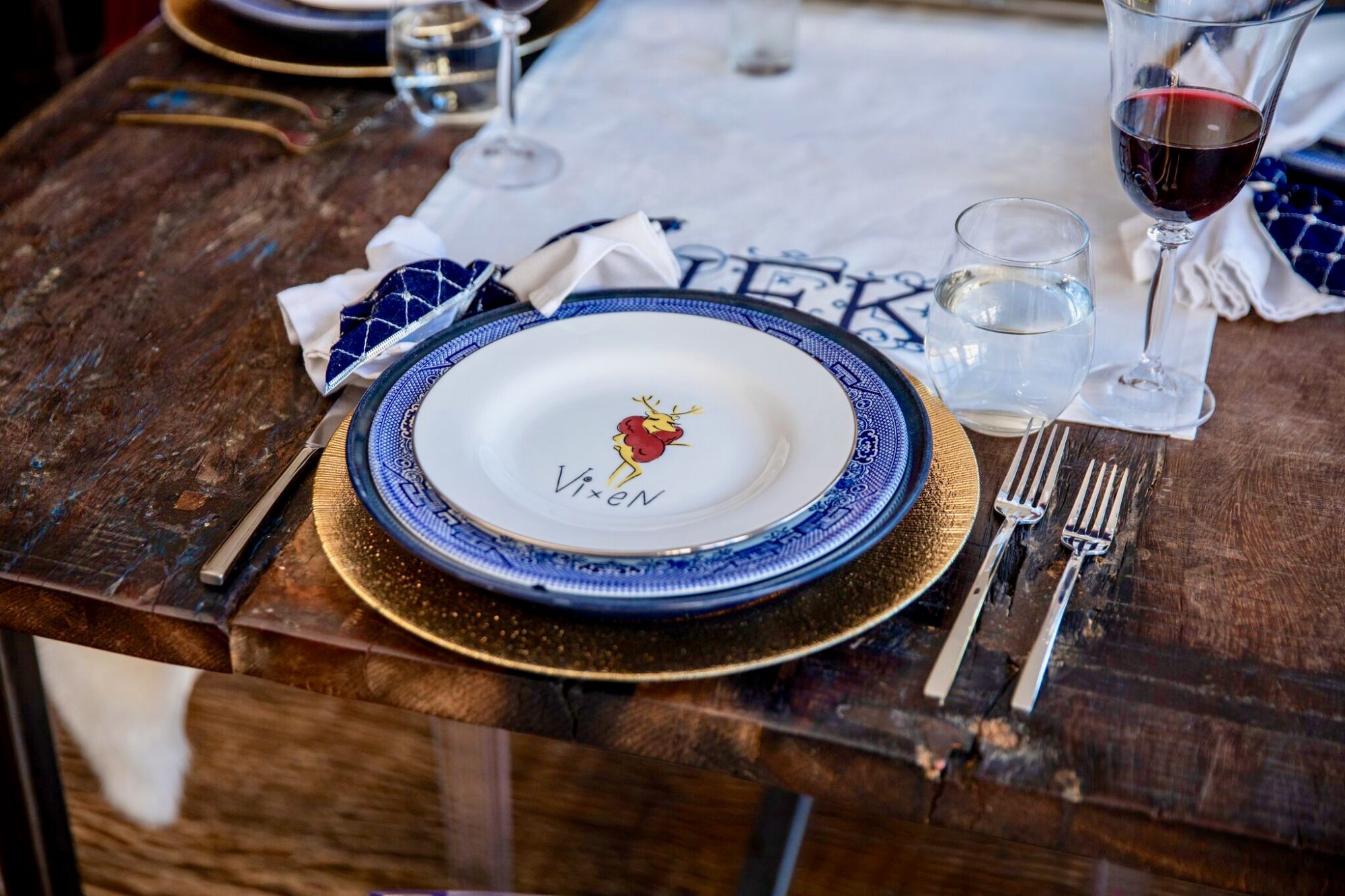 A layered place setting is a must for multiple courses, and let's face it, it always looks fabulous! We adore our Sunburst Chargers as a base to build your perfect place setting from, and then add and layer away. A solid blue plate under a smaller vintage china plate, finished off with her fun reindeer plates. The mix of metals and patterns upon the table is eclectic, fun, inviting and exciting.
Chic + Glam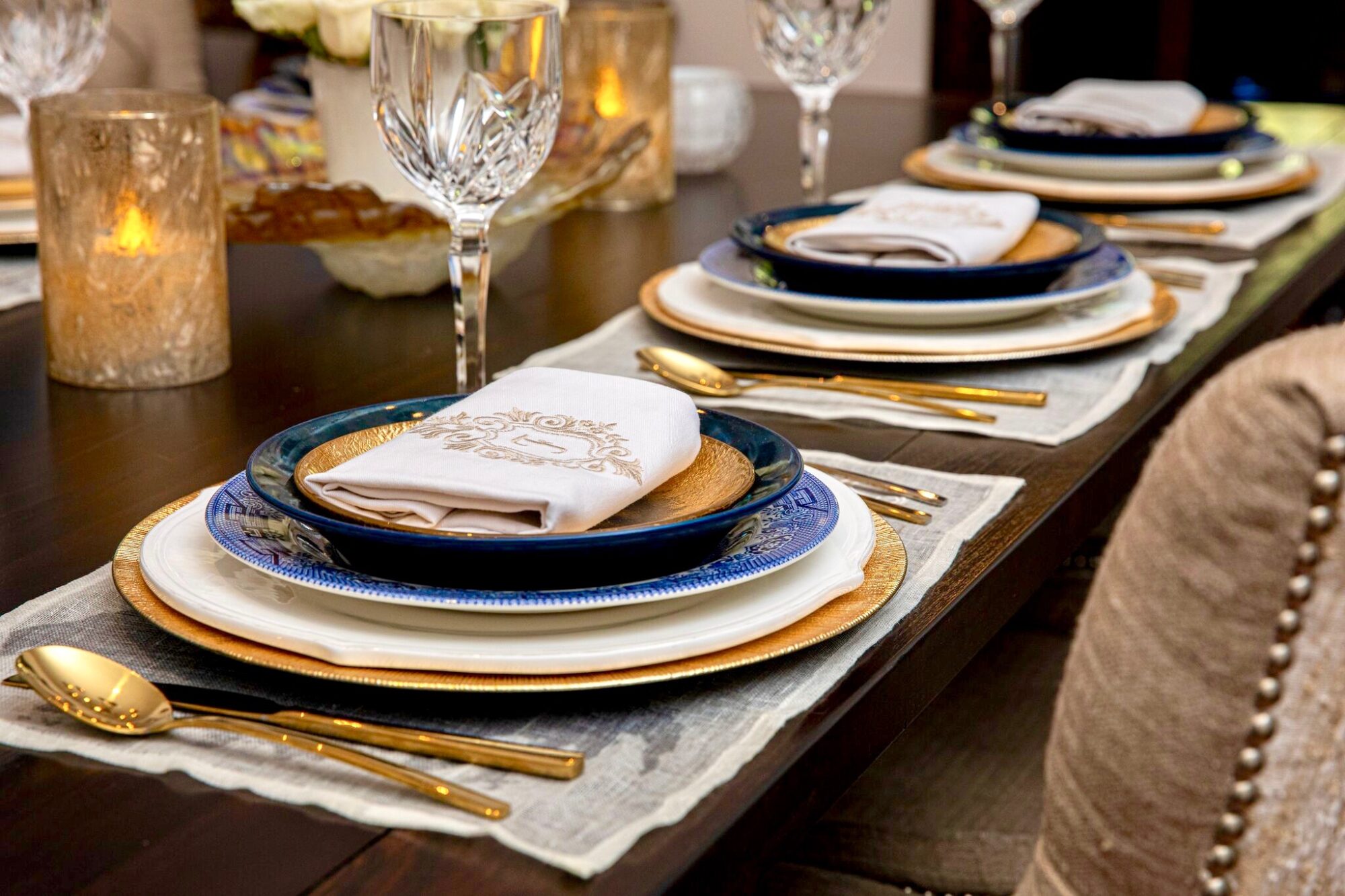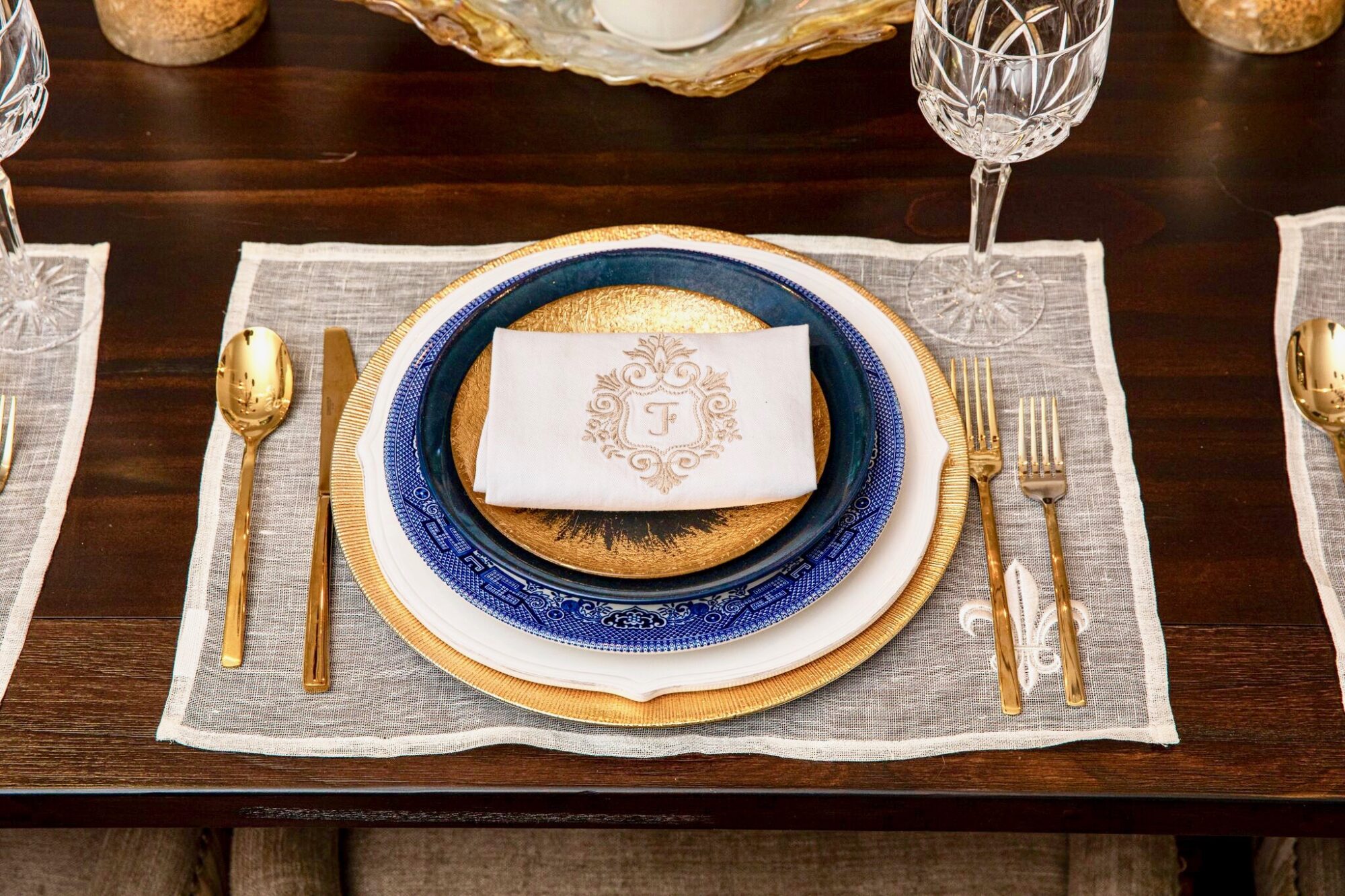 Kathy utilized a few of the same pieces to create a more classic and glamorous table. A quick restyle can entirely revamp your tablescape from casual and playful to a more elegant and striking one. Layering in gold tones with classic crystal and beautifully monogrammed napkins, instantly transforms your table into a refined place to invite guests to sit and enjoy a more formal (but not stuffy) dinner.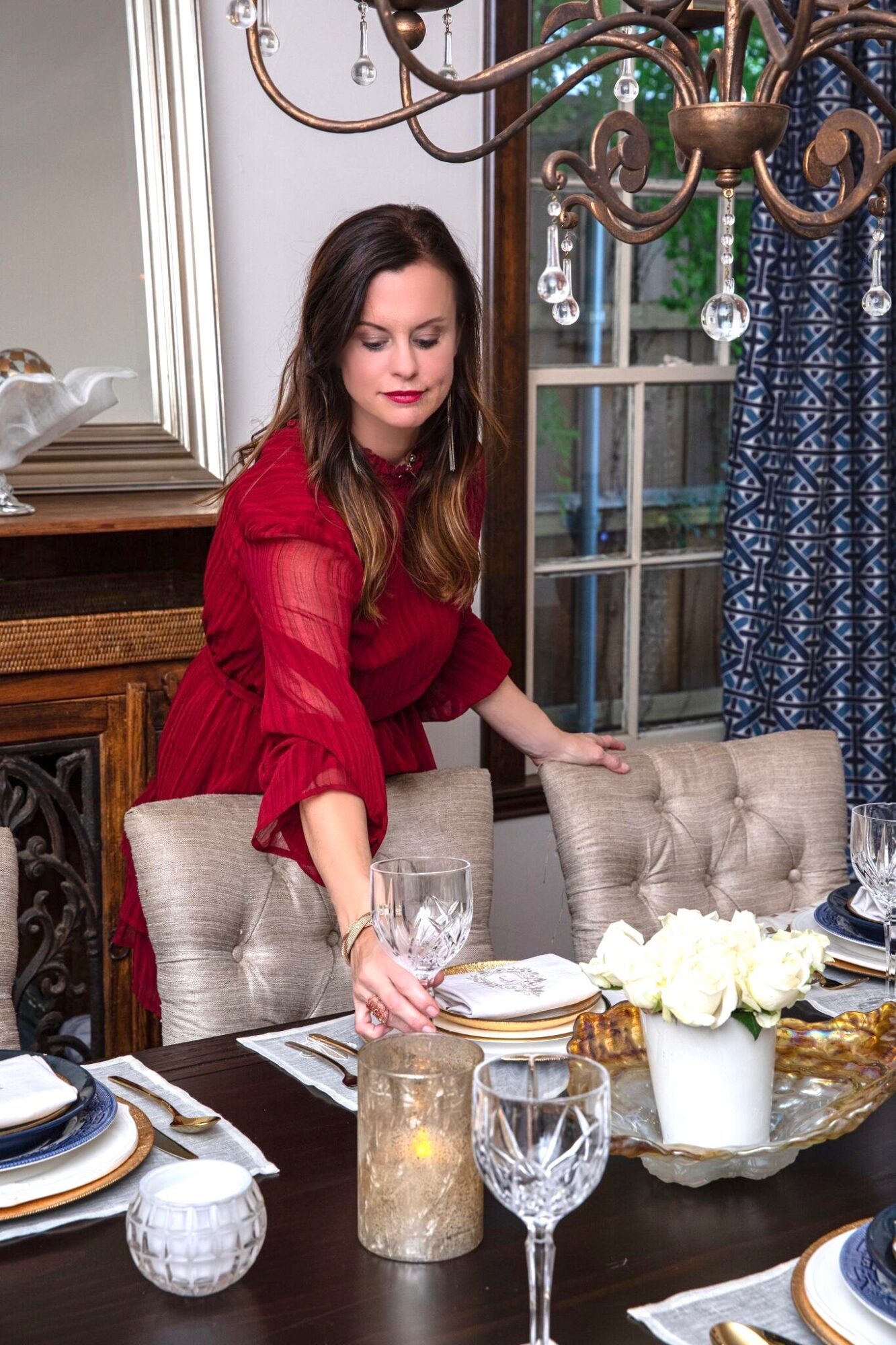 KF prefers a more simple and refined table that isn't too fussy so that guests can easily converse and enjoy themselves throughout the dinner party. Hosting is one of her favorite things to do, and Kathy is truly an expert on making guests feel welcome with little touches and surprises.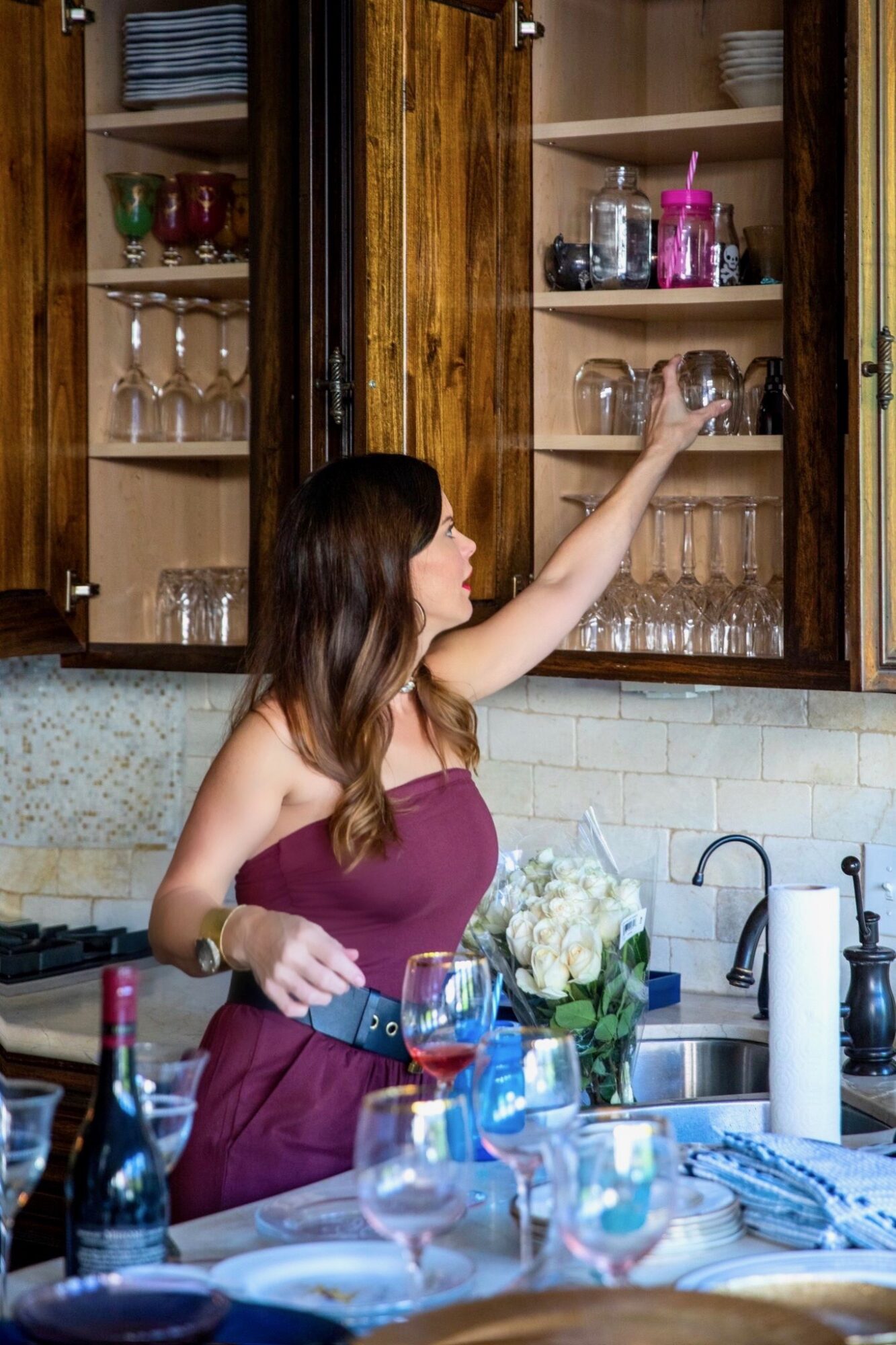 KF Tip ~ Choosing the proper crystal for the table matters! Evaluating possible drink options that are being served at the table is a must and having an appropriate about of glassware make your job as host a little easier once everyone sits down. Kathy is a big collector of new and antique glassware (and china) alike, and mixing and matching patterns creates a unique, designer-style place setting.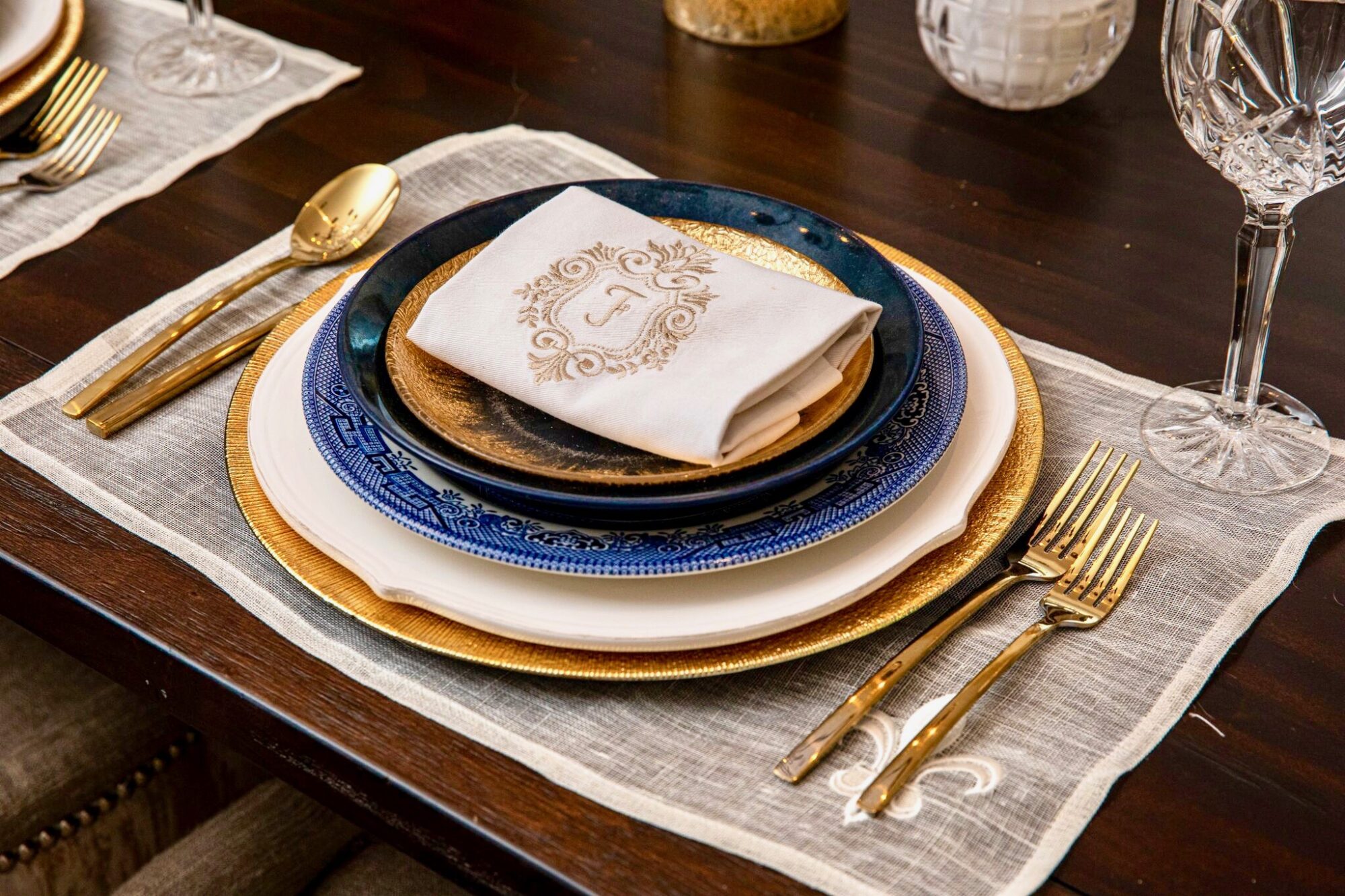 Love what you see? See our Sunburst chargers for the perfect metallic starting layer and finish it off with one of our Goldrush plates. What you put in between is the fun part, so be creative and create something that is all your style!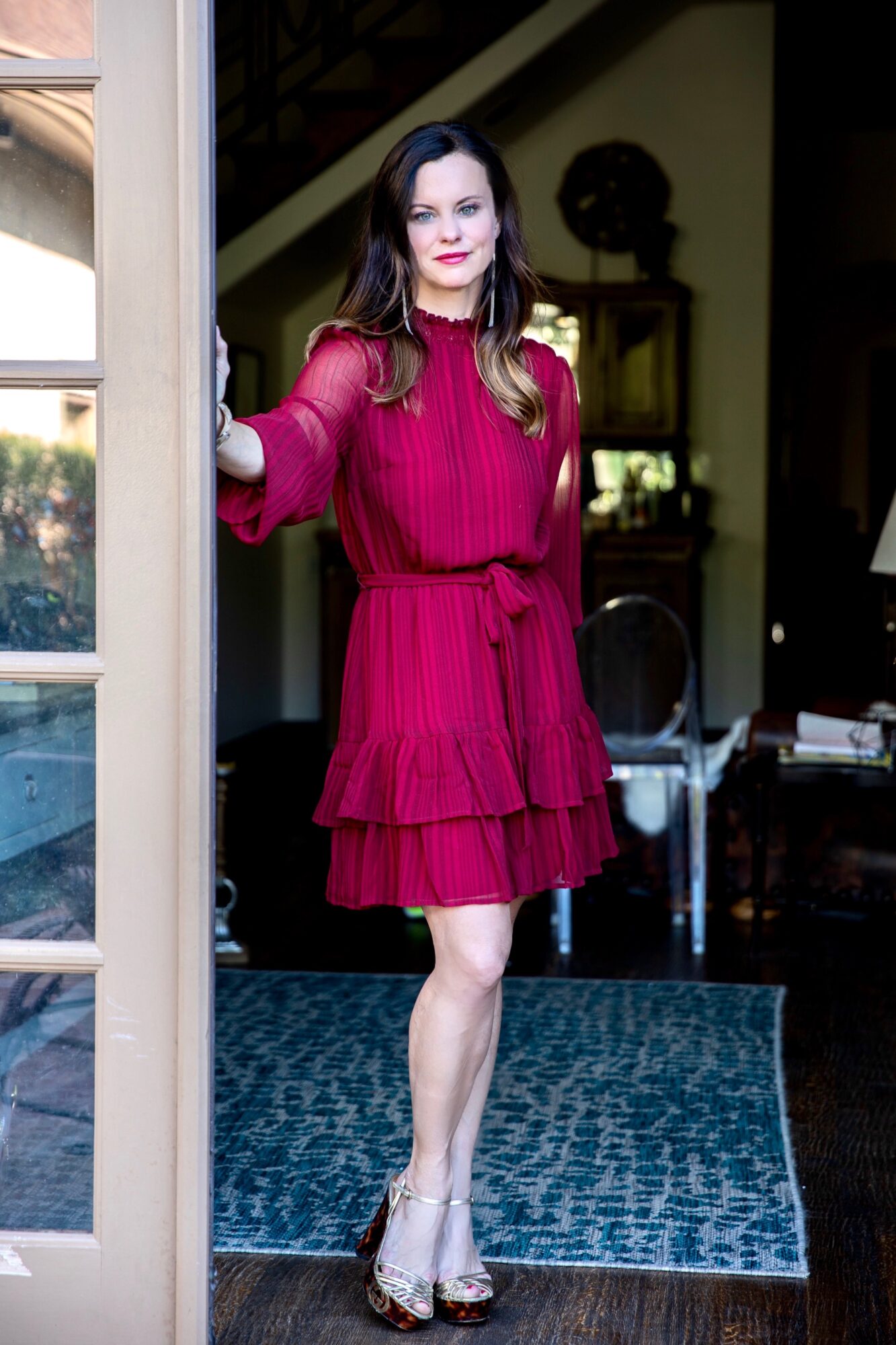 PS. You can shop KF's dress on kathyfielderboutique.com.