Entertaining isn't rocket science. Here at KF, the less you work at being a great hostess and the more you enjoy yourself and your party, the better we have done our job! We asked KF some tips for throwing the perfect 4th of July party and here are her easy, yet fab tips on hostessing this 4th of July. Kathy's vibe for any party is ease and flow. That means for the hostess as well. She keeps it simple and sweet, but says, "it's a necessity to anticipate the needs of your guests before they need anything at all. A great hostess makes guests feel comfortable and engaged from the start to finish of any party."
Serving in Style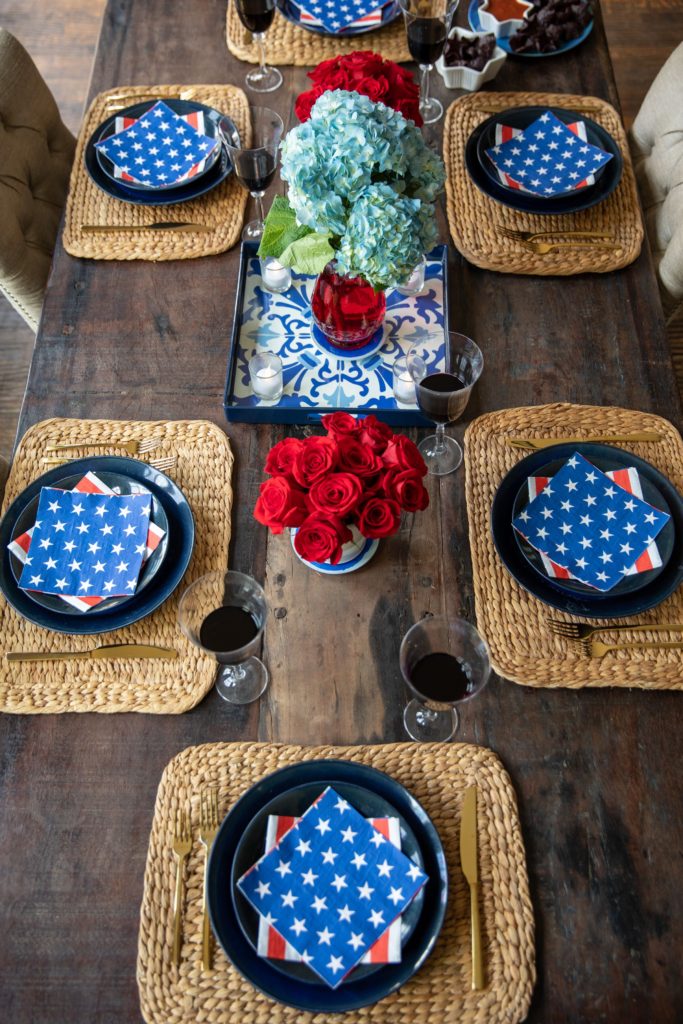 Perfect dinnerware inspiration for the chic + fabulous hostess…
Never one to shy away from the opportunity to host in style (and on theme), KF put together a truly patriotic table that is chic and fabulously fun!
There's no need to break out the expensive linens. The great thing about the Fourth is you can utilize items that make for easier clean up! We found these adorable star and stripe napkins at Target, and Kathy mixed them with ceramic dishware and sleek gold toned silverware.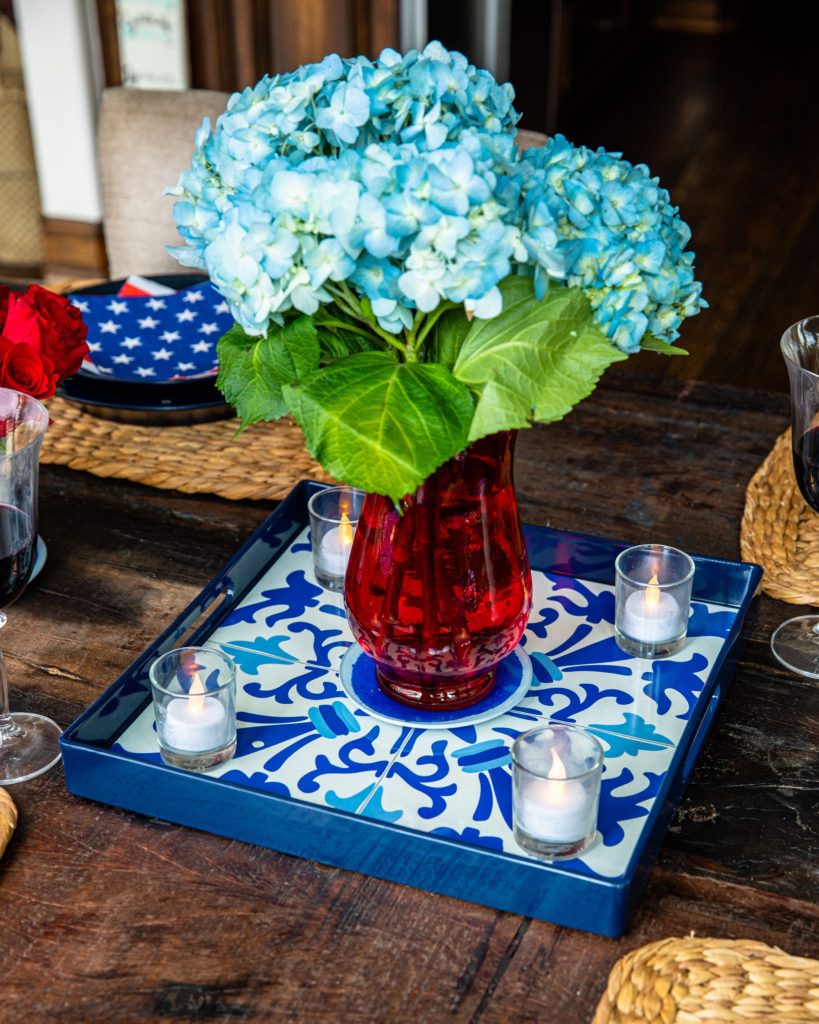 Fresh flowers are key when making your tablescape. We adore the fresh and natural element, and let's face it they're simply beautiful. KF went with red roses and blue hydrangeas, separating them into respective vases to bring both elements and colors to the table for that perfectly patriotic finish.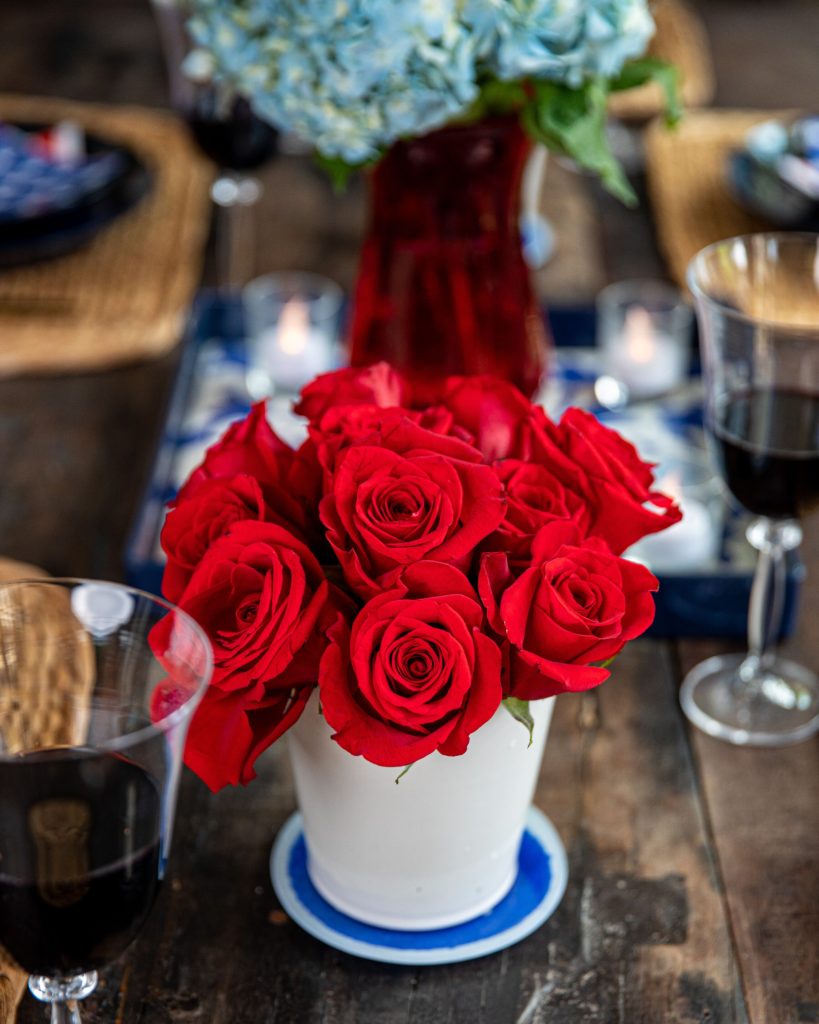 We adore the simple fab touches added to the table to take it to next level chic. The gold flatware adds the glam look we're known for here at KF and sets off all the reds, whites and blues!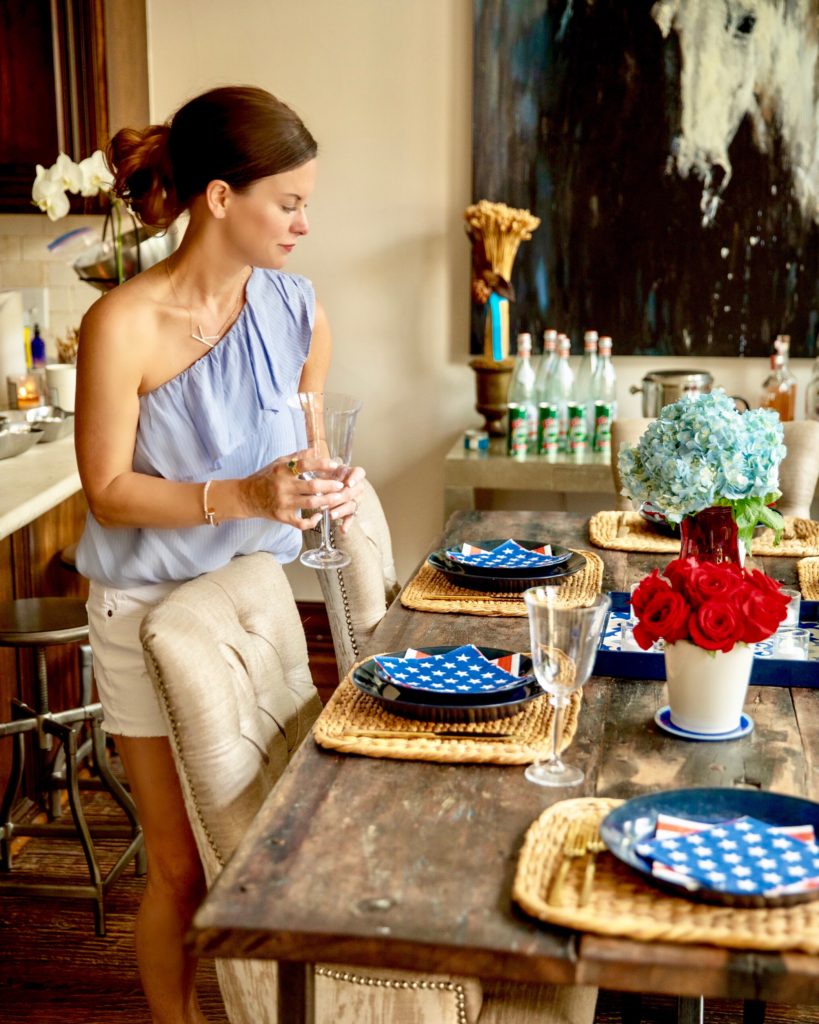 KF Tip ~ If you want to add an extra layer of functionality and ease for clean up, purchase fab disposal flatware. Gold versions are available and they look pretty expensive but make the host's life a little easier at the end of the night. Check out one of KF's faves from Target.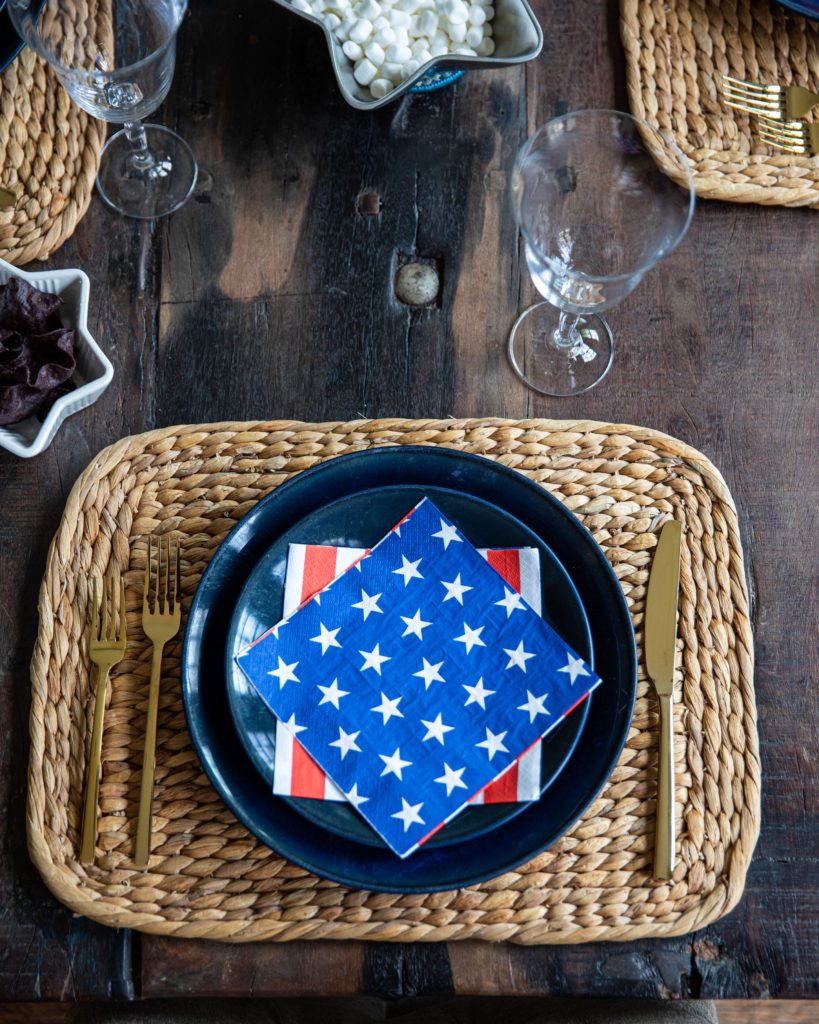 KF kept the individual table setting simple and clean, utilizing necessities and different elements to add interest and depth. A straw placemat adds the breezy summery element we love. Topped with navy dinner and salad plates, and paper napkins to keep things simple, yet festive. Paired with KF's chic gold flatware and a simple crystal wine glass, it celebrate the 4th in style and with ease.
Delightful Dishes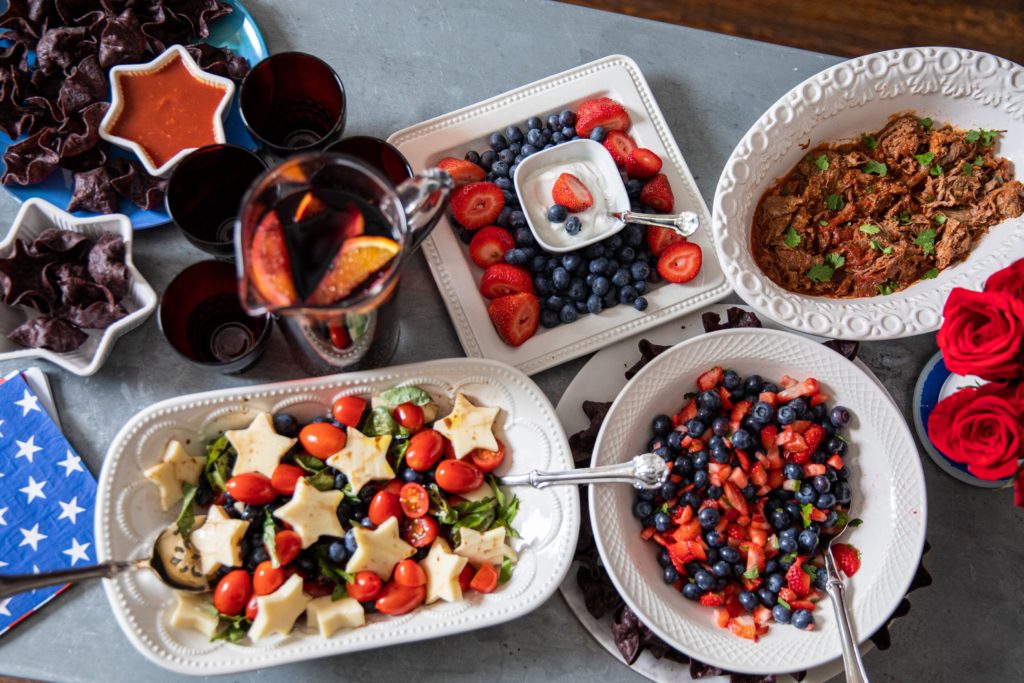 Berries are your new BFF for this festive holiday. Fresh fruit paired with cheese and herbs make for delightful summer cuisine.
Fruit Salsa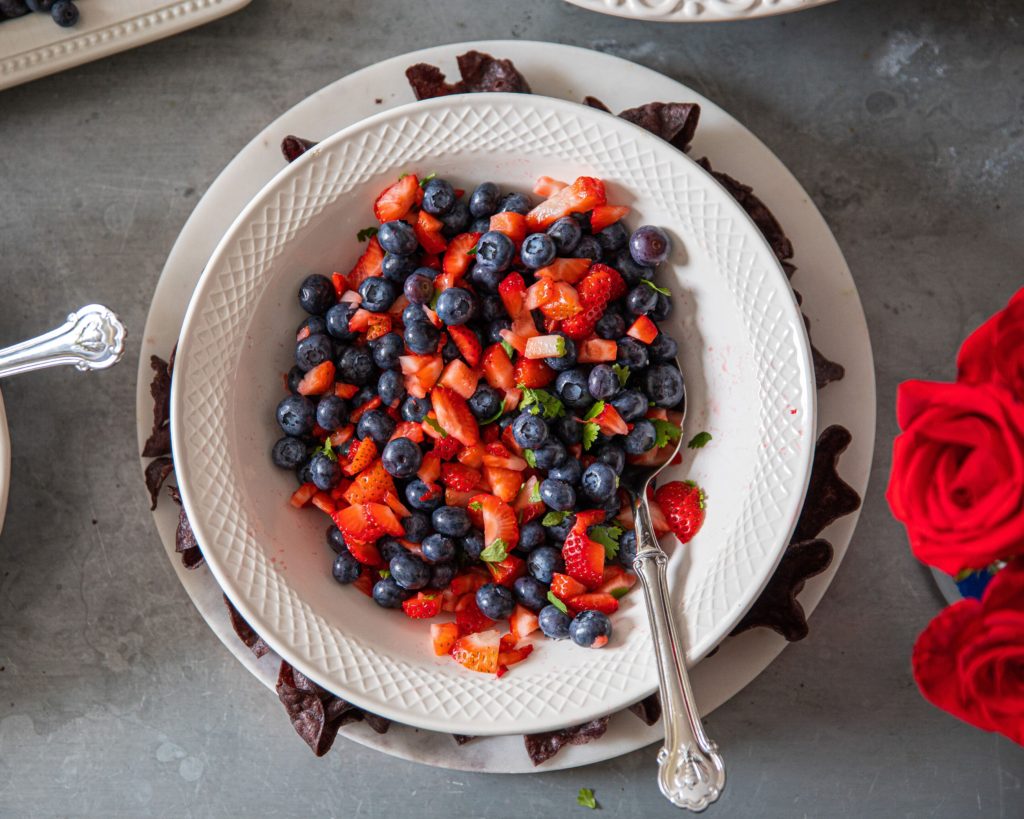 A savory twist on classic berries. It's a surprisingly delicious and refreshing recipe and perfect for hot, summer days ~ not just July 4th. Dip in with chips or eat by itself as an app or a side.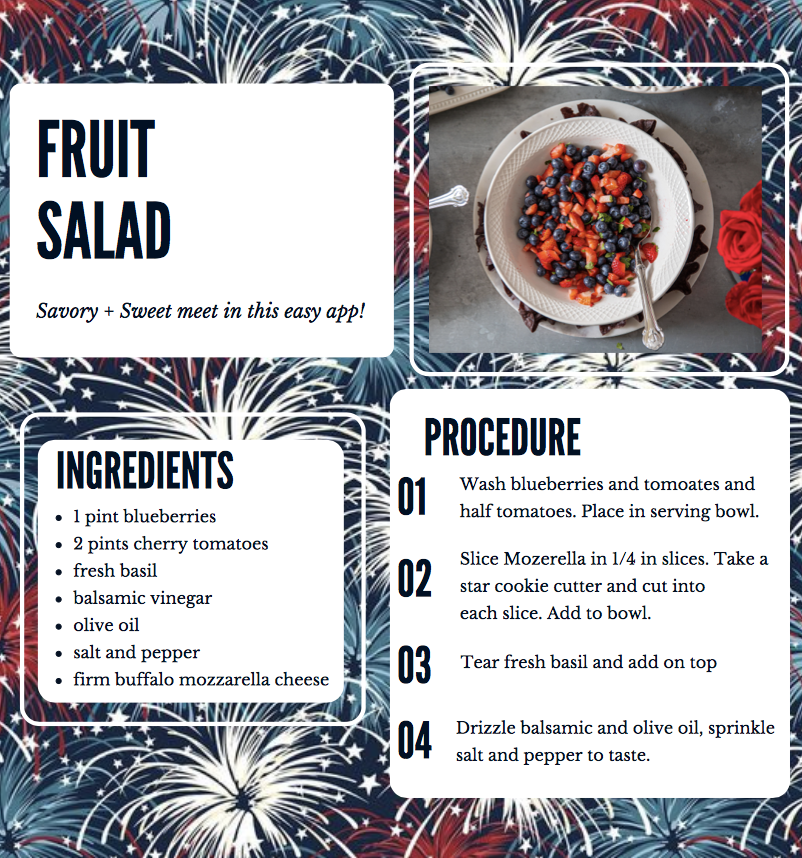 Homemade Fruit and Dip Tray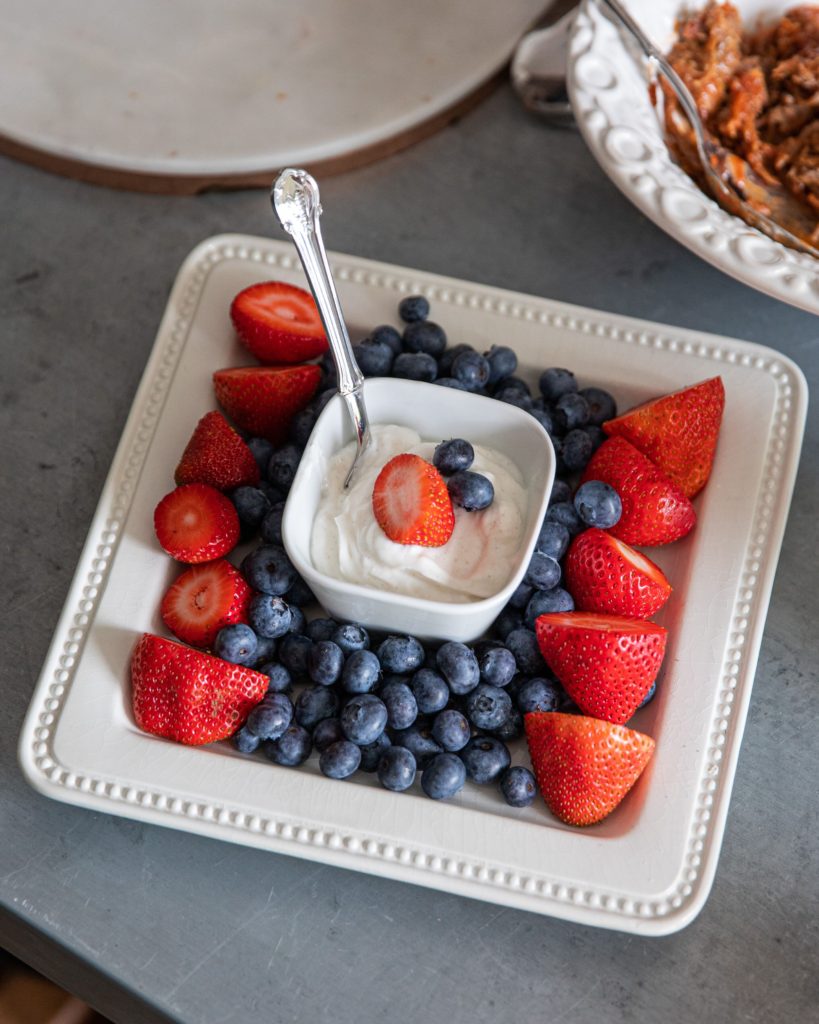 This one is so easy! Grab your favorite berries, slice them, arrange them, and add your fave yogurt or yogurt dip. Garnish with a few pieces of fruit or herbs for a dish that is quick, easy, delicious, and nutritious!
Festive Summer Caprese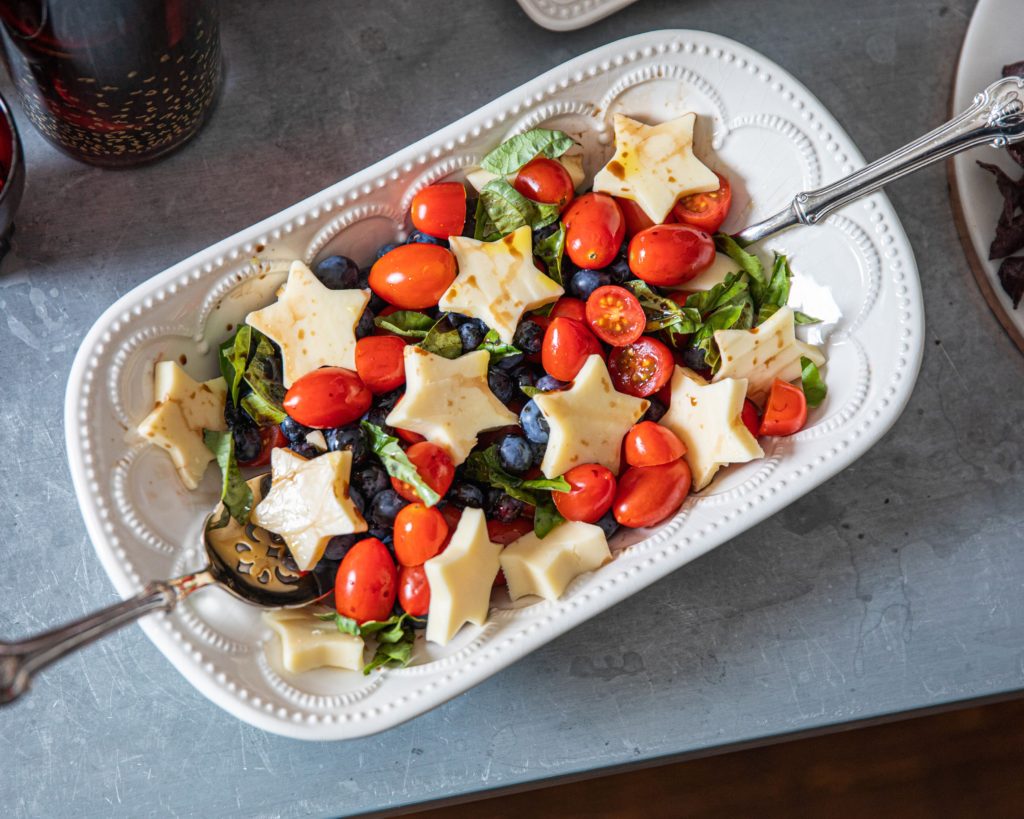 You can't go wrong with a caprese salad, it's light and delicious. It's also super easy to make! We added a fun little twist to the classic caprese to make it more patriotic and on theme, and even more delish for a warm summer day. The perfect change up for the holiday.

BBQ
An American staple…barbecue! A classic Fourth of July meal that is easy to whip up or if you aren't in the mood to make it, can pick it up from one of your fave local BBQ joints or snag some pre-made at your local grocer. It's not hard to add to the flavor. If you want a little more spicy add in your fave flare when heating to personalize your dish.
The great thing with BBQ is guests can serve themselves and there are plenty of options like chicken, pork, beef and even more options to pair it with when laying out your spread.
Add sliced mini rolls and different condiments for guests to quickly make their own sandwich.
Cheers!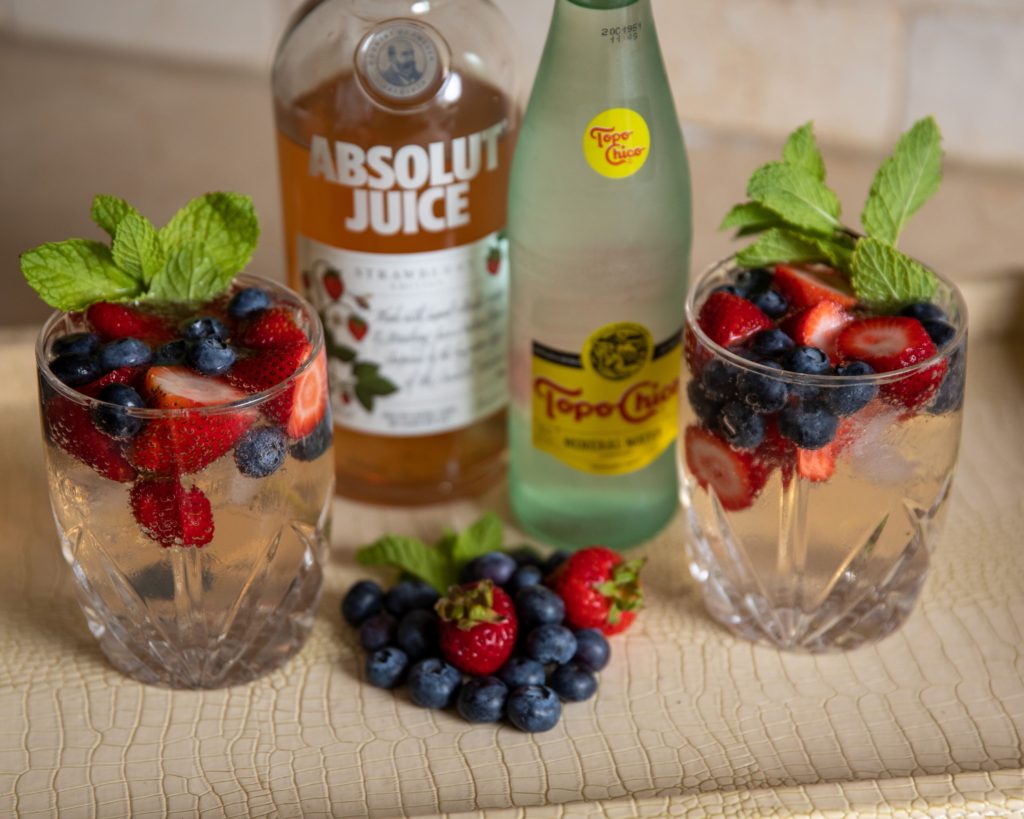 Need Cocktail Inspo? We have the perfect skinny cocktail that is delicious and even has some nutritional value as well, and what better cocktail for the 4th than sangria? Whether your choose a red or white recipie, sangria is an easy and yummy 4th of July choice.
Sangria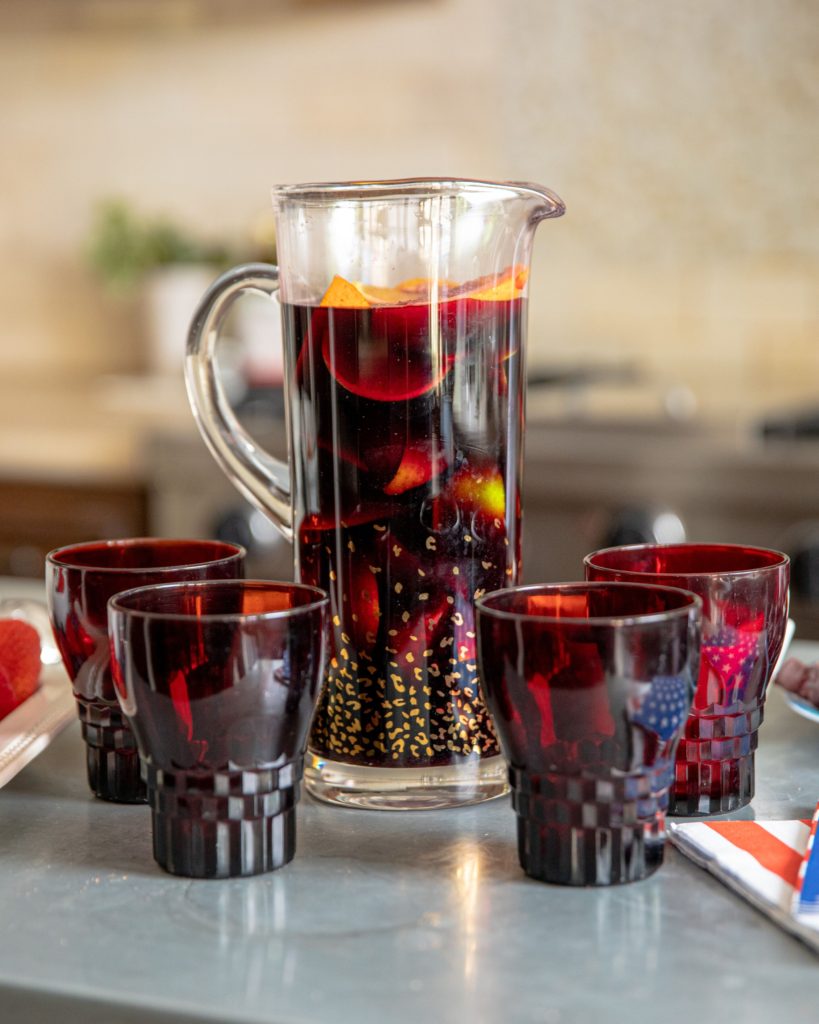 Does sangria not scream summer? We love all the possibilities available when mixing and creating your sangria. It can be based with red, white or rosé, utilizing different fruits that correspond with the different wines. You can also make it a little boozier with an added spike of rum or even bourbon! Check out our traditional Sangria we created, and see some interesting and fun recipes on Pinterest.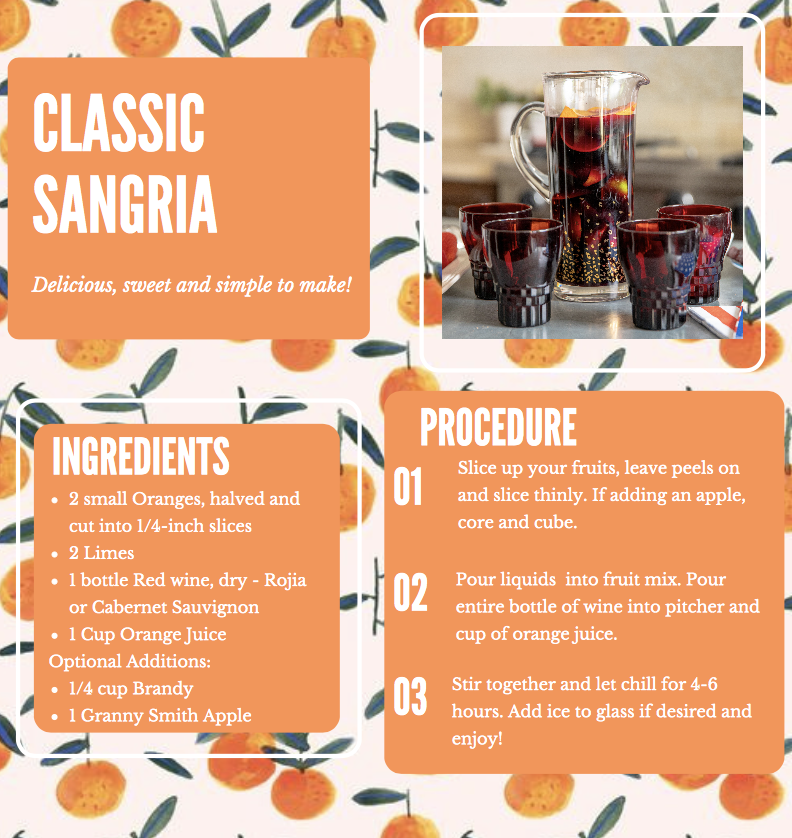 Strawberry Spritz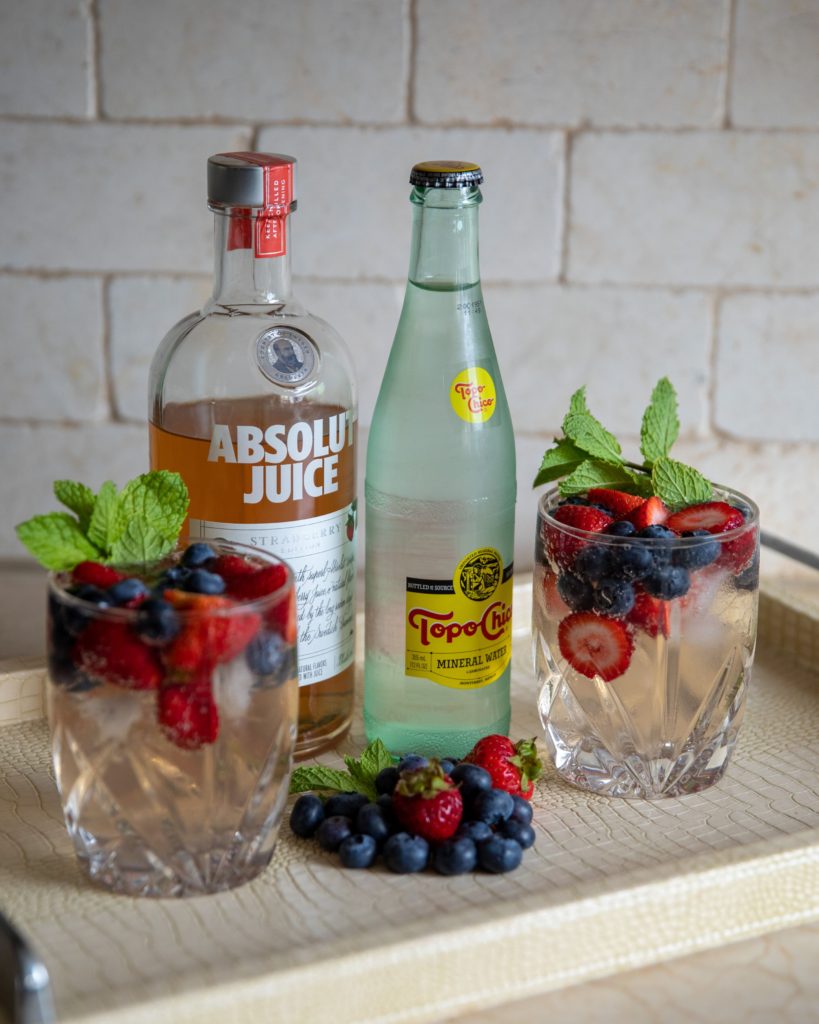 Our new fave cocktail! It's light and easy to sip without too many added calories and is oh so refreshing and delightful.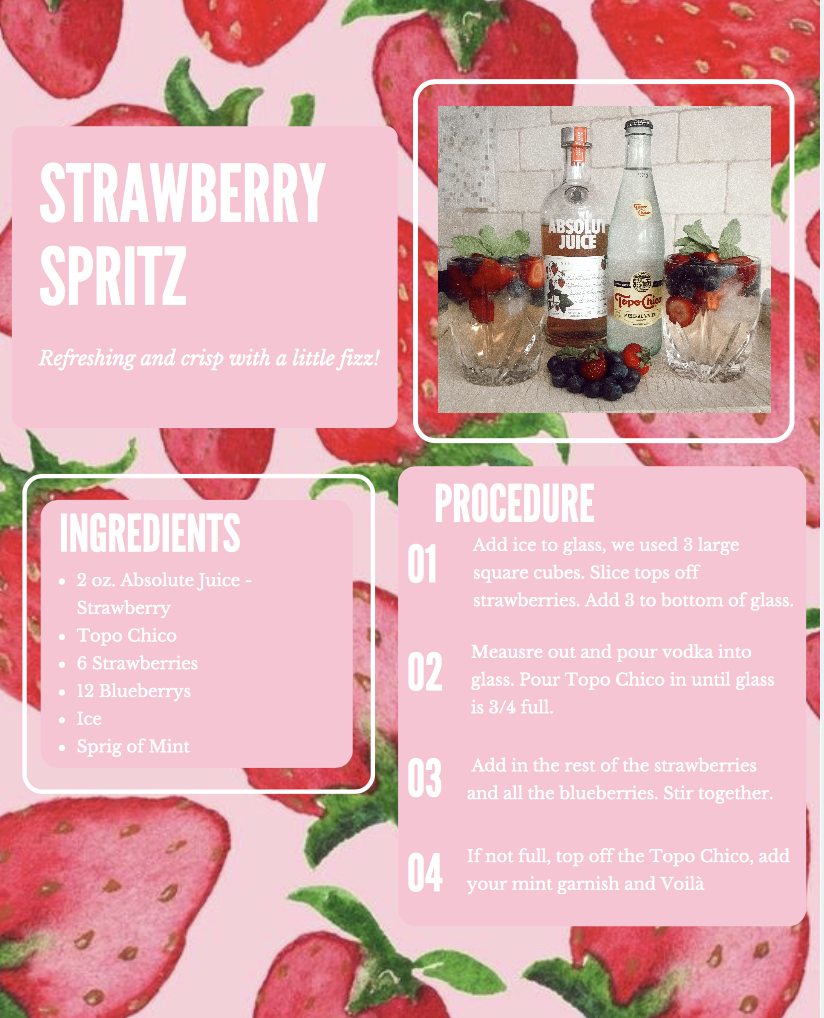 Vino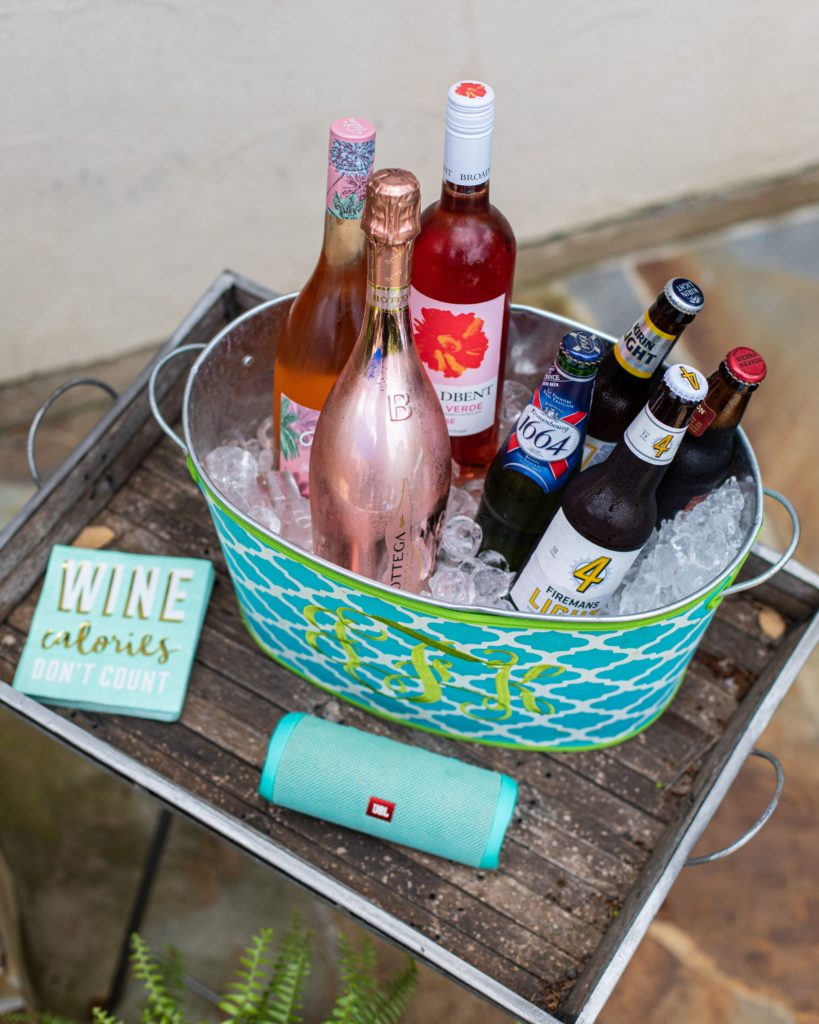 You can never go wrong with the classic wine. Whatever you and your guest prefer is the drink of choice for the evening. We suggest having a little variety so everyone is happy. Setting up a bar that is accessible and looks pretty is always a great party accent. Multiple bar stations inside and out is always a great choice, as it makes it easy for all guest to grab a drink. Always make sure to have options of mixers, non-alcoholic choices, and water is a must with warm summer weather.