One thing that will never go out of style? Window treatments. From curtains to shades to shutters, window treatments change the look and feel of a space. A window treatment's primary use is functionality and after that, they just add a layer of chic to finish off your room. There are three Things to consider when selecting window treatments. First, do they need to be functional or are they purely decorative? Next, what's the style and aesthetic of your space? Finally, what type of texture are you looking to use and implement into your room?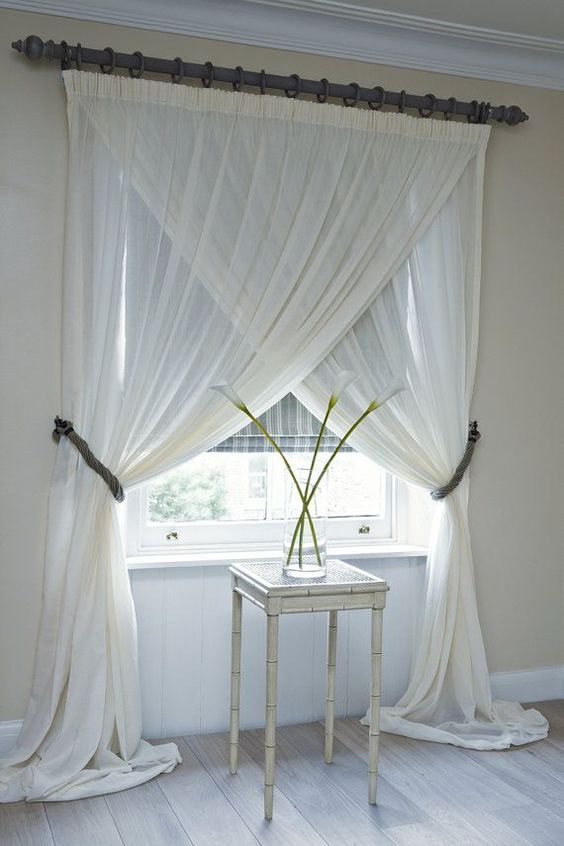 On trend these days, styles seem to be more minimalistic, the "less is more" approach. Rich fabrics with classic styling are refined and effective. Functionality is a key component in window styles, and installation makes an incredible difference in the end product. Proper lining in window treatment fabrics is also essential to create a beautiful window treatment. Window treatments refine a room, beautify it, and essentially are one of the crowning touches in any space.
2019 Trends
Just like everything else home, different types of window treatments go in and out of style. We asked Kathy some of the top trends she's seeing right now in window treatment design, and we've done a little scouting to find the top window treatments you need right now to help you stay up-to-date in your home.
Linen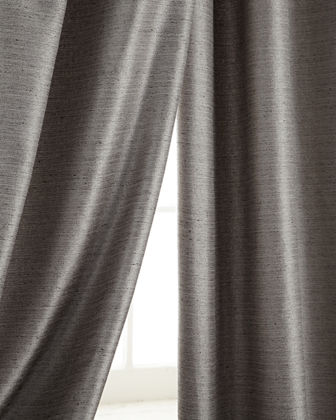 Linen is a classic textile that adds beautiful texture and natural refinement, making it a lovely window treatment textile. Lining is very important with linen, as sun really does take a toll on this fabric, so be aware when you choose it. Linens come in all sort of blends now, from linen / cotton to poly linen blends. While some purists want 100% linen from Belgium, a linen with a bit of poly blended in it does make for a little bit better wear. Classic fabrics like linen and silk look fabulous with added embellishments like an embroidered tape along the edge.
KF Tip ~ take a panel you have purchased and add trim or an embellished tape to the edge to make a stock item into something extraordinary and statement-making in your room.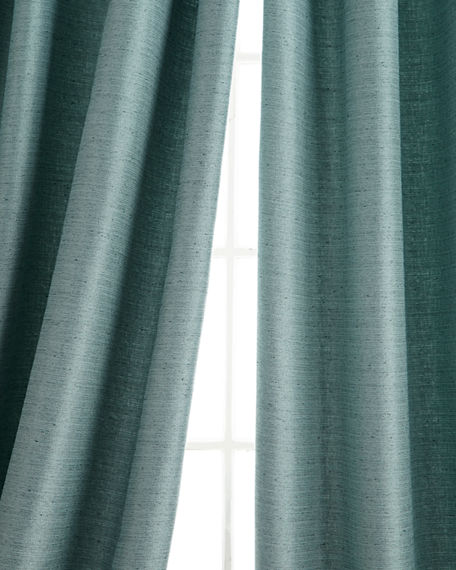 We adore a solid colored linen. Perfect for a room that has statement pieces, these panels aren't fighting for attention with other design elements, but do help define your space and speak on their own. Shop the Gisele Panel from Isabella Collection by Kathy Fielder here.
Velvet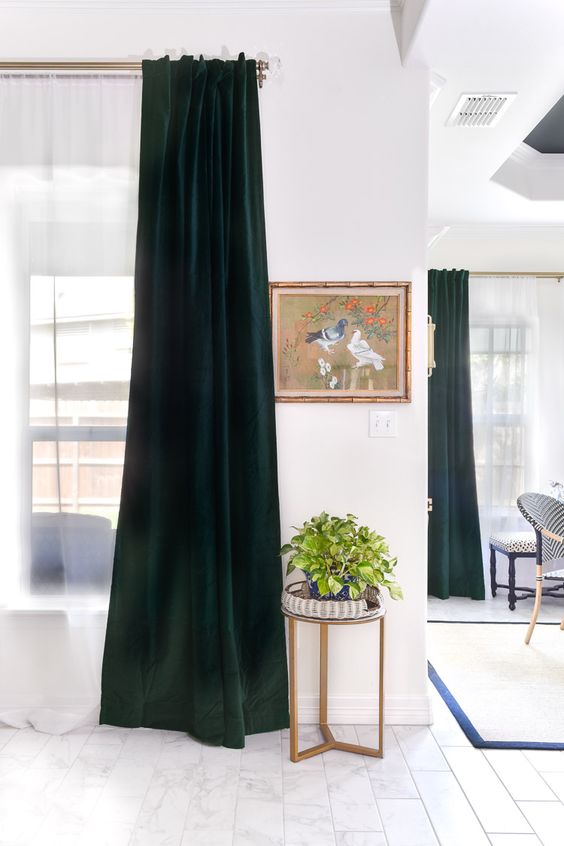 We're not sure if anything says chic glam as much as a velvet curtain. An ideal way to add a velvet textile to your room is with your window treatments. If you're looking to dip your toe into luxe velvet, but don't want to go all the way with a chair or sofa, think window. A very beautiful, yet also very functional window fabric, velvet has a refined and luxe appeal that beautifies your space.
Patterned
When going with a patterned window treatment, keep in mind the visual impact it will have on your space. It instantly becomes a focal point and makes a statement. Window treatments should elevate the feel of the room and coordinate with the other decor, so keep in mind the pattern you are choosing and whether it works well with the other elements of your room.
The traditional style of Maria Christina makes a dynamic impact if styled properly. The warm red and copper tones, with gorgeous texture and oversized damask pattern, are a classic elegance that will always remain stylish.
Color Blocked Panels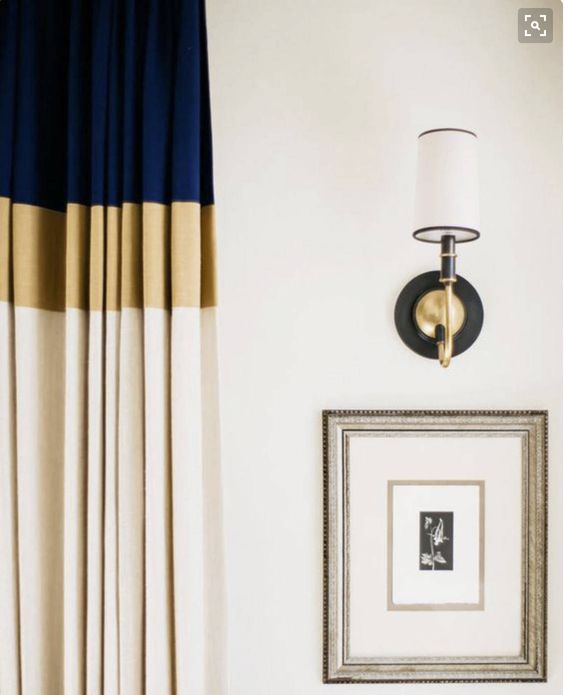 Classic color-blocked panels are definitely on trend and one of Kathy's favorite styles. An easy way to create a truly refined window, these hard working panels graciously tie into the color scheme of the rest of your room and are very chic. You can easily incorporate this style no matter your decor, whether it's classic, modern, traditional, or bohemian.
These Brayde panels from Isabella Collection by Kathy Fielder have a gorgeous light blue geometric print have a modern feel with classic style. An easy, livable, and beautiful color combo make these striking, yet unassuming panels a beautiful addition to your windows.
Roman Shades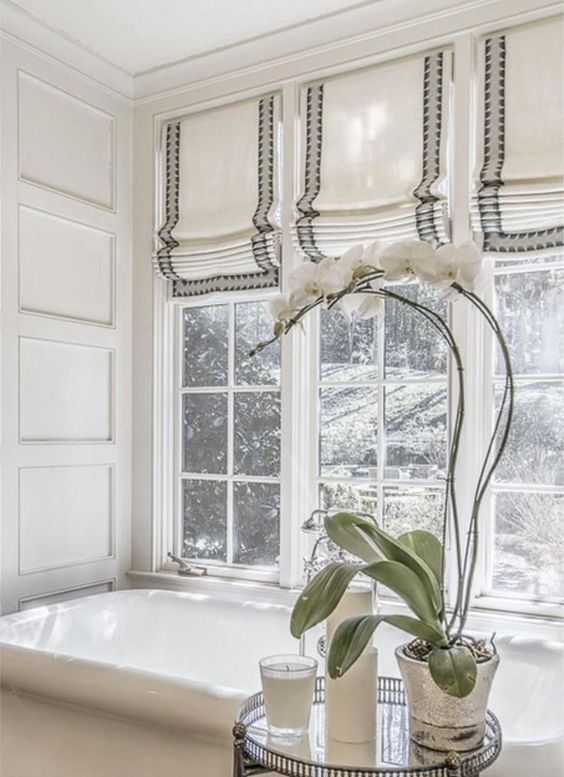 A classically designed Roman Shade is simply stunning. One of the most perfect choices in a kitchen or bathroom setting, a shade perfectly elevates your room and refines it. Beautiful fabrics and added embellishments make these treatments worth the splurge.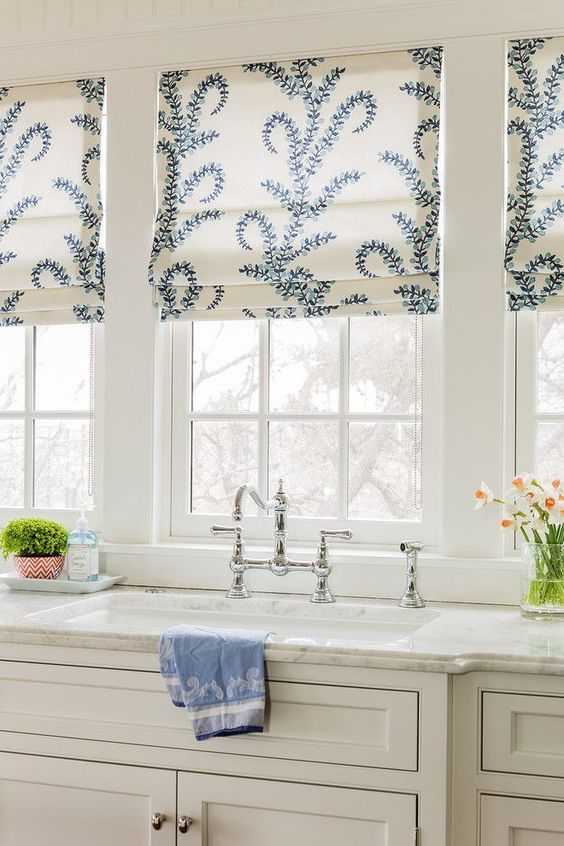 Whether you go with a solid fabric or a print, these shades really do make such an impact and are a finishing touch in your room. One of the best things about them is their functionality. They can be let down when the sun is shining in or you need privacy or drawn up and out of the way when no light coverage is needed.
Sheers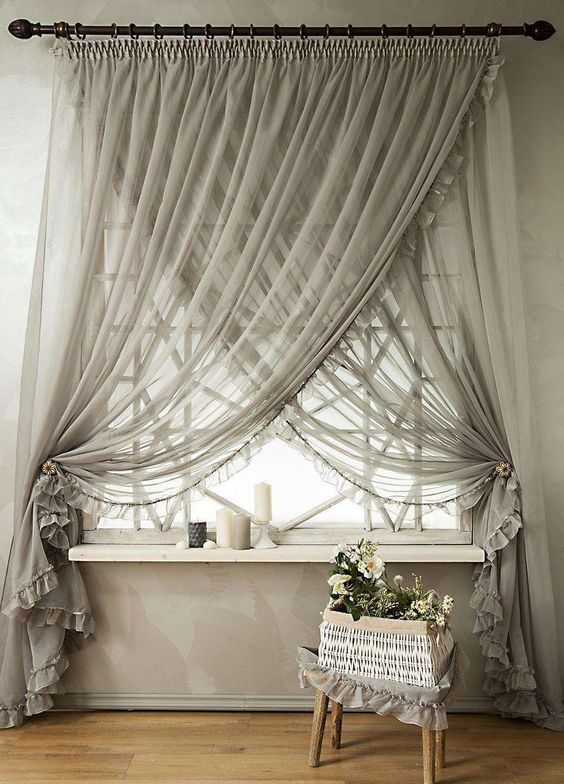 A sheer panel has such a delicate, soft appeal to it. Sheers are the perfect addition to make a room feel light and airy, yet give a soft shield from the ray's of the sun, while still allowing ample light into your room. Sheers have a flowy appeal to them, and add soft definition to your room.
Patterned sheers like the Bianco pattern from Isabella Collection by Kathy Fielder make a full impact with a gauzy-like feminine touch.
Textural Neutrals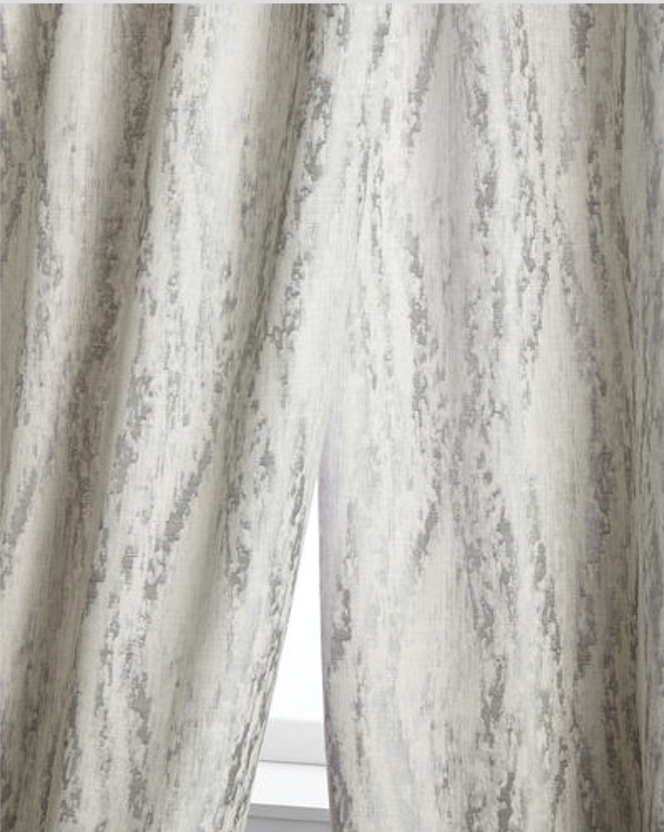 Neutral is anything but boring when you have gorgeous texture and movement in the fabric. Styling statement-making neutral panels like Isabella Collection by Kathy Fielder's Rane panel is so easy and adds a sophisticated glamour to any space.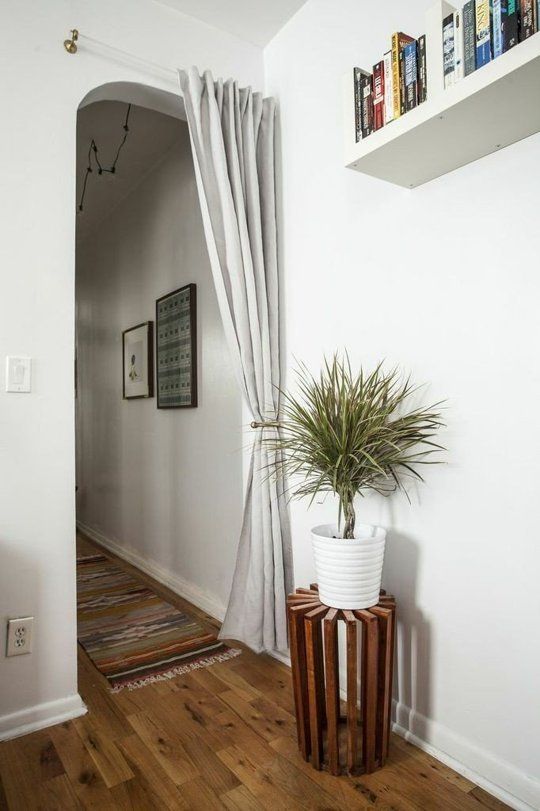 Utilize curtains as room dividers or doors. An instantly impactful look that has a real resort-like feel to it, and makes any doorway more appealing and exciting!
How to Properly Measure and Hang Your Window Treatments
When hanging your window treatments the most important part besides design is how it is installed. You want to be able to put up the gorgeous textiles you just spent time picking out and having made or ordered. From measuring to hardware there are a few key factors to take into consideration when getting your window treatment just right so you are happy with the end result.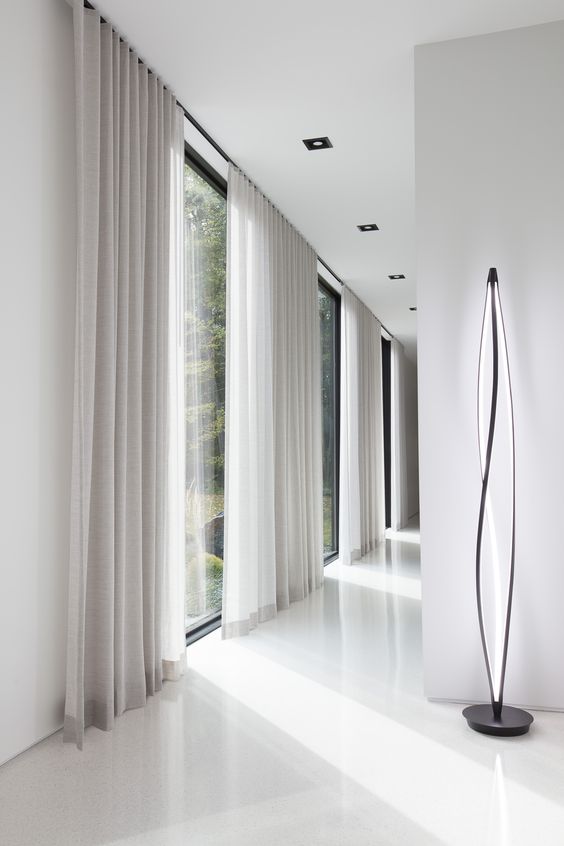 Measurements are an essential element to a good window treatment installation. They "make or break" the full affect of your treatment. See how to measure for blinds and shades from The Home Depot. Check out how to measure for drapes on WikiHow. It's a must to take the dimensions of your window and your window treatments into consideration when ordering or having window treatments made. The width and length of your window and wall, paired with the type of treatment you are installing and are definite considerations for a seamless install. Drapery hardware is an element that is sometimes overlooked until the last minute. It is very important to look at the type of functionality you need from your hardware, along with the aesthetic. It tends to be a little more expensive, so make sure you account for the cost in your overall budget as well.
Read even more about hanging window treatments from The Spruce.