The eyes truly are the window to the soul and making your eyes more alluring really isn't rocket science.
Celebs and celeb makeup artists are definitely masters at the gorgeous and intriguing eye that you can't take your own eyes off of, and believe it or not, those techniques that makeup artists employ are pretty easy to emulate in your own routine.
Maybe your just tired of that same old makeup application you have used for years and are looking for some inspiration to update your look. Believe it or not, there is more than one way to do your eye makeup and it look seriously updated.
Whether you want to learn how to do your eye makeup a little better,  update your current look, try on a cat eye, create a fresh, dewy, glowing summer skin look perfect for the pool, or simply want to make sure you are using the right colors to highlight your features, we have some inspiration and instruction to get the look you want.
Eye makeup can be as easy as 1-2-3.  Simply put, readily available techniques applied correctly to your eye shape and color can give you eyes that pop and are irrestible.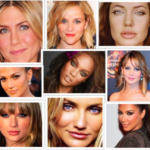 Check out some advice and inspiration from the experts on how to make your eyes more alluring and gorgeous.  Here is your Eye Guide 101 from trusted beauty experts on how to make your eyes pop and sizzle. With just a little information and a little practice, and you will be applying your makeup like the pros in a flash!